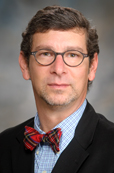 '
Adam H Miller, MD, MSMM, MSCS, FACEP
Present Title & Affiliation
Primary Appointment
Associate Professor, Department of Emergency Medicine, Division of Internal Medicine, The University of Texas MD Anderson Cancer Center, Houston, TX
Education & Training
Degree-Granting Education

2009
University of Texas Southwestern Medical Center at Dallas Southwestern Graduate School of Biomedical Sciences, Dallas, TX, MSCS, With Distinction, Clinical Science
2002
University of Texas at Dallas School of Management, Richardson, TX, MSMM, Medical Management
1995
University of the State of New York, Albany, NY, MD, Education
1991
New York Medical College, Valhalla, NY, Fifth Pathway Certificate, Medicine
1989
Universidad Autonoma de Guadalajara - Facultad de Medicina, Guadalajara, Jalisco, Mexico, Physician Surgeon, School of Medicine
1985
George Washington University, Washington, DC, BA, Chemistry / Anthropology

Postgraduate Training

7/1992-6/1995

Clinical Residency, Emergency Medicine, New York Medical College - Medical Education Consortium - Lincoln Medical & Mental Health Center, Bronx, NY

7/1991-6/1992

Clinical Internship, Family Practice, Texas Tech University Health Sciences Center - Thomason General Hospital, El Paso, TX
Board Certifications
1997

American Board of Emergency Medicine, Recertification Date:

2006
Experience/Service
Academic Appointments
Assistant Professor, Department of Emergency Medicine, Division of Surgery, The University of Texas Southwestern Medical Center, Dallas, TX, 11/1998-11/2012
Professional Memberships
American College of Emergency Physicians (ACEP)
Member - Administration section, 2002
Member - Ultrasound section, 2002
Member, 1992
American Medical Association (AMA)
Member, 1999
Fellow of the American College of Emergency Physicians (FACEP)
Member, 1998
Society for Academic Emergency Medicine (SAEM)
Member, 1992
Texas College of Emergency Physicians (TCEP), TX
Member, 1998
Selected Publications
Peer-Reviewed Original Research Articles

1.
Miller AH, Carreras MT, Miller SA, Miller HE, Page VD. Is there coronary artery disease in the cancer patient who manifests with chest pain, shortness of breath and/or tachycardia? A retrospective observational cohort. Support Care Cancer 23(2):419-26, 2/2015. e-Pub 8/15/2014. PMID: 25120013.
2.
Miller AH, Sandoval M, Viets-Upchurch J, Jacob A, Ma MM. Hypercalcemia in Malignancy: the Second Great Masqueradar. IJMCR, 2014.
3.
Roldan CJ, Haq SM, Miller AH. Acute promyelocytic leukemia; early diagnosis is the key to survival. Am J Emerg Med 31(8):1290.e1-2, 8/2013. e-Pub 5/20/2013. PMID: 23702072.
4.
Miller MM, Miller AH. Incomplete Kawasaki Disease. Am J Emerg Med 31(5):894.e5-7, 5/2013. e-Pub 3/6/2013. PMID: 23481152.
5.
Lippmann MJ, Miller AH. Ischemic stroke presenting as fluctuating focal weakness in an otherwise healthy young man. Am J Emerg Med 31(5):887.e3-5, 5/2013. e-Pub 3/9/2013. PMID: 23478111.
6.
Roldan CJ, Haq S, Miller AH. Acute promyelocytic leukemia; early diagnosis is key to survival: a case report. AM J Emerg Med 03(038), 3/2013.
7.
Miller AH, Pepe PE, Peshock R, Bhore R, Yancy CC, Xuan L, Miller MM, Huet GR, Trimmer C, Davis R, Chason R, Kashner MT. Is coronary computed tomography angiography a resource sparing strategy in the risk stratification and evaluation of acute chest pain? Results of a randomized controlled trial. Acad Emerg Med 18(5):458-67, 5/2011. PMCID: PMC3140536.

Abstracts

1.
Sandoval M, Miller AH, Wattana M, Merriman K, Page V, Todd KH. Cardiopulmonary Resuscitation Outcomes in the Emergency Department of a Comprehensive Cancer Center. Journal of Emergency Medicine (#Po-269), 4/2013.
Grant & Contract Support
| | |
| --- | --- |
| Title: | A Cancer Coronary Computed Tomography Angiography Resource Utilization Strategy (ACCCTRUS): A randomized controlled clinical trial |
| Funding Source: | University of Texas MD Anderson Cancer Center |
| Role: | Principal Investigator |
| Duration: | 4/16/2012 - 4/15/2017 |