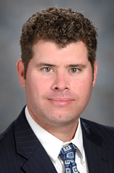 '
Andrew B. Gladden, Ph.D.
Present Title & Affiliation
Primary Appointment
Assistant Professor, Department of Genetics, The University of Texas MD Anderson Cancer Center, Houston, TX
Dual/Joint/Adjunct Appointment
Assistant Professor, The University of Texas Graduate School of Biomedical Sciences, Houston, TX
Office Address
The University of Texas MD Anderson Cancer Center
Department of Genetics, Unit 1010
1515 Holcombe Blvd.
Houston, TX 77030
Room Number: BSRB S11.8136B
Phone: 713-792-7501
Email: agladden@mdanderson.org
Education & Training
Degree-Granting Education

2005
University of Pennsylvania, Philadelphia, PA, PHD, Cell and Molecular Biology
1999
Drury College, Springfield, MO, BA, Biology and Chemistry

Postgraduate Training

8/2005-10/2011

Research Fellowship, Massachusetts General Hospital Cancer Center, Boston, MA

8/2005-10/2011

Research Fellowship, Harvard Medical School, Cambridge, MA
Selected Publications
Peer-Reviewed Original Research Articles

1.
Hebert AM, Gladden AB, Cassaletto J, McClatchey AI.. Merlin/ERM Proteins Establish Cortical Asymmetry and Centrosome Position. Genes and Dev 26(24):2709-23, 12/2012. PMCID: PMC3533076.
2.
Longworth MS, Walker JA, Anderssen A, Moon NS, Gladden A, Heck MM, Ramaswamy S, Dyson NJ.. A Shared Role for RBF1 and dCAP-D3 in the Regulation of Transcription with Consequences for Innate Immunity. PLoS Genet 8(4):e1002618, 4/2012. PMCID: PMC3320600.
3.
Gladden AB, Hebert AM, Schneeberger EE, McClatchey AI. The NF2 tumor suppressor, Merlin, regulates epidermal development through the establishment of a junctional polarity complex. Dev Cell 19(5):727-39, 11/2010. PMCID: PMC3033574.
4.
Benhamouche S, Curto M, Saotome I, Gladden AB, Liu CH, Giovannini M, McClatchey AI. Nf2/Merlin controls progenitor homeostasis and tumorigenesis in the liver. Genes Dev 24(16):1718-30, 8/2010. e-Pub 7/2010. PMCID: PMC2922501.
5.
Lin DI, Lessie MD, Gladden AB, Bassing CH, Wagner KU, Diehl JA. Disruption of cyclin D1 nuclear export and proteolysis accelerates mammary carcinogenesis. Oncogene 27(9):1231-42, 2/2008. e-Pub 8/2007. PMCID: PMC3733559.
6.
Aggarwal P, Lessie MD, Lin DI, Pontano L, Gladden AB, Nuskey B, Goradia A, Wasik MA, Klein-Szanto AJ, Rustgi AK, Bassing CH, Diehl JA. Nuclear accumulation of cyclin D1 during S phase inhibits Cul4-dependent Cdt1 proteolysis and triggers p53-dependent DNA rereplication. Genes Dev 21(22):2908-22, 11/2007. PMCID: PMC2049193.
7.
Marzec M, Kasprzycka M, Lai R, Gladden AB, Wlodarski P, Tomczak E, Nowell P, Deprimo SE, Sadis S, Eck S, Schuster SJ, Diehl JA, Wasik MA. Mantle cell lymphoma cells express predominantly cyclin D1a isoform and are highly sensitive to selective inhibition of CDK4 kinase activity. Blood 108(5):1744-50, 9/2006. e-Pub 5/2006. PMCID: PMC1895502.
8.
Gladden AB, Woolery R, Aggarwal P, Wasik MA, Diehl JA. Expression of constitutively nuclear cyclin D1 in murine lymphocytes induces B-cell lymphoma. Oncogene 25(7):998-1007, 2/2006. PMCID: PMC2832762.
9.
Gladden AB, Diehl JA. Location, location, location: the role of cyclin D1 nuclear localization in cancer. J Cell Biochem 96(5):906-13, 12/2005. PMID: 16163738.
10.
Lu F, Gladden AB, Diehl JA. An alternatively spliced cyclin D1 isoform, cyclin D1b, is a nuclear oncogene. Cancer Res 63(21):7056-61, 11/2003. PMID: 14612495.
© 2014 The University of Texas MD Anderson Cancer Center