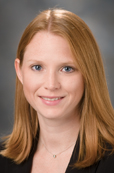 '
Angela Coscio, MD
Present Title & Affiliation
Primary Appointment
Assistant Professor, The Woodlands Regional Care Center, The University of Texas MD Anderson Cancer Center, The Woodlands, TX
Office Address
The University of Texas MD Anderson Cancer Center
17450 St. Luke's Way, Suite 400
Unit Number: 2032
The Woodlands, TX 77384
Education & Training
Degree-Granting Education

2004
UTMB School of Medicine, Galveston, TX, MD, Suma cum Laude, Doctor of Medicine
1999
Texas A&M University, College Station, TX, BS, Science
Board Certifications
| | |
| --- | --- |
| 2010 | American Board of Internal Medicine - Medical Oncology |
Selected Publications
Peer-Reviewed Original Research Articles

1.
Coscio AM, Garst J. Lung cancer in women. Curr Oncol Rep 8(4):248-51, 7/2006. PMID: 17254523.
2.
Vertrees RA, Das GC, Coscio AM, Xie J, Zwischenberger JB, Boor PJ. A mechanism of hyperthermia-induced apoptosis in ras-transformed lung cells. Mol Carcinog 44(2):111-21, 10/2005. PMID: 16114053.
3.
Vertrees RA, Das GC, Popov VL, Coscio AM, Goodwin TJ, Logrono R, Zwischenberger JB, Boor PJ. Synergistic interaction of hyperthermia and Gemcitabine in lung cancer. Cancer Biol Ther 4(10):1144-53, 10/2005. e-Pub 10/2005. PMID: 16138007.
4.
Vertrees RA, Nason R, Hold MD, Leeth AM, Schmalstieg FC, Boor PJ, Zwischenberger JB. Smoke/burn injury-induced respiratory failure elicits apoptosis in ovine lungs and cultured lung cells, ameliorated with arteriovenous CO2 removal. Chest 125(4):1472-82, 4/2004. PMID: 15078761.
5.
Vertree RA, Leeth A, Girouard M, Roach JD, Zwischenberger JB. Whole-body hyperthermia: a review of theory, design and application. Perfusion 17(4):279-90, 7/2002. PMID: 12139385.

Abstracts

1.
Coscio A, William W, Feng L, Glisson B, Ayuste R, Ginsberg L, Lee JJ, Obasaju C, Lippman SM, Kim ES. Phase I study of pemetrexed in recurrent/metastatice head and neck squamous cell cancer (HNSCC) and to assess the need for steroid premedication. J Clin Oncol 27 (#e17009), 2009.
2.
Coscio A, Anguiano A, Kuderer N, Kelley M. Improving quality at university based hematology/oncology fellowship continuity clinic with the quality oncology practice initiative (QOPI). J Clin Oncol 26, 5/2008.
3.
Vertrees RA, Leeth A, Zwischenberger JB, Boor PJ. Role of tumor necrosis factor-alpha family in hyperthermia-induced apoptosis in transformed human lung cells. AACR Proceed 44:496, 3/2003.
4.
Leeth A, Vertrees RA, Logrono R, Boor PJ, Zwischenberger JB. Evaluation of Combination Hyperthermia and Germcitabine Therapy in Treating Ectopic Human Lung Cancer. AACRF:949 (#4698), 2002.
5.
Vertrees RA, Leeth A, Zwischenberger JB, Boor PS. Hyperthermia-Induced Death Receptor-Mediated Apoptosis by Suppression of RAF-1 Activation in Non-Small Cell Lung Cancer Cells. AACRJ:891 (#4421), 2002.
6.
Villanueva-Meyer j, Ali SA, Briscoe E, Leeth A, Vertrees RA. Uptake of Tracers in Lung Cancer Cell Lines. Society of Nuclear Medicine, 2001.
© 2014 The University of Texas MD Anderson Cancer Center