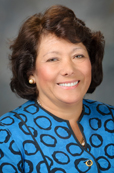 '
Beatrice J. Edwards, MD, MPH, FACP
Present Title & Affiliation
Primary Appointment
Associate Professor, Department of General Internal Medicine, Division of Internal Medicine, The University of Texas MD Anderson Cancer Center, Houston, TX
Office Address
The University of Texas MD Anderson Cancer Center
1400 Pressler Street
Unit Number: 1465
Houston, TX 77030
Room Number: FCT13.5000
Phone: 713-756-4516
Fax: 713-563-4491
Education & Training
Degree-Granting Education

1986
Medical School Cayetano Heredia University, Lima, Peru, MD, Geriatrics

Postgraduate Training

9/2006-3/2010

Master's Degree, Public Health, Northwestern University, Evanston, IL

7/1990-6/1992

Clinical Fellowship, Geriatric Medicine, St. Louis University School of Medicine, St. Louis, MO

7/1988-6/1990

Clinical Residency, Internal Medicine, Southern Illinois University School of Medicine, Springfield, IL

7/1987-6/1988

Intern in Internal Medicine, Southern Illinois University School of Medicine, Springfield, IL
Board Certifications
6/1992

American Board of Internal Medicine - Geriatrics, Recertification Date:

12/2022

4/1991

American Board of Internal Medicine
Experience/Service
Academic Appointments
Associate Professor, The Feinberg School of Medicine, Northwestern University, Chicago, IL, 9/2008-12/2011
Assistant Professor, The Feinberg School of Medicine, The Feinberg School of Medicine, Northwestern University, Chicago, IL, 8/1998-8/2008
Clinical Assistant Professor, Director of Resident Training in Geriatrics, Northwestern University, Chicago, IL, 5/1995-7/1998
Instructor, Department of General Internal Medicine, St. Louis University School of Medicine, St. Louis, MO, 6/1992-6/1993
Selected Publications
Peer-Reviewed Original Research Articles

1.
Garg V, Raisch DW, McKoy JM, Trifilio SM, Holbrook J, Edwards BJ, Belknap SM, Samaras AT, Nardone B, West DP. Impact of United States Food and Drug Administration's boxed warnings on adverse drug reactions reporting rates and risk mitigation for multiple myeloma drugs. Expert Opin Drug Saf 12(3):299-307, 5/2013. e-Pub 3/2013. PMID: 23480866.
2.
Mille ML, Johnson-Hilliard M, Martinez KM, Zhang Y, Edwards BJ, Rogers MW. One step, two steps, three Steps more .. directional vulnerability to falls in community-dwelling older people. J Gerontol A Biol Sci Med Sci. e-Pub 5/2013. PMCID: PMC3814241.
3.
McKoy JM, Fisher MJ, Courtney DM, Raisch DW, Edwards BJ, Scheetz MH, Belknap SM, Trifilio SM, Samaras AT, Liebling DB, Nardone B, Tulas KM, West DP. Results from the first decade of Research Conducted by the Research on Adverse Drug Events and Reports (RADAR) project. Drug Saf 36(5):335-47, 5/2013. PMCID: PMC3679367.
4.
Edwards BJ, Usmani S, Raisch DW, McKoy JM, Samaras AT, Belknap SM, Trifilio SM, Hahr A, Bunta AD, Abu-Alfa A, Langman CB, Rosen ST, West DP. Acute Kidney Injury and Bisphosphonate Use in Cancer: A Report From the Research on Adverse Drug Events and Reports (RADAR) Project. J Oncol Pract 9(2):101-6, 3/2013. PMCID: PMC3595436.
5.
Edwards BJ, Bunta AD, Lane J, Odvina C, Rao DS, Raisch DW, McKoy JM, Omar I, Belknap SM, Garg V, Hahr AJ, Samaras AT, Fisher MJ, West DP, Langman CB, Stern PH. Bisphosphonates and nonhealing femoral fractures: analysis of the FDA Adverse Event Reporting System (FAERS) and international safety efforts: a systematic review from the Research on Adverse Drug Events And Reports (RADAR) project. J Bone Joint Surg Am 95(4):297-307, 2/2013. PMID: 23426763.
6.
Irizarry L, Li QE, Duncan I, Thurston AL, Fitzner KA, Edwards BJ, McKoy-Bent JM, Tulas KM, McKoy JM. Effects of cancer comorbidity on disease management: making the case for diabetes education (a report from the SOAR program). Popul Health Manag 16(1):53-7, 2/2013. e-Pub 10/2012. PMCID: PMC3595091.
7.
Edwards BJ, Li J. Endocrinology of menopause. Periodontol 2000 61(1):177-94, 2/2013. PMID: 23240949.
8.
Chang P, Saddleton E, Laumann AE, Schmitz B, West DP, Belknap SM, Parthasarathy S, Edwards BJ, McKoy JM, Miller FH. Comparison of the sensitivity of a pre-MRI questionnaire and point of care eGFR testing for detection of impaired renal function. Acad Radiol 19(10):1181-5, 10/2012. e-Pub 7/2012. PMCID: PMC3600374.
9.
Edwards BJ, Bunta AD, Anderson J, Bobb A, Hahr A, O'Leary KJ, Agulnek A, Andruszyn L, Cameron KA, May M, Kazmers NH, Dillon N, Baker DW, Williams MV. Development of an electronic medical record based intervention to improve medical care of osteoporosis. Osteoporos Int 23(10):2489-98, 10/2012. e-Pub 1/2012. PMID: 22273834.
10.
Passman RS, Bennett CL, Purpura JM, Kapur R, Johnson LN, Raisch DW, West DP, Edwards BJ, Belknap SM, Liebling DB, Fisher MJ, Samaras AT, Jones LG, Tulas KM, McKoy JM. Amiodarone-associated optic neuropathy: a critical review. Am J Med 125(5):447-53, 5/2012. e-Pub 3/2012. PMCID: PMC3322295.
11.
Edwards BJ, Koval K, Bunta AD, Genuario K, Hahr A, Andruszyn L, Williams M. Addressing secondary prevention of osteoporosis in fracture care: follow-up to "own the bone". J Bone Joint Surg Am 93(15):e87, 8/2011. PMID: 21915530.
12.
Edwards BJ, Raisch DW, Shankaran V, McKoy JM, Gradishar W, Bunta AD, Samaras AT, Boyle SN, Bennett CL, West DP, Guise TA. Cancer therapy associated bone loss: implications for hip fractures in mid-life women with breast cancer. Clin Cancer Res 17(3):560-8, 2/2011. PMCID: PMC3058419.
13.
Edwards BJ, Desai A, Tsai J, Du H, Edwards GR, Bunta AD, Hahr A, Abecassis M, Sprague S. Elevated incidence of fractures in solid-organ transplant recipients on glucocorticoid-sparing immunosuppressive regimens. J Osteoporos 2011:591793, 2011. e-Pub 9/2011. PMCID: PMC3172972.
14.
Edwards BJ, Song J, Dunlop DD, Fink HA, Cauley JA. Functional decline after incident wrist fractures--Study of Osteoporotic Fractures: prospective cohort study. BMJ 341:c3324, 2010. e-Pub 7/2010. PMCID: PMC2900548.
15.
Richey EA, Lyons EA, Nebeker JR, Shankaran V, McKoy JM, Luu TH, Nonzee N, Trifilio S, Sartor O, Benson AB, Carson KR, Edwards BJ, Gilchrist-Scott D, Kuzel TM, Raisch DW, Tallman MS, West DP, Hirschfeld S, Grillo-Lopez AJ, Bennett CL. Accelerated approval of cancer drugs: improved access to therapeutic breakthroughs or early release of unsafe and ineffective drugs? J Clin Oncol 27(26):4398-405, 9/2009. e-Pub 7/2009. PMCID: PMC2744277.
16.
Agulnek AN, O'Leary KJ, Edwards BJ. Acute vertebral fracture. J Hosp Med 4(7):E20-4, 9/2009. PMID: 19507248.
17.
Tan S, Ji L, Tsai J, Eng J, Ko HJ, Yau A, Edwards G, Bunta A, Edwards BJ. Greater osteoporosis educational outreach is desirable among Chinese immigrants in Chinatown, Chicago. Osteoporos Int 20(9):1517-22, 9/2009. e-Pub 1/2009. PMID: 19148565.
18.
Dorr DA, Burdon R, West DP, Lagman J, Georgopoulos C, Belknap SM, McKoy JM, Djulbegovic B, Edwards BJ, Weitzman SA, Boyle S, Tallman MS, Talpaz M, Sartor O, Bennett CL. Quality of reporting of serious adverse drug events to an institutional review board: a case study with the novel cancer agent, imatinib mesylate. Clin Cancer Res 15(11):3850-5, 6/2009. e-Pub 5/2009. PMCID: PMC3296235.
19.
Edwards BJ, Gounder M, McKoy JM, Boyd I, Farrugia M, Migliorati C, Marx R, Ruggiero S, Dimopoulos M, Raisch DW, Singhal S, Carson K, Obadina E, Trifilio S, West D, Mehta J, Bennett CL. Pharmacovigilance and reporting oversight in US FDA fast-track process: bisphosphonates and osteonecrosis of the jaw. Lancet Oncol 9(12):1166-72, 12/2008. PMID: 19038763.
20.
Edwards BJ, Hellstein JW, Jacobsen PL, Kaltman S, Mariotti A, Migliorati CA, American Dental Association Council on Scientific Affairs Expert Panel on Bisphosphonate-Associated Osteonecrosis of the Jaw. Updated recommendations for managing the care of patients receiving oral bisphosphonate therapy: an advisory statement from the American Dental Association Council on Scientific Affairs. J Am Dent Assoc 139(12):1674-7, 12/2008. PMID: 19047674.
21.
Edwards BJ, Samaras A, McKoy JM, Boyle S, Bennett CL. AIs: implications for fractures in perimenopausal women with breast cancer. Community Oncol 5(11):625-626, 11/2008. PMCID: PMC3028269.
22.
Edwards BJ, Langman CB, Bunta AD, Vicuna M, Favus M. Secondary contributors to bone loss in osteoporosis related hip fractures. Osteoporos Int 19(7):991-9, 7/2008. e-Pub 1/2008. PMID: 18180974.
23.
Edwards BJ, Migliorati CA. Osteoporosis and its implications for dental patients. J Am Dent Assoc 139(5):545-52; quiz 625-6, 5/2008. PMID: 18451370.
24.
Bennett CL, Silver SM, Djulbegovic B, Samaras AT, Blau CA, Gleason KJ, Barnato SE, Elverman KM, Courtney DM, McKoy JM, Edwards BJ, Tigue CC, Raisch DW, Yarnold PR, Dorr DA, Kuzel TM, Tallman MS, Trifilio SM, West DP, Lai SY, Henke M. Venous thromboembolism and mortality associated with recombinant erythropoietin and darbepoetin administration for the treatment of cancer-associated anemia. JAMA 299(8):914-24, 2/2008. PMID: 18314434.
25.
Edwards BJ, Bunta AD, Simonelli C, Bolander M, Fitzpatrick LA. Prior fractures are common in patients with subsequent hip fractures. Clin Orthop Relat Res 461:226-30, 8/2007. PMID: 17415014.
26.
Bennett CL, Tigue CC, Angelotta C, McKoy JM, Edwards BJ.. Adverse effects of drugs used to treat hematologic malignancies: surveillance efforts from the research on adverse drug events and reports project. Semin Thromb Hemost 33(4):365-72, 6/2007. PMID: 17525894.
27.
McKoy JM, Fitzner KA, Edwards BJ, Alkhatib M, Tigue CC, Nonzee NJ, Bolden CR, Bennett CL. Cost considerations in the management of cancer in the older patient. Oncology (Williston Park) 21(7):851-7; discussion 858, 860, 862 passim, 6/2007. PMID: 17722744.
28.
Bennett CL, Nebeker JR, Yarnold PR, Tigue CC, Dorr DA, McKoy JM, Edwards BJ, Hurdle JF, West DP, Lau DT, Angelotta C, Weitzman SA, Belknap SM, Djulbegovic B, Tallman MS, Kuzel TM, Benson AB, Evens A, Trifilio SM, Courtney DM, Raisch DW. Evaluation of serious adverse drug reactions: a proactive pharmacovigilance program (RADAR) vs safety activities conducted by the Food and Drug Administration and pharmaceutical manufacturers. Arch Intern Med 167(10):1041-9, 5/2007. PMID: 17533207.
29.
Edwards BJ, Langman CB, Martinez K, Johnson M, Mille ML, Rogers MW. Women with wrist fractures are at increased risk for future fractures because of both skeletal and non-skeletal risk factors. Age Ageing 35(4):438-41, 7/2006. e-Pub 5/2006. PMID: 16690638.
30.
Edwards BJ, Iris M, Ferkel E, Feinglass J. Postmenopausal women with minimal trauma fractures are unapprised of the existence of low bone mass or osteoporosis. Maturitas 53(3):260-6, 2/2006. e-Pub 7/2005. PMID: 16039809.
31.
Edwards BJ, Bunta AD, Madison LD, DeSantis A, Ramsey-Goldman R, Taft L, Wilson C, Moinfar M. An osteoporosis and fracture intervention program increases the diagnosis and treatment for osteoporosis for patients with minimal trauma fractures. Jt Comm J Qual Patient Saf 31(5):267-74, 5/2005. PMID: 15960017.
32.
Edwards BJ, Brooks ER, Langman CB. Osteoporosis screening of postmenopausal women in the primary care setting: a case-based approach. Gend Med 1(2):70-85, 12/2004. PMID: 16115586.
33.
Edwards BJ. Solutions to the undertreatment of osteoporosis-related fractures. Arch Intern Med 164(6):677, 3/2004. PMID: 15037499.
34.
Kaufman JD, Bolander ME, Bunta AD, Edwards BJ, Fitzpatrick LA, Simonelli C. Barriers and solutions to osteoporosis care in patients with a hip fracture. J Bone Joint Surg Am 85-A(9):1837-43, 9/2003. PMID: 12954849.
35.
Ojo F, Edwards BJ. Frequency of low bone mass in elderly males attending an academic geriatric clinic: a pilot study. Aging Male 6(3):145-50, 9/2003. PMID: 14628494.
36.
Pavol MJ, Runtz EF, Edwards BJ, Pai YC. Age influences the outcome of a slipping perturbation during initial but not repeated exposures. J Gerontol A Biol Sci Med Sci 57(8):M496-503, 8/2002. PMID: 12145362.
37.
Edwards BJ, Perry HM, Kaiser FE, Morley JE, Kraenzle D, Stevenson R, Kreutter D. Relationship of age and calcitonin gene-related peptide to postprandial hypotension. Mech Ageing Dev 87(2):61-73, 6/1996. PMID: 8783190.
38.
Edwards BJ, Perry HM, Kaiser FE, Morley JE, Kraenzle D, Kreutter DK, Stevenson RW. Age-related changes in amylin secretion. Mech Ageing Dev 86(1):39-51, 1/1996. PMID: 8866735.
39.
Edwards BJ, Perry HM. Age-related osteoporosis. Clin Geriatr Med 10(4):575-88, 11/1994. PMID: 7850691.
40.
Edwards BJ, Morley JE. Amylin. Life Sci 51(25):1899-912, 1992. PMID: 1453875.