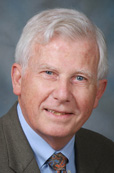 '
Benoit de Crombrugghe, M.D.
Present Title & Affiliation
Primary Appointment
Professor, Department of Genetics, The University of Texas MD Anderson Cancer Center, Houston, TX
Professor, Department of Genetics, The University of Texas MD Anderson Cancer Center, Houston, TX
Dual/Joint/Adjunct Appointment
Professor, The University of Texas Graduate School of Biomedical Sciences, Houston, TX
Research Interests
Cell fate determination
Cell differentiation
Chondrocytes
Osteoblasts
My laboratory is interested in the molecular and genetic mechanisms that control the fate of cell types that are derived from mesenchymal cell precursors, specifically chondrocytes and osteoblasts. Our central hypothesis is that specific transcription factors control the differentiation pathways for each of these cell types. Our aim is to identify these transcription factors, understand how they function to control broad genetic programs and determine how their expression or activity responds to major cellular signaling pathways.
We have shown that the transcription factor SOX9 is required at multiple steps of the chondrocyte differentiation pathway. SOX9 is also needed for the expression of two other members of the SOX family, SOX5 and SOX6, which in turn are required at a specific step in the pathway, that of overt differentiation of chondrocytes. In addition to its essential role in chondrogenesis, SOX9 also controls the cell fate of several other cell lineages in endocardial cushions, in primordia of the pancreas, in the cranial neural crest, in the male gonad. We hypothesize that other transcription factors provide the additional specificity to SOX9 in these different lineages. Our present work is focusing on the biochemical mechanisms by which SOX9 exerts its different roles during chondrogenesis and how the three SOX proteins cooperate in control of chondrogenesis. We have also established exciting links between SOX9 and signaling molecules that are known to influence chondrocyte differentiation in vivo. Sox9 inhibits the transcriptional activity of -catenin and excess -catenin inhibits the activity of Sox9. SOX9 is also a target of signaling by the parathyroid hormone-related peptide, which increases the transcriptional activity of Sox9 through phosphorylation. In addition, fibroblast growth factors (FGFs) increase the expression of SOX9 in tissue culture cells. Since achondroplasia, the most common form of dwarfism in humans, is caused by activating mutations in FGF receptor 3, we have postulated that SOX9 has a role in this disease.
We have also identified a novel transcription factor called Osterix that is specifically expressed in osteoblasts and is completely required for osteoblast differentiation. In mice that lack this transcription factor, osteoblast differentiation is arrested and bone formation do not occur. This factor controls a broad array of osteoblast-specific genes and acts downstream of another key factor for osteoblast differentiation called Runx2. In addition to its role as the major effector of the osteoblast program, Osterix is also a negative regulator of the chondrocyte lineage. Our present work examines the mechanisms by which Osterix exerts these effects.
In still another project we have generated a mouse model for the human disease scleroderma or systemic sclerosis by activating the TGF pathway after birth in fibroblast-type cells.
View a complete list of Dr. de Crombrugghe's publications.
Office Address
The University of Texas MD Anderson Cancer Center
Department of Genetics Unit 1010
1515 Holcombe Blvd.
Houston, TX 77030
Room Number: S15.8116
Phone: (713) 834-6376
Email: bdecromb@mdanderson.org
Education & Training
Degree-Granting Education

1968
Universite de Louvain, Louvain, Belgium, Agrege, Biochemistry
1961
Universite de Louvain, Louvain, Belgium, MD, Medicine

Postgraduate Training

1968-1969

Eleanor Roosevelt Fellowship of the American Cancer Society, Postdoctoral Guest Worker, International Union against Cancer; NIH, NIAMD, Bethesda, MD

1963-1965

Fellow of the Belgian American Educational Foundation; postdoctoral guest worker, National Institutes of Health, NIAMD, Clinical Endocrinology Branch, Bethesda, MD

1961-1965

Clinical Training in Internal Medicine, University of Louvain Medical School, Louvain, Belgium
Selected Publications
Peer-Reviewed Original Research Articles

1.
Henry SP, Liang S, Akdemir KC, de Crombrugghe B. The postnatal role of Sox9 in cartilage. J Bone Miner Res 27(12):2511-25, 12/2012. PMCID: PMC3502666.
2.
Renard E, Poree B, Chadjichristos C, Kypriotou M, Maneix L, Bigot N, Legendre F, Ollitrault D, De Crombrugghe B, Mallein-Gerin F, Moslemi S, Demoor M, Boumediene K, Galera P.. Sox9/Sox6 and Sp1 are involved in the insulin-like growth factor-1-mediated upregulation of human type II collagen gene expression in articular chondrocytes. J Mol Med, 6/2012.
3.
Cao Z, Zhang H, Zhou X, Han X, Ren Y, Gao T, Xiao Y, de Crombrugghe B, Somerman MJ, Feng JQ. Genetic evidence for the vital function of osterix in cementogenesis. J Bone Miner Res 27(5):1080-92, 5/2012. e-Pub 1/13/2012. PMCID: PMC4006083.
4.
Zhang C, Dai H, de Crombrugghe B. Characterization of Dkk1 gene regulation by the osteoblast-specific transcription factor Osx. Biochem Biophys Res Commun 420(4):782-6, 4/20/2012. e-Pub 3/20/2012. PMCID: PMC4048943.
5.
Oh JH, Park SY, de Crombrugghe B, Kim JE. Chondrocyte-specific ablation of Osterix leads to impaired endochondral ossification. Biochem Biophys Res Commun 418(4):634-40, 2/24/2012. e-Pub 1/21/2012. PMCID: PMC4012832.
6.
Akiyama H, Lyons JP, Mori-Akiyama Y, Yang X, Zhang R, Zhang Z, Deng JM, Taketo MM, Nakamura T, Behringer RR, McCrea PD, de Crombrugghe B. Interactions between Sox9 and beta-catenin control chondrocyte differentiation. Genes Dev 18(9):1072-87, 5/1/2004. PMCID: PMC406296.
7.
Akiyama H, Chaboissier MC, Behringer RR, Rowitch DH, Schedl A, Epstein JA, de Crombrugghe B. Essential role of Sox9 in the pathway that controls formation of cardiac valves and septa. Proc Natl Acad Sci U S A 101(17):6502-7, 4/27/2004. e-Pub 4/19/2004. PMCID: PMC404074.
8.
Murakami S, Balmes G, McKinney S, Zhang Z, Givol D, de Crombrugghe B. Constitutive activation of MEK1 in chondrocytes causes Stat1-independent achondroplasia-like dwarfism and rescues the Fgfr3-deficient mouse phenotype. Genes Dev 18(3):290-305, 2/1/2004. PMCID: PMC338282.
9.
Mori-Akiyama Y, Akiyama H, Rowitch DH, de Crombrugghe B. Sox9 is required for determination of the chondrogenic cell lineage in the cranial neural crest. Proc Natl Acad Sci U S A 100(16):9360-5, 8/5/2003. e-Pub 7/23/2003. PMCID: PMC170923.
10.
Nakashima K, Zhou X, Kunkel G, Zhang Z, Deng JM, Behringer RR, de Crombrugghe B. The novel zinc finger-containing transcription factor osterix is required for osteoblast differentiation and bone formation. Cell 108(1):17-29, 1/11/2002. PMID: 11792318.