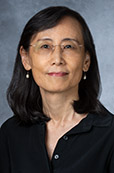 '
Bing Z Carter, Ph.D.
Present Title & Affiliation
Primary Appointment
Associate Professor, Department of Leukemia - Research, Division of Cancer Medicine, The University of Texas MD Anderson Cancer Center, Houston, TX
Bio Statement
I joined the Section of Molecular Hematology and Therapy in the Department of Leukemia in 1999. Since then, my research has been focused on understanding the regulation of apoptotic regulators and targeting antiapoptotic proteins as a strategy to induce apoptosis in myeloid leukemia. Supported by AML PO-1, I found that survivin and XIAP, members of inhibitors of apoptosis protein family (IAPs) are highly expressed in AML and are potential therapeutic targets for AML. I recently discovered that cIAP1, another member of IAPs is significantly higher and its antagonist SMAC is significantly lower in AML stem/progenitor cells by protein array and I am investigating the potential of targeting cIAPs by SMAC mimetics in eradicating AML stem/progenitor cells and overcoming microenvironmental protection of leukemia cells. I also identified recently that ARC (apoptosis repressor with caspase recruitment domain), a unique antiapoptotic protein is a strong poor prognostic marker in AML and plan to investigate its roles in AML cell growth and survival and in leukemia cells/stromal interaction.
Education & Training
Degree-Granting Education

1990
Tulane Medical School, New Orleans, LA, PHD, Biochemistry
1984
Wuhan University, Wuhan, China, BS, Microbiology
Selected Publications
Peer-Reviewed Original Research Articles

1.
Mak DH, Wang RY, Schober WD, Konopleva M, Cortes J, Kantarjian H, Andreeff M, Carter BZ. Activation of apoptosis signaling eliminates CD34+ progenitor cells in blast crisis CML independent of response to tyrosine kinase inhibitors. Leukemia doi:10.1038(4):788-94, 4/2012. e-Pub 10/2011. PMID: 22033489.
2.
Carter BZ, Mak DH, Shi Y, Fidler JM, Chen R, Ling X, Plunkett W, Andreeff M. MRx102, a triptolide derivative, has potent antileukemic activity in vitro and in a murine model of AML. Leukemia 26(3):443-50, 3/2012. e-Pub 9/2011. PMID: 21904380.
3.
Carter BZ, Qiu YH, Zhang N, Coombes KR, Mak DH, Thomas DA, Ravandi F, Kantarjian HM, Koller E, Andreeff M, Kornblau SM. Expression of ARC (apoptosis repressor with caspase recruitment domain), an antiapoptotic protein, is strongly prognostic in AML. Blood 117(3):780-7, 1/20/2011. e-Pub 11/1/2010. PMCID: PMC3035072.
4.
Carter BZ, Mak DH, Morris SJ, Borthakur G, Estey E, Byrd AL, Konopleva M, Kantarjian H, Andreeff M. XIAP antisense oligonucleotide (AEG35156) achieves target knockdown and induces apoptosis preferentially in CD34+38- cells in a phase 1/2 study of patients with relapsed/refractory AML. Apoptosis 16(1):67-74, 1/2011. e-Pub 10/2010. PMID: 20938744.
5.
Carter BZ, Mak DH, Schober WD, Koller E, Pinilla C, Vassilev LT, Reed JC, Andreeff M. Simultaneous activation of p53 and inhibition of XIAP enhance the activation of apoptosis signaling pathways in AML. Blood 115(2):306-14, 1/2010. e-Pub 11/2009. PMCID: PMC2808154.
6.
Carter BZ, Mak DH, Woessner R, Gross S, Schober WD, Estrov Z, Kantarjian H, Andreeff M. Inhibition of KSP by ARRY-520 induces cell cycle block and cell death via the mitochondrial pathway in AML cells. Leukemia 23(10):1755-62, 10/2009. e-Pub 5/2009. PMID: 19458629.
7.
Mak DH, Schober WD, Chen W, Konopleva M, Cortes J, Kantarjian HM, Andreeff M, Carter BZ. Triptolide induces cell death independent of cellular responses to imatinib in blast crisis chronic myelogenous leukemia cells including quiescent CD34+ primitive progenitor cells. Mol Cancer Ther 8(9):2509-16, 9/2009. e-Pub 9/2009. PMCID: PMC2754862.
8.
Carter BZ, Mak DH, Schober WD, Dietrich MF, Pinilla C, Vassilev LT, Reed JC, Andreeff M. Triptolide sensitizes AML cells to TRAIL-induced apoptosis via decrease of XIAP and p53-mediated increase of DR5. Blood 111(7):3742-50, 4/2008. e-Pub 1/2008. PMCID: PMC2275030.
9.
Carter BZ, Mak DH, Shi Y, Schober WD, Wang RY, Konopleva M, Koller E, Dean NM, Andreeff M. Regulation and targeting of Eg5, a mitotic motor protein in blast crisis CML: overcoming imatinib resistance. Cell Cycle 5(19):2223-9, 10/2006. e-Pub 10/2006. PMID: 16969080.
10.
Carter BZ, Mak DH, Schober WD, McQueen T, Harris D, Estrov Z, Evans RL, Andreeff M. Triptolide induces caspase-dependent cell death mediated via the mitochondrial pathway in leukemic cells. Blood 108(2):630-7, 7/2006. e-Pub 3/2006. PMCID: PMC1895484.
11.
Carter BZ, Mak DH, Schober WD, Cabreira-Hansen M, Beran M, McQueen T, Chen W, Andreeff M. Regulation of survivin expression through Bcr-Abl/MAPK cascade: targeting survivin overcomes imatinib resistance and increases imatinib sensitivity in imatinib-responsive CML cells. Blood 107(4):1555-63, 2/2006. e-Pub 10/2005. PMCID: PMC1895411.
12.
Carter BZ, Gronda M, Wang Z, Welsh K, Pinilla C, Andreeff M, Schober WD, Nefzi A, Pond GR, Mawji IA, Houghten RA, Ostresh J, Brandwein J, Minden MD, Schuh AC, Wells RA, Messner H, Chun K, Reed JC, Schimmer AD. Small-molecule XIAP inhibitors derepress downstream effector caspases and induce apoptosis of acute myeloid leukemia cells. Blood 105(10):4043-50, 5/2005. e-Pub 2/2005. PMCID: PMC1895077.

Invited Articles

1.
Carter BZ, Mak DH, Cortes J, Andreeff M. The elusive chronic myeloid leukemia stem cell: does it matter and how do we eliminate it? Semin Hematol 47(4):362-70, 10/2010. PMCID: PMC2948413.