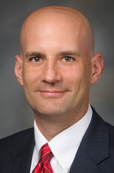 '
Brian K. Bednarski, M.D.
Present Title & Affiliation
Primary Appointment
Assistant Professor, Department of Surgical Oncology, Division of Surgery, The University of Texas MD Anderson Cancer Center, Houston, TX
Office Address
The University of Texas MD Anderson Cancer Center
1400 Pressler Street, Unit 1484
Unit Number: 1484
Houston, TX 77030
Room Number: FCT17.6034
Phone: 713-745-9799
Fax: 713-745-4426
Education & Training
Degree-Granting Education

2003
University of Michigan Medical School, Ann Arbor, MI, MD, Medicine
1999
Georgetown University, Washington, DC, BS, Magna Cum Laude, Chemistry
Board Certifications
| | |
| --- | --- |
| 12/2011 | American Board of Surgery |
Experience/Service
Administrative Appointments/Responsibilities
Associate Program Director, Complex General Surgical Oncology Fellowship, Department of Surgical Oncology, Division of Surgery, The University of Texas MD Anderson Cancer Center, Houston, TX, 6/2014-present
Institutional Committee Activities
Reviewer, Faculty Academic Review Committee (FARC), 1/2015-1/2018
Chair, Clinical Competency Committee, 11/2014-present
Member, Subject Matter Expert for EPIC, Department of Surgical Oncology, 7/2014-present
Selected Publications
Peer-Reviewed Original Research Articles

1.
Bednarski BK, Araujo DM, Yi M, Torres KE, Lazar A, Trent JC, Cormier JN, Pisters PW, Lev DC, Pollock RE, Feig BW, Hunt KK. Analysis of prognostic factors impacting oncologic outcomes after neoadjuvant tyrosine kinase inhibitor therapy for gastrointestinal stromal tumors. Ann Surg Oncol 21(8):2499-505, 8/2014. e-Pub 3/2014. PMID: 24639192.
2.
Bednarski BK, Habra MA, Phan A, Milton DR, Wood C, Vauthey N, Evans DB, Katz MH, Ng CS, Perrier ND, Lee JE, Grubbs EG. Borderline resectable adrenal cortical carcinoma: a potential role for preoperative chemotherapy. World J Surg 38(6):1318-27, 6/2014. PMID: 24615603.
3.
Cooper AB, Habra MA, Grubbs EG, Bednarski BK, Ying AK, Perrier ND, Lee JE, Aloia TA. Does laparoscopic adrenalectomy jeopardize oncologic outcomes for patients with adrenocortical carcinoma? Surg Endosc 27(11):4026-32, 11/2013. e-Pub 6/2013. PMID: 23765427.
4.
Sweeting RS, Deal AM, Llaguna OH, Bednarski BK, Meyers MO, Yeh JJ, Calvo BF, Tepper JE, Kim HJ. Intraoperative electron radiation therapy as an important treatment modality in retroperitoneal sarcoma. J Surg Res 185(1):245-9, 11/2013. e-Pub 5/2013. PMID: 23769633.
5.
Xu D, Cobb MG, Gavilano L, Witherspoon SM, Williams D, White CD, Taverna P, Bednarski BK, Kim HJ, Baldwin AS, Baines AT. Inhibition of oncogenic Pim-3 kinase modulates transformed growth and chemosensitizes pancreatic cancer cells to gemcitabine. Cancer Biol Ther 14(6):492-501, 6/2013. PMCID: PMC3813565.
6.
Bednarski BK, Pisters PW, Hunt KK. The role of surgery in the multidisciplinary management of patients with localized gastrointestinal stromal tumors. Expert Rev Anticancer Ther 12(8):1069-78, 8/2012. PMID: 23030225.
7.
Goicoechea SM, Bednarski BK, Stack C, Cowan DW, Volmar K, Thorne L, Cukierman E, Rustgi AK, Brentnall T, Hwang RF, McCulloch CA, Yeh JJ, Bentrem DJ, Hochwald SN, Hingorani SR, Kim HJ, Otey CA. Isoform-specific upregulation of palladin in human and murine pancreas tumors. PLoS One 5(4):e10347, 2010. e-Pub 4/2010. PMCID: PMC2859948.
8.
Merchant NB, Rymer J, Koehler EA, Ayers GD, Castellanos J, Kooby DA, Weber SH, Cho CS, Schmidt CM, Nakeeb A, Matos JM, Scoggins CR, Martin RC, Kim HJ, Ahmad SA, Chu CK, McClaine R, Bednarski BK, Staley CA, Sharp K, Parikh AA. Adjuvant chemoradiation therapy for pancreatic adenocarcinoma: who really benefits? J Am Coll Surg 208(5):829-38; discussion 838-41, 5/2009. e-Pub 3/2009. PMID: 19476845.
9.
Goicoechea SM, Bednarski BK, García-Mata R, Prentice-Dunn H, Kim HJ, Otey CA. Palladin contributes to invasive motility in human breast cancer cells. Oncogene 28(4):587-98, 1/2009. e-Pub 11/2008. PMCID: PMC2633435.
10.
Bednarski BK, Baldwin AS, Kim HJ. Addressing reported pro-apoptotic functions of NF-kappaB: targeted inhibition of canonical NF-kappaB enhances the apoptotic effects of doxorubicin. PLoS One 4(9):e6992, 2009. e-Pub 9/2009. PMCID: PMC2734988.
11.
Bednarski BK, Ding X, Coombe K, Baldwin AS, Kim HJ. Active roles for inhibitory kappaB kinases alpha and beta in nuclear factor-kappaB-mediated chemoresistance to doxorubicin. Mol Cancer Ther 7(7):1827-35, 7/2008. PMCID: PMC2581801.
12.
Wang SC, Bednarski BK, Patel S, Yan A, Kohoyda-Inglis C, Kennedy T, Link E, Rowe S, Sochor M, Arbabi S. Increased depth of subcutaneous fat is protective against abdominal injuries in motor vehicle collisions. Annu Proc Assoc Adv Automot Med 47:545-59, 2003. PMCID: PMC3217555.
13.
An YH, McGlohorn JB, Bednarski BK, Martin KL, Friedman RJ. An open channel flow chamber for characterizing biofilm formation on biomaterial surfaces. Methods Enzymol 337:79-88, 2001. PMID: 11398453.
14.
Hierholzer C, Kalff JC, Bednarski BK, Memarzadeh F, Kim YM, Billiar TR, Tweardy DJ. Rapid and simultaneous activation of Stat3 and production of interleukin 6 in resuscitated hemorrhagic shock. Arch Orthop Trauma Surg 119(5-6):332-6, 1999. PMID: 10447634.

Abstracts

1.
Bednarski BK, Baldwin A, Kim H. NF-KappaB and chemoresistance in sarcomas: The importance of IKKalpha in canonical signaling. Journal of the American College of Surgeons 209(3):Suppl Pg. S121, 9/2009.

Manuals, Teaching Aids, Other Teaching Publications

1.
Kim H, Bednarski BK, Tesce L. Surgery: Lange Q&A USMLE Step 3, 5th. Briscoe, D, 1/2008. PMID: 0071492593, 9780071492591.