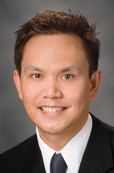 '
Brian M. Bruel
Present Title & Affiliation
Primary Appointment
Assistant Professor, Department of Pain Medicine, Division of Anesthesiology and Critical Care, The University of Texas MD Anderson Cancer Center, Houston, TX
Education & Training
Degree-Granting Education

2009
Texas Women's University, Denton, TX, MBA, Business Administration
2002
College of St. Scholastica, Duluth, MN, MA, Exercise Physiology
2001
University of the East Ramon Magsaysay Memorial Medical Center, Quezon City, Philippines, MD, Medicine
1997
San Francisco State University, San Francisco, CA, BS, BS/Physiology & BA/Kinesiology; Minor in Chemistry

Postgraduate Training

9/2010-5/2011

Physician Leader, Texas Medical Association Leadership College, Austin, TX

7/2006-6/2007

Clinical Fellowship, Pain Medicine, The University of Texas MD Anderson Cancer Center, Houston, TX, Madhuri Are, MD

1/2005-2/2006

Chief Residency, Physical Medicine and Rehabilitation, Baylor College of Medicine/ University of Texas-Houston, Houston, TX

7/2003-6/2006

Clinical Residency, Physical Medicine and Rehabilitation, Baylor College of Medicine/ University of Texas-Houston, Houston, TX, Gerard Francisco, MD

7/2002-6/2003

Clinical Internship, Internal Medicine, New York Medical College-St. Vincent Catholic Medical Centers of Brooklyn/Queens, Jamaica, NY, Frantz Duffoo, MD
Board Certifications
| | |
| --- | --- |
| 11/2007 | American Board of Physical Medicine and Rehabilitation Certification of added qualification in Pain |
| 6/2007 | Board Certified American Board of Physical Medicine and Rehabilitation |
Experience/Service
Administrative Appointments/Responsibilities
Member, Board of Socioeconomics, Harris County Medical Society, Houston, TX, 2013-present
Founding Member and President-Elect, Cancer Pain Research Consortium, Las Vegas, NV, 2012-present
Delegate, Texas Medical Association (TMA), Harris County Medical Society, Houston, TX, 2012-present
Treasurer, Harris County Physical Medicine and Rehabilitation Society, Houston, TX, 2012-present
Member, Harris County Medical Society, Young physician Ambassador Central Branch, Houston, TX, 2012-present
Member, American Academy of Physical Medicine & Rehabilitation (AAPM&R) Taskforce on Risk Evaluationand Mitigation Strategies (REMS), Chicago, IL, 2012-2013
Vice-Chair, TMA Delegation, Science and Public Health Review Committee, Harris County Medical Association, Houston, TX, 2012
Exofficio Member, Harris County Medical Society Membership Committee, Houston, TX, 11/2011-present
Member of the Board of Directors, Texas Pain Society, Austin, TX, 9/2011-present
Board Member, The Health Museum, Houston, TX, 2011-present
Member, Texas Medical Association Membership Committee, Houston, TX, 2011-present
Member, Harris County Medical Society, Health Plan Liaison Committee, Houston, TX, 2011-2013
Alternate Delegate to the Texas Medical Association (TMA), Harris County Medical Society, Houston, TX, 2011-2012
Member, Texas Pain Society Membership Committee, Houston, TX, 2010-2013
Honors and Awards
2012-present

Rising Star in Medicine,

Texas Monthly

2012-present

Texas Super Doctors,

Texas Monthly

2011-present

Best Doctors in America,

Best Doctors, inc

2008

Patient Care and Service Recognition,

UTSW

2007-2008

Faculty of the Year,

UTSW Department of Physical Medicine and Rehabilitation
Selected Publications
Peer-Reviewed Original Research Articles

1.
Bruel BM, Dajoyag-Mejia MA. Shoulder mass and pain in a patient with C5 American spinal injury association grade A tetraplegia. Am J Phys Med Rehabil 84(9):725, 9/2005. PMID: 16141754.

Abstracts

1.
Bruel BM, Viswanathan A. Neurodestruction and Neuromodulation for the Treatment of Intractable Pain from Radiation Induced Brachial Plexopathy. International Neuromodulation Society Meeting, 2011.
2.
Engle MP, Bruel BM, Rozner M, Driver LD. Peripheral and Dorssal Column Stimulation to Treat Radiation Induced Throat Pain in a Patient with an Automated Implantable Cardioverter Defibrillator (AICD). Texas pain Society Annual Meeting, 2011.
3.
Bruel BM, Patel A, Chouteau W. Thalamic Pain and Options in Neuromodulation: Case Report and Review. International Neuromodulatin Society Meeting, 2011.
4.
Bruel BM, LeDoux M, Yeh C. Decisions involved in the clinical use of Ziconotide: Case series. North American Neuromodulation Society Annual Meeting, 2009.
5.
Yeh C, Bruel BM. Intathecal Ziconotide for the treatment of refractory abdominal pain due to postural orthostatic tachycardia syndrome. North American Neuromodulation Society Meeting, 2009.
6.
Zeballos, P; Bruel, BM; Tella, PV. Repeat percutaneous kyphoplasty for previously treated level for recurrent pain. Abstract presented at the American Society of Interventional Pain Physicians 2008 Annual Meeting, 2008.

Book Chapters

1.
Bruel BM, Engle MP, Rauck RL, Weber TJ, Kapural L. Intrathecal Drug Delivery for Control of Pain. In: Comprehensive Treatment of Chronic Pain by Medical, Interventional, and Integrative Approaches. Chapter 61, 2013.
© 2014 The University of Texas MD Anderson Cancer Center