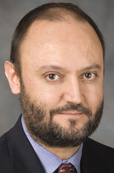 '
Carlos Caulin, Ph.D.
Present Title & Affiliation
Primary Appointment
Assistant Professor, Department of Head and Neck Surgery - Research, Division of Surgery, The University of Texas MD Anderson Cancer Center, Houston, TX
Dual/Joint/Adjunct Appointment
Assistant Professor, Department of Genetics, The University of Texas MD Anderson Cancer Center, Houston, TX
Research Interests
Head and neck cancer results from the accumulation of genetic alterations, which may lead to the disruption of signaling pathways that control cellular functions, including proliferation, cell death and differentiation. Research in our laboratory focuses on dissecting the role of genetic alterations involved in head and neck cancers using mouse models in which these mutations are induced exclusively in the oral epithelium. Specific areas of research include:
Study the role of p53 gain of function mutations during oral cancer development. Tumor development and mechanisms that lead to tumor progression are analyzed in mice that develop oral tumors that express an endogenous p53R172H mutation compared to tumors in which the p53 gene is deleted (loss of function).

Generation of mice in which EGFR overexpression can be induced in the head and neck epithelium. These mice are used to analyze the impact of EGFR overexpression during head and neck cancer development and to test cooperation with other genetic alterations.

Study the role of inactivating the INK4a/ARF locus during head and neck cancer formation and progression, and analyze cooperation between INK4a/ARF inactivation, p53 mutations and EGFR overexpression.

Identification and characterization of cell populations with different tumorigenic potential in mouse squamous cell carcinomas.

Analysis of the expression and genomic profiles generated from mouse oral tumors in order to identify genetic alterations and molecular pathways involved in head and neck cancer development.

Using mouse models for head and neck cancer as preclinical models for testing therapeutic agents.
Office Address
The University of Texas MD Anderson Cancer Center
1515 Holcombe Blvd.
Unit Number: 123
Houston, TX 77030
Room Number: T5.3895
Phone: (713) 794-5603
Fax: (713) 745-2234
Education & Training
Degree-Granting Education

1994
Universidad Autónoma de Madrid (U.A.M.), Madrid, Spain, PHD, Biochemistry and Molecular Biology
1989
Universidad Autónoma de Madrid (U.A.M.), Madrid, Spain, BS, Biological Sciences

Postgraduate Training

4/2000-6/2002

Postdoctoral Associate, Baylor College of Medicine, Houston, TX, Dr. Dennis R. Roop
Honors and Awards
2002-2005

Research Career Development Award,

The Dermatology Foundation
Professional Memberships
American Association for Cancer Research
Member, 2005-present
Selected Publications
Peer-Reviewed Original Research Articles

1.
Acin S, Li Z, Mejia O, Roop DR, El-Naggar AK, Caulin C. Gain-of-function mutant p53 but not p53 deletion promotes head and neck cancer progression in response to oncogenic K-ras. J Pathol 225(4):479-89, 12/2011. e-Pub 9/26/2011. PMID: 21952947.
2.
Sano D, Xie TX, Ow TJ, Zhao M, Pickering CR, Zhou G, Sandulache VC, Wheeler DA, Gibbs RA, Caulin C, Myers JN. Disruptive TP53 mutation is associated with aggressive disease characteristics in an orthotopic murine model of oral tongue cancer. Clin Cancer Res 17(21):6658-70, 11/1/2011. e-Pub 9/8/2011. PMCID: PMC3207013.
3.
Mitani Y, Rao PH, Futreal PA, Roberts DB, Stephens PJ, Zhao YJ, Zhang L, Mitani M, Weber RS, Lippman SM, Caulin C, El-Naggar AK. Novel Chromosomal Rearrangements and Break Points at the t(6;9) in Salivary Adenoid Cystic Carcinoma: Association with MYB-NFIB Chimeric Fusion, MYB Expression, and Clinical Outcome. Clin Cancer Res 17(22):7003-14, 11/15/2011. e-Pub 10/5/2011. PMCID: PMC3225955.
4.
Torchia EC, Caulin C, Acin S, Terzian T, Kubick BJ, Box NF, Roop DR. Myc, Aurora Kinase A, and mutant p53(R172H) co-operate in a mouse model of metastatic skin carcinoma. Oncogene. e-Pub 10/3/2011. PMID: 21963848.
5.
Mitani Y, Li J, Weber RS, Lippman SL, Flores ER, Caulin C, El-Naggar AK. Expression and regulation of the p63 dN and TA isoforms in salivary gland tumorigenesis clinical and experimental findings. Am J Pathol 179(1):391-9, 7/2011. e-Pub 5/2011. PMCID: PMC3123859.
6.
Mitani Y, Li J, Rao PH, Zhao YJ, Bell D, Lippman SM, Weber RS, Caulin C, El-Naggar AK. Comprehensive analysis of the MYB-NFIB gene fusion in salivary adenoid cystic carcinoma: Incidence, variability, and clinicopathologic significance. Clin Cancer Res 16(19):4722-31, 10/2010. e-Pub 8/2010. PMID: 20702610.
7.
Torchia EC, Chen Y, Sheng H, Katayama H, Caulin C, Fitzpatrick J, Brinkley WR, Sen S and Roop DR. A genetic variant of Aurora Kinase A promotes genomic instability leading to highly malignant skin tumors. Cancer Research 69(18):7207-15, 2009.
8.
Caulin C, Nguyen T, Lang GA, Goepfert TM, Brinkley BR, Cai WW, Lozano G, Roop DR. An inducible mouse model for skin cancer reveals distinct roles for gain- and loss-of-function p53 mutations. J Clin Invest 117(7):1893-901, 7/2007. PMCID: PMC1904325.
9.
Chen J, Cheng X, Merched-Savage M, Caulin C, Roop DR, Koch PJ. An unexpected role for keratin 10 end domains in susceptibility to skin cancer. J Cell Sci 119:5067-5076, 2006.
10.
Caulin C, Nguyen T, Longley M.A., Zhou Z., Wang X-J., Roop D.R. Inducible activation of oncogenic K-ras results in tumor formation in the oral cavity. Cancer Research 64:5054-5058, 2004.
11.
Caulin C, Ware CF, Magin TM, Oshima RG. Keratin-dependent, epithelial resistance to tumor necrosis factor-induced apoptosis. J Cell Biol 149(1):17-22, 2000.
12.
Caulin C, Salvesen G, Oshima RG. Caspase cleavage of keratin 18 and reorganization of intermediate filaments during epithelial cell apoptosis. J Cell Biol 138:1379-1394, 1997.
13.
Caulin C, López-Barcons L, Gonzalez-Garrigues M, Navarro P, Lozano E, Rodrigo I, Gamallo C, Cano A, Fabra A, Quintanilla M. Suppression of the metastatic phenotype of a mouse skin carcinoma cell line independent of E-cadherin expression and correlated with reduced levels of Ha-ras oncogene products. Mol Carcinog 15:104-114, 1996.
14.
Caulin C, Scholl FG, Frontelo P, Gamallo C, Quintanilla M. Chronic exposure of cultured transformed mouse epidermal cells to transforming growth factor- β1 induces an epithelial-mesenchymal transdifferentiation and a spindle tumoral phenotype. Cell Growth Differ 6(8):1027-35, 1995.

Book Chapters

1.
Milas Z, Myers JN, Caulin C. Animal Models of Oral Cancer Metastasis. In: Oral Cancer Metastasis, 1. Springer New York, 135-161, 2009. ISBN: 978-1-4419-0775-2 (Online).
Grant & Contract Support
Title:
Mouse Model for Salivary Adenoid Cystic Carcinoma, Developmental Research Project
Funding Source:
NIH/NIDCR
Role:
Principal Investigator
Duration:
6/1/2011 - 5/31/2012
Title:
Progression and Metastasis of Oral Tongue Cancer
Funding Source:
NIH/NIDCR
Role:
Co-Investigator
Principal Investigator:
Jeffrey N. Myers
Duration:
4/1/2009 - 3/31/2014
© 2014 The University of Texas MD Anderson Cancer Center