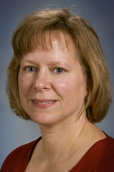 '
Christine M. Stellrecht, Ph.D.
Present Title & Affiliation
Primary Appointment
Assistant Professor, Department of Experimental Therapeutics, Division of Cancer Medicine, The University of Texas MD Anderson Cancer Center, Houston, TX
Research Interests
In recent years, it has become apparent that transcription is a potential target for cancer therapeutics as RNA directed agents exploit the tumor cells' dependency or addiction on short-lived oncogenes, growth regulators, and survival factors. Our research goals are to ascertain the principle operational targets of these agents and investigate their role in the agent's cytotoxic mode of action.
In multiple myeloma (MM) cells, we have shown that the transcription inhibitors, 8-Cl-adenosine and flavopiridol, each inhibit the expression of the MET oncogene. MET is a receptor tyrosine kinase and is usually expressed in an autocrine fashion in MM cells with it ligand, hepatocyte growth factor. We have shown that MET is necessary for the MM cells survival and the cytotoxic actions of the transcription inhibitors are mediated through the depletion of MET. Currently we are expanding this work to investigate the efficacy and mechanism of action of these agents in solid tumors.
Office Address
The University of Texas MD Anderson Cancer Center
P.O. Box 301429
1901 East Road
Unit Number: 1950
Houston, TX 77230-1429
Room Number: 4SCR3.1042
Phone: 713-563-7856
Email: cmstellre@mdanderson.org
Education & Training
Degree-Granting Education

1991
University of Texas Health Science Center Graduate School of Biomedical Sciences, Houston, TX, PHD, Molecular Biology
1981
State University of New York, Buffalo, NY, BS, Medical Technology

Postgraduate Training

12/1991-9/1995

Postdoctoral Fellowship, Cell Biology, Molecular Biology, Baylor College of Medicine, Houston, TX, Dr. Ming-Jer Tsai
Experience/Service
Academic Appointments
Associate Faculty Member, The University of Texas Health Science Center Graduate School of Biomedical Science, Houston, TX, 12/2007-present
Honors and Awards
2011-2012

Career Development Award,

UT MD Anderson Cancer Center SPORE in Myeloma Research

2008-2011

Career Catalyst Award,

Susan G. Komen for the Cure
Selected Publications
Peer-Reviewed Original Research Articles

1.
Stellrecht CM, Chen LS. Transcription Inhibition as a Therapeutic Target in Cancer. Cancers 3(4):4170-4190, http://www.mdpi.com/2072-6694/3/4/4170/, 2011, 11/2011.
2.
Stellrecht CM, Ayres M, Arya R, Gandhi V. A unique RNA-directed nucleoside analog is cytotoxic to breast cancer cells and depletes cyclin E levels. Breast Cancer Res Treat 121(2):355-64, 6/2010. e-Pub 7/2009. PMID: 19641990.
3.
Stellrecht CM, Gandhi V. MET receptor tyrosine kinase as a therapeutic anticancer target. Cancer Lett 280(1):1-14, 7/2009. e-Pub 12/2008. PMID: 19100682.
4.
Stellrecht CM, Gandhi V. Myeloma antioxidant status: the good, the bad, and the reactive. Leuk Lymphoma 50(5):691-3, 5/2009. PMID: 19347768.
5.
Phillip CJ, Stellrecht CM, Nimmanapalli, Gandhi V. Targeting MET Transcription as a Therapeutic Strategy in Multiple Myeloma. Cancer Chemother Pharmacol 63(4):587–597, 2009. e-Pub 5/2008. PMID: 18509644.
6.
Chen LS, Stellrecht CM, Gandhi V. RNA-directed agent, cordycepin, induces cell death in multiple myeloma cells. Br J Haematol 140(6):682-391, 3/2008. PMID: 18205859.
7.
Stellrecht CM, Phillip CJ, Cervantes-Gomez F, Gandhi V. Multiple myeloma cell killing by depletion of the MET receptor tyrosine kinase. Cancer Res 67(20):9913-20, 10/2007. PMID: 17942923.
8.
Balakrishnan K, Stellrecht CM, Genini D, Ayres M, Wierda WG, Keating MJ, Leoni LM, Gandhi V. Cell death of bioenergetically compromised and transcriptionally challenged CLL lymphocytes by chlorinated ATP. Blood 105(11):4455-62, 6/2005. PMCID: PMC1895042.
9.
Stellrecht CM, Rodriguez CO, Jr, Ayres M, Gandhi V. RNA-directed actions of 8-chloro-adenosine in multiple myeloma cells. Cancer Res 63(22):7968-74, 11/2003. PMID: 14633728.
10.
Rodriguez CO, Jr, Stellrecht CM, Gandhi V. Mechanisms for T-cell selective cytotoxicity of arabinosylguanine. Blood 102(5):1842-8, 9/2003. PMID: 12750168.
11.
Stellrecht CM, Gandhi V. Concurrent isolation of ribosomal, messenger, and low molecular weight RNA. Biotechniques 33(5):1122-4, 11/2002. PMID: 12449393.
12.
Xu ZP, Dutra A, Stellrecht CM, Wu C, Piatigorsky J, Saunders GF. Functional and structural characterization of the human gene BHLHB5, encoding a basic helix-loop-helix transcription factor. Genomics 80(3):311-8, 9/2002. PMID: 12213201.
13.
Singh S, Stellrecht CM, Tang HK, Saunders GF. Modulation of PAX6 homeodomain function by the paired domain. J Biol Chem 275(23):17306-13, 6/2000. PMID: 10747901.
14.
Stellrecht CM, DeMayo FJ, Finegold MJ, Tsai MJ. Tissue-specific and developmental regulation of the rat insulin II gene enhancer, RIPE3, in transgenic mice. J Biol Chem 272(6):3567-72, 2/1997. PMID: 9013607.
15.
Peyton M, Stellrecht CM, Naya FJ, Huang HP, Samora PJ, Tsai MJ. BETA3, a novel helix-loop-helix protein, can act as a negative regulator of BETA2 and MyoD-responsive genes. Mol Cell Biol 16(2):626-33, 2/1996. PMCID: PMC231042.
16.
Shieh SY, Stellrecht CM, Tsai MJ. Molecular characterization of the rat insulin enhancer-binding complex 3b2. Cloning of a binding factor with putative helicase motifs. J Biol Chem 270(37):21503-8, 9/1995. PMID: 7665561.
17.
Naya FJ, Stellrecht CM, Tsai MJ. Tissue-specific regulation of the insulin gene by a novel basic helix-loop-helix transcription factor. Genes Dev 9(8):1009-19, 4/1995. PMID: 7774807.
18.
Stellrecht CM, Fraizer G, Selvanayagam C, Chao LY, Lee A, Saunders GF. Transcriptional regulation of a hematopoietic proteoglycan core protein gene during hematopoiesis. J Biol Chem 268(6):4078-84, 2/1993. PMID: 8440699.
19.
Stellrecht CM, Mars WM, Miwa H, Beran M, Saunders GF. Expression pattern of a hematopoietic proteoglycan core protein gene during human hematopoiesis. Differentiation 48(2):127-35, 11/1991. PMID: 1723052.
20.
Stellrecht CM, Saunders GF. Nucleotide sequence of a cDNA encoding a hemopoietic proteoglycan core protein. Nucleic Acids Res 17(18):7523, 9/1989. PMCID: PMC334837.
21.
Mars WM, Stellrecht CM, Stass S, Fraizer ML, Saunders GF. Localization of an abundant myeloid mRNA to individual leukocytes in mixed cell populations. Leukemia 1(3):167-72, 3/1987. PMID: 3478537.
22.
Stellrecht CM, Shentu S, Gandhi V. ATP directed agent, 8-chloro-adenosine, induces AMP activated protein kinase activity, leading to autophagic cell death in breast cancer cells. Submitted.

Invited Articles

1.
Stellrecht CM, Chen LS, Gandhi V. Inhibition of oncogene expression by RNA-directed agents. AACR Education Book 1:338-343, 2005.
2.
Stellrecht CM, Krett N, Ayres M, Rosen S, Gandhi V. 8-chloro-cAMP serves as a prodrug for the RNA directed nucleoside analog, 8-chloro-adenosine. Acute Leukemia IX: Basic Research, Experimental Approaches and Novel Therapies 9:193-199, 1/2003.
Grant & Contract Support
Title:
Targeting Met Receptor Tyrosine Kinase in Multiple Myeloma
Funding Source:
Multiple Myeloma Research Foundation
Role:
Principal Investigator
Duration:
2/2/2012 - 2/1/2014
Title:
Targeting Met Receptor Tyrosine Kinase in High-Risk Myeloma Patients
Funding Source:
Leukemia and Lymphoma Society
Role:
Co-Investigator
Principal Investigator:
Varsha Gandhi
Duration:
10/1/2011 - 9/30/2014
Title:
Using Ribonucleoside Analogs to Augment Anti-Estrogen Treatment of Breast Cancer
Funding Source:
NIH/NCI
Role:
Principal Investigator
Duration:
7/15/2011 - 7/14/2012
Title:
Targeting Met Receptor Tyrosine Kinase
Funding Source:
NIH/NCI
Role:
Co-Investigator
Principal Investigator:
Varsha Gandhi
Duration:
4/1/2011 - 3/31/2012
Title:
Truncated MET Receptor Tyrosine Kinase Isoforms in Myeloma
Funding Source:
NIH/NCI
Role:
Principal Investigator
Duration:
4/1/2011 - 3/31/2012
Title:
Therapeutic Strategies to Alter Gene Expression in Breast Cancer
Funding Source:
Susan G. Komen Breast Cancer Foundation
Role:
Principal Investigator
Duration:
8/22/2008 - 8/21/2012
© 2010 The University of Texas M. D. Anderson Cancer Center