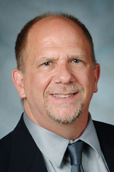 '
Craig D. Logsdon, Ph.D.
Present Title & Affiliation
Primary Appointment
Professor, Department of Cancer Biology, The University of Texas MD Anderson Cancer Center, Houston, TX
Dual/Joint/Adjunct Appointment
Professor, Department of Gastrointestinal (GI) Medical Oncology, The University of Texas MD Anderson Cancer Center, Houston, TX
Research Interests
The goal of my laboratory is to improve the diagnosis and treatment of pancreatic cancer and the related disease pancreatitis. One of our major goals is the identification of disease specific molecules useful as biomarkers or therapeutic targets. For this purpose we have utilized gene profiling and proteomics approaches to identify disease specific molecules. These molecules are then verified as being cancer cell specific using real-time quantitative PCR, Western blotting and immunolocalization in tissue arrays. Functional characterization is then conducted in order to identify molecules with high potential for translational value such as those involved in cancer cell proliferation and survival. Validation of functional roles is conducted intially in vitro and then in vivo. In vitro experiments are conducted both by over-expression and reduced-expression. Molecules that increase pancreatic cancer aggressiveness when over-expressed and which decrease pancreatic cancer cell growth when silenced may be good targets for therapeutic intervention. Once an important functional molecule is identified we develop experimental therapeutics using reagents developed or identified for manipulation of these molecules. Antibodies, dominant negatives, siRNAs and pharmacological agents capable of manipulating the function of the molecules are tested as potential therapeutic agents in animal models. Currently, we are using orthotopically transplanted pancreatic cancer cells or primary xenografts placed in immune deficient animals as our models. We are also developing genetic animal models for pancreatic cancer. Using these approaches we have already discovered important biomarkers and exciting candidates for therapeutic intervention. However, there are many more candidate molecules to investigate and much more to discover. This is a very exciting time for research into pancreatic disease with many opportunities for collaborative research.
Office Address
The University of Texas MD Anderson Cancer Center
Department of Cancer Biology
1515 Holcombe Blvd.
Unit Number: 953
Houston, TX 77030
Room Number: 2SCR2.2014
Phone: 713 563-3585
Fax: 713-563-8986
Email: clogsdon@mdanderson.org
Education & Training
Degree-Granting Education

1981
University of California, Berkeley, CA, PHD, Physiology
1976
California State University, Humboldt, CA, BA, Suma Cum Laude, Biology
Experience/Service
Endowed Positions
Lockton Distinguished Chair for Pancreatic Cancer Research, The University of Texas MD Anderson Cancer Center, Houston, TX, 2004-present
Honors and Awards
2007

President,

American Pancreatic Association

1981

Phi Beta Kappa Member

1979

Julius T. Hansen Memorial Prize for Outstanding Graduate Student

1977

University of California Regents Fellow,

University of California, Berkeley

1976

Suma Cum Laude,

California State University, Humboldt

1976

University of California Regents Fellow,

University of California, Berkeley
Selected Publications
Peer-Reviewed Original Research Articles

1.
Cruz-Monserrate Z, Abd-Elgaliel WR, Grote T, Deng D, Ji B, Arumugam T, Wang H, Tung CH, Logsdon CD. Detection of pancreatic cancer tumours and precursor lesions by cathepsin E activity in mouse models. Gut 67(9):1315-22, 9/2012.
2.
Song S, Ji B, Ramachandran V, Wang H, Hafley M, Logsdon C, Bresalier RS. Overexpressed galectin-3 in pancreatic cancer induces cell proliferation and invasion by binding ras and activating ras signaling. PLoS One 7(8). e-Pub 8/2012. PMCID: PMC3416861.
3.
Arumugam T, Ramachandran V, Gomez SB, Schmidt AM, Logsdon CD. S100P-deprived RAGE antagonist peptide (RAP) reduces tumor growth and metastasis. Clin Cancer Res. 18(16):4356-64, 8/2012. PMID: 22718861.
4.
Kim MP, Truty MJ, Choi W, KangY, Chopin-Lally X, Gallick GE, Wang H, McConkey DJ, Hwang R, Logsdon C, Abbruzzesse J, Fleming JB. Molecular Profiling of Direct Xenograft Tumors Established from Human Pancreatic Adenocarcinoma After Neoadjuvant Therapy. Ann. Surg. Onc.(Suppl 3):S395-403, 7/2012.
5.
Chang DZ, Ma Y, Ji B, Liu Y, Hwu P, Abbruzzese JL, Logsdon CD, and H Wang. Increased CDC20 expression is associated with pancreatic ductal adenocarcinoma differentiation and progression. J. Hematol Oncol. 5(15), 4/2012. PMCID: PMC3350393.
6.
Gaiser S, Daniluk J, Liu Y, Tsou L, Chu J, Lee W, Longnecker DS, Logsdon CD, and Ji B. Intracellular activation of trypinsogen in transgenic mice induces acute but not chronic pancreatitis. Gut 60(10):1379-88, 4/2011. PMID: 21471572.
7.
Song X, Wang H, Logsdon CD, Rashid A, Fleming JB, Abbruzzese JL, Gomez HF, Evans DB, Wang H. Overexpression of receptor tyrosine kinase Axl promotes tumor cell invasion and survival in pancreatic ductal adenocarcinoma. Cancer 15(117/4):734-43, 2011. PMID: 20922806.
8.
Won JH, Zhang Y, Ji B, Logsdon CD and DI Yule. Phenotypic changes in mouse pancreatic stellate cell Ca2+ signaling events following activation in culture and in a disease model of pancreatitis. Molecular Biology of the Cell 22(3):421-36, 2011. PMCID: PMC3031474.
9.
Ying Y, Ghosh P, Guo L, Pal A, Mukhapadhyay U, Peng Z, Yeh HH, Bertolini S, Flores LG, Young D, Volgin A, Soghomonyan S, Bornmann W, Logsdon C, Alauddin MM, Gelovani JG. Synthesis and Ex Vivo Autoradiographic Evaluation of Ethyl-beta-D: -galactopyranosyl-(1,4')-2'-deoxy-2'-[(18)F]fluoro-beta-D: - glucopyranoside-A Novel Radioligand for Lactose-Binding Protein: Implications for Early Detection of Pancreatic Carcinomas with PET. Mol Imaging Biol 13(3):536-46, 2011. PMID: 20592379.
10.
Logsdon CD, Abbruzzese JL. Chemoprevention of pancreatic cancer: ready for the clinic? Cancer Prev Res (Phila) 3(11):1375-8, 11/2010. PMID: 21084259.
11.
Zhang Y, Bharadwaj U, Logsdon CD, Chen C, Yao Q, Li M. ZIP4 Regulates Pancreatic Cancer Cell Growth by Activating IL-6/STAT3 Pathway through Zinc Finger Transcription Factor CREB. Clin Cancer Res. 16(5):1423-30, 3/2010. PMID: 20160059.
12.
Gurda GT, Crozier SJ, Ji B, Ernst SA, Logsdon CD, Rothermel BA, Williams JA. Regulator of calcineurin 1 (Rcan1) controls growth plasticity of pancreas. Gastroenterology 139(2):609-19, 2010. PMID: 20438729.
13.
Chandramouli A, Mercado-Pimentel ME, Hutchinson A, Gibadulinova A, Olson ER, Dickinson S, Shanas R, Davenport J, Owerns J, Bhattacharyya AK, Regan JW, Pastorekova S, Arumugam T, Logsdon CD, Nelson MA. The induction of S100P expression by Prostaglandin e(2) (PGE(2))/EP4 receptor signaling pathway in colon cancer cells. Cancer Biol Ther. 10(10):1056-66, 2010. PMCID: PMC3047097.
14.
Flores LG, Bertolini S, Yeh HH, Young D, Mukhopadhyay U, Pal A, Ying Y, Volgin A, Shavrin A, Soghomonyan S, Tong W, Bornmann W, Alauddin MM, Logsdon C, Gelovani JG. Detection of pancreatic carcinomas by imaging lactose-binding protein expression in peritumoral pancreas using [18F]fluoroethyl-deoxylactose PET/CT. PLoS One 4(11):e7977, 11/2009. PMID: 19956730.
15.
Wang, L, Heidt DG, Lee CJ, Yang H, Logsdon CD, Zhang L, Fearon ER, Ljungman M, Simeone DM. Oncogenic Function of ATDC (TRIM29) in Pancreatic Cancer Through Wnt Pathway Activation and B-catenin Stabilization. Cancer Cell 15(3):207-19, 3/2009. PMCID: PMC2673547.
16.
Li M, Zhang Y, Bharadwaj U, Zhai QJ, Ahern CH, Fisher WE, Brunicardi FC, Logsdon CD, Chen C, Yao Q. Down-regulation of ZIP4 by RNA interference inhibits pancreatic cancer growth and increases the survival of nude mice with pancreatic cancer xenografts. Clin Cancer Research 15(19):5993-6001, 2009. PMCID: PMC19755388.
17.
Arumugam T, Ramachandran V, Rournier KF, H Wang, Marquis L, Abbruzzese JL, Gallick GE, Logsdon CD, McConkey DJ, Choi W. Epithelial to Mesenchymal Transition Contributes to Drug Resistance in Pancreatic Cancer. Cancer Res 69(14):5820-8, 2009. PMID: 19584296.
18.
Ji B, Gaiser S, Chen X, Ernst SA, and Logsdon CD. Intracellular trypsin induces pancreatic acinar cell death but not NFkB activation. Journal of Biological chemistry 284(26):17488-98, 2009. PMCID: PMC19383608.
19.
Wang H, Song X, Logsdon C, Zhou G, Evans DB, Abbruzzese JL, Hamilton SR, Tan TH, Wang H. Proteasome-mediated degradation and functions of hematopoietic progenitor kinase 1 in pancreatic cancer. Cancer Res. 69(3):1069-70, 2009. PMID: 19141650.
20.
Logsdon CD, Ji B. Ras activity in acinar cells links chronic pancreatitis and pancreatic cancer. Clin Gastroenterol Hepatol.(7 11 Suppl):S40-3, 2009. PMID: 19501586.
21.
Ji B, Tsou L, Wang H, Gaiser S, Chang DZ, Daniluk J, Bi Y, Grote T, Longnecker DS, Logsdon CD. Ras activity levels control the development of pancreatic diseases. Gastroenterology 137(3):1072-82, 2009. PMCID: PMC2789008.
22.
Ramachandran V, Arumugam T, Wang H, Logsdon CD. Anterior Gradient 2 (AGR2) is Expressed and Secreted During the Development of Pancreatic Cancer and Promotes Cancer Cell Survival. Cancer Research 68(19):7811-1818, 2008. PMID: 18829536.
23.
Tong Z, Kunnumakkara AB, Wang H, Matsuo Y, Diagaradjane P. Harikumar KB, Ramachandran V, Sung B, Chakraborty A, Bresalier RS, Logsdon C, Aggarwal BB, Krishnan S, Guha S.. Neutrophil gelatinase-associated lipocalin: a novel suppressor of invasion and angiogenesis in pancreatic cancer. Cancer Res 65(15):6100-6108, 2008. PMCID: PMC2714276.
24.
Pan X, Arumugam T, Yamamoto T, Levin PA, Ramachandran V, Ji B, Lopez-Berestein G, McConkey D, Logsdon CD. NFkB p65/relA Silencing Induces Apoptosis and Increases Gemcitabine Effectiveness in a Subset of Pancreatic Cancer Cells. Clin. Cancer Res. 14(4):8143-51, 2008. PMID: 19088029.
25.
Grote T, Siwak DR, Fritsche HA, Joy C, Mills GB, Simeone D, Whitcomb DC, Logsdon CD. Reverse phase protein array for biomarkers in serum and plasma: Accurate detection of CA1909 in pancreatic cancer patient samples. Proteomics 8(15):3051-3060, 2008. PMID: 18615426.
26.
Ji B, Song J, Tsou L, Bi Y, Mortensen R, Logsdon CD. Robust acinar cell transgene expression of CrErT via BAC recombineering. Genesis 46(8):390-395, 2008. PMID: 18693271.
27.
Gray MJ, Van Buren G, Dallas NA, Xia L, Wang X, Yang AS, Somcio RJ, Lin YG, Lim S, Fan F, Mangala LS, Arumugam T, Logsdon CD, Lopez-Berestein G, Sood AK, Ellis LM. Therapeutic targeting of neuropilin-2 on colorectal carcinoma cells implanted in the murine liver. J Natl Cancer Inst 100(2):109-120, 2008. e-Pub 1/2008. PMID: 18182619.
28.
Hwang RF, Moore T, Amos KD, Rivera A, Arumugam T, Ramachandran V, Evans DB, and Logsdon CD. Cancer-associated stromal fibroblasts promote pancreatic tumor progression. Cancer Res 68(3):918-926, 2007. PMCID: PMC2519173.
29.
Simeone DM, Ji B, Banerjee M, Arumugam T, Li D, Anderson M, Bamberger AM, Greenson J, Brand RE, Ramachandran V, Logsdon CD. CEACAM1 is a serum biomarker for pancreatic cancer. Pancreas 34(4):436-443, 2007. PMID: 17446843.
30.
Arumugam T, Ramachandran V, and Logsdon CD. Cromolyn Blocks S100P activation of RAGE and improves gemcitabine effectiveness in pancreatic cancer. J Natl Cancer Inst 98(24):1806-1818, 2006.
Grant & Contract Support
Title:
Mechanisms of Alcohol Induced Pancreatitis
Funding Source:
NIH/NIDA
Role:
Principal Investigator
Duration:
12/1/2011 - 11/30/2016
Title:
"Texas Center for Cancer Nanomedicine"
Funding Source:
NIH/NCI
Role:
Leader: Project 3
Principal Investigator:
Ferrari, Mauro
Duration:
10/1/2010 - 9/30/2015
Title:
Molecular Mechanisms of Acute Pancreatitis
Funding Source:
NIH/NIDDK
Role:
Principal Investigator
Duration:
5/10/1998 - 3/31/2016
© 2014 The University of Texas MD Anderson Cancer Center