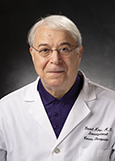 '
Daniel D. Karp, MD
Present Title & Affiliation
Primary Appointment
Professor, Department of Investigational Cancer Therapeutics, Division of Cancer Medicine, The University of Texas MD Anderson Cancer Center, Houston, TX
Medical Director, Clinical Translational Research Center, The University of Texas MD Anderson Cancer Center, Houston, TX
Research Interests
I focused a great deal of my clinical work on lung cancer and other thoracic tumors from 2002-2012. However, in view of my dual role as MD Anderson Principal Investigator for the UT Houston multidisciplinary Clinical Translational Science Award (CTSA) grant and Medical Director for our dedicated drug development unit, the CTRC, I moved to the Department of Investigational Cancer Therapeutics in July 2012. This is an exciting new opportunity to better coordinate my patient care, clinical research, and educational efforts.
I have lung cancer as one of my areas of special interest and experience however, as a member of the ICT Department, I treat patients with a wide variety of tumors.
The selenium study finished in 2010 and gave important insights into the behavior of early stage lung cancer. Although selenium supplementation did not prove beneficial in preventing recurrence or new primary tumors, this study served to help us design better prevention trials in the future.
Office Address
The University of Texas MD Anderson Cancer Center
1515 Holcombe Boulevard
Unit Number: Unit 455
Houston, TX 77030
Room Number: FC8.3040
Phone: 713-745-7398
Fax: 713-792-0334
Education & Training
Degree-Granting Education

1973
Duke University School of Medicine, Durham, NC, MD, Medicine
1969
Harvard University, Cambridge, MA, BA, cum laude, Social Relations (Psychology)

Postgraduate Training

7/1978-7/1980

Clinical Fellowship, Medical Oncology, Dana Farber Cancer Institute, Boston, MA

7/1976-7/1978

Clinical Fellowship, Hematology/Oncology, Dartmouth-Hitchcock Medical Center, Hanover, NH

7/1976-6/1977

Clinical Fellowship, American Cancer Society, Hanover, NH

7/1974-7/1976

Clinical Residency, Medicine, Dartmouth Hitchcock Medical Center, Hanover, NH

6/1973-6/1974

Clinical Internship, Medicine, Dartmouth Hitchcock Medical Center, Hanover, NH

1/1973-6/1973

Postgraduate Fellow, Hematology/Oncology, Duke University School of Medicine, Durham, NC
Selected Publications
Peer-Reviewed Original Research Articles

1.
Lippman SM, Goodman PJ, Klein EA, Parnes HL, Thompson IM, Kristal AR, Santella RM, Probstfield JL, Moinpour CM, Albanes D, Taylor PR, Minasian LM, Hoque A, Thomas SM, Crowley JJ, Gaziano JM, Stanford JL, Cook ED, Fleshner NE, Lieber MM, Walther PJ, Khuri FR, Karp DD, Schwartz GG, Ford LG, Coltman CA. Designing the Selenium and Vitamin E Cancer Prevention Trial (SELECT). J Natl Cancer Inst 97(2):94-102, 1/2005. PMID: 15657339.
2.
Belinsky SA, Klinge DM, Dekker JD, Smith MW, Bocklage TJ, Gilliland FD, Crowell RE, Karp DD, Stidley CA, Picchi MA. Gene promoter methylation in plasma and sputum increases with lung cancer risk. Clin Cancer Res 11(18):6505-11, 2005. PMID: 16166426.
3.
Lam P, Berman S, Thurer R, Ashiku S, DeCamp M, Goldstein M, Schumer S, Halmos B, Karp DD, Coute D, Bergman M, Boyd-Sirard C, Ou SH, Muzikansky A, Woodard C, Huberman M. Phase II trial of sequential chemotherapy followed by chemoradiation, surgery, and postoperative chemotherapy for the treatment of stage IIIa/IIIb non-small-cell lung cancer. Clin Lung Cancer 8(2):122-9, 2006. PMID: 17026813.
4.
William WN, Zinner RG, Karp DD, Oh YW, Glisson BS, Phan SC, Stewart DJ. Phase I trial of motexafin gadolinium in combination with docetaxel and cisplatin for the treatment of non-small cell lung cancer. J Thorac Oncol 2/8(8):745-50, 8/2007. e-Pub 8/2007. PMID: 17762342.
5.
Karp DD. Selecting an Electronic Health Record System. Journal of Oncology Practice 3(3):172-173, 2007.
6.
Lippman SM, Klein EA, Goodman PJ, Lucia MS, Thompson IM, Ford LG, Parnes HL, Minasian LM, Gaziano JM, Hartline JA, Parsons JK, Bearden JD, Crawford ED, Goodman GE, Claudio J, Winquist E, Cook ED, Karp DD, Walther P, Lieber MM, Kristal AR, Darke AK, Arnold KB, Ganz PA, Santella RM, Albanes D, Taylor PR, Probstfield JL, Jagpal TJ, Crowley JJ, Meyskens FL, Baker LH, Coltman CA. Effect of selenium and vitamin E on risk of prostate cancer and other cancers: the Selenium and Vitamin E Cancer Prevention Trial (SELECT). JAMA 301(1):39-51, 1/2009. PMCID: PMC3682779.
7.
Craft BS, Kurzrock R, Lei X, Herbst R, Lippman S, Fu S, Karp DD. The changing face of Phase 1 cancer clinical trials: new challenges in study requirements. Cancer 115(8):1592-7, 4/2009. PMCID: PMC2668727.
8.
Srivastava G, Rana V, Wallace S, Taylor S, Debnam M, Feng L, Suki D, Karp DD, Stewart D, Oh Y. Risk of intracranial hemorrhage and cerebrovascular accidents in non-small cell lung cancer brain metastasis patients. J Thorac Oncol 4(3):333-7, 3/2009. PMID: 19190519.
9.
Cox JD, Giralt SA, Veazie ML, Ajani JA, Bruner JM, Chan KW, Hittelman WN, Hunt KK, Iyer RB, Karp DD, Kuban DA, Lippman SM, Raad II, Rodriguez-Bigas MA, Zwelling LA, Markman M. Evaluating Quality in Clinical Cancer Research: The M.D. Anderson Cancer Center Experience. Oncology 77(2):75-81, 2009. PMCID: PMC2790774.
10.
Oh Y, Taylor S, Bekele BN, Debnam JM, Allen PK, Suki D, Sawaya R, Komaki R, Stewart DJ, Karp DD. Number of metastatic sites is a strong predictor of survival in patients with nonsmall cell lung cancer with or without brain metastases. Cancer 115(13):2930-8, 7/2009. PMID: 19441110.
11.
William WN, Uyeki J, Johnson FM, Feng L, Peeples BO, Fossella FV, Karp DD, Blumenschein GR, Stewart DJ, Glisson BS. Weekly alternating therapy with irinotecan plus cisplatin and etoposide plus cisplatin in the treatment of patients with extensive small cell lung carcinoma. Cancer 116(10):2409-15, 5/2010. PMID: 20225329.