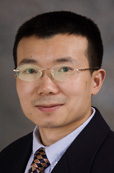 '
Dapeng Zhou, M.D, Ph.D.
Present Title & Affiliation
Primary Appointment
Assistant Professor of Medicine, Department of Melanoma Medical Oncology - Research, Division of Cancer Medicine, The University of Texas MD Anderson Cancer Center, Houston, TX
Dual/Joint/Adjunct Appointment
Assistant Professor of Immunology, Department of Immunology, Division of Cancer Medicine, The University of Texas MD Anderson Cancer Center, Houston, TX
Assistant Professor, The University of Texas Health Science Center, Member of the Graduate Faculty, Graduate School of Biomedical Sciences, Houston, TX
Research Interests
NKT cells are a unique subset of T cells that recognize conserved glycolipid antigens, presented by the nonpolymorphic, MHC-like antigen-presenting molecule CD1d. These T cells are activated in the first line of immune defense within 2 hours after antigen stimulation and produce cytokines or chemokines that exert critical regulatory effects on the adaptive immune system. Specifically, NKT cells instruct the adaptive immune cells how to respond to tumor and pathogens. Chemically synthesized agonist glycolipid ligands for NKT cells trigger their Th1 cytokine release to prevent and cure cancer in mouse models of melanoma and lymphoma. Paradoxically, the tumor microenvironment may also induce NKT cells to produce immune suppressive cytokines. Currently, we are developing two NKT-related projects.
Synthetic glycolipid antigens for NKT cells are potential immunomodulators for clinical use. In collaboration with M. D. Anderson's Immuno-Monitoring Core and Adoptive Transfer Therapy Center, we are studying the biology of NKT cells upon activation with various glycolipid ligands. Our specific aim is to fine-tune the NKT cells' quality of cytokine production and cytotoxicity as well as their life span and efficiency of tumor infiltration. Another approach is to genetically modify T cells by infecting them with a recombinant retrovirus, thereby equipping the T cells with anticancer genes that are not normally activated during the T cells' own differentiation.
Immunosuppression is one of the major mechanisms involved in cancer progression. The immunosuppressive role of NKT cells in patients with cancer has been hypothesized to be associated with abnormal expression of tumor-derived glycolipid antigens. Isoglobotrihexosylceramide (iGb3), a glycosphingolipid, is a natural ligand for NKT cells. To allow the precise dissection of iGb3 in cancer cells at molecular and subcellular levels, we have established 2 tools: mass spectrometry and iGb3-specific monoclonal antibodies. We are using these tools to study the iGb3 expression and function in human cancers, including melanoma, leukemia, lymphoma, and myeloma.
Office Address
Fax: 713-563-3424
Email: dzhou@mdanderson.org
Education & Training
Degree-Granting Education

1997
Shanghai First Medical College, Shanghai, China, M.Sc., Biochemistry
1994
Shanghai First Medical College, Shanghai, China, BM, Medicine

Postgraduate Training

10/2002-10/2004

Postdoctoral Fellow, Immunology, University of Chicago, Chicago, IL, Albert Bendelac
Selected Publications
Peer-Reviewed Original Research Articles

1.
Shao J, Wang J, Abubakar YF, Zhou D, Chen J, Shen Y, Wang Z, Lu H. Genetic relatedness of human immunodeficiency virus-1 (HIV-1) strains in a 12-year-old daughter and her father in a household setting. Arch Virol. e-Pub 1/2014. PMID: 24385159.
2.
Castillo EF, Acero LF, Stonier SW, Zhou D, Schluns KS. Thymic and peripheral microenvironments differentially mediate development and maturation of iNKT cells by IL-15 transpresentation. Blood 116(14):2494-503, 10/2010. e-Pub 6/2010. PMID: 20581314.
3.
Melancon MP, Lu W, Huang Q, Thapa P, Zhou D, Ng C, Li C. Targeted imaging of tumor-associated M2 macrophages using a macromolecular contrast agent PG-Gd-NIR813. Biomaterials 31(25):6567-73, 9/2010. PMCID: PMC2900486.
4.
Lee AJ, Zhou X, Chang M, Hunzeker J, Bonneau RH, Zhou D, Sun SC. Regulation of natural killer T-cell development by deubiquitinase CYLD. EMBO J 29(9):1600-12, 5/2010. e-Pub 3/2010. PMCID: PMC2876956.
5.
Li Y, Thapa P, Hawke D, Kondo Y, Furukawa K, Furukawa K, Hsu FF, Adlercreutz D, Weadge J, Palcic MM, Wang PG, Levery SB, Zhou D. Immunologic Glycosphingolipidomics and NKT Cell Development in Mouse Thymus. J Proteome Res 8(6):2740-51, http://www.ncbi.nlm.nih.gov/pmc/articles/PMC2720133/, 6/2009. PMCID: PMC2720133.
6.
Courtney AN, Nehete PN, Nehete BP, Thapa P, Zhou D, Sastry KJ. Alpha-galactosylceramide is an effective mucosal adjuvant for repeated intranasal or oral delivery of HIV peptide antigens. Vaccine 27(25-26):3335-41, 5/2009. e-Pub 2/2009. PMID: 19200849.
7.
Thapa P, Zhang G, Xia C, Gelbard A, Overwijk WW, Liu C, Hwu P, Chang DZ, Courtney A, Sastry JK, Wang PG, Li C, Zhou D. Nanoparticle formulated alpha-galactosylceramide activates NKT cells without inducing anergy. Vaccine 27(25-26):3484-8, http://www.sciencedirect.com/science/article/pii/S0264410X09001273, 5/2009. e-Pub 2/2009. PMID: 19200815.
8.
Li Y, Teneberg S, Thapa P, Bendelac A, Levery SB, Zhou D. Sensitive detection of isoglobo and globo series tetraglycosylceramides in human thymus by ion trap mass spectrometry. Glycobiology 18(2):158-65, http://glycob.oxfordjournals.org/content/18/2/158.long, 2/2008. e-Pub 12/2007. PMID: 18056651.
9.
Li Y, Zhou D, Xia C, Wang PG, Levery SB. Sensitive quantitation of isoglobotriaosylceramide in the presence of isobaric components using electrospray ionization-ion trap mass spectrometry. Glycobiology 18(2):166-76, 2/2008. e-Pub 11/2007. PMID: 18048405.
10.
Chung Y, Nurieva R, Esashi E, Wang YH, Zhou D, Gapin L, Dong C. A critical role of costimulation during intrathymic development of invariant NKTs. J Immunol 180(4):2276-2283, 2008. PMID: 18250436.
11.
Zhou D, Mattner J, Cantu C, Schrantz N, Yin N, Gao Y, Sagiv Y, Hudspeth K, Wu YP, Yamashita T, Teneberg S, Wang D, Proia RL, Levery SB, Savage PB, Teyton L, Bendelac A. Lysosomal Glycosphingolipid Recognition by NKT Cells. Science 306. no. 5702,:1786 - 1789, http://www.sciencemag.org/cgi/content/short/1103440v1, 12/2004. e-Pub 11/2004. PMID: 15539565.
12.
Zhou D, Jiang S, Shen Z, Gu J. Effect of all-trans-retinoic acid and phorbol 12-myristate 13-acetate on the activity of human hepatocellular carcinoma cell-surface b-1,4-galactosyltransferase. Biochemical Journal 320(2):623-625, http://www.biochemj.org/bj/320/bj3200623.htm, 12/1996.

Invited Articles

1.
Zhou D. OX40 signaling directly triggers the anticancer function of NKT cells. J Clin Invest 117(11):3169-3172, http://www.jci.org/articles/view/33976, 11/2007. PMID: 17975660.
2.
Zhou D. Why are glycoproteins modified by poly-N-acetyllactosamine glyco-conjugates? Current Protein & Peptide Science 4(1):1-9, http://www.benthamdirect.org/pages/content.php?CPPS/2003/00000004/00000001/0002K.SGM, 2/2003. PMID: 12570780.

Abstracts

1.
D. Zhou, M.D., Ph.D. Endogenous glycosphingolipid ligand for NKT cells. Second Warren Workshop on Glycomics, Durham, NH, USA, 7/2008.
© 2014 The University of Texas MD Anderson Cancer Center