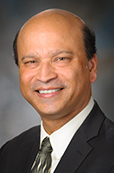 '
Debasish Tripathy, MD
Present Title & Affiliation
Primary Appointment
Professor and Chairman, Department of Breast Medical Oncology, Division of Cancer Medicine, The University of Texas MD Anderson Cancer Center, Houston, TX
Education & Training
Degree-Granting Education

1985
Duke University Medical School, Durham, NC, MD, Medicine
1981
Massachusetts Institute of Technology, Cambridge, MA, BS, Chemical Engineering

Postgraduate Training

7/1988-6/1991

Clinical Fellowship, Hematology/Oncology, University of California at San Francisco, San Francisco, CA

7/1985-6/1988

Clinical Internship, Internal Medicine, Duke University Medical Center, Durham, NC
Board Certifications
1991

Medical Oncology, Recertification Date:

2011

1988

Internal Medicine
Selected Publications
Peer-Reviewed Original Research Articles

1.
Silberman H, Sheth PA, Parisky YR, Hovanessian-Larsen LJ, Sheth S, Tripathy D. Modified Bi-Rads Scoring of Breast Imaging Findings Improves Clinical Judgment. Breast J 21(6):642-50, 11/2015. e-Pub 9/2015. PMID: 26411901.
2.
Ring A, Mineyev N, Zhu W, Park E, Lomas C, Punj V, Yu M, Barrak D, Forte V, Porras T, Tripathy D, Lang JE. EpCAM based capture detects and recovers circulating tumor cells from all subtypes of breast cancer except claudin-low. Oncotarget. e-Pub 10/2015. PMID: 26556851.
3.
Chaudry M, Lei X, Gonzalez-Angulo AM, Mittendorf EA, Valero V, Tripathy D, Hortobagyi GN, Chavez-MacGregor M. Recurrence and survival among breast cancer patients achieving a pathological complete response to neoadjuvant chemotherapy. Breast Cancer Res Treat 153(2):417-23, 9/2015. e-Pub 8/2015. PMID: 26272743.
4.
DeMichele A, Yee D, Berry DA, Albain KS, Benz CC, Boughey J, Buxton M, Chia SK, Chien AJ, Chui SY, Clark A, Edmiston K, Elias AD, Forero-Torres A, Haddad TC, Haley B, Haluska P, Hylton NM, Isaacs C, Kaplan H, Korde L, Leyland-Jones B, Liu MC, Melisko M, Minton SE, Moulder SL, Nanda R, Olopade OI, Paoloni M, Park JW, Parker BA, Perlmutter J, Petricoin EF, Rugo H, Symmans F, Tripathy D, van't Veer LJ, Viscusi RK, Wallace A, Wolf D, Yau C, Esserman LJ. The Neoadjuvant Model Is Still the Future for Drug Development in Breast Cancer. Clin Cancer Res 21(13):2911-5, 7/2015. e-Pub 2/2015. PMCID: PMC4490043.
5.
Subbiah IM, Lei X, Weinberg JS, Sulman EP, Chavez-MacGregor M, Tripathy D, Gupta R, Varma A, Chouhan J, Guevarra RP, Valero V, Gilbert MR, Gonzalez-Angulo AM. Validation and Development of a Modified Breast Graded Prognostic Assessment As a Tool for Survival in Patients With Breast Cancer and Brain Metastases. J Clin Oncol 33(20):2239-45, 7/2015. e-Pub 5/2015. PMID: 25987700.
6.
Poole BB, Wecsler JS, Sheth P, Sener SF, Wang L, Larsen L, Tripathy D, Lang JE. Malignancy rates after surgical excision of discordant breast biopsies. J Surg Res 195(1):152-7, 5/2015. e-Pub 11/2014. PMID: 25519987.
7.
Liu S, Meric-Bernstam F, Parinyanitikul N, Wang B, Eterovic AK, Zheng X, Gagea M, Chavez-MacGregor M, Ueno NT, Lei X, Zhou W, Nair L, Tripathy D, Brown PH, Hortobagyi GN, Chen K, Mendelsohn J, Mills GB, Gonzalez-Angulo AM. Functional consequence of the MET-T1010I polymorphism in breast cancer. Oncotarget 6(5):2604-14, 2/2015. PMCID: PMC4413604.
8.
Yang-Kolodji G, Mumenthaler SM, Mehta A, Ji L, Tripathy D. Phosphorylated ribosomal S6 (p-rpS6) as a post-treatment indicator of HER2 signalling targeted drug resistance. Biomarkers 20(5):313-22, 2015. PMID: 26329528.
9.
Elsayegh N, Profato J, Barrera AM, Lin H, Kuerer HM, Ardic C, Litton JK, Tripathy D, Arun BK. Predictors that Influence Election of Contralateral Prophylactic Mastectomy among Women with Ductal Carcinoma in Situ who are BRCA-Negative. J Cancer 6(7):610-5, 2015. e-Pub 5/2015. PMCID: PMC4466409.
10.
Tripathy D, Coleman RA, Vidaillet HJ, Steenbergen C, Hirschhorn K, Packer DL. Complete heart block with myocardial membrane-bound glycogen and normal peripheral alpha-glucosidase activity. Ann Intern Med 109(12):985-7, 12/1988. PMID: 3057987.