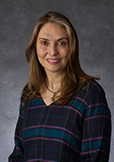 '
Diana M Palacio, MD
Present Title & Affiliation
Primary Appointment
Assistant Professor, Department of Diagnostic Radiology, Division of Diagnostic Imaging, The University of Texas MD Anderson Cancer Center, Houston, TX
Office Address
The University of Texas MD Anderson Cancer Center
1515 Holcombe Blvd.
Unit Number: 1478
Houston, TX 77030
Phone: 713-794-1758
Fax: 713-563-0638
Email: dpalacio@mdanderson.org
Education & Training
Degree-Granting Education

1992
University of Antioquia, Medellin, Colombia, MD, Medicine

Postgraduate Training

7/2005-6/2006

Clinical Fellowship, Thoracic Radiology, Medical College of Wisconsin, Milwaukee, WI

7/2004-6/2005

Clinical Fellowship, Pediatric Radiology, University of Texas Medical Branch, Galveston, TX

7/2001-12/2001

Clinical Fellowship, CT-US Body Imaging, San Vicente De Paul University Hospital, Medellin, Colombia

8/1995-7/1998

Clinical Residency, Radiology, San Vicente De Paul University Hospital, Medellin, Colombia

7/1994-4/1995

Clinical Residency, Internal Medicine, Universidad Pontificia Bolivariana, Medellin, Colombia

7/1991-7/1992

Clinical Internship, San Vicente De Paul University Hospital, Medellin, Colombia
Board Certifications
| | |
| --- | --- |
| 2012 | American Board of Radiology |
Honors and Awards
2008

Educational Exhibit Award, Certificate of Merit,

Radiological Society of North America

2007-2008

Faculty of the Year,

University of Texas Medical Branch

2002

Best Original Paper,

27th Colombian Congress or Radiology
Selected Publications
Peer-Reviewed Original Research Articles

1.
Boroumand N, Palacio D. Idiopathic bronchiolitis with features of difuse panbronchiolitis in an african-american patient with hepatitis c virus infection. Annals of Diagnostic Pathology. In Press.
2.
Betancourt SL, Palacio D, Jimenez CA, Martinez S, Marom EM. Thoracic manifestations of inflammatory bowel disease. AJR Am J Roentgenol 197(3):W452-6, 9/2011. PMID: 21862772.
3.
Palacio D, Mehran RJ, Marom EM. Esophageal luminal clot mimicking intramural esophageal hematoma. Ann Thorac Surg 91(2):e29, 2/2011. PMID: 21256262.
4.
Kollar AC, Lick SD, Palacio DM, Johnson Jr. RF. Ross procedure with a composite autograft using stretch gore-tex material. Ann Thorac Surg 88:34-36, 2009.
5.
Dave A, Palacio D, Swischuk LE. Benign bone tumors: part II: benign chondromatous and osteoid bone tumors. Contemporary Diagnostic Radiology 30(25):1-5, 12/2007.
6.
Dave A, Palacio D, Swischuk LE. Benign bone tumors: Part 1: benign fibrous bone tumors. Contemporary Diagnostic Radiology 30(24):1-5, 11/2007.
7.
Dave A, Palacio D, Swischuk LE, Hernandez JA. Cysts and cyst-like lesions of bones. Contemporary Diagnostic Radiology 30(23):1-6, 11/2007.
8.
Palacio D, Swischuk L, Chung D, Parada S. Posttraumatic ventricular pseudoaneurysm in a 7-year-old child diagnosed with multidetector CT of the chest: a case report. Emerg Radiol 14(6):431-3, 11/2007. e-Pub 6/2007. PMID: 17574483.
9.
Harris NJ, Palacio D, Ginzel A, Richardson CJ, Swischuk L. Are routine cranial ultrasounds necessary in premature infants greater than 30 weeks gestation? Am J Perinatol 24(1):17-21, 1/2007. e-Pub 11/2006. PMID: 17094042.
10.
Joshi M, Markelova N, Palacio D, Schapira RM. A patient with HIV, dyspnea, and multiple pulmonary nodules: pulmonary Kaposi sarcoma. Chest 130(6):1924-8, 12/2006. PMID: 17167017.
11.
Hernandez JA, Camacho A, Palacio D, Swischuk LE. Low-grade (often multifocal) osteomyelitis (a diagnostic problem and/or a mimicker of tumor). Emerg Radiol 11(6):322-7, 11/2005. e-Pub 7/2005. PMID: 16344972.
12.
Múnera F, Soto JA, Palacio DM, Castañeda J, Morales C, Sanabria A, Gutiérrez JE, García G. Penetrating neck injuries: helical CT angiography for initial evaluation. Radiology 224(2):366-72, 8/2002. PMID: 12147829.
13.
Múnera F, Soto JA, Palacio D, Velez SM, Medina E. Diagnosis of arterial injuries caused by penetrating trauma to the neck: comparison of helical CT angiography and conventional angiography. Radiology 216(2):356-62, 8/2000. PMID: 10924553.
14.
Palacio D, Soto JA, Munera F, Mejia M, Sanchez MC, Correa MC, Tamayo M. Vascular anatomy assessment in intra familiar kidney donors: helical CT angiography vs. conventional angiography. Colombian J of Radiol 11(2):381-7, 2000.

Invited Articles

1.
Washington L, Palacio D. Imaging of bacterial pulmonary infection in the immunocompetent patient. Semin Roentgenol 42(2):122-45, 4/2007. PMID: 17394925.
© 2010 The University of Texas M. D. Anderson Cancer Center