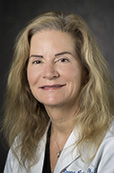 '
Dianna D. Cody, Ph.D.
Present Title & Affiliation
Primary Appointment
Deputy Department Chair, Department of Imaging Physics, Division of Diagnostic Imaging, The University of Texas MD Anderson Cancer Center, Houston, TX
Director, Clinical Operations, Department of Imaging Physics, Division of Diagnostic Imaging, The University of Texas MD Anderson Cancer Center, Houston, TX
Section Chief, Radiologic Physics Section, Department of Imaging Physics, Division of Diagnostic Imaging, The University of Texas MD Anderson Cancer Center, Houston, TX
Professor, Department of Imaging Physics, Division of Diagnostic Imaging, The University of Texas MD Anderson Cancer Center, Houston, TX
Bio Statement
Dr. Cody joined MD Anderson Cancer Center in 2000 after spending nearly 20 years in various capacities at Henry Ford Hospital in Detroit, MI. She now holds the rank of Professor with tenure, is the Director of Clinical Operations for the Department of Imaging Physics, and functions as Deputy Department Chair. Dr. Cody's recent accomplishments include being awarded two in-kind research grants for dual-energy CT investigations; one has resulted in a recent provisional patent filing, and the other has resulted in a handful of competitive awards for the graduate student leading the work.
Dr. Cody is very active in her professional society, the American Association of Physicists in Medicine (AAPM). She co-chairs an active CT Working Group which has been extremely productive, and she is a member of several high profile task groups and committees focused on CT physics. Dr. Cody is a regular speaker at the annual Radiological Society of North America conference, which is the leading international meeting related to the field of radiology. She is past chair of the UT MD Anderson Cancer Center institutional Conflict of Interest Committee, and has been active in the UTMDACC Women Faculty programs.
Research Interests
Her current research is mainly in the area of dual energy CT applications. New technology available commercially provides tools that can be used to identify specific material components within relevant body regions. Dr. Cody's research team is using this approach to differentiate small calcified deposits in the brain (typically due to aging) from small hemorrhages, which can occur in the cancer population for a number of reasons (such as treatment side effects). Since a sizeable proportion of the patient population is also on anti-coagulant therapy, this can be a high impact clinical condition to decipher.
Clinical Interests
Dr. Cody is the leader of the Imaging Physics clinical CT physics support team which is very involved in implementing new technology into a high-volume clinical operation. This team also provides assistance during equipment trouble-shooting, exam protocol development and management, compliance testing, and equipment commissioning. Dr. Cody insures that clinical CT coverage schedules are in place 24/7. Dr. Cody also assists with radiation dose issues relevant to diagnostic radiographic and nuclear medicine exams.
Education & Training
Degree-Granting Education

1987
University of Michigan, Ann Arbor, MI, PHD, Bioengineering
1983
University of Michigan, Ann Arbor, MI, MS, Bioengineering
1980
Michigan State University, East Lansing, MI, BS, Mechanical Engineering
Board Certifications
| | |
| --- | --- |
| 1996 | American Board of Radiology, Diagnostic Radiologic Physics |
Experience/Service
Consultantships
Member, American College of Radiology, Reston, VA, 4/2012-present
Reviewer, American College of Radiology, Reston, VA, 2005-present
Institutional Committee Activities
Chair, Conflict of Interest Committee, 7/2012-8/2014
Member, Conflict of Interest Committee, 3/2010-2017
Member, Clinical Faculty Review Committee, 2/2008-8/2009
Member, Institutional Animal Care and Use Committee, 2004-2009
Honors and Awards
2016

Mechanical Engineering Distinguished Alumni Award,

Michigan State University

2015

Distinguished Alumni Merit Award,

University of Michigan

2013

Food and Drug Administration: The CDRH Director's Special Citation Award,

(AAPM WGCTNP)

2008

Certificate of Outstanding Contribution,

American College of Radiology Imaging Network

1980

Michigan State University Engineering Service Award,

Michigan State University
Professional Memberships
American Association of Physicists in Medicine
Member, Task Group No. 246 - Patient Dose for Diagnostic Radiation, 4/2013-12/2015
Member, Summer School Committee, 2012-2015
Chair, Task Group 225 - Medical Physics Practice Guidelines Task Group #2: CT Protocol Management and Review, 1/2012-12/2014
Member, Subcommittee on Practice Guidelines, 2012-2013
Co-Chair, Working Group on Standardization of CT Nomenclature and Protocols (WGCTNP), 5/2010-present
Member, Task Group No. 204 - Development and Dissemination of Pediatric CT dose Correction Factors, 5/2010-12/2011
Member, Task Group No. 200 - CT Dosimetry Phantoms and the implementation of AAPM Report No. 111, 4/2010-present
Member, Awards and Honors, 1/2010-2016
Member, Nominating Committee, 2009
Member, Working Group on Conformal Small Animal Irradiation Devices, 11/2008-11/2013
Member, Task Group 111, Future of CT Dosimetry, 11/2008-12/2011
Member, Joint Commission Liaison Subcommittee, 7/2008-2013
Abstract Reviewer, Annual Scientific Meeting, 2006-present
Member At-large, Board of Directors, 2005-2007
Member, Task Group No. 23 CT Dosimetry, 1/2004
Member, Task Group No. 102, CTDI Values for various CT scanners, 2003
Member, Task Group #12, Diagnostic X-Ray Imaging Committee, 2001-2004
Member, 1990-present
Selected Publications
Peer-Reviewed Original Research Articles

1.
Nute JL, Jacobsen MC, Chandler A, Cody DD, Schellingerhout D. Dual-Energy Computed Tomography for the Characterization of Intracranial Hemorrhage and Calcification: A Systematic Approach in a Phantom System. Invest Radiol. e-Pub 7/2016. PMID: 27379697.
2.
Scarboro SB, Cody DD, Alvarez P, Followill D, Court L, Stingo FC, Zhang D, McNitt-Gray M, Kry SF. Characterization of the nanoDot OSLD dosimeter in CT. Med Phys 42(4):1797, 4/2015. PMCID: PMC4368592.
3.
Bostani M, Mueller JW, McMillan K, Cody DD, Cagnon CH, DeMarco JJ, McNitt-Gray MF. Accuracy of Monte Carlo simulations compared to in-vivo MDCT dosimetry. Med Phys 42(2):1080, 2/2015. PMID: 25652520.
4.
Nute JL, Le Roux L, Chandler AG, Baladandayuthapani V, Schellingerhout D, Cody DD. Differentiation of low-attenuation intracranial hemorrhage and calcification using dual-energy computed tomography in a phantom system. Invest Radiol 50(1):9-16, 1/2015. e-Pub 8/2014. PMCID: PMC4335714.
5.
Nute JL, Rong J, Stevens DM, Darensbourg BJ, Cheng J, Wei W, Hobbs BP, Cody DD. Evaluation of over 100 scanner-years of computed tomography daily quality control data. Med Phys 40(5):051908 (1-11), 5/2013. PMCID: PMC4032413.
6.
Tamm EP, Rong XJ, Cody DD, Ernst RD, Fitzgerald NE, Kundra V. Quality initiatives: CT radiation dose reduction: how to implement change without sacrificing diagnostic quality. Radiographics 31(7):1823-32, Nov-Dec, 11/2011. e-Pub 10/2011. PMID: 21969662.
7.
McCollough CH, Leng S, Yu L, Cody DD, Boone JM, McNitt-Gray MF. CT dose index and patient dose: They are not the same thing. Radiology 259(2):311-6, 5/2011. PMCID: PMC3079120.
8.
Cody DD, Kim HJ, Cagnon CH, Larke FJ, McNitt-Gray MM, Kruger RL, Flynn MJ, Seibert JA, Judy PF, Wu X. Normalized CT dose index of the CT scanners used in the National Lung Screening Trial. Am J Roentgenol 194(6):1539-46, 6/2010. PMCID: PMC3015146.
9.
Ravoori M, Czaplinska AJ, Sikes C, Han L, Johnson EM, Qiao W, Ng C, Cody DD, Murphy WA, Do KA, Navone NM, Kundra V. Quantification of mineralized bone response to prostate cancer by noninvasive in vivo microCT and non-destructive ex vivo microCT and DXA in a mouse model. PLoS One 5(3):e9854, 2010. PMCID: PMC2847943.
10.
Angel E, Yaghmai N, Jude CM, Demarco JJ, Cagnon CH, Goldin JG, Primak AN, Stevens DM, Cody DD, McCollough CH, McNitt-Gray MF. Monte Carlo simulations to assess the effects of tube current modulation on breast dose for multidetector CT. Phys Med Biol 54(3):497-512, 2/2009. e-Pub 1/2009. PMCID: PMC2948848.
11.
Johnson EM, Price RE, Kurie JM, Rivera BS, Cody DD. A new method for respiratory gating during microcomputed tomography of lung in mice. J Am Assoc Lab Anim Sci 47(4):46-56, 7/2008. PMCID: PMC2694711.
12.
Angel E, Wellnitz CV, Goodsitt MM, Yaghmai N, DeMarco JJ, Cagnon CH, Sayre JW, Cody DD, Stevens DM, Primak AN, McCollough CH, McNitt-Gray MF. Radiation dose to the fetus for pregnant patients undergoing multidetector CT imaging: Monte Carlo simulations estimating fetal dose for a range of gestational age and patient size. Radiology 249(1):220-227, 2008. PMCID: PMC2657855.
13.
Cagnon C.H., Cody DD, McNitt-Gray, MF, Seibert J.A., Judy P.F. Aberle D.R. Description and implementation of a quality control program in an imaging based clinical trial. Academ Radiol 13(11):1431-1441, 2006. PMID: 17111584.
14.
Cody DD, Stevens DM, Ginsberg LE. Multi-detector row CT artifacts that mimic disease. Radiology 236(3):756-61, 9/2005. PMID: 16055698.