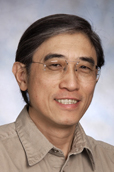 '
Dominic Fan, Ph.D.
Present Title & Affiliation
Primary Appointment
Professor, Department of Cancer Biology, The University of Texas MD Anderson Cancer Center, Houston, TX
Research Interests
One of the major concerns in cancer therapeutics is the development of multidrug-resistance (MDR) phenotype in metastatic diseases. I am interested in the mechanisms and reversal of MDR phenotypes in experimental cancer models. The outcome of my studies indicate that MDR can be influenced by the microenvironment and/or factors of specific host organs. The MDR product P-gp may be regulated by cytokines such as TGF-alpha, TGF-beta, TNF-alpha and interferons. My research include the reversal of cancer resistance to anticancer drugs by pharmacologic modifiers, and studying the effects of microenvironment, and cytokines on MDR and tumor angiogenesis.
I participate in studies on the effects of selective tyrosine kinase inhibitors such as STI571 (imatinib mesylate, Gleevec; anti-PDGFR phosphorylation) and AEE788 (anti-EGFR and anti-VEGFR phosphorylation) in preclinical pharmacology and experiemntal orthotopic tumor models. The purpose is to address their efficacy and mode of mechanisms pertinent to the survival pathways of tumor cells and specific tumor-associated vasculartures, and the drug resistant phenotypes of cancer cells. Studies from our orthotopic animal modeles (prostate, ovarian, lung, head and neck cancers) showed that interference with these signal transduction pathways often affected the tumor-associated vasculature to produce an antitumor effect.
I also use relevant experimental therapeutic models to study the biology of brain metastasis; with emphasis on the influence of neuro-microenvironment, e.g., astrocyte-mediated protection of cancer cells and microglia-mediated selective cytotoxicity against cancer cells.
Education & Training
Degree-Granting Education

1978
West Virginia University, WV, PHD, Med. Microbiology
1975
West Virginia University, WV, MS, Med. Microbiology
1972
West Virginia University, WV, BA, Biology
Honors and Awards
2008-2011

MDACC Multi-year Award

2004-2007

MDACC Multi-year Award

1982-1985

Wyeth Laboratory Research Fellow

1981

Florida Cancer Center Developmental Funds Fellow

1978-1980

NIH-NHL Trainee

1977

Parker B. Francis Foundation Fellow

1975

Best Presentation Award,

American Society of Microbiology
Selected Publications
Peer-Reviewed Original Research Articles

1.
Kim SJ, Kim JS, Park ES, Lee JS, Lin Q, Langley RR, Maya M, He J, Kim SW, Weihua Z, Balasubramanian K, Fan D, Mills G, Fidler IJ. Astrocytes upregulate survival genes in tumor cells and induce protection from chemotherapy. Cancer Research. In Press.
2.
Weihua Z, Lin Q, Tsan R, Fan D, Fidler IJ. Formation of solid tumors by single initiating cell. Intl. J. Cancer. In Press.
3.
Yokoi K, Hawke D, Oborn CJ, Jan J-Y, Nishioka Y, Fan D, Kim S-W, Kim S-J, Fidler IJ. Identification and validation of Src and phospho-Src family proteins in circulating mononuclear cells as novel biomarkers for pancreatic cancer. Translational Oncology. In Press.
4.
Guo L, Langley RR, Fan D, Zhang F, Tsan R, Lee J-S, Fidler IJ. Selection of brain metastasis-initiating breast cancer cells according to growth on hard agar. American Journal of Pathology. In Press.
5.
Sun Y, Yokoi K, Li H, Gao J, Hu L, Liu B, Chen K, Hamilton SR, Fan D, Sun B, Zhang W. NGAL Expression Is Elevated in Both Colorectal Adenoma-Carcinoma Sequence and Cancer Progression and Enhances Tumorigenesis in Xenograft Mouse Models. Clin Cancer Res 17(13):4331-40, 7/2011. e-Pub 5/2011. PMID: 21622717.
6.
Lin Q, Balasubramanian K, Fan D, Kim SJ, Guo L, Wang H, Bar-Eli M, Aldape KD, Fidler IJ. Reactive astrocytes protect melanoma cells from chemotherapy by sequestering intracellular calcium through gap junction communication channels. Neoplasia 12(9):748-54, 9/2010. PMCID: PMC2933695.
7.
Rebhun RB, Cheng H, Gershenwald JE, Fan D, Fidler IJ, Langley RR. Constitutive expression of the alpha4 integrin correlates with tumorigenicity and lymph node metastasis of the B16 murine melanoma. Neoplasia 12(2):173-82, 2/2010. PMCID: PMC2814355.
8.
Trent JC, Patel SS, Zhang J, Araujo DM, Plana JC, Lenihan DJ, Fan D, Patel SR, Benjamin RS, Khakoo AY. Rare incidence of congestive heart failure in gastrointestinal stromal tumor and other sarcoma patients receiving imatinib mesylate. Cancer 116(1):184-92, 1/2010. PMID: 19885836.
9.
Brantley EC, Guo L, Zhang C, Lin Q, Yokoi K, Langley RR, Kruzel E, Maya M, Kim SW, Kim SJ, Fan D, Fidler IJ. Nitric Oxide-mediated Tumoricidal Activity of Murine Microglial Cells. Transl Oncol 3(6):380-8, 2010. e-Pub 12/2010. PMCID: PMC3000463.
10.
Langley RR, Fan D, Guo L, Zhang C, Lin Q, Brantley EC, McCarty JH, Fidler IJ. Generation of an immortalized astrocyte cell line from H-2Kb-tsA58 mice to study the role of astrocytes in brain metastasis. Int J Oncol 35(4):665-72, 10/2009. PMID: 19724901.
11.
Kim SJ, Kim JS, Papadopoulos J, Wook Kim S, Maya M, Zhang F, He J, Fan D, Langley R, Fidler IJ. Circulating monocytes expressing CD31: implications for acute and chronic angiogenesis. Am J Pathol 174(5). e-Pub 4/2009. PMCID: PMC2671284.
12.
Fan D, Voelz HG. Vinblastine-induced ultrastructural transition of microtubular scaffoldings in the SV40-transformed 3T3 murine fibroblasts. J Exp Ther Oncol 8(2):85-94, 2009. PMID: 20192115.
13.
Kuwai T, Nakamura T, Sasaki T, Kim SJ, Fan D, Villares GJ, Zigler M, Wang H, Bar-Eli M, Kerbel RS, Fidler IJ. Phosphorylated epidermal growth factor receptor on tumor-associated endothelial cells is a primary target for therapy with tyrosine kinase inhibitors. Neoplasia 10(5):489-500, 5/2008. PMID: 18472966.
14.
Kuwai T, Nakamura T, Kim SJ, Sasaki T, Kitadai Y, Langley RR, Fan D, Hamilton SR, Fidler IJ. Intratumoral heterogeneity for expression of tyrosine kinase growth factor receptors in human colon cancer surgical specimens and orthotopic tumors. Am J Pathol 172(2):358-66, 2/2008. PMID: 18202197.
15.
Nakamura T, Kuwai T, Kitadai Y, Sasaki T, Fan D, Coombes KR, Kim SJ, Fidler IJ. Zonal heterogeneity for gene expression in human pancreatic carcinoma. Cancer Res 67(16):7597-604, 8/15/2007. PMID: 17699763.
16.
Baker DL, Fujiwara Y, Pigg KR, Tsukahara R, Kobayashi S, Murofushi H, Uchiyama A, Murakami-Murofushi K, Koh E, Bandle RW, Byun HS, Bittman R, Fan D, Murph M, Mills GB, Tigyi G. Carba analogs of cyclic phosphatidic acid are selective inhibitors of autotaxin and cancer cell invasion and metastasis. J Biol Chem 281(32):22786-93, 8/11/2006. PMID: 16782709.
17.
Kim SJ, Uehara H, Yazici S, Busby JE, Nakamura T, He J, Maya M, Logothetis C, Mathew P, Wang X, Do KA, Fan D, Fidler IJ. Targeting platelet-derived growth factor receptor on endothelial cells of multidrug-resistant prostate cancer. J Natl Cancer Inst 98(11):783-93, 6/2006. PMID: 16757703.
18.
Langley RR, Fan D, Tsan RZ, Rebhun R, He J, Kim SJ, Fidler IJ. Activation of the platelet-derived growth factor-receptor enhances survival of murine bone endothelial cells. Cancer Res 64(11):3727-30, 6/2004. PMID: 15172974.
19.
Fan D, Liaw A, Denkins YM, Collins JH, Van Arsdall M, Chang JL, Chakrabarty S, Nguyen D, Kruzel E, Fidler IJ. Type-1 transforming growth factor-beta differentially modulates tumoricidal activity of murine peritoneal macrophages against metastatic variants of the B16 murine melanoma. J Exp Ther Oncol 2(5):286-97, 9/2002. PMID: 12416032.
20.
Fan D, Yano S, Shinohara H, Solorzano C, Van Arsdall M, Bucana CD, Pathak S, Kruzel E, Herbst RS, Onn A, Roach JS, Onda M, Wang QC, Pastan I, Fidler IJ. Targeted therapy against human lung cancer in nude mice by high-affinity recombinant antimesothelin single-chain Fv immunotoxin. Mol Cancer Ther 1(8):595-600, 6/2002. PMID: 12479219.
21.
Fan D, Poste G, Seid C, Earnest LE, Bull T, Clyne RK, Fidler IJ. Reversal of multidrug resistance in murine fibrosarcoma cells by thioxanthene flupentixol. Invest New Drugs 12(3):185-95, 1994. PMID: 7896537.
22.
Esumi N, Fan D, Fidler IJ. Inhibition of murine melanoma experimental metastasis by recombinant desulfatohirudin, a highly specific thrombin inhibitor. Cancer Res 51(17):4549-56, 9/1991. PMID: 1873799.
23.
Fan D, Bucana CD, O'Brian CA, Zwelling LA, Seid C, Fidler IJ. Enhancement of murine tumor cell sensitivity to adriamycin by presentation of the drug in phosphatidylcholine-phosphatidylserine liposomes. Cancer Res 50(12):3619-26, 6/1990. PMID: 2340511.
24.
Frangos DN, Killion JJ, Fan D, Fishbeck R, von Eschenbach AC, Fidler IJ. The development of liposomes containing interferon alpha for the intravesical therapy of human superficial bladder cancer. J Urol 143(6):1252-6, 6/1990. PMID: 2342197.
25.
Fan, D, Parker, P, Massaro, D. Protein synthesis by attached pulmonary macrophages: Effect of phagocytosis. Biochim. Biophys. Acta 699:89-109, 1982. PMID: 6924861.
26.
Fan D, Voelz H. Phospholipid degradation by SV40-transformed murine fibroblasts. Exp Cell Res 106(1):79-87, 4/1977. PMID: 192567.

Book Chapters

1.
Fan D, Kim S-J, Langley RR, Fidler IJ. Metastasis and drug resistance. In: Drug Resistance in Cancer Cells. Ed(s) Mehta K, Siddik Z. Springer: New York, 21-52, 2009.
© 2014 The University of Texas MD Anderson Cancer Center