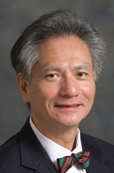 '
Edward TH Yeh, M.D.
Present Title & Affiliation
Primary Appointment
Professor and Chairman, Department of Cardiology, Division of Internal Medicine, The University of Texas MD Anderson Cancer Center, Houston, TX
Ting Tsung and Wei Fong Chao Distinguished Chair, Department of Cardiology, Division of Internal Medicine, The University of Texas MD Anderson Cancer Center, Houston, TX
Bio Statement
Dr. Edward T.H. Yeh received his bachelor's degree in biochemistry from the University of California, Berkeley, and his medical degree from the University of California, Davis. Following medical residency, he completed a post-doctoral fellowship in Immunology at Harvard Medical School. In 1987, he was appointed Assistant Professor of Medicine at the Massachusetts General Hospital, Harvard Medical School. In 1992, Dr. Yeh joined the faculty of The University of Texas Health Science Center at Houston. In 2000, he became the founding chair of the Department of Cardiology at The University of Texas MD Anderson Cancer Center.
Dr. Yeh established a new field called Onco-cardiology that specializes in providing personalized, comprehensive cardiac care to cancer patients. He discovered that Topoisomerase-IIβ (Top2b) mediates anthracycline-induced cardiotoxicity. This finding heralds in a new age of personalized cardio-protection for patient undergoing chemotherapy. He has made fundamental contributions in biochemistry, biology and medicine through the discovery of two ubiquitin-like proteins that exemplify the importance of post-translational protein modification. In 1996, he discovered Sentrin, which later was named SUMO (Small Ubiquitin-like Modifier). He showed that SUMO modification can be reversed by a family of Sentrin/SUMO-specific proteases (SENPs). This biochemical pathway is important in the regulation of gene transcription, DNA replication/repair, signal transduction, and cellular metabolism. In 1997, he discovered another ubiquitin-like protein, NEDD8, and showed the importance of NEDD8 in breast cancer development. Earlier in his career, he elucidated the biosynthetic intermediates of the glycosyl-phosphtidylinositol (GPI) anchor and participated in the discovery of the molecular pathogenesis of paroxysmal nocturnal hemoglobinuria. He also made major contributions in the use of adult stem cells to treat patients who suffer from heart attack and heart failure. Dr. Yeh received grants from the National Institute of Health, Cancer Prevention Research Institute of Texas, and Department of Defense. He was a Massachusetts General Hospital/Upjohn Scholar, Arthritis Investigator of Arthritis Foundation, and Established Investigator of the American Heart Association. He has written over 200 scientific papers and book chapters, many of which are landmark contributions to science and medicine.
Among his many honors, Dr. Yeh was elected to memberships in Academia Sinica, the Association of American Physicians, and the American Society for Clinical Investigation. He was selected as the Distinguished Alumnus of the University of California, Davis Medical School and has served for ten years as Associate Editor of Circulation. Dr. Yeh is a current member of the Editorial Board of Circulation, Texas Heart Institute Journal, and Journal of Biological Chemistry. He has held prominent positions as the President of the Houston Cardiology Society, President of the board of American Heart Association, Houston Chapter, and board member of the American Heart Association, Texas and South Central Affiliate. He was the medical honoree of the American Heart Association, Houston Heart Ball in 2011. He is America's Top Cardiologist and Best Doctors in America.
Research Interests
Molecular basis of anthracycline cardiotoxicity
Adult stem cells in the treatment of heart disease
Pathophysiology of SUMOylation and De-SUMOylation
Education & Training
Degree-Granting Education

1980
University of California, Davis, CA, MD, Medicine
1976
University of California, Berkeley, CA, BA, Biochemistry

Postgraduate Training

7/1992-6/1995

Clinical Fellow in Cardiology, Cardiology, The University of Texas - Houston Health Science Center, Houston, TX

7/1986-6/1987

Clinical Fellow in Rheumatology, Rheumatology, Massachusetts General Hospital, Boston, MA

7/1983-6/1986

Research Fellowship, Immunology, Harvard Medical School, Boston, MA
Board Certifications
1/1999

Nuclear Cardiology

1/1995

Cardiovascular Diseases, Recertification Date:

1/1995

1/1983

Internal Medicine
Honors and Awards
2013

Mc Nair Scholar Award

2012

Lifetime Achievement Award,

Society of Chinese Bioscientists in America, Texas Chapter

2011

Heart Ball Medical Honoree,

American Heart Association-Houston

2007-present

Best Doctors,

Elected to Best Doctors in America

2007

America's Top Cardiologists

2006

Academician,

Academia Sinica, Republic of China

2005

Outstanding Advocate Award,

American Heart Association-Houston

2001

Distinguished Alumnus Award,

U. C. Davis Medical School

2000

Association of American Physicians

1993

American Society of Clinical Investigation

1992-1999

Established Investigator,

American Heart Association

1987-1990

Investigator Award,

Arthritis Foundation

1987-1990

Upjohn/Massachusetts General Hospital Scholar Award

1973-1974

Kraft Prize for Undergraduates,

U.C. Berkeley
Selected Publications
Peer-Reviewed Original Research Articles

1.
Qi Y, Wang J, Bomben VC, Li DP, Chen SR, Sun H, Xi Y, Reed JG, Cheng J, Pan HL, Noebels JL, Yeh ET. Hyper-SUMOylation of the Kv7 Potassium Channel Diminishes the M-Current Leading to Seizures and Sudden Death. Neuron 83(5):1159-71, 9/2014. PMID: 25189211.
2.
Zhang S, Liu X, Bawa-Khalfe T, Lu LS, Lyu YL, Liu LF, Yeh ET. Identification of the Molecular Basis of Doxorubicin-Induced Cardiotoxicity. Nat Med 18(11):1639-42, 11/2012. e-Pub 10/28/2012. PMID: 23104132.
3.
Bawa-Khalfe T, Lu LS, Zuo Y, Huang C, Dere R, Lin FM, Yeh ET. Differential Expression of SUMO-Specific Protease 7 Variants Regulates Epithelial Mesenchymal Transition. Proc Natl Acad Sci U S A 109(43):17466, 10/23/2012. e-Pub 10/8/2012. PMCID: PMC3491469.
4.
Van Nguyen T, Angkasekwinai P, Dou H, Lin FM, Lu LS, Cheng J, Chin YE, Dong C, Yeh ET. SUMO-specific protease 1 is critical for early lymphoid development through regulation of STAT5 activation. Mol Cell 45(2):210-221, 1/27/2012. PMCID: PMC3269036.
5.
Wang J, Najjar A, Zhang S, Rabinovich B, Willerson JT, Gelovani JG, Yeh ET. Molecular Imaging of Mesenchymal Stem Cell: Mechanistic Insight into Cardiac Repair following Experimental Myocardial Infarction. Circ Cardiovasc Imaging 5(1):94-101, 1/2012. e-Pub 12/1/2011. PMCID: PMC3273544.
6.
Dou H, Huang C, Singh M, Carpenter PB, Yeh ET. Regulation of DNA Repair through De-SUMOylation and SUMOylation of Replication Protein a Complex. Mol Cell 39(3):333-345, 8/13/2010. PMCID: PMC2928994.
7.
Bawa-Khalfe T, Cheng J, Lin SH, Ittmann MM, Yeh ET. SENP1 induces prostatic intraepithelial neoplasia through multiple mechanisms. J Biol Chem 285(33):25859-66, 8/13/2010. e-Pub 6/15/2010. PMCID: PMC2919148.
8.
Wang J, Zhang S, Rabinovich B, Bidaut L, Soghomonyan S, Alauddin MM, Bankson JA, Shpall E, Willerson JT, Gelovani JG, Yeh ET. Human CD34+ Cells in Experimental Myocardial Infarction: long-term survival, sustained functional improvement, and mechanism of action. Circ Res 106(12):1904-11, 6/2010. PMID: 20448213.
9.
Kang X, Qi Y, Zuo Y, Wang Q, Zou Y, Schwartz RJ, Cheng J, Yeh ET. SUMO-specific protease 2 is essential for suppression of polycomb group protein-mediated gene silencing during embryonic development. Mol Cell 38(2):191-201, 4/2010. PMID: 20417598.
10.
Cheng J, Kang X, Zhang S, Yeh ET. SUMO-specific protease 1 is essential for stablization of HIFΑ 1α during hypoxia. Cell 131(3):584-95, 11/2007. PMCID: PMC2128732.
11.
Zhang S, Shpall E, Willerson JT, Yeh ETH. Fusion of Human Hematopoietic Progenitor Cells and Murine Cardiomyocytes Is Mediated by α4 β1/Vascular Cell Adhesion Molecule-1 Interaction. Circ Res 100/5:693-702, 3/2007. PMID: 17303762.
12.
Gao F, Cheng J, Shi T, Yeh ET. Neddylation of a breast cancer-associated protein recruits a class III histone deacetylase that represses NFκB-dependent transcription. Nat Cell Biol 8(10):1171-7, 10/2006. e-Pub 9/2006. PMID: 16998474.
13.
Yeh ETH, Zhang S, Wu HD, Korbling M, Willerson JT, Estrov Z. Transdifferentiation of human peripheral blood CD34+-enriched cell population into cardiomyocytes, endothelial cells, and smooth muscle cells in vivo. Circulation 108:2070-3, 10/2003. PMID: 14568894.
14.
Pasceri V, Willerson JT, Yeh ETH. Direct proinflammatory effect of C-reactive protein on human endothelial cells. Circulation 102:2165-8, 10/2000. PMID: 11056086.
15.
Okura T, Gong L, Kamitani T, Wada T, Okura I, Wei CF, Chang HM, Yeh ETH. Protection against Fas/APO-1- and tumor necrosis factor-mediated cell death by a novel protein, sentrin. J Immunol 157(10):4277-81, 11/1996. PMID: 8906799.
16.
DeGasperi R, Thomas L, Sugiyama E, Chang HM, Beck PJ, Orlean P, Albright C, Waneck G, Sambrook J, Warren C, Yeh ETH. Correction of a defect in mammalian GPI anchor biosynthesis by a transfected yeast gene. Science 250(4983):988-991, 1990. PMID: 1978413.
17.
Yeh ETH, Reiser H, Bamezai A, Rock KL. TAP transcription and phosphatidylinositol linkage mutants are defective in activation through the T cell receptor. Cell 52(5):665-74, 3/1988. PMID: 2894252.
Grant & Contract Support
Title:
Doxorubicin-induced Cardiotoxicity: the Role of Topoisomerase 2b
Funding Source:
NIH/NHLBI
Role:
Principal Investigator
Duration:
4/1/2015 - 3/31/2019
Title:
Multicenter Automatic Defibrillator Trial: Chemotherapy Induced Cardiomyopathy
Funding Source:
Boston Scientific
Role:
Principal Investigator
Duration:
7/1/2014 - 3/31/2016
Title:
Identification of Topoisomerase-II beta as the primary target of doxorubicin-induced cardiotoxicity and defining the mechanisms of action
Funding Source:
Cancer Prevention & Research Institute of Texas (CPRIT)
Role:
Principal Investigator
Duration:
7/1/2011 - 6/30/2016
© 2014 The University of Texas MD Anderson Cancer Center