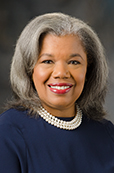 '
Elise D. Cook, M.D., M.S.
Present Title & Affiliation
Primary Appointment
Associate Professor, Department of Clinical Cancer Prevention, Division of OVP, Cancer Prevention and Population Sciences, The University of Texas MD Anderson Cancer Center, Houston, TX
Bio Statement
She has a special interest and experience in minority recruitment to clinical trials. Her expertise in recruiting minority patients and community members will also be valuable to SWOG. She is currently working with Statistical Center Staff on minority recruitment strategies for S0820. Her leadership as PI made UT MD Anderson one of the most successful sites in terms of minority recruitment for the Selenium and Vitamin E Cancer Prevention Trial (SELECT) prostate cancer prevention trial.
Research Interests
minority recruitment and retention to clinical trials
atrophic vaginitis in breast cancer survivors
academic faculty and physician health
cancer health disparities
Office Address
The University of Texas MD Anderson Cancer Center
1155 Pressler St.
Unit Number: Unit 1360
Houston, TX 77030
Room Number: CPB6.3530
Email: edcook@mdanderson.org
Education & Training
Degree-Granting Education

1988
University of California, San Francisco, CA, MD, Medicine
1976
Purdue University, West Lafayette, Indiana, MS, Computer Science
1975
Jackson State University, Jackson, MS, BS, Computer Science (Summa Cum Laude)
Board Certifications
| | |
| --- | --- |
| 2005 | Diplomat of American Board of Family Medicine |
Experience/Service
Academic Appointments
Assistant Professor, The University of Texas M. D. Anderson Cancer Center, Department of Gynecologic Oncology, Houston, TX, 1992-1994
Other Appointments/Responsibilities
Member, CCOP Underserved Working Group, Houston, TX, 3/2010-10/2010
Professional Memberships
Harris County Medical Society
Member, 1992-present
Texas Academy of Family Physicians
Member, 1991-present
Selected Publications
Peer-Reviewed Original Research Articles

1.
Cook ED, Arnold KB, Hermos JA, McCaskill-Stevens W, Moody-Thomas S, Probstfield JL, Hamilton SJ, Campbell RD, Anderson KB, Minasian LM. Impact of supplemental site grants to increase African American accrual for the Selenium and Vitamin E Cancer Prevention Trial. Clin Trials 7(1):90-9, 2/2010. NIHMSID: NIHMS395091.
2.
Lippman SM, Klein EA, Goodman PJ, Lucia MS, Thompson IM, Ford LG, Parnes HL, Minasian LM, Gaziano JM, Hartline JA, Parsons JK, Bearden JD, Crawford ED, Goodman GE, Claudio J, Winquist E, Cook ED, Karp DD, Walther P, Lieber MM, Kristal AR, Darke AK, Arnold KB, Ganz PA, Santella RM, Albanes D, Taylor PR, Probstfield JL, Jagpal TJ, Crowley JJ, Meyskens FL, Baker LH, Coltman CA. Effect of selenium and vitamin E on risk of prostate cancer and other cancers: the Selenium and Vitamin E Cancer Prevention Trial (SELECT). JAMA 301(1):39-51, 2009. PMID: 19066370.
3.
Cook ED. Selenium and Vitamin E Cancer Prevention Trial--this one's for us. J Natl Med Assoc 94(9):856-8, 9/2002. PMCID: PMCPMC2594152.
4.
Mitchell MF, Tortolero-Luna G, Cook ED, Whittaker L, Rhodes-Morris H, Silva E. A randomized clinical trial of cryotherapy, laser vaporization, and loop electrosurgical excision for treatment of squamous intraepithelial lesions of the cervix. Obstet Gynecol 92(5):737-44, 11/1998. PMID: 9794661.

Invited Articles

1.
Cook ED, Mitchell MF. The treatment of cervical intraepithelial neoplasia. Clin Consult in OB/GYN 6:37-43, 1994.

Book Chapters

1.
Cook ED. Breast and Prostate Cancer Healthcare Disparities. In: Healthcare Disparities at the Crossroads with Healthcare Reform. Ed(s) Richard Allen Williams. Springer: New York, NY, 385-397, 2011.
2.
Cook ED, Gibbs HR. Diverse Academic Faculty: A Precious Resource for Innovative Institutions. In: Faculty Health in Academic Medicine: Physicians, Scientists, and the Pressures of Success. Ed(s) Cole TR, Goodrich, TJ, Gritz, ER. Humana Press: Totowa, NJ, 2008.
Grant & Contract Support
| | |
| --- | --- |
| Title: | EMPaCT: Enhancing Minority Participation in Clinical Trials: Phase II |
| Funding Source: | NIH/NIMH |
| Role: | Principal Investigator |
| Duration: | 9/19/2011 - 5/31/2016 |