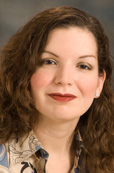 '
Elsa R. Flores, Ph.D.
Present Title & Affiliation
Primary Appointment
Associate Professor, Department of Molecular and Cellular Oncology, Division of Basic Science Research, The University of Texas MD Anderson Cancer Center, Houston, TX
Regular Member of Faculty, Division of Basic Science Research, The University of Texas Graduate School of Biomedical Sciences, Houston, TX
Co-Director, Metastasis Research Center, The University of Texas MD Anderson Cancer Center, Houston, TX
Research Interests
In the post-genomic era, many gene families have been identified. These genes can have overlapping and independent functions. The existence of redundant functions in gene families has made diseases like cancer challenging to treat and cure. The focus of my laboratory is to understand the intricacy of the p53 family of genes in cancer using mouse genetics and biochemical approaches. The goal of our work is to gain a global understanding of the complex functions of this gene family in cancer and to facilitate the design of targeted therapies for cancer patients with alterations in this family of genes. This type of research can be applied to other families of genes with redundant and unique functions in an effort to make significant progress in curing diseases like cancer.

Given the structural and functional similarity of p63 and p73 to p53, the early assumption was that these new family members were also tumor suppressor genes. The functions of p63 and p73 are not that simple due to the existence of isoforms with opposing functions including transactivation competent (TA) isoforms and those lacking the transactivation domain (ΔN). To determine the functions of these isoforms, my laboratory has generated conditional knock out mouse models that allow the deletion of the TA or ΔN isoforms of p63 or p73. Using these mouse models, we have unveiled previously unrecognized functions of p63 and p73 in the maintenance of adult skin stem cells and DNA repair. Current experiments using these novel mouse models are aimed at understanding the transcriptional network regulated by the isoforms of p63 and p73 in stem cell maintenance, DNA damage responses, tumor suppression, and metastasis.

http://www.thefloreslab.org/







Office Address
The University of Texas MD Anderson Cancer Center
1515 Holcombe Blvd.
Unit Number: 1000
Houston, TX 77030
Room Number: S9.8316B
Phone: 713-792-0413
Fax: 713-794-0209
Education & Training
Degree-Granting Education

1999
University of Wisconsin-Madison-McArdle Laboratory for Cancer Research, Madison, WI, PHD, Cancer Biology
1994
Massachusetts Institute of Technology, Cambridge, MA, SB, Chemical Engineering

Postgraduate Training

9/1999-10/2004

Postdoctoral Fellowship, Massachusetts Institute of Technology, Cambridge, MA, Dr. Tyler Jacks
Experience/Service
Academic Appointments
Associate Professor, Department of Biochemistry and Molecular Biology, Division of Basic Science Research, The University of Texas MD Anderson Cancer Center, Houston, TX, 5/2011-8/2014
Other Appointments/Responsibilities
Director, Genes and Development Graduate Program, Houston, TX, 1/2012-present
Honors and Awards
| | |
| --- | --- |
| 2011-2016 | Leukemia and Lymphoma Society of America Scholar |
| 2011-2014 | University of Texas STARS |
| 2010-2013 | MD Anderson Faculty Scholar |
| 2007-2010 | American Cancer Society Research Scholar |
| 2006-2008 | March of Dimes - Basil O'Connor Starter Award |
| 2006-2007 | MD Anderson Faculty Development Award - CCSG |
| 2005-2008 | Rita Allen Foundation Scholar |
| 2005-2007 | V Foundation for Cancer Research Scholar |
| 2003-2007 | William Guy Forbeck Research Foundation Scholar Award |
| 2003-2006 | Leukemia and Lymphoma Society of America Special Postdoctoral Fellowship |
| 2000-2003 | Leukemia and Lymphoma Society of America Postdoctoral Fellowship |
Selected Publications
Peer-Reviewed Original Research Articles

1.
Venkatanarayan A, Raulji P, Norton W, Chakravarti D, Coarfa C, Su X, Sandur SK, Ramirez MS, Lee J, Kingsley CV, Sananikone EF, Rajapakshe K, Naff K, Parker-Thornburg J, Bankson JA, Tsai KY, Gunaratne PH, Flores ER. IAPP driven metabolic reprogramming induces regression of p53 - deficient tumours in vivo. Nature, http://dx.doi.org/10.1038/nature13910. e-Pub 11/17/2014. PMID: 25409149.
2.
Chakravarti D, Su X, Cho MS, Bui NH, Coarfa C, Venkatanarayan A, Benham AL, Flores González RE, Alana J, Xiao W, Leung ML, Vin H, Chan IL, Aquino A, Müller N, Wang H, Cooney AJ, Parker-Thornburg J, Tsai KY, Gunaratne PH, Flores ER. Induced multipotency in adult keratinocytes through down-regulation of ?Np63 or DGCR8. Proc Natl Acad Sci U S A 111(5):E572-81, 2/2014. e-Pub 1/2014. PMCID: PMC3918754.
3.
Vin H, Ojeda SS, Ching G, Leung ML, Chitsazzadeh V, Dwyer DW, Adelmann CH, Restrepo M, Richards KN, Stewart LR, Du L, Ferguson SB, Chakravarti D, Ehrenreiter K, Baccarini M, Ruggieri R, Curry JL, Kim KB, Ciurea AM, Duvic M, Prieto VG, Ullrich SE, Dalby KN, Flores ER, Tsai KY. BRAF inhibitors suppress apoptosis through off-target inhibition of JNK signaling. Elife 2(0), 11/2013. e-Pub 11/2013. PMID: 24192036.
4.
Cancino GI, Yiu AP, Fatt MP, Dugani CB, Flores ER, Frankland PW, Josselyn SA, Miller FD, Kaplan DR. p63 regulates adult neural precursor and newly-born neuron survival to control hippocampal-dependent behavior. J Neurosci 33(31):12569-85, 7/31/2013. PMID: 23904595.
5.
Tan EH, Morton JP, Timpson P, Tucci P, Melino G, Flores ER, Sansom OJ, Vousden KH, Muller PA. Functions of TAp63 and p53 in restraining the development of metastatic cancer. Oncogene. e-Pub 7/2013. PMID: 23873029.
6.
Eno CO, Zhao G, Venkatanarayan A, Wang B, Flores ER, Li C. Noxa couples lysosomal membrane permeabilization and apoptosis during oxidative stress. Free Radic Biol Med. e-Pub 6/2013. PMID: 23770082.
7.
Chari NS, Romano RA, Koster MI, Jaks V, Roop D, Flores ER, Teglund S, Sinha S, Gruber W, Aberger F, Medeiros LJ, Toftgard R, McDonnell TJ. Interaction between the TP63 and SHH pathways is an important determinant of epidermal homeostasis. Cell Death Differ. e-Pub 5/2013. PMID: 23686138.
8.
Terrinoni A, Serra V, Bruno E, Strasser A, Valente E, Flores ER, van Bokhoven H, Lu X, Knight RA, Melino G. Role of p63 and the Notch pathway in cochlea development and sensorineural deafness. Proc Natl Acad Sci U S A 110(18):7300-5, 4/30/2013. e-Pub 4/15/2013. PMCID: PMC3645580.
9.
Liao JM, Zhang Y, Liao W, Zeng SX, Su X, Flores ER, Lu H. IκB Kinase β (IKKβ) inhibits p63 Isoform γ (TAp63γ) transcriptional activity. J Biol Chem. e-Pub 4/2013. PMID: 23589370.
10.
Su X, Chakravarti D, Flores ER. p63 steps into the limelight: crucial roles in the suppression of tumorigenesis and metastasis. Nat Rev Cancer 13(2):136-43, 2/2013. PMID: 23344544.
11.
Tran MN, Choi W, Wszolek MF, Navai N, Lee IL, Nitti G, Wen S, Flores ER, Siefker-Radtke A, Czerniak B, Dinney C, Barton M, McConkey DJ. The p63 isoform ?Np63α inhibits epithelial-mesenchymal transition in human bladder cancer cells: Role of miR205. J Biol Chem 288(5):3275-88, 2/2013. e-Pub 12/2012. PMCID: PMC3561548.
12.
Su X, Gi YJ, Chakravarti D, Chan IL, Zhang A, Xia X, Tsai KY, Flores ER. TAp63 is a Master Transcriptional Regulator of Lipid and Glucose Metabolism. Cell Metab (*Featured in Nature Reviews Cancer) 16(4):511-25, 10/2012. PMID: 23040072.
13.
Ahn YH, Gibbons DL, Chakravarti D, Creighton CJ, Rizvi ZH, Adams HP, Pertsemlidis A, Gregory PA, Wright JA, Goodall GJ, Flores ER, Kurie JM. ZEB1 drives prometastatic actin cytoskeletal remodeling by downregulating miR-34a expression. J Clin Invest 122(9):3170-83, 9/2012. e-Pub 8/2012. PMCID: PMC3428095.
14.
Lee DF, Su J, Ang YS, Carvajal-Vergara X, Mulero-Navarro S, Pereira CF, Gingold J, Wang HL, Zhao R, Sevilla A, Darr H, Williamson AJ, Chang B, Niu X, Aguilo F, Flores ER, Sher YP, Hung MC, Whetton AD, Gelb BD, Moore KA, Snoeck HW, Ma'ayan A, Schaniel C, Lemischka IR. Regulation of Embryonic and Induced Pluripotency by Aurora Kinase-p53 Signaling. Cell Stem Cell 11(2):179-94, 8/2012. PMID: 22862944.
15.
Wu H, Zeinab RA, Flores ER, Leng RP. Pirh2, a Ubiquitin E3 Ligase, Inhibits p73 Transcriptional Activity by Promoting its Ubiquitination. Mol Cancer Res 9(12):1780-90, 12/2011. e-Pub 10/2011. PMID: 21994467.
16.
Mitani Y, Li J, Weber RS, Lippman SL, Flores ER, Caulin C, El-Naggar AK. Expression and regulation of the ?N and TAp63 isoforms in salivary gland tumorigenesis clinical and experimental findings. Am J Pathol 179(1):391-9, 7/2011. e-Pub 5/2011. PMCID: PMC3123859.
17.
Bornstein C, Brosh R, Molchadsky A, Madar S, Kogan-Sakin I, Goldstein I, Chakravarti D, Flores ER, Goldfinger N, Sarig R, Rotter V. SPATA18, a Spermatogenesis-Associated Gene, Is a Novel Transcriptional Target of p53 and p63. Mol Cell Biol 31(8):1679-89, 4/2011. e-Pub 2/2011. PMID: 21300779.
18.
Su X, Chakravarti D, Cho MS, Liu L, Gi YJ, Lin YL, Leung ML, El-Naggar A, Creighton CJ, Suraokar MB, Wistuba I, Flores ER. TAp63 suppresses metastasis through coordinate regulation of Dicer and miRNAs. Nature (*Featured in Nature Reviews Cancer, Genome Biology, and Science) 467(7318):986-90, 10/2010. PMID: 20962848.
19.
Cho MS, Chan IL, Flores ER. DeltaNp63 transcriptionally regulates brachyury, a gene with diverse roles in limb development, tumorigenesis and metastasis. Cell Cycle (*Commentary in Cell Cycle) 9(12). e-Pub 6/2010. PMID: 20519941.
20.
Lin Y-L, Sengupta S, Gurdziel K, Bell, G, Jacks T, and Flores ER. p63 and p73 transcriptionally regulate genes involved in DNA repair. PLoS Genetics 5(10):e1000680, 10/2009. e-Pub 10/2009.
21.
Su X, Cho MS, Gi YJ, Ayanga BA, Sherr CJ, Flores ER. Rescue of key features of the p63-null epithelial phenotype by inactivation of Ink4a and Arf. EMBO J 28(13):1904-15, 7/2009. e-Pub 6/2009. PMCID: PMC2711186.
22.
Su X, Paris M, Gi Y-J, Tsai KY, Cho MS, Lin Y-L, Biernaskie JA, Sinha S, Prives C, Pevny LH, Miller FD, and Flores ER. TAp63 prevents premature aging by promoting adult stem cell maintenance. Cell Stem Cell (*Commentary in the same issue of Cell Stem Cell) 5(1):64-75, 7/2009. PMID: 19570515.
23.
Talos F, Nemajerova A, Flores ER, Petrenko O, and Moll U. p73 suppresses polyploidy and aneuploidy in the absence of functional p53. Mol Cell 27(4):647-659, 8/2007. PMID: 17707235.
24.
Flores ER, Sengupta S, Miller JB, Newman JJ, Bronson R, Crowley D, Yang A, McKeon F, Jacks T. Tumor predisposition in mice mutant for p63 and p73: evidence for broader tumor suppressor functions for the p53 family. Cancer Cell 7(4):363-73, 4/2005. PMID: 15837625.
25.
Reczek EE, Flores ER, Tsay AS, Attardi LD, Jacks T. Multiple response elements and differential p53 binding control Perp expression during apoptosis. Mol Cancer Res 1(14):1048-57, 12/2003. PMID: 14707288.
26.
Flores ER, Tsai KY, Crowley D, Sengupta S, Yang A, McKeon F, Jacks T. p63 and p73 are required for p53-dependent apoptosis in response to DNA damage. Nature (*Commentary in Cancer Cell and featured in Nature Reviews) 416(6880):560-4, 4/2002. PMID: 11932750.
27.
de Vries A, Flores ER, Miranda B, Hsieh HM, van Oostrom CT, Sage J, Jacks T. Targeted point mutations of p53 lead to dominant-negative inhibition of wild-type p53 function. Proc Natl Acad Sci U S A 99(5):2948-53, 3/2002. PMID: 11867759.
28.
Duensing S, Duensing A, Flores ER, Do A, Lambert PF, Munger K. Centrosome abnormalities and genomic instability by episomal expression of human papillomavirus type 16 in raft cultures of human keratinocytes. J Virol 75(16):7712-6, 8/2001. PMID: 11462043.
29.
Irwin M, Marin MC, Phillips AC, Seelan RS, Smith DI, Liu W, Flores ER, Tsai KY, Jacks T, Vousden KH, Kaelin WG, Jr. Role for the p53 homologue p73 in E2F-1-induced apoptosis. Nature 407(6804):645-8, 10/2000. PMID: 11034215.
30.
Flores ER, Allen-Hoffmann BL, Lee D, Lambert PF. The human papillomavirus type 16 E7 oncogene is required for the productive stage of the viral life cycle. J Virol 74(14):6622-31, 7/2000. PMID: 10864676.
31.
Flores ER, Allen-Hoffmann BL, Lee D, Sattler CA, Lambert PF. Establishment of the human papillomavirus type 16 (HPV-16) life cycle in an immortalized human foreskin keratinocyte cell line. Virology 262(2):344-54, 9/1999. PMID: 10502513.
32.
Flores ER, Lambert PF. Evidence for a switch in the mode of human papillomavirus type 16 DNA replication during the viral life cycle. J Virol 71(10):7167-79, 10/1997. PMID: 9311789.

Invited Articles

1.
Napoli M, Flores ER. The family that eats together stays together: new p53 family transcriptional targets in autophagy. Genes Dev 27(9):971-4, 5/2013. PMID: 23651851.
2.
Flores ER, Lozano G. The p53 family grows old. Genes Dev 26(18):1997-2000, 9/2012. PMID: 22987633.
3.
Flores ER. p73 is critical for the persistence of memory. Cell Death & Differentiation 18(3):381-2, 3/2011.
4.
Flores ER, Halder G. Stem cell proliferation in the skin: alpha-catenin takes over the hippo pathway. Sci Signal 4(183):pe34, 2011. e-Pub 7/2011. PMID: 21791701.
5.
Su X and Flores ER. TAp63: The Fountain of Youth. Impact Aging 1(10):866-869, http://www.impactaging.com/papers/v1/n10/full/100095.html, 10/2009. e-Pub 10/2009.
6.
Flores ER. The roles of p63 in cancer. Cell Cycle 6(3). e-Pub 2/2007. PMID: 17264676.
7.
Iwakuma T, Lozano G, Flores ER. Li-Fraumeni syndrome: a p53 family affair. Cell Cycle 4(7):865-7, 7/2005. PMID: 15917654.

Book Chapters

1.
Botchkarev VA, Flores ER. p53/p63/p73 in the Epidermis in Health and Disease. In: Cold Spring Harb Perspect Med. 4, 8. Ed(s) AE Oro and FM Watt. Cold Spring Harbor Laboratory Press: New York, 301-12, e-Book 8/2014. ISBN: 25085956.
2.
Flores ER and Jacks T. p53 Family Members; p63 and p73. In: The p53 Tumor Suppressor Pathway and Cancer, 2005.
3.
Lambert PF, Flores ER, Heino P and Song S. Human Papillomaviruses: Molecular Biology. In: Encyclopedia of Virology, 1999.
© 2014 The University of Texas MD Anderson Cancer Center