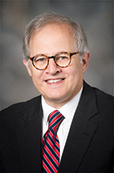 '
Ethan Dmitrovsky, MD
Present Title & Affiliation
Primary Appointment
Provost and Executive Vice President, The University of Texas MD Anderson Cancer Center, Houston, TX
Professor, Department of Thoracic/Head and Neck Medical Oncology, Division of Cancer Medicine, The University of Texas MD Anderson Cancer Center, Houston, TX
Education & Training
Degree-Granting Education

1980
Cornell University Medical College, New York, NY, MD
1976
Harvard University, Cambridge, MA, AB, Magna Cum Laude

Postgraduate Training

1986-1987

Research Fellowship, Biotechnology Fellowship, National Cancer Institute, Molecular Genetics Section, Navy Medical Oncology Branch, Bethesda, MD, Dr. Michael Kuehl

1983-1986

Research Fellowship, Medical Staff Fellow, National Cancer Institute, Navy Medical Oncology Branch, Bethesda, MD, Dr. Ilan Kirsch

1983-1986

Intern in Internal Medicine, New York Hospital, Memorial Sloan-Kettering Cancer Center, New York, NY

1981-1983

Resident in Internal Medicine, New York Hospital, Memorial Sloan-Kettering Cancer Center, New York, NY
Honors and Awards
2013

Elected Fellow,

American Association for the Advancement of Science

2008-present

Clinical Research Professor,

American Cancer Society

2004

Elected Member,

Association of American Physicians

1994

Elected Member,

American Society for Clinical Investigation

1976

Magna Cum Laude,

Harvard University
Selected Publications
Peer-Reviewed Original Research Articles

1.
Aoyama K, Saha A, Tolar J, Riddle MJ, Veenstra RG, Taylor PA, Blomhoff R, Panoskaltsis-Mortari A, Klebanoff CA, Socie G, Munn DH, Murphy WJ, Serody JS, Fulton L, Teshmia T, Chandraratna RA, Dmitrovsky E, Guo Y, Noelle RJ, Blazar BR. Inhibiting retinoic acid signaling ameliorates graft-versus-host disease by modifying T-cell differentiation and intestinal migration. Blood. e-Pub 6/2013. PMID: 23814022.
2.
Ma T, Galimberti F, Erkmen CP, Memoli V, Chinyengetere F, Sempere L, Beumer JH, Anyang BN, Nugent W, Johnstone D, Tsongalis GJ, Kurie JM, Li H, Direnzo J, Guo Y, Freemantle SJ, Dragnev KH, Dmitrovsky E. Comparing Histone Deacetylase Inhibitor Responses in Genetically Engineered Mouse Lung Cancer Models and a Window of Opportunity Trial in Lung Cancer Patients. Mol Cancer Ther. e-Pub 5/2013. PMID: 23686769.
3.
Rodriguez-Blanco J, Schilling NS, Tokhunts R, Giambelli C, Long J, Liang Fei D, Singh S, Black KE, Wang Z, Galimberti F, Bejarano PA, Elliot S, Glassberg MK, Nguyen DM, Lockwood WW, Lam WL, Dmitrovsky E, Capobianco AJ, Robbins DJ. The hedgehog processing pathway is required for NSCLC growth and survival. Oncogene 32(18):2335-45, 5/2013. e-Pub 6/2012. PMID: 22733134.
4.
Busch AM, Johnson KC, Stan RV, Sanglikar A, Ahmed Y, Dmitrovsky E, Freemantle SJ. Evidence for tankyrases as antineoplastic targets in lung cancer. BMC Cancer 13:211, 2013. e-Pub 4/2013. PMCID: PMC3644501.
5.
Guo Y, Pino-Lagos K, Ahonen CA, Bennett KA, Wang J, Napoli JL, Blomhoff R, Sockanathan S, Chandraratna RA, Dmitrovsky E, Turk MJ, Noelle RJ. A retinoic acid--rich tumor microenvironment provides clonal survival cues for tumor-specific CD8(+) T cells. Cancer Res 72(20):5230-9, 10/2012. e-Pub 8/2012. PMID: 22902413.
6.
Guo Y, Chinyengetere F, Dolinko AV, Lopez-Aguiar A, Lu Y, Galimberti F, Ma T, Feng Q, Sekula D, Freemantle SJ, Andrew AS, Memoli V, Dmitrovsky E. Evidence for the ubiquitin protease UBP43 as an antineoplastic target. Mol Cancer Ther 11(9):1968-77, 9/2012. e-Pub 7/2012. PMCID: PMC3438286.
7.
Ma T, Fuld AD, Rigas JR, Hagey AE, Gordon GB, Dmitrovsky E, Dragnev KH. A phase I trial and in vitro studies combining ABT-751 with carboplatin in previously treated non-small cell lung cancer patients. Chemotherapy 58(4):321-9, 2012. e-Pub 11/2012. PMCID: PMC3570826.
8.
Pino-Lagos K, Guo Y, Brown C, Alexander MP, Elgueta R, Bennett KA, De Vries V, Nowak E, Blomhoff R, Sockanathan S, Chandraratna RA, Dmitrovsky E, Noelle RJ. A retinoic acid-dependent checkpoint in the development of CD4+ T cell-mediated immunity. J Exp Med 208(9):1767-75, 8/2011. e-Pub 8/2011. PMCID: PMC3171100.
9.
Singh S, Wang Z, Liang Fei D, Black KE, Goetz JA, Tokhunts R, Giambelli C, Rodriguez-Blanco J, Long J, Lee E, Briegel KJ, Bejarano PA, Dmitrovsky E, Capobianco AJ, Robbins DJ. Hedgehog-producing cancer cells respond to and require autocrine Hedgehog activity. Cancer Res 71(13):4454-63, 7/2011. e-Pub 5/2011. PMID: 21565978.
10.
Dragnev KH, Ma T, Cyrus J, Galimberti F, Memoli V, Busch AM, Tsongalis GJ, Seltzer M, Johnstone D, Erkmen CP, Nugent W, Rigas JR, Liu X, Freemantle SJ, Kurie JM, Waxman S, Dmitrovsky E. Bexarotene plus erlotinib suppress lung carcinogenesis independent of KRAS mutations in two clinical trials and transgenic models. Cancer Prev Res (Phila) 4(6):818-28, 6/2011. PMCID: PMC3108499.
11.
Liu X, Sempere LF, Ouyang H, Memoli VA, Andrew AS, Luo Y, Demidenko E, Korc M, Shi W, Preis M, Dragnev KH, Li H, Direnzo J, Bak M, Freemantle SJ, Kauppinen S, Dmitrovsky E. MicroRNA-31 functions as an oncogenic microRNA in mouse and human lung cancer cells by repressing specific tumor suppressors. J Clin Invest 120(4):1298-309, 4/2010. e-Pub 3/2010. PMCID: PMC2846041.