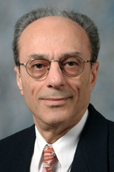 '
Farzin Eftekhari, MD
Present Title & Affiliation
Primary Appointment
Professor, Department of Diagnostic Radiology, Division of Diagnostic Imaging, The University of Texas MD Anderson Cancer Center, Houston, TX
Dual/Joint/Adjunct Appointment
Clinical adjunct Professor, Division of Pediatrics, The University of Texas MD Anderson Cancer Center, Houston, TX
Office Address
The University of Texas MD Anderson Cancer Center
1515 Holcombe Blvd.
Unit Number: 1473
Houston, TX 77030
Room Number: FCT 15
Phone: (713) 792-2725
Email: FEftekhari@mdanderson.org
Education & Training
Degree-Granting Education

1967
The University of Tehran School of Medicine, Tehran, Iran, MD, Doctor of Medicine

Postgraduate Training

2/1981-8/1981

Visiting Fellow, Abdominal Imaging, The University of Texas MD Anderson Cancer Center, Houston, TX

1/1979

Visiting Fellow, Ultrasound, Hahnemann Medical College and Hospital, Philadelphia, PA

12/1978-1/1979

Visiting Fellow, Ultrasound, Jefferson University Hospital, Philadelphia, PA

4/1973-5/1973

Rotating Resident, Radiology, Armed Forces Institute of Pathology, Washington, DC

1/1973-4/1973

Rotating Resident (4 month elective rotation), Pediatric Radiology, Children's Hospital of Philadelphia, Philadelphia, PA

1/1973-2/1973

Rotating Resident (1 month elective rotation), Radiology, Hahnemann Medical College and Hospital, Cardiac Catheterization Lab, Philadelphia, PA

7/1970-6/1973

Resident, Diagnostic Radiology, Hahnemann Medical College and Hospital, Philadelphia, PA

7/1969-6/1970

Rotating Intern, Cook County Hospital, Chicago, IL
Board Certifications
| | |
| --- | --- |
| 1/1973 | American Board of Diagnostic Radiology |
Honors and Awards
2004

Named as one of Houston Super Docs

1992

Outstanding Teacher in Radiology,

The University of Texas Medical School at Houston
Selected Publications
Peer-Reviewed Original Research Articles

1.
Nasseri F, Eftekhari F. Clinical and Radiologic Review of the Normal and Abnormal Thymus: Pearls and Pitfalls. Radiographics 30(2):413-28, 3/2010. PMID: 20228326.
2.
Nasseri F, Eftekhari F. Ectopic thymus presenting as a right-side cervical mass in an infant. Pediatr Radiol 39(1):90, 1/2009. e-Pub 10/2008. PMID: 18839165.
3.
Busigo JP, Eftekhari F. Encysted spermatic cord hydroceles: a report of three cases in adults and a review of the literature. Acta Radiol 48(10):1138-1142, 2007. PMID: 17963075.
4.
Costelloe CM, Eftekhari F, Petropoulos D. Radiography of successful bone marrow transplantation for osteopetrosis. Skeletal Radiol 1:S34-37, 2007. e-Pub 2006. PMID: 16799785.
5.
Cody DD, Moxley DM, Krugh KT, O'Daniel JC, Wagner LK, Eftekhari F. Strategies for formulating appropriate MDCT techniques when imaging the chest, abdomen, and pelvis in pediatric patients. AJR Am J Roentgenol 182(4):849-859, 2004. PMID: 15039151.
6.
Montalvo PG, Jaffe N, Eftekhari F. Relapse eighteen and one-half years after apparent cure of sarcoma botryoides of the vagina. Med Pediatr Oncol 41(2):177-179, 2003. PMID: 12825233.
7.
Jaffe N, Carrasco H, Raymond K, Ayala A, Eftekhari F. Can cure in patients with osteosarcoma be achieved exclusively with chemotherapy and abrogation of surgery? Cancer 95(10):2202-2210, 2002. PMID: 12412175.
8.
Eftekhari F, Ater JL, Ayala AG, Czerniak BA. Case report: Calcifying fibrous pseudotumour of the adrenal gland. Br J Radiol 74(881):452-454, 2001. PMID: 11388995.
9.
Herzog CE, Andrassy RJ, Eftekhari F. Childhood cancers: hepatoblastoma. Oncologist 5(6):445-453, 2000. PMID: 11110595.
10.
Iyer R, Jaffe N, Ayala AG, Eftekhari F. Thymic sarcoma in childhood. Br J Radiol 71(841):81-83, 1998. PMID: 9534704.
11.
Loyer EM, DuBrow RA, David CL, Coan JD, Eftekhari F. Imaging of superficial soft-tissue infections: sonographic findings in cases of cellulitis and abscess. AJR Am J Roentgenol 166(1):149-152, 1996. PMID: 8571865.
12.
Eftekhari F, Wallace S, Silva EG, Lenzi R. Merkel cell carcinoma of the skin: imaging and clinical features in 93 cases. Br J Radiol 69(819):226-233, 1996. PMID: 8800866.
13.
Loyer EM, Kaur H, David CL, DuBrow R, Eftekhari F. Importance of dynamic assessment of the soft tissues in the sonographic diagnosis of echogenic superficial abscesses. J Ultrasound Med 14(9):669-671, 1995. PMID: 7500432.
14.
Eftekhari F, Nader S, Libshitz HI. Imaging findings in post radiation changes of the thyroid and parathyroid glands. Semin Roentgenol 28(4):333-343, 1993. PMID: 8272881.
15.
Ayala AG, Ro JY, Bolio-Solis A, Hernandez-Batres F, Eftekhari F, Edeiken J. Mesenchymal hamartoma of the chest wall in infants and children: a clinicopathological study of five patients. Skeletal Radiol 22(8):569-576, 1993. PMID: 8291008.
16.
Eftekhari F, Smith JK. Sonography of the scrotum after orchiectomy: normal and abnormal findings. AJR Am J Roentgenol 160(3):543-547, 1993. PMID: 8381574.
17.
Eftekhari F, Fornage BD, Mahon TG. Carcinoma of the cervicothoracic esophagus: sonographic findings and guided percutaneous needle biopsy. J Clin Ultrasound 20(9):632-635, 1992. PMID: 1331196.
18.
Loyer EM, Shabb NS, Mahon TG, Eftekhari F. Fibrous hamartoma of infancy: MR-pathologic correlation. J Comput Assist Tomogr 16(2):311-313, 1992. PMID: 1545033.
19.
Middlebrook MR, Eftekhari F. Sonographic findings in Richter's hernia. Gastrointest Radiol 17(3):229-230, 1992. PMID: 1612308.
20.
Eftekhari F, Erly WK, Jaffe N. Malignant rhabdoid tumor of the kidney: imaging features in two cases. Pediatr Radiol 21(1):39-42, 1990. PMID: 2287537.
21.
Eftekhari F, Jaffe N, Schwegel D, Ayala A. Inflammatory metachronous hyperostosis of the clavicle and femur in children. Report of two cases, one with long-term follow-up. Skeletal Radiol 18(1):9-14, 1989. PMID: 2711216.
22.
Fornage BD, Eftekhari F. Sonographic diagnosis of myositis ossificans. J Ultrasound Med 8(8):463-466, 1989. PMID: 2668559.
23.
Stewart RR, David CL, Eftekhari F, Ried HL, Fuller LM, Fornage BD. Thyroid gland: US in patients with Hodgkin disease treated with radiation therapy in childhood. Radiology 172(1):159-163, 1989. PMID: 2662250.
24.
Eftekhari F, Peuchot M. Thyroid metastases: combined role of ultrasonography and fine needle aspiration biopsy. J Clin Ultrasound 17(9):657-660, 1989. PMID: 2514201.
25.
Peuchot M, Eftekhari F, Van Tassel P, Cangir A. Computed tomography in histiocytosis X of the temporal bone. J Comput Tomogr 12(1):9-12, 1988. PMID: 3258225.
26.
Lorigan JG, David CL, Shirkhoda A, Eftekhari F, Alexanian R. Macroglobulinaemic lymphoma presenting with perirenal masses. Br J Radiol 61(731):1077-1078, 1988. PMID: 3061549.
27.
Lorigan JG, Eftekhari F, David CL, Shirkhoda A. The growing teratoma syndrome: an unusual manifestation of treated, nonseminomatous germ cell tumors of the testis. AJR Am J Roentgenol 151(2):325-329, 1988. PMID: 2839969.
28.
Eftekhari F, Shirkhoda A, Cangir A. Cavitation of a mediastinal mass following chemotherapy for histiocytosis-X: CT demonstration. J Comput Assist Tomogr 10(1):130-132, 1986. PMID: 3484757.
29.
Shirkhoda A, Eftekhari F, Frankel LS, Lewis E. Diagnosis of leukemic relapse in the pelvic soft tissues of juvenile females. J Clin Ultrasound 14(3):191-195, 1986. PMID: 3084568.
30.
Eftekhari F, Yousefzadeh DK. Primary infantile hyperparathyroidism: clinical, laboratory, and radiographic features in 21 cases. Skeletal Radiol 8(3):201-208, 1982. PMID: 7112147.
© 2014 The University of Texas MD Anderson Cancer Center