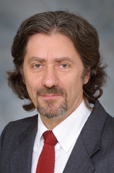 '
Fernando Benavides, DVM, PhD, DACLAM
Present Title & Affiliation
Primary Appointment
Professor, Department of Epigenetics and Molecular Carcinogenesis, Division of Basic Science Research, The University of Texas MD Anderson Cancer Center, Smithville
Dual/Joint/Adjunct Appointment
Adjunct Associate Professor, College of Veterinary Medicine Texas A&M University, College Station, TX
Associate Faculty Member, Graduate School of Biomedical Sciences (GSBS), Houston, TX
Research Interests
The overall goal of my research is to define new mouse models through forward genetics. As part of our positional cloning and phenotyping projects, we are studying spontaneous mouse mutations with skin phenotypes, aiming to identify genes important for skin and hair follicle biology. Our ultimate goal is to develop new animal models, particularly but not limited to mouse models of cancer. As the Director of the Laboratory Animal Genetics Services of the Research Animal Support Facility-Smithville, I advise and coordinate speed congenics projects, genetic monitoring, background characterizations, and whole genome scans for MD Anderson faculty. I also provide free consultation on rodent genetics (including strain selection and standard nomenclature).
Office Address
The University of Texas MD Anderson Cancer Center
1808 Park Rd 1C
PO Box 389
Smithville, TX 78957
Room Number: SRA1.100b
Phone: (512) 237-9343
Email: fbenavid@mdanderson.org
Education & Training
Degree-Granting Education

1998
University of Buenos Aires, School of Veterinary Medicine, Buenos Aires, Argentina, PHD, Genetics
1986
University of Buenos Aires, School of Veterinary Medicine, Buenos Aires, Argentina, DVM, Veterinary Medicine
Board Certifications
| | |
| --- | --- |
| 7/2003 | American College of Laboratory Animal Medicine (ACLAM) |
Experience/Service
Administrative Appointments/Responsibilities
Director of Laboratory Animals Genetic Services, Department of Epigenetics and Molecular Carcinogenesis, Research Animal Support Facility, The University of Texas MD Anderson Cancer Center, Smithville, TX, 4/2006-present
Veterinarian/Geneticist RASF-S, Department of Epigenetics and Molecular Carcinogenesis, Research Animal Support Facility, The University of Texas MD Anderson Cancer Center, Smithville, TX, 7/2003-present
Selected Publications
Peer-Reviewed Original Research Articles

1.
Portis M, Floyd A, Perez CJ, Huskey PS, Schutz D, Bigbee C, Weiss DA, Coghlan LG, Benavides F. Persistence of Myobia musculi DNA after moxidectin treatment: implications for PCR monitoring of mite infestations in mice. Scandinavian Journal of Laboratory Animal Science 42(5):1-6, 2016.
2.
Perez CJ, Mecklenburg L, Jaubert J, Martinez-Santamaria L, Iritani BM, Espejo A, Napoli E, Song G, del Río M, DiGiovanni J, Giulivi C, Bedford MT, Dent SY, Wood RD, Kusewitt DF, Guénet JL, Conti CJ, Benavides F. Increased Susceptibility to Skin Carcinogenesis Associated with a Spontaneous Mouse Mutation in the Palmitoyl Transferase Zdhhc13 gene. J Invest Dermatol 135(12):3133-43, 12/2015. e-Pub 8/19/2015. PMCID: PMC4898190.
3.
Perez CJ, Dumas A, Vallières L, Guénet JL, Benavides F. Several Classical Mouse Inbred Strains, Including DBA/2, NOD/Lt, FVB/N, and SJL/J, Carry a Putative Loss-of-Function Allele of Gpr84. J Hered 104(4):565-71, Jul-Aug, 7/2013. e-Pub 4/24/2013. PMCID: PMC3954108.
4.
Garg R, Blando J, Perez CJ, Wang H, Benavides F, Kazanietz MG. Activation of Nuclear Factor-kappa B in prostate cancer is mediated by Protein Kinase C epsilon. Journal of Biological Chemistry 287(44):37570-82, 10/2012. PMCID: PMC3481351.
5.
Perez C, Parker-Thornburg J, Mikulec C, Kusewitt DF, Fischer SM, Digiovanni J, Conti CJ, Benavides F. SKHIN/Sprd, a new genetically defined inbred hairless mouse strain for UV-induced skin carcinogenesis studies. Exp Dermatol 21(3):217-220, 3/2012. PMCID: PMC3881295.
6.
Ferguson BW, Gao X, Kil H, Lee J, Benavides F, Abba MC, Aldaz CM. Conditional Wwox deletion in mouse mammary gland by means of two Cre recombinase approaches. PLoS One 7(5):e36618, 2012. e-Pub 5/4/2012. PMCID: PMC3344920.
7.
Benavides F, Perez C, Blando J, Contreras O, Shen J, Coussens LM, Fischer SM, Kusewitt DF, Digiovanni J, Conti CJ. Protective role of cathepsin L in mouse skin carcinogenesis. Mol Carcinog 51(4). e-Pub 5/2/2011. PMCID: PMC3155742.
8.
Benavides F, Blando J, Perez CJ, Garg R, Conti CJ, DiGiovanni J, Kazanietz MG. Transgenic overexpression of PKCe in the mouse prostate induces preneoplastic lesions. Cell Cycle 10(2):268-277, 1/2011. e-Pub 1/2011. PMCID: PMC3048798.
9.
Perez CJ, Jaubert J, Guénet JL, Barnhart KF, Ross-Inta CM, Quintanilla VC, Aubin I, Brandon JL, Otto NW, DiGiovanni J, Gimenez-Conti I, Giulivi C, Kusewitt DF, Conti CJ, Benavides F. Two hypomorphic alleles of mouse Ass1 as a new animal model of citrullinemia type I, and other hyperammonemic syndromes. Am J Pathol 177(4):1958-1968, 10/2010. e-Pub 8/19/2010. PMCID: PMC2947290.
10.
Fu J, Jin F, Zhang J, Fong K, Bassi DE, Lopez De Cicco R, Ramaraju D, Braunewell KH, Conti C, Benavides F, Klein-Szanto AJ. VILIP-1 expression in vivo results in decreased mouse skin keratinocyte proliferation and tumor development. PLoS One 5(4):e10196, 2010. e-Pub 4/15/2010. PMCID: PMC2855367.
11.
Rojas P, Benavides F, Blando J, Perez C, Cardenas K, Richie E, Knudsen ES, Johnson DG, Senderowicz AM, Rodriguez-Puebla ML, Conti CJ. Enhanced skin carcinogenesis and lack of thymus hyperplasia in transgenic mice expressing human cyclin D1b (CCND1b). Mol Carcinog 48(6):508-16, 6/2009. e-Pub 10/2008. PMCID: PMC2705965.
12.
Blando J, Portis M, Benavides F, Alexander A, Mills G, Dave B, Conti CJ, Kim J, Walker CL. PTEN deficiency is fully penetrant for prostate adenocarcinoma in C57BL/6 mice via mTOR-dependent growth. American Journal of Pathology 174(5):1869-79, 5/2009. PMCID: PMC2671275.
13.
Chen X, Schneider-Broussard R, Hollowell D, McArthur M, Jeter CR, Benavides F, DiGiovanni J, Tang DG. Abnormal differentiation, hyperplasia and embryonic/perinatal lethality in BK5-T/t transgenic mice. Differentiation 77(3):324-34, 3/2009. PMCID: PMC2680132.
14.
Benavides F, Oberyszyn TM, Van Buskirk A, Kusewitt DF. The hairless mouse in skin research. Journal of Dermatological Science 53(1):10-8, 1/2009. PMCID: PMC2646590.
15.
Maschi F, Ayala M, Benavides F, Carbone C. Development of the BALB/c.Cg-Ctslnkt congenic mouse strain. Journal of Basic and Applied Genetics 19:15-19, 2009.
16.
de Cicco RL, Bassi DE, Benavides F, Conti CJ, Klein-Szanto AJ. Inhibition of proprotein convertases: Approaches to block squamous carcinoma development and progression. Mol Carcinog 46(8):654-9, 8/2007. PMID: 17440928.
17.
Rojas P, Cadenas MB, Lin PC, Benavides F, Conti CJ, Rodriguez-Puebla ML. Cyclin D2 and cyclin D3 play opposite roles in mouse skin carcinogenesis. Oncogene 26(12):1723-30, 3/15/2007. e-Pub 9/18/2006. PMID: 16983339.
18.
Montero Girard G, Vanzulli SI, Cerliani JP, Bottino MC, Bolado J, Vela J, Becu-Villalobos D, Benavides F, Gutkind S, Patel V, Molinolo A, Lanari C. Association of estrogen receptor-alpha and progesterone receptor A expression with hormonal mammary carcinogenesis: role of the host microenvironment. Breast Cancer Res 9(2):R22, 2007. PMCID: PMC1868922.
19.
Benavides F, Gomez G, Venables-Griffith A, Lambertz I, Flores M, Angel JM, Fuchs-Young R, Richie ER, Conti CJ. Differential susceptibility to chemically induced thymic lymphomas in SENCARB and SSIN inbred mice. Molecular Carcinogenesis 45(7):543-8, 7/2006. PMID: 16479612.
20.
Gonzalez-Guerrico AM, Meshki J, Xiao L, Benavides F, Conti CJ, Kazanietz MG. Molecular mechanisms of protein kinase C-induced apoptosis in prostate cancer cells. J Biochem Mol Biol 38(6):639-645, 11/2005. PMID: 16336777.
21.
Fabris VT, Benavides F, Conti C, Merani S, Lanari C. Cytogenetic findings, Trp53 mutations, and hormone responsiveness in a medroxyprogesterone acetate induced murine breast cancer model. Cancer Genet Cytogenet 161(2):130-9, 9/2005. PMID: 16102583.
22.
Kim E, Rundhaug JE, Benavides F, Yang P, Newman RA, Fischer SM. An antitumorigenic role for murine 8S-lipoxygenase in skin carcinogenesis. Oncogene 24(7):1174-87, 2/2005. PMID: 15558016.
23.
Bourgade F, Montagutelli X, Bigbee C, Weiss A, Rigottier-Gois L, Conti CJ, Benavides F. Simple duplex fecal PCR assay that allows identification of false-negative results in Helicobacter sp.-infected mice. Comp Med 54(5):528-32, 10/2004. PMID: 15575366.
24.
Amornphimoltham P, Sriuranpong V, Patel V, Benavides F, Conti CJ, Sauk J, Sausville EA, Molinolo AA, Gutkind JS. Persistent activation of the Akt pathway in head and neck squamous cell carcinoma: a potential target for UCN-01. Clin Cancer Res 10(12 Pt 1):4029-37, 6/2004. PMID: 15217935.
25.
Lopes EC, Garcia M, Benavides F, Shen J, Conti CJ, Alvarez E, Hajos SE. Multidrug resistance modulators PSC 833 and CsA show differential capacity to induce apoptosis in lymphoid leukemia cell lines independently of their MDR phenotype. Leuk Res 27(5):413-23, 5/2003. PMID: 12620293.
26.
Benavides F, Conti CJ, LaCava M, Flores M, Glasscock E, Sternik G, Gimenez-Conti IB, Johnston DA, Dunsford HA, Goldstein LS, Rodriguez LV. Loss of heterozygosity analysis of mouse pulmonary adenomas induced by coal tar. Environmental and Molecular Mutagenesis 41(4):300-8, 2003. PMID: 12717785.
27.
Benavides F, Zamisch M, Flores M, Campbell MR, Andrew SE, Angel JM, Licchesi J, Sternik G, Richie ER, Conti CJ. Application of inter-simple sequence repeat PCR to mouse models: assessment of genetic alterations in carcinogenesis. Genes Chromosomes Cancer 35(4):299-310, 12/2002. PMID: 12378524.
28.
Stern MC, Benavides F, LaCava M, Conti CJ. Genetic analyses of mouse skin tumor progression susceptibility using SENCAR inbred derived strains. Mol Carcinog 35(1):13-20, 9/2002. PMID: 12203363.
29.
Benavides F, Starost MF, Flores M, Gimenez-Conti IB, Guénet JL, Conti CJ. Impaired hair follicle morphogenesis and cycling with abnormal epidermal differentiation in nackt mice, a cathepsin L-deficient mutation. Am J Pathol 161(2):693-703, 8/2002. PMCID: PMC1850757.
30.
Starost MF, Benavides F, Conti CJ. A variant of pulmonary alveolar microlithiasis in nackt mice. Vet Pathol 39(3):390-2, 5/2002. PMID: 12014504.
31.
Vanzulli S, Efeyan A, Benavides F, Helguero LA, Peters G, Shen J, Conti CJ, Lanari C, Molinolo A. p21, p27 and p53 in estrogen and antiprogestin-induced tumor regression of experimental mouse mammary ductal carcinomas. Carcinogenesis 23(5):749-58, 5/2002. PMID: 12016147.
32.
Alguacil J, Porta M, Malats N, Kauppinen T, Kogevinas M, Benavides FG, Partanen T, Carrato A, PANKRAS II Study Group. Occupational exposure to organic solvents and K-ras mutations in exocrine pancreatic cancer. Carcinogenesis 23(1):101-6, 1/2002. PMID: 11756230.
33.
Benavides F, Glasscock E, Coghlan LG, Stern MC, Weiss DA, Conti CJ. PCR-based microsatellite analysis for differentiation and genetic monitoring of nine inbred SENCAR mouse strains. Lab Anim 35(2):157-62, 4/2001. PMID: 11315165.
34.
Benavides F, Venables A, Poetschke Klug H, Glasscock E, Rudensky A, Gomez M, Martin Palenzuela N, Guenet JL, Richie ER, Conti CJ. The CD4 T cell-deficient mouse mutation nackt (nkt) involves a deletion in the cathepsin L (CtsI) gene. Immunogenetics 53(3):233-42, 4/2001. PMID: 11398968.
35.
Benavides F, Guenet JL. [Murine models for human diseases]. Medicina (B Aires) 61(2):215-31, 2001. PMID: 11374148.
36.
Benavides F, Stern MC, Glasscock E, DiGiovanni J, Coghlan LG, Conti CJ. Microsatellite DNA variants between the inbred SENCAR mouse strains. Mol Carcinog 28(4):191-5, 8/2000. PMID: 10972988.
37.
Stern MC, Benavides F, Klingelberger EA, Conti CJ. Allelotype analysis of chemically induced squamous cell carcinomas in F(1) hybrids of two inbred mouse strains with different susceptibility to tumor progression. Carcinogenesis 21(7):1297-301, 7/2000. PMID: 10874006.
38.
Benavides F, Salaverry M, Cazalla D, Pereira P, Pazos P, Fontanals A, Corley E. Six cases of paternity disputes resolved by DNA fingerprinting. Revista de Medicina Veterinaria 77(6):397-400, 2000.
39.
Benavides F, Giordano M, Fiette L, Bueno Brunialti AL, Martin Palenzuela N, Vanzulli S, Baldi P, Schmidt R, Dosne Pasqualini C, Guenet J. Nackt (nkt), a new hair loss mutation of the mouse with associated CD4 deficiency. Immunogenetics 49(5):413-9, 5/1999. PMID: 10199917.
40.
Benavides FJ. Genetic contamination of an SJL/J mouse colony: Rapid detection by PCR-based microsatellite analysis. Contemp Top Lab Anim Sci 38(2):54-55, 3/1999. PMID: 12086434.
41.
Gorla N, Benavides F, Salaverry M, Ludueña R, Grandoli N, Corley E, Larripa I. Application of DNA fingerprinting to determine paternity in cattle with large congenital abdominal wall defect progeny (Spanish). Archivos de Medicina Veterinaria 30(2):151-5, 1998.
42.
Benavides F, Cazalla D, Pereira C, Fontanals A, Salaverri M, Goldman A, Buggiano V, Dran G, Corley E. Evidence of genetic heterogeneity in a BALB/c mouse colony as determined by DNA fingerprinting. Lab Anim 32(1):80-5, 1998. PMID: 9481698.
43.
Dyzenchauz F, Fontanals A, Benavides F. Experimental animals in Argentina: species and strains (Spanish). Animales de Experimentacion 3(3):23-6, 1998.
44.
Benavides F, Guenet JL. [Gene mapping in mice]. Medicina (B Aires) 57(4):507-10, 1997. PMID: 9674277.
45.
Barassi N, Benavides F, Ceccarelli A. [Ethics in the use of experimental animals]. Medicina (B Aires) 56(5 Pt 1):531-2, 1996. PMID: 9239891.
46.
Benavides F. [Mutant mice in experimental oncoimmunology]. Medicina (B Aires) 55(1):84-7, 1995. PMID: 7565043.
47.
Bonfil RD, Vinyals A, Bustuoabad OD, Llorens A, Benavides FJ, Gonzáles-Garrigues M, Fabra A. Stimulation of angiogenesis as an explanation of Matrigel-enhanced tumorigenicity. Int J Cancer 58(2):233-9, 7/1994. PMID: 7517919.
48.
Benavides F, Pereira C. [Evaluation of the genetic quality of mice used in biomedical research]. Rev Argent Microbiol 25(2):100-9, 6/1993. PMID: 8234731.
49.
Benavides F, Pereira C. [Transgenic animals in biomedicine]. Medicina (B Aires) 53(4):374-6, 1993. PMID: 8201922.
50.
Rao G, Ling X, Doucette T, Kong L, Wei J, Fuller GN, Nwajei F, Zhou S, Caruso H, Benavides F, Vile RG, Heimberger AB. Innate Immunological Compensatory Control of Gliomagenesis and Malignant Transformation in Murine CD8α Knockout Models. Cancer Research. Submitted.
51.
Quintanilla VC, Benavides F, Perez CJ, Garcia D. Multidrug Resistance Protein 4 (Mrp4) in the Retina of Zebrafish: Role in Regulating Melanosome Aggregation in the Retinal Pigment Epithelium. IOVS. Submitted.
52.
Garg R, Blando J, Perez CJ, Abba MC, Benavides F, Kazanietz, MG. Protein kinase c epsilon cooperates with PTEN loss for prostate tumorigenesis through the CXCL13-CXCR5 pathway. Molecular Cell. Submitted.
Grant & Contract Support
Title:
Development of New Sets of Polymorphic SNPs for Background Characterization of Complex Mouse Lines
Funding Source:
CCSG New Technology Implementation in Shared Resources
Role:
Principal Investigator
Duration:
10/3/2016 - 6/30/2017
Title:
Cancer Center Support Grant (CCSG)-Core Grant
Funding Source:
NIH/NCI
Role:
Co-Investigator
Principal Investigator:
Ronald DePinho
Duration:
8/2013 - 7/2018
Title:
Research Education Program for Laboratory Animal Medicine Veterinarians
Funding Source:
NIH/NCRR
Role:
Research Mentor
Principal Investigator:
Ann Kier
Duration:
4/2013 - 3/2018