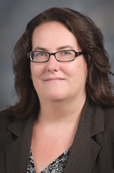 '
Francesca Cole, Ph.D.
Present Title & Affiliation
Primary Appointment
Assistant Professor, Department of Epigenetics and Molecular Carcinogenesis, The University of Texas MD Anderson Cancer Center, Smithville, TX
Research Interests
Compromised DNA repair is a common feature of cancers and contributes to loss of genome integrity and tumorigenesis. A critical mechanism to faithfully repair DNA lesions, especially double-strand breaks, is homologous recombination. While many homologous recombination pathway components have been identified, their in vivo roles, especially within mammalian genomic contexts are poorly understood. Research in my laboratory uses genetic and molecular techniques to determine how homologous recombination pathways collaborate, compete, and compensate for one another. In particular, we use newly developed assay systems that take advantage of meiotic recombination in mouse spermatocytes to comprehensively dissect at high-resolution recombination outcomes. We plan to leverage this approach to (1) define the in vivo molecular characteristics of independent DNA repair pathways (2) discover new components of these pathways (3) provide a means of testing chemotherapeutic agents to specifically perturb individual pathways with a hope to improve cancer therapies.

Office Address
The University of Texas MD Anderson Cancer Center
1808 Park Rd 1C
PO BOX 389
Unit Number: 116
Smithville, TX 78957
Phone: 512-237-9464
Email: fcole@mdanderson.org
Education & Training
Degree-Granting Education

2003
Mount Sinai School of Medicine of New York University, New York, NY, PHD, Biomedical Sciences
1992
Hunter College of the City University of New York, New York, NY, BA, Summa Cum Laude, Biological Sciences

Postgraduate Training

12/2004-9/2012

Research Fellowship, Memorial Sloan-Kettering Cancer Center, New York, NY

9/2003-9/2004

Research Fellowship, Mount Sinai School of Medicine, New York, NY
Honors and Awards
2015-2020

NIH Director's New Innovator awardee,

NIH Common Fund

2014-2016

R. Lee Clark Fellow,

The University of Texas MD Anderson Cancer Center

2012-2016

CPRIT Scholar in Cancer Research,

Cancer Prevention and Research Institute of Texas
Selected Publications
Peer-Reviewed Original Research Articles

1.
Takata KI, Reh S, Yousefzadeh MJ, Zelazowski MJ, Bhetawal S, Trono D, Lowery MG, Sandoval M, Takata Y, Lu Y, Lin K, Shen J, Kusewitt DF, McBride KM, Cole F, Wood RD. Analysis of DNA polymerase ν function in meiotic recombination, immunoglobulin class-switching, and DNA damage tolerance. PLoS Genet 13(6). e-Pub 6/2017. PMID: 28570559.
2.
Hansen RK, Mund A, Poulsen SL, Sandoval M, Klement K, Tsouroula K, Tollenaere MA, Räschle M, Soria R, Offermanns S, Worzfeld T, Grosse R, Brandt DT, Rozell B, Mann M, Cole F, Soutoglou E, Goodarzi AA, Daniel JA, Mailand N, Bekker-Jensen S. SCAI promotes DNA double-strand break repair in distinct chromosomal contexts. Nat Cell Biol 18(12):1357-1366, 12/2016. e-Pub 11/7/2016. PMCID: PMC5278951.
3.
Vélez-Cruz R, Manickavinayaham S, Biswas AK, Clary RW, Premkumar T, Cole F, Johnson DG. RB localizes to DNA double-strand breaks and promotes DNA end resection and homologous recombination through the recruitment of BRG1. Genes Dev 30(22):2500-2512, 11/15/2016. PMCID: PMC5159665.
4.
Li M, Cole F, Patel DS, Misenko SM, Her J, Malhowski A, Alhamza A, Zheng H, Baer R, Ludwig T, Jasin M, Nussenzweig A, Serrano L, Bunting SF. 53BP1 Ablation Rescues Genomic Instability In Mice Expressing 'RING-less' BRCA1. EMBO Rep 17(11):1532-1541, 11/2016. e-Pub 9/26/2016. PMCID: PMC5090706.
5.
Cole F, Baudat F, Grey C, Keeney S, de Massy B, Jasin M. Mouse tetrad analysis provides insights into recombination mechanisms and hotspot evolutionary dynamics. Nat Genet 46(10):1072-80, 10/2014. e-Pub 8/24/2014. PMCID: PMC4207963.
6.
Cole F, Kauppi L, Lange J, Roig I, Wang R, Keeney S, Jasin M. Homeostatic control of recombination is implemented progressively in mouse meiosis. Nat Cell Biol 14(4):424-30, 4/2012. e-Pub 3/4/2012. PMCID: PMC3319518.
7.
Lange J, Pan J, Cole F, Thelen MP, Jasin M, Keeney S. ATM controls meiotic double-strand-break formation. Nature 479(7372):237-40, 11/10/2011. e-Pub 10/16/2011. PMCID: PMC3213282.
8.
Shakya R, Reid LJ, Reczek CR, Cole F, Egli D, Lin CS, deRooij DG, Hirsch S, Ravi K, Hicks JB, Szabolcs M, Jasin M, Baer R, Ludwig T. BRCA1 tumor suppression depends on BRCT phosphoprotein binding, but not its E3 ligase activity. Science 334(6055):525-8, 10/28/2011. PMCID: PMC3904783.
9.
Cole F, Keeney S, Jasin M. Comprehensive, fine-scale dissection of homologous recombination outcomes at a hot spot in mouse meiosis. Mol Cell 39(5):700-10, 9/10/2010. PMCID: PMC3196603.
10.
Zhang W, Kang JS, Cole F, Yi MJ, Krauss RS. Cdo functions at multiple points in the Sonic Hedgehog pathway, and Cdo-deficient mice accurately model human holoprosencephaly. Dev Cell 10(5):657-65, 5/2006. e-Pub 4/27/2006. PMID: 16647303.
11.
Zhang W, Yi MJ, Chen X, Cole F, Krauss RS, Kang JS. Cortical thinning and hydrocephalus in mice lacking the immunoglobulin superfamily member CDO. Mol Cell Biol 26(10):3764-72, 5/2006. PMCID: PMC1489002.
12.
Tenzen T, Allen BL, Cole F, Kang JS, Krauss RS, McMahon AP. The cell surface membrane proteins Cdo and Boc are components and targets of the Hedgehog signaling pathway and feedback network in mice. Dev Cell 10(5):647-56, 5/2006. e-Pub 4/27/2006. PMID: 16647304.
13.
Cole F, Zhang W, Geyra A, Kang JS, Krauss RS. Positive regulation of myogenic bHLH factors and skeletal muscle development by the cell surface receptor CDO. Dev Cell 7(6):843-54, 12/2004. PMID: 15572127.
14.
Kang JS, Yi MJ, Zhang W, Feinleib JL, Cole F, Krauss RS. Netrins and neogenin promote myotube formation. J Cell Biol 167(3):493-504, 11/8/2004. e-Pub 11/1/2004. PMCID: PMC2172498.
15.
Cole F, Krauss RS. Microform holoprosencephaly in mice that lack the Ig superfamily member Cdon. Curr Biol 13(5):411-5, 3/4/2003. PMID: 12620190.

Invited Articles

1.
Zelazowski MJ, Cole F. X marks the spot: PRDM9 rescues hybrid sterility by finding hidden treasure in the genome. Nat Struct Mol Biol 23(4):267-9, 4/2016. PMCID: PMC4839589.
2.
Cole F. The sense and sensibility of strand exchange in recombination homeostasis. PLoS Genet 10(1):e1004104, 1/2014. e-Pub 1/23/2014. PMCID: PMC3900381.
3.
Cole F, Keeney S, Jasin M. Preaching about the converted: how meiotic gene conversion influences genomic diversity. Ann N Y Acad Sci 1267(1):95-102, 9/2012. PMCID: PMC3625938.
4.
Cole F, Keeney S, Jasin M. Evolutionary conservation of meiotic DSB proteins: more than just Spo11. Genes Dev 24(12):1201-7, 6/2010. PMCID: PMC2885656.
5.
Krauss RS, Cole F, Gaio U, Takaesu G, Zhang W, Kang JS. Close encounters: regulation of vertebrate skeletal myogenesis by cell-cell contact. J Cell Sci 118(Pt 11):2355-62, 6/2005. PMID: 15923648.
6.
Bergemann AD, Cole F, Hirschhorn K. The etiology of Wolf-Hirschhorn syndrome. Trends Genet 21(3):188-95, 3/2005. PMID: 15734578.

Book Chapters

1.
Cole F, Jasin M. Isolation of meiotic recombinants from mouse sperm. In: Methods Mol Biol. 745, 251-82, 2011. PMCID: PMC3640831.
Grant & Contract Support
Title:
Determine how tobacco exposure influences meiotic recombination integrity
Funding Source:
Tobacco Funds, The University of Texas MD Anderson Cancer Center
Role:
Principal Investigator
Duration:
5/1/2017 - 4/30/2018
Title:
Mechanistic derivation of germ line mutation by genome-wide mouse tetrad analysis
Funding Source:
NIH/OD/NICHD
Role:
Principal Investigator
Duration:
9/30/2015 - 6/30/2020
Title:
Mechanisms of mutagenesis
Funding Source:
MD Anderson Cancer Center
Role:
Principal Investigator
Duration:
2014 - 2016
Title:
Start up funds
Funding Source:
MD Anderson Cancer Center
Role:
Principal Investigator
Duration:
9/4/2012 - 9/3/2017
Title:
Recruitment of First-Time, Tenure-Track Faculty Members
Funding Source:
Cancer Prevention & Research Institute of Texas (CPRIT)
Role:
Principal Investigator
Duration:
9/4/2012 - 2/28/2017