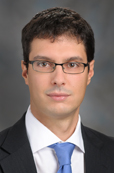 '
Francesco C Stingo, PhD
Present Title & Affiliation
Primary Appointment
Assistant Professor, Department of Biostatistics, Division of Quantitative Sciences, The University of Texas MD Anderson Cancer Center, Houston, TX
Research Interests
Dr. Stingo's research focuses on the development of novel Bayesian methodologies motivated by real problems in the analysis of biomedical data with a specific interest in the integrative models, hierarchical Bayesian models and Bayesian models for variable selection. Dr. Stingo's interests include also Graphical models, Bayesian variable selection and in wavelet-based methods for the analysis of functional data.
Office Address
The University of Texas MD Anderson Cancer Center
1400 Pressler Dr.
Houston, TX 77230
Room Number: Pickens Academic Tower, FCT 4.6042
Email: FStingo@mdanderson.org
Education & Training
Degree-Granting Education

2010
University of Florence, Florence, Italy, PHD, Statistics

Postgraduate Training

1/2010-7/2011

Postdoctoral Fellow, Rice University, Houston, TX
Honors and Awards
2011

Best PhD thesis 2010,

Italian Statistical Society

2007-2009

Ph.D. Scholarship,

University of Florence
Selected Publications
Peer-Reviewed Original Research Articles

1.
Stingo, FC, Guindani M, Vannucci M, Calhoun VD. An Integrative Bayesian Modeling Approach to Imaging Genetics. Journal of the American Statistical Association. In Press.
2.
Ok CY, Hasserjian RP, Fox PS, Stingo FC, Zuo Z, Young KH, Patel K, Medeiros LJ, Garcia-Manero G, Wang SA. Application of the International Prognostic Scoring System-Revised (IPSS-R) in Therapy-related Myelodysplastic Syndromes and Oligoblastic Acute Myeloid Leukemia. Leukemia. In Press.
3.
Yang C, Stingo FC, Ahn KW, Liu P, Vannucci M, Laud PW, Skelton M, O'Connor P, Kurth T, Ryan RP, Moreno C, Tsaih SW, Patone G, Hummel O, Jacob HJ, Liang M, Cowley AW. Increased Proliferative Cells in the Medullary Thick Ascending Limb of the Loop of Henle in the Dahl Salt-Sensitive Rat. Hypertension 61(1):208-215, 1/2013. e-Pub 11/26/2012. PMID: 23184381.
4.
Stingo FC, Vannucci M, Downey G. Bayesian Wavelet-based Curve Classification via Discriminant Analysis with Markov Random Tree Priors. Statistica Sinica 22(2):465-488, 2012.
5.
Stingo FC, Chen YA, Tadesse MG, Vannucci M. Incorporating biological information into linear models: a Bayesian approach to the selection of pathways and genes. Ann Appl Stat 5(3):1978-2002, 9/1/2011. PMCID: PMC3650864.
6.
Stingo FC, Vannucci M. Variable Selection for Discriminant Analysis with Markov Random Field Priors for the Analysis of Microarray Data. Bioinformatics 27(4):495-501, 2/15/2011. e-Pub 12/14/2010. PMCID: PMC3105481.
7.
Stingo FC, Stanghellini E, Capobianco R. On the estimation of a binary response model in a selected population. Journal of Statistical Planning and Inference 141:3293-3303, 2011.
8.
Stingo FC, Chen YA, Vannucci M, Barrier M, Mirkes PE. A Bayesian Graphical Modeling Approach to MicroRNA Regulatory Network Inference. Ann Appl Stat 4(4):2024-2048, 2010.

Invited Articles

1.
Peterson CB, Stingo FC. Discussion of "On the Prior and Posterior Distributions Used in Graphical Modelling" by M. Scutari. Bayesian Analysis. In Press.

Book Chapters

1.
Stingo FC, Vannucci M. Bayesian Models for Integrative Genomics. In: Advances in Statistical Bioinformatics: Models and Integrative Inference for High-Throughput Data. Ed(s) K-A Do, ZS Qin, M Vannucci. Cambridge University Press, 2013.
2.
Vannucci M, Stingo FC. Bayesian Models for Variable Selection that Incorporate Biological Information (with discussion). In: Bayesian Statistics 9. Oxford University Press, 2011.
© 2010 The University of Texas M. D. Anderson Cancer Center