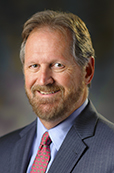 '
Frank E. Mott, MD, FACP
Present Title & Affiliation
Primary Appointment
Associate Professor, Department of Thoracic/Head and Neck Medical Oncology, Division of Cancer Medicine, The University of Texas MD Anderson Cancer Center, Houston, TX
Research Interests
Clinical trials looking at treatment and prevention of HPV-associated head and neck cancers, targeted therapies in combination with chemotherapy and/or radiotherapy, quality patient reported outcomes in thoracic and head and neck cancers, palliative care interventions and end-of-life management in thoracic and head and neck cancer patients.
Clinical Interests
Head and neck cancers including HPV-associated tumors; anaplastic thyroid cancers, and nasopharyngeal cancers.
Thoracic cancers including mesothelioma.
Palliative care.
Education & Training
Degree-Granting Education

1988
Texas A&M University, College of Medicine, Bryan, TX, MD, Medical Oncology
1980
University of Texas College of Pharmacy, Austin, TX, BS, Pharmacy

Postgraduate Training

7/1991-6/1994

Hem-Onc Fellowship, Hem-Onc Fellowship, University of Wisconsin, Madison, WI

7/1988-6/1991

Internal medicine Residency, University of Wisconsin, Madison, WI
Board Certifications
| | |
| --- | --- |
| 1995 | Medical Oncology |
| 1991 | Internal Medicine |
Selected Publications
Peer-Reviewed Original Research Articles

1.
Marcus JD, Mott FE. Difficult conversations: from diagnosis to death. Ochsner J 14(4):712-7, 2014. PMCID: PMC4295750.
2.
Bansal M, Boyle T, Ehsan A, Mott FE. Brain metastases in N2-positive non-small-cell lung cancer: implications for prophylactic cranial irradiation. Clin Lung Cancer (9)4:227-9, 7/2008. PMID: 18650171.
3.
Mott FE, Esana A, Chakmakjian C, Herrington JD. Tumor lysis syndrome in solid tumors. Support Cancer Ther 2(3):188-91, 4/1/2005. PMID: 18628171.
4.
Mott FE, Sharma N, Ashley P. Malignant pleural effusion in non-small cell lung cancer--time for a stage revision? Chest 119(1):317-8, 1/2001. PMID: 11157634.
5.
Zhao J, Yingfeng XY, Kaminski J, Hao Z, Mott F, Campbell J, Sade R, Kong FM. Treatment-related death during concurrent chemoradiotherapy for locally advanced non-small cell lung cancer: A meta-analysis of randomized studies, submitted October 2015. Radiation Oncology. Submitted.

Editorials

1.
Mott FE. Prescription for health cost reduction: an editorial. J La State Med Soc 164:125-126, 5/2012.

Abstracts

1.
Zhao J, Kong FM, Hao Z, Mott F, Al-Basheer A, Dasher B, Mourad W, Kaminski J, Zaenger D, Rabatic B, Ye P, Howington J, Ferguson C. Risk factors for non-small cell lung cancer survival from Georgia Regents University tumor registry in 12 years. ASCO 2015, 2015.
2.
Rixe O, Munn D, Mott F, Johnson T, Colman H, Spira A, Sadek R, Zakharia Y, Kennedy G. Updates on Phar 1b/2 combination study of the IDO pathway inhibitor indoximod with temozolomide for adult patients with temozolomid-refractory primary malignant brain tumors. Abstrace, SNO 2015, Neuro-Oncology 17:v107-v112, 2015.
3.
El-Osta B, Sumrall B, Marcus J, Mott F. A survey to evaluate our physician-trainees' comfort and knowledge in communicating their final good-bye to their terminally ill patient. J Clin Oncol 32, suppl 31 (#114), 10/2014.
4.
Yan B, Abbas A, Mott FE. Robotic-assisted thoracoscopies in early stage lung cancer: A single institution experience. Inagural Thoracic Malignancies Conference, Ochsner Clinic, New Orleans, LA, 6/2011.

Book Chapters

1.
Mott FE. Mesothelioma: a review. In: Ochsner J. 12, 1, 70-9, 2012. PMCID: PMC3307510.
2.
Mott FE, Chakmakjian C, Marcus J. The Multidisciplinary Management of Pain and Palliative Care in Cancer Patients: A Review. In: Cancer Therapy. 2, 365-74, 2004.