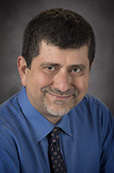 '
Geoffrey A. Bartholomeusz, Ph.D.
Present Title & Affiliation
Primary Appointment
Associate Professor, Department of Experimental Therapeutics, Division of Cancer Medicine, The University of Texas MD Anderson Cancer Center, Houston, TX
Office Address
Phone: 713-792-4158
Email: gbarthol@mdanderson.org
Education & Training
Degree-Granting Education

1998
University of Oklahoma, Norman, OK, PHD, Microbiology/Molecular Biology
1990
Rochester Institute of Technology, Rochester, NY, MS, Clinical Chemistry
1988
University of Zambia, Lusaka, Zambia, MS, Medical Microbiology
1984
University of Zambia, Lusaka, Zambia, BS, Human Biology
Experience/Service
Academic Appointments
Assistant Professor, Department of Experimental Therapeutics, Division of Cancer Medicine, The University of Texas MD Anderson Cancer Center, Houston, TX, 9/2006-8/2014
Administrative Appointments/Responsibilities
Director of the siRNA Core Facility, Department of Experimental Therapeutics, Division of Cancer Medicine, The University of Texas MD Anderson Cancer Center, Houston, TX, 9/2006-present
Institutional Committee Activities
Associate Member, IRB 5, 8/2009-present
Selected Publications
Peer-Reviewed Original Research Articles

1.
Lamhamedi-Cherradi SE, Santoro M, Ramammoorthy V, Menegaz BA, Bartholomeusz G, Iles LR, Amin HM, Livingston AJ, Mikos AG, Ludwig JA. 3D Tissue-Engineered Model of Ewing Sarcoma. Adv Drug Deliv Rev 14(7), 8/2014. PMCID: PMC25109853.
2.
Dai B, Yoo SY, Bartholomeusz G, Graham RA, Majidi M, Yan S, Meng J, Ji L, Coombes K, Minna JD, Fang B, Roth JA. Keap1-dependent synthetic lethality induced by AKT and TXNRD1 inhibitors in lung cancer. Cancer Res 73(17):5532-5543, 9/2013. e-Pub 7/2013. PMCID: PMC23824739.
3.
Sheveleva EV, Landowski TH, Samulitis BK, Bartholomeusz G, Powis G, Dorr RT. Imexon Induces an Oxidative Endoplasmic Reticulum Stress Response in Pancreatic Cancer Cells. Mol Cancer Res 10(3):392-400, 3/2012. e-Pub 1/2012. PMCID: PMC3324333.
4.
Kirkpatrick DL, Weiss M, Naumov A, Bartholomeusz G, Weisman RB, Gliko O. Carbon Nanotubes: Solution for the Therapeutic Delivery of siRNA? Materials 5(2):278-301, 2/2012.
5.
Grandjean G, Graham R, Bartholomeusz G. Essential Attributes Identified in the Design of a Laboratory Information Management System for a High Throughput siRNA Screening Laboratory. Comb Chem High Throughput Screen 14(9):766-71, 11/2011. e-Pub 6/2011. PMCID: PMC21631413.
6.
Ahmed AA, Wang X, Lu Z, Goldsmith J, Le XF, Grandjean G, Bartholomeusz G, Broom B, Bast RC. Modulating microtubule stability enhances the cytotoxic response of cancer cells to Paclitaxel. Cancer Res 71(17):5806-17, 9/2011. e-Pub 7/2011. PMCID: PMC21775522.
7.
Sun H, Kapuria V, Peterson LF, Fang D, Bornmann WG, Bartholomeusz G, Talpaz M, Donato NJ. Bcr-Abl ubiquitination and Usp9X inhibition block kinase signaling and promote CML cell apoptosis. Blood 117(11):3151-62, 3/2011. e-Pub 1/2011. PMCID: PMC21248063.
8.
Ahmed AA, Lu Z, Jennings NB, Etemadmoghadam D, Capalbo L, Jacamo RO, Barbosa-Morais N, Le XF, Australian Ovarian Cancer Study Group, Vivas-Mejia P, Lopez-Berestein G, Grandjean G, Bartholomeusz G, Liao W, Andreeff M, Bowtell D, Glover DM, Sood AK, Bast RC. SIK2 is a centrosome kinase required for bipolar mitotic spindle formation that provides a potential target for therapy in ovarian cancer. Cancer Cell 18(2):109-21, 8/2010. PMCID: PMC20708153.
9.
Bartholomeusz G, Cherukuri P, Kingston J, Cognet L, Lemos R, Leeuw TK, Gumbiner-Russo L, Weisman RB, Powis G. In Vivo Therapeutic Silencing of Hypoxia-Inducible Factor 1 Alpha (HIF-1alpha) Using Single-Walled Carbon Nanotubes Noncovalently Coated with siRNA. Nano Res 2(4):279-291, 4/2009. PMCID: PMC2801079.
10.
Bartholomeusz GA, Talpaz M, Kapuria V, Kong LY, Wang S, Estrov Z, Priebe W, Wu J, Donato NJ. Activation of a novel Bcr/Abl destruction pathway by WP1130 induces apoptosis of chronic myelogenous leukemia cells. Blood 109(8):3470-78, 4/15/2007. e-Pub 1/3/2007. PMCID: PMC1852235.
11.
Bartholomeusz G, Talpaz M, Bornmann W, Kong LY, Donato NJ. Degrasyn Activates Proteasomal-Dependent Degradation of c-Myc. Cancer Res 67(8):3912-18, 4/15/2007. PMCID: PMC17440106.
12.
Lo HW, Ali-Seyed M, Wu Y, Bartholomeusz G, Hsu SC, Hung MC. Nuclear-cytoplasmic transport of EGFR involves receptor endocytosis, importin beta1 and CRM1. J Cell Biochem 98(6)(6):1570-83, 8/15/2006. PMCID: PMC16552725.
13.
Bartholomeusz G, Wu Y, Ali Seyed M, Xia W, Kwong KY, Hortobagyi G, Hung MC. Nuclear translocation of the pro-apoptotic Bcl-2 family member Bok induces apoptosis. Mol Carcinog 45(2):73-83, 2/2006. PMCID: PMC16302269.
14.
Giri DK, Ali-Seyed M, Li LY, Lee DF, Ling P, Bartholomeusz G, Wang SC, Hung MC. Endosomal transport of ErbB-2: mechanism for nuclear entry of the cell surface receptor. Mol Cell Biol 25(24):11005-18, 12/2005. PMCID: PMC1316946.
15.
Ding Q, Xia W, Liu JC, Yang JY, Lee DF, Xia J, Bartholomeusz G, Li Y, Pan Y, Li Z, Bargou RC, Qin J, Lai CC, Tsai FJ, Tsai CH, Hung MC. Erk associates with and primes GSK-3beta for its inactivation resulting in upregulation of beta-catenin. Mol Cell 19(2):159-70, 7/22/2005. PMCID: PMC16039586.
16.
Lo HW, Hsu SC, Ali-Seyed M, Gunduz M, Xia W, Wei Y, Bartholomeusz G, Shih JY, Hung MC. Nuclear interaction of EGFR and STAT3 in the activation of the iNOS/NO pathway. Cancer Cell 7(6):575-89, 6/2005. PMCID: PMC15950906.
17.
Wang SC, Lien HC, Xia W, Chen IF, Lo HW, Wang Z, Ali-Seyed M, Lee DF, Bartholomeusz G, Ou-Yang F, Giri DK, Hung MC. Binding at and transactivation of the COX-2 promoter by nuclear tyrosine kinase receptor ErbB-2. Cancer Cell 6(3):251-61, 9/2004. PMCID: PMC15380516.
18.
Yang P, Qyang Y, Bartholomeusz G, Zhou X, Marcus S. The novel Rho GTPase-activating protein family protein, Rga8, provides a potential link between Cdc42/p21-activated kinase and Rho signaling pathways in the fission yeast, Schizosaccharomyces pombe. J Biol Chem 278(49):48821-30, 12/5/2003. e-Pub 9/23/2003. PMCID: PMC14506270.
19.
Bao S, Qyang Y, Yang P, Kim H, Du H, Bartholomeusz G, Henkel J, Pimental R, Verde F, Marcus S. The highly conserved protein methyltransferase, Skb1, is a mediator of hyperosmotic stress response in the fission yeast Schizosaccharomyces pombe. J Biol Chem 276(18):14549-52, 5/4/2001. e-Pub 3/9/2001. PMCID: PMC11278267.
20.
Wen Y, Hu MC, Makino K, Spohn B, Bartholomeusz G, Yan DH, Hung MC. HER-2/neu promotes androgen-independent survival and growth of prostate cancer cells through the Akt pathway. Cancer Res 60(24):6841-5, 12/15/2000. PMCID: PMC11156376.

Book Chapters

1.
Bartholomuesz G and Rao A. A Three-Dimensional Spheroid Cell Culture Model for Robust High-Throughput RNA Interference Screens. In: Frontiers in RNAi. 1. Ed(s) Ralph A. Tripp and Jon Karpilow. Bentham Science Publishers, 2014. ISBN: 978-1-60805-941-6.
Grant & Contract Support
Title:
CLL 3D co-culture system: A new paradigm to
Funding Source:
Leukemia and Lymphoma Society
Role:
Co-Investigator
Principal Investigator:
Varsha Ghandi
Duration:
12/1/2013 - 11/30/2015
Title:
A novel apoptotic molecule BOK for the treatment of breast cancer
Funding Source:
USAMRMC Department of Defense
Role:
Principal Investigator
Duration:
3/1/2003 - 3/28/2005
© 2014 The University of Texas MD Anderson Cancer Center