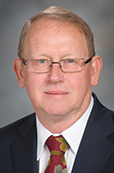 '
Gregory S. May, Ph.D.
Present Title & Affiliation
Primary Appointment
Professor, Department of Laboratory Medicine - Research, Division of Pathology/Lab Medicine, The University of Texas MD Anderson Cancer Center, Houston, TX
Dual/Joint/Adjunct Appointment
Adjunct Professor, Department of Microbiology and Molecular Genetics, University of Texas Health Science Center, Houston, TX
Research Interests
My laboratory is interested in how the fungus Aspergillus fumigatus adapts to environmental change and host cell activities. In A. fumigatus and other microbial eukaryotes, mitogen-activated protein kinases (MAPKs) play a key role in regulating cellular responses to the changing extracellular environment. We have been studying how mutations in MAPK genes in A. fumigatus affect fungal cell growth, metabolism and virulence. In addition, we have identified genes in A. fumigatus whose transcription is up-regulated in response to human neutrophils, the main host cell type that combats fungal infection. We expect that many of these genes will be key regulators of determinants of fungal pathogenesis. We have initiated studies to identify the signaling pathways and transcription factors that regulate this transcriptional response to host cells. Finally, we have been investigating the molecular genetic basis for the synthesis of the fungal cell wall as a means to identify essential components.
Education & Training
Degree-Granting Education

1984
Yale University, New Haven, CT, PHD, Biology

Postgraduate Training

9/1983-8/1987

Postdoctoral Fellow, UMDNJ, R.W. Johnson Medical School, Piscataway, NJ, N. Ronald Morris
Honors and Awards
1985

Postdoctoral Fellowship,

NIH

1983

Postdoctoral Fellowship,

Anna Fuller Fund
Selected Publications
Peer-Reviewed Original Research Articles

1.
Lodeiro S, Xiong Q, Wilson WK, Ivanova Y, Smith ML, May GS, Matsuda SP. Protostadienol biosynthesis and metabolism in the pathogenic fungus Aspergillus fumigatus. Org Lett 11(6):1241-4, 3/19/2009. PMID: 19216560.
2.
Kim JH, Mahoney N, Chan KL, Molyneux RJ, May GS, Campbell BC. Chemosensitization of fungal pathogens to antimicrobial agents using benzo analogs. FEMS Microbiol Lett 281(1):64-72, 4/2008. e-Pub 2/18/2008. PMID: 18284447.
3.
Spikes S, Xu R, Nguyen CK, Chamilos G, Kontoyiannis DP, Jacobson RH, Ejzykowicz DE, Chiang LY, Filler SG, May GS. Gliotoxin production in Aspergillus fumigatus contributes to host-specific differences in virulence. J Infect Dis 197(3):479-86, 2/1/2008. PMID: 18199036.
4.
Kim JH, Campbell BC, Mahoney N, Chan KL, Molyneux RJ, May GS. Enhanced activity of strobilurin and fludioxonil by using berberine and phenolic compounds to target fungal antioxidative stress response. Lett Appl Microbiol 45(2):134-41, 8/2007. PMID: 17651208.
5.
Kim JH, Campbell BC, Mahoney N, Chan KL, Molyneux RJ, May GS. Enhancement of fludioxonil fungicidal activity by disrupting cellular glutathione homeostasis with 2,5-dihydroxybenzoic acid. FEMS Microbiol Lett 270(2):284-90, 5/2007. e-Pub 3/13/2007. PMID: 17355596.
6.
Reyes G, Romans A, Nguyen CK, May GS. Novel mitogen-activated protein kinase MpkC of Aspergillus fumigatus is required for utilization of polyalcohol sugars. Eukaryot Cell 5(11):1934-40, 11/2006. PMCID: PMC1694801.
7.
Kim JH, Campbell BC, Mahoney N, Chan KL, May GS. Targeting antioxidative signal transduction and stress response system: control of pathogenic Aspergillus with phenolics that inhibit mitochondrial function. J Appl Microbiol 101(1):181-9, 7/2006. PMID: 16834605.
© 2014 The University of Texas MD Anderson Cancer Center