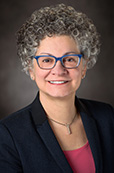 '
Guillermina (Gigi) Lozano, Ph.D.
Present Title & Affiliation
Primary Appointment
Professor and Chair, Department of Genetics, The University of Texas MD Anderson Cancer Center, Houston, TX
Dual/Joint/Adjunct Appointment
Professor, The University of Texas Graduate School of Biomedical Sciences, Houston, TX
Research Interests
p53 pathway

tumor suppressors

mouse models
Mutation of the p53 gene is a critical event in the elaboration of many tumors of diverse origin. The p53 protein is activated in response to DNA damage, serving as a checkpoint in the elimination or repair of cells with damaged DNA. Alterations in components of the p53 pathway, such as amplification of the Mdm2 gene, which encodes a p53 inhibitor, also contribute to tumorigenesis. The overall goal of my laboratory is to understand the signals that regulate the p53 pathway and the consequences of expressing wild-type or mutant p53. Toward this goal, we are generating mouse models to address the importance of various p53 mutations in tumor development in vivo. The first mice generated were those expressing a common p53 mutation identified in human cancers. Mice expressing the p53R172H mutant develop osteosarcomas and carcinomas that metastasized at very high frequency. This study also indicates that mutant p53 is inherently unstable in vivo suggesting that other genetic alterations in tumor cells stabilize p53. We have generated mice with another interesting mutant that distinguishes the ability of p53 to induce apoptosis or cell cycle arrest. The p53R172P mutant cannot transactivate genes that induce apoptosis yet retains the ability to induce the p21 gene involved in cell cycle arrest. Importantly, this mutant shows delayed tumorigenesis suggesting that p53 activities other than apoptosis are also critical for tumor suppression. Tumors that arise in these mice are also genomically stable suggesting that the p53R172P mutant transactivates genes involved in maintaining a stable genome. Other mouse models generated probe the importance of components of the p53 pathway. For example, loss of Mdm2 or Mdm4 (genes that encode p53 inhibitors) results in embryonic lethality that is completely rescued by concomitant loss of p53. These studies indicate the importance of regulating p53 activity. We have made conditional loss-of-function allele of Mdm2 and Mdm4 to access the role of p53 in different cell types as a function of proliferation. Finally, we are studying individuals with Li-Fraumeni Syndrome, most of whom inherit a p53-missense mutation. Various factors including, modifiers of the p53 pathway alter the onset of tumorigenesis in these individuals.
View a complete list of Dr. Lozano's publications.
Visit Dr. Lozano's Lab website.
Follow Dr. Lozano on Twitter: @drgglozano

Office Address
The University of Texas MD Anderson Cancer Center
Department of Genetics Unit 1010
1515 Holcombe Blvd.
Houston, TX 77030
Room Number: S15.8316B
Phone: (713) 834-6386
Email: gglozano@mdanderson.org
Education & Training
Degree-Granting Education

1986
Rutgers University and the University of Medicine and Dentistry of New Jersey, Piscataway, NJ, PHD, Biochemistry
1979
Pan American University, Edinburg, TX, BS, Magna Cum Laude, Biology/Mathematics

Postgraduate Training

11/1985-8/1987

Postgraduate Training, Molecular Biology, Princeton University, Princeton, NJ, Dr. Arnold J. Levine
Honors and Awards
2017-present

Member,

National Academy of Science

2014-present

Member,

National Academy of Medicine (formerly Institute of Medicine)

2004-present

Mattie Allen Fair Endowed Research Chair, Professor of Genetics,

The University of Texas M. D. Anderson Cancer Center
Selected Publications
Peer-Reviewed Original Research Articles

1.
Alexandrova EM, Yallowitz AR, Li D, Xu S, Schulz R, Proia DA, Lozano G, Dobbelstein M, Moll UM. Improving survival by exploiting tumour dependence on stabilized mutant p53 for treatment. Nature 523(7560):352-6, 7/2015. e-Pub 5/2015. PMCID: PMC4506213.
2.
Jackson JG, Pant V, Li Q, Chang LL, Quintás-Cardama A, Garza D, Tavana O, Yang P, Manshouri T, Li Y, El-Naggar AK, Lozano G. p53 mediated senescence impairs the apoptotic response to chemotherapy and clinical outcome in breast cancer. Cancer Cell 21(6):793-806, 6/12/2012. PMCID: PMC3376352.
3.
Pant V, Xiong S, Iwakuma T, Quintás-Cardama A, Lozano G. Heterodimerization of Mdm2 and Mdm4 is critical for regulating p53 activity during embryogenesis but dispensable for p53 and Mdm2 stability. Proc Natl Acad Sci U S A 108(29):1995-2000, 7/19/2011. e-Pub 7/5/2011. PMCID: PMC3141986.
4.
Wang Y, Suh YA, Fuller MY, Jackson JG, Xiong S, Terzian T, Quintas-Cardama A, Bankson JA, El-Naggar AK, Lozano G. Restoring expression of wild-type p53 suppresses tumor growth but does not cause tumor regression in mice with a p53 missense mutation. J Clin Invest 121(3):893-904, 2011. PMCID: PMC3049366.
5.
Post SM, Quintas-Cardama A, Pant V, Iwakuma T, Hamir A, Jackson JG, Maccio DR, Bond GL, Johnson DG, Levine AJ, Lozano G. A high-frequency regulatory polymorphism in the p53 pathway accelerates tumor development. Cancer Cell 18(3):220-230, 2010. PMCID: PMC2944041.
6.
Xiong S, Pant V, Suh YA, Van Pelt CS, Wang Y, Valentin-Vega YA, Post SM, Lozano G. Spontaneous tumorigenesis in mice overexpressing the p53-negative regulator Mdm4. Cancer Res 70(18):7148-7154, 2010. PMCID: PMC2940952.
7.
Terzian T, Suh YA, Iwakuma T, Post SM, Neumann M, Lang GA, Van Pelt CS, Lozano G. The inherent instability of mutant p53 is alleviated by Mdm2 or p16INK4a loss. Genes Dev 22(10):1337-1344, 2008. PMCID: PMC2377188.
8.
Liu G, Parant JM, Lang G, Chau P, Chavez-Reyes A, El-Naggar AK, Multani A, Chang S, Lozano G. Chromosome stability, in the absence of apoptosis, is critical for suppression of tumorigenesis in Trp53 mutant mice. Nat Genet 36(1):63-68, 1/2004. e-Pub 12/21/2003. PMID: 14702042.
9.
Lang GA, Iwakuma T, Suh YA, Liu G, Rao VA, Parant JM, Valentin-Vega YA, Terzian T, Caldwell LC, Strong LC, El-Naggar AK, Lozano G. Gain-of-function of a p53 hot spot mutation in a mouse model of Li-Fraumeni syndrome. Cell 119(6):861-872, 2004. PMCID: PMC15607981.
10.
Montes de Oca Luna R, Wagner DS, Lozano G. Rescue of early embryonic lethality in mdm2-deficient mice by deletion of p53. Nature 378(6553):203-206, 11/9/1995. PMID: 7477326.