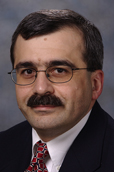 '
Imad Shureiqi, M.D., M.S.
Present Title & Affiliation
Primary Appointment
Associate Professor (Tenured), Department of Gastrointestinal (GI) Medical Oncology, Division of Cancer Medicine, The University of Texas MD Anderson Cancer Center, Houston, TX
Dual/Joint/Adjunct Appointment
Associate Professor (Tenured), Department of Clinical Cancer Prevention, Division of OVP, Cancer Prevention and Population Sciences, The University of Texas MD Anderson Cancer Center, Houston, TX
Bio Statement
15-Lipoxygenase-1 (15-LOX-1) is a critical enzyme for the production of various inflammation-regulatory lipid signaling mediators, including 13-S-hydroxyoctadecadienoic acid from linoleic acid, lipoxins from arachidonic acid, and resolvins and protectins from docosahexaenoic acid. Given the important regulatory function of 15-LOX-1 in terminal cell differentiation and inflammation, its expression is inducible and highly regulated in normal human cells. 15-LOX-1 is, however, down-regulated in various human cancers, esophageal, breast, and pancreatic. 15-LOX-1 re-expression via pharmaceutical agents or adenoviral vectors induces growth inhibition and reestablishes terminal differentiation and apoptosis in cancer cells. Our group major research interests are to define the mechanisms of 15-LOX-1transcription silencing in cancer cells and develop interventions to molecularly target 15-LOX-1 transcriptional silencing to suppress colonic tumorigenesis.
Research Interests
15-Lipoxygenase
Colon Cancer
Chemoprevention
Colonic Tumorigenesis
Education & Training
Degree-Granting Education

1997
University of Michigan, School of Public Health, Ann Arbor, MI, MS, Clinical Trial Design and Statistical Analysis
1985
Damascus University, Faculty of Medicine, Damascus, Syria, MD, Medicine
Selected Publications
Peer-Reviewed Original Research Articles

1.
Wu Y, Mao F, Zuo X, Moussalli MJ, Elias E, Xu W, Shureiqi I. 15-LOX-1 suppression of hypoxia-induced metastatic phenotype and HIF-1α expression in human colon cancer cells. Cancer Med 3(3):472-84, 6/2014. e-Pub 3/2014. PMCID: PMC4101738.
2.
Bolonesi RM, Rogers JE, Shureiqi I. A Case Report-Treatment of Metastatic Colorectal Cancer in a Patient on Hemodialysis. J Gastrointest Cancer. e-Pub 4/2014. PMID: 24756833.
3.
Yang P, Cartwright C, Efuet E, Hamilton SR, Wistuba II, Menter D, Addington C, Shureiqi I, Newman RA. Cellular location and expression of Na(+) , K(+) -ATPase α subunits affect the anti-proliferative activity of oleandrin. Mol Carcinog 53(4):253-63, 4/2014. e-Pub 10/2012. PMID: 23073998.
4.
Zuo X, Xu M, Yu J, Wu Y, Moussalli MJ, Manyam GC, Lee SI, Liang S, Gagea M, Morris JS, Broaddus RR, Shureiqi I. Potentiation of Colon Cancer Susceptibility in Mice by Colonic Epithelial PPAR-δ/β Overexpression. J Natl Cancer Inst 106(4):dju052, 4/2014. e-Pub 3/2014. PMCID: PMC3982893.
5.
Tahara T, Yamamoto E, Suzuki H, Maruyama R, Chung W, Garriga J, Jelinek J, Yamano HO, Sugai T, An B, Shureiqi I, Toyota M, Kondo Y, Estécio MR, Issa JP. Fusobacterium in colonic flora and molecular features of colorectal carcinoma. Cancer Res 74(5):1311-8, 3/2014. e-Pub 1/2014. PMID: 24385213.
6.
Bailey AM, Zhan L, Maru D, Shureiqi I, Pickering CR, Kiriakova G, Izzo J, He N, Wei C, Baladandayuthapani V, Liang H, Kopetz S, Powis G, Guo GL. FXR Silencing in Human Colon Cancer by DNA methylation and KRAS Signaling. Am J Physiol Gastrointest Liver Physiol 306(1):G48-58, 1/2014. e-Pub 10/2013. PMCID: PMC3920083.
7.
Das P, Eng C, Rodriguez-Bigas MA, Chang GJ, Skibber JM, You YN, Maru DM, Munsell MF, Clemons MV, Kopetz SE, Garrett CR, Shureiqi I, Delclos ME, Krishnan S, Crane CH. Preoperative Radiation Therapy With Concurrent Capecitabine, Bevacizumab, and Erlotinib for Rectal Cancer: A Phase 1 Trial. Int J Radiat Oncol Biol Phys. e-Pub 12/2013. PMID: 24315563.
8.
Ling H, Spizzo R, Atlasi Y, Nicoloso M, Shimizu M, Redis RS, Nishida N, Gafà R, Song J, Guo Z, Ivan C, Barbarotto E, De Vries I, Zhang X, Ferracin M, Churchman M, van Galen JF, Beverloo BH, Shariati M, Haderk F, Estecio MR, Garcia-Manero G, Patijn GA, Gotley DC, Bhardwaj V, Shureiqi I, Sen S, Multani AS, Welsh J, Yamamoto K, Taniguchi I, Song MA, Gallinger S, Casey G, Thibodeau SN, Le Marchand L, Tiirikainen M, Mani SA, Zhang W, Davuluri RV, Mimori K, Mori M, Sieuwerts AM, Martens JW, Tomlinson I, Negrini M, Berindan-Neagoe I, Foekens JA, Hamilton SR, Lanza G, Kopetz S, Fodde R, Calin GA. CCAT2, a novel noncoding RNA mapping to 8q24, underlies metastatic progression and chromosomal instability in colon cancer. Genome Res 23(9):1446-61, 9/2013. e-Pub 6/2013. PMCID: PMC3759721.
9.
Lynch PM, Morris JS, Ross WA, Rodriguez-Bigas MA, Posadas J, Khalaf R, Weber DM, Sepeda VO, Levin B, Shureiqi I. Global quantitative assessment of the colorectal polyp burden in familial adenomatous polyposis by using a web-based tool. Gastrointest Endosc 77(3):455-63, 3/2013. e-Pub 1/2013. PMCID: PMC3574220.
10.
Yang P, Cartwright CA, Li J, Wen S, Prokhorova IN, Shureiqi I, Troncoso P, Navone NM, Newman RA, Kim J. Arachidonic acid metabolism in human prostate cancer. Int J Oncol 41(4):1495-503, 10/2012. e-Pub 8/2012. PMCID: PMC3982713.
11.
Zuo X, Peng Z, Wu Y, Moussalli MJ, Yang XL, Wang Y, Parker-Thornburg J, Morris JS, Broaddus RR, Fischer SM, Shureiqi, I. Effects of gut-targeted 15-LOX-1 transgene expression on colonic tumorigenesis in mice. J Natl Cancer Inst 104(9):709-16, 5/2012. e-Pub 4/2012. PMCID: PMC3341308.
12.
Moussalli MJ, Wu Y, Zuo X, Yang XL, Wistuba II, Raso MG, Morris JS, Bowser JL, Minna JD, Lotan R, Shureiqi, I. Mechanistic Contribution of Ubiquitous 15-Lipoxygenase-1 Expression Loss in Cancer Cells to Terminal Cell Differentiation Evasion. Cancer Prev Res (Phila) 4(12):1961-72, 12/2011. e-Pub 8/2011. PMCID: PMC3232310.
13.
Shureiqi I, Chen D, Day RS, Zuo X, Hochman FL, Ross WA, Cole RA, Moy O, Morris JS, Xiao L, Newman RA, Yang P, Lippman SM. Profiling Lipoxygenase Metabolism in Specific Steps of Colorectal Tumorigenesis. Cancer Prev Res (Phila) 3(7):829-38, 7/2010. e-Pub 6/2010. PMCID: PMC2900425.
14.
Zuo X, Peng Z, Moussalli MJ, Morris JS, Broaddus RR, Fischer SM, Shureiqi I,. Targeted genetic disruption of peroxisome proliferator-activated receptor-delta and colonic tumorigenesis. J Natl Cancer Inst 101(10):762-7, 5/2009. e-Pub 5/2009. PMCID: PMC2684551.
15.
Zuo X, Morris JS, Broaddus R, Shureiqi I,. 15-LOX-1 transcription suppression through the NuRD complex in colon cancer cells. Oncogene 28(12):1496-505, 3/2009. e-Pub 2/2009. PMCID: PMC2743348.
16.
Zuo X, Morris JS, Shureiqi I. Chromatin Modification Requirements for 15-Lipoxygenase-1 Transcriptional Reactivation in Colon Cancer Cells. J Biol Chem 283(46):31341-7, 11/2008. e-Pub 9/2008. PMCID: PMC2581547.
17.
Zuo X, Shen L, Issa JP, Moy O, Morris JS, Lippman SM, Shureiqi I,. 15-Lipoxygenase-1 transcriptional silencing by DNA methyltransferase-1 independently of DNA methylation. FASEB J 22(6):1981-92, 6/2008. e-Pub 1/2008. PMCID: PMC2410033.
18.
Wu Y, Fang B, Yang XQ, Wang L, Chen D, Krasnykh V, Carter BZ, Morris JS, Shureiqi I,. Therapeutic Molecular Targeting of 15-Lipoxygenase-1 in Colon Cancer. Mol Ther 16(5):886-92, 5/2008. e-Pub 3/2008. PMCID: PMC2377397.
19.
Shureiqi I, Jiang W, Zuo X, Wu Y, Stimmel JB, Leesnitzer LM, Morris JS, Fan HZ, Fischer SM, Lippman SM. The 15-lipoxygenase-1 product 13-S-hydroxyoctadecadienoic acid down-regulates PPAR-delta to induce apoptosis in colorectal cancer cells. Proc Natl Acad Sci U S A 100(17):9968-73, 8/2003. e-Pub 8/2003. PMCID: PMC187904.

Invited Articles

1.
Zuo X, Shureiqi I. Eicosanoid profiling in colon cancer: Emergence of a pattern. Prostaglandins Other Lipid Mediat 104-105:139-43, Jul-Aug, 7/2013. e-Pub 9/2012. PMCID: PMC3532570.
2.
Xu M, Zuo X, Shureiqi I. Targeting peroxisome proliferator-activated receptor-β/δ in colon cancer: How to aim? Biochem Pharmacol 85(5):607-11, 3/2013. e-Pub 10/2012. PMCID: PMC3562563.
3.
Il Lee S, Zuo X, Shureiqi I. 15-lipoxygenase-1 as a tumor suppressor gene in colon cancer: is the verdict in? Cancer Metastasis Rev 30(3-4):481-91, 12/2011. e-Pub 10/2011. PMCID: PMC3261081.

Editorials

1.
Shureiqi I, Baron JA. Curcumin chemoprevention: The long road to clinical translation. Cancer Prev Res (Phila) 4(3):296-8, 3/2011. PMID: 21372027.

Abstracts

1.
Shureiqi I, Chen D, Day RS, Zuo X, Ross W, Moy O, Morris JS, Xiao L, Newman RA, Yang P, Lippman SM. Profiling lipoxygenase metabolism in specific steps of colorectal tumorigenesis. 101st AACR Meeting 2897, 2010.
Grant & Contract Support
Title:
15-Lipoxygenase-1 Transcriptional Activation to Molecularly Target Colon Cancer
Funding Source:
Institutional Research Grant, The University of Texas MD Anderson Cancer Center
Role:
Principal Investigator
Duration:
7/1/2012 - 6/30/2014
Title:
Role of PPAR-delta Overexpression in Colonic Tumorigenesis
Funding Source:
UTMDACC/Duncan Family Institute for Cancer Prevention and Risk Assessment Research Projects
Role:
Principal Investigator
Duration:
3/1/2010 - 2/28/2012
Title:
15-LOX-1 Effects on Colitis and Colon Cancer
Funding Source:
NIH/NCI
Role:
Principal Investigator
Duration:
6/4/2009 - 5/31/2014
Title:
Histone methylation and 15-LOX-1 promoter transcription activation in colon cancer cells
Funding Source:
M. D. Anderson Epigenetic Center
Role:
Principal Investigator
Duration:
8/31/2008 - 9/1/2010
Title:
H3-Lysine 9 Dimethylation and 15-LOX-1 Expression in Colorectal Cancer
Funding Source:
The University of Texas M. D. Anderson Cancer Center
Role:
Principal Investigator
Duration:
8/1/2008 - 7/30/2010
© 2014 The University of Texas MD Anderson Cancer Center