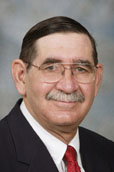 '
James Byrd, Ph.D
Present Title & Affiliation
Primary Appointment
Associate Professor, Department of Gastroenterology - Research, Division of Internal Medicine, University of Texas MD Anderson Cancer Center, Houston, TX
Office Address
The University of Texas MD Anderson Cancer Center
7777 Knight Rd
Unit Number: 955
Houston, TX 77054
Room Number: SRB1.707
Phone: 713-563-4372
Fax: 713-745-8279
Education & Training
Degree-Granting Education

1979
Vanderbilt University, Nashville, NY, PHD, Molecular Biology
1973
Massachusetts Institute of Technology, Cambridge, MA, BS, Life Sciences

Postgraduate Training

1979-1982

Research Fellowship, Division of Labs and Research, NY State Dept of Health, Albany, NY
Experience/Service
Academic Appointments
Staff Investigator, Gastrointestinal Cancer Research Lab, Henry Ford Health Sciences Cent, Detroit, MI, 1/1996-1/2002
Associate Staff Investigator, Gastrointestinal Cancer Research Lab, Henry Ford Health Sciences Center, Detroit, MI, 1/1993-1/1996
Asst Research Biochemist, University of California at San Francisco, San Francisco, CA, 1/1990-1/1993
Research Chemist, Gastrointestinal Research Lab, VA Medical Center, San Francisco, CA, 1/1982-1/1990
Research Associate, Shriver Center for Mental Retardation, Waltham, MA, 1/1971-1/1973
Selected Publications
Peer-Reviewed Original Research Articles

1.
Mazurek N, Byrd JC, Sun Y, Hafley M, Ramirez K, Burks J, Bresalier RS. Cell-surface galectin-3 confers resistance to TRAIL by impeding trafficking of death receptors in metastatic colon adenocarcinoma cells. Cell Death Differ 19(3):523-33, 3/2012. e-Pub 9/2011. PMCID: PMC3246527.
2.
Mazurek N, Byrd JC, Sun Y, Ueno S, Bresalier RS. A galectin-3 sequence polymorphism confers TRAIL sensitivity to human breast cancer cells. Cancer 117(19):4375-80, 10/2011. e-Pub 3/2011. PMCID: PMC3164935.

Abstracts

1.
Ilmer M, Mazurek N, Hafley M, Vykoukal J, Alt E, Byrd JC, Bresalier RS. A TRAIL-resistant subset of colon cancer initiating stem cells characterized by surface galectin-3. Gastroenterology 144 Suppl 1:S-462, 2014.
2.
Ilmer M, Mazurek N, Byrd J, Alt E, Vykoukal J, Bresalier R. Low surface Gal3 expression in breast cancer stem cells is associated with chemoresistance, tumorigenesis, and decreased overall patient survival. Proc Am Assoc Cancer Res, 2014.
3.
Mazurek N, Byrd JC, Ilmer M, Bresalier RS. Cell-surface expression of the anti-apoptotic beta-galactoside-binding protein galectin-3 is characteristic of the stem cell phenotype in colorectal cancer cells. Gastroenterology 142 Suppl 1:S-329, 2012.

Book Chapters

1.
Byrd JC, Mazurek N, Bresalier RS. Post-Translational Modification of Galectin-3 and Its Role in Biological Function. In: Galectins and Disease Implications for Targeted Therapeutics. ACS Symposium Series, Vol. 1115. Ed(s) Klyosov AA, Traber PG. American Chemical Society, Chapter 8, pp 137–151, 2012. ISBN: 9780841228818.