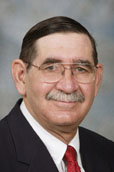 '
James Byrd, Ph.D
Present Title & Affiliation
Primary Appointment
Associate Professor, Department of Gastroenterology - Research, Division of Internal Medicine, University of Texas MD Anderson Cancer Center, Houston, TX
Office Address
The University of Texas MD Anderson Cancer Center
7777 Knight Rd
Unit Number: 955
Houston, TX 77054
Room Number: SRB1.707
Phone: 713-563-4372
Fax: 713-745-8279
Education & Training
Degree-Granting Education

1979
Vanderbilt University, Nashville, NY, PHD, Molecular Biology
1973
Massachusetts Institute of Technology, Cambridge, MA, BS, Life Sciences

Postgraduate Training

1979-1982

Research Fellowship, Division of Labs and Research, NY State Dept of Health, Albany, NY
Experience/Service
Academic Appointments
Staff Investigator, Gastrointestinal Cancer Research Lab, Henry Ford Health Sciences Cent, Detroit, MI, 1/1996-1/2002
Associate Staff Investigator, Gastrointestinal Cancer Research Lab, Henry Ford Health Sciences Center, Detroit, MI, 1/1993-1/1996
Asst Research Biochemist, University of California at San Francisco, San Francisco, CA, 1/1990-1/1993
Research Chemist, Gastrointestinal Research Lab, VA Medical Center, San Francisco, CA, 1/1982-1/1990
Research Associate, Shriver Center for Mental Retardation, Waltham, MA, 1/1971-1/1973
Selected Publications
Peer-Reviewed Original Research Articles

1.
Mazurek N, Byrd JC, Sun Y, Hafley M, Ramirez K, Burks J, Bresalier RS. Cell-surface galectin-3 confers resistance to TRAIL by impeding trafficking of death receptors in metastatic colon adenocarcinoma cells. Cell Death Differ 19(3):523-33, 3/2012. e-Pub 9/2011. PMCID: PMC3246527.
2.
Mazurek N, Byrd JC, Sun Y, Ueno S, Bresalier RS. A galectin-3 sequence polymorphism confers TRAIL sensitivity to human breast cancer cells. Cancer 117(19):4375-80, 10/2011. e-Pub 3/2011. PMCID: PMC3164935.
3.
Song S, Byrd JC, Guha S, Liu KF, Koul D, Bresalier RS. Induction of MUC5AC mucin by conjugated bile acids in the esophagus involves the phosphatidylinositol 3-kinase/protein kinase C/activator protein-1 pathway. Cancer 117. e-Pub 12/2010. PMCID: PMC3116027.

Invited Articles

1.
Byrd JC, Bresalier RS. Mucins and mucin binding proteins in colorectal cancer. Cancer Metastasis Rev 23(1-2):77-99, Jan-Jun, 1/2004. PMID: 15000151.

Book Chapters

1.
Byrd JC, Bresalier RS. Galectin-3 in the Progression and Metastasis of Colorectal Neoplasia. In: Galectins, 193-221. Ed(s) Klyosov AA, Witczak ZJ, Platt D. John Wiley & Sons, Inc. Hoboken, NJ, 2009. ISBN: 978-0-470-3731-7.
© 2014 The University of Texas MD Anderson Cancer Center