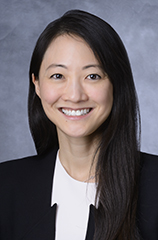 '
Jennifer Wang, MD
Present Title & Affiliation
Primary Appointment
Assistant Professor, Department of Genitourinary Medical Oncology, Division of Cancer Medicine, The University of Texas MD Anderson Cancer Center, Houston, TX
Research Interests
As an active member of SWOG (Southwest Oncology Group) I am able to contribute to a cooperative group that designs and conducts multidisciplinary clinical trials that exist to improve the practice of detection, prevention and treatment of cancer. In particular, Iím currently involved in a phase III randomized clinical trial study involving androgen deprivation therapy and orteronel to see how well it works compared to androgen deprivation therapy and bicalutamide in treating patients with newly diagnosed prostate cancer that has spread to other places in the body. Androgen deprivation therapy suppresses or blocks the production or action of male hormones. Androgens can cause the growth of prostate cancer cells. Drugs, such as orteronel and bicalutamide, may lessen the amount of androgens made by the body. This trial will assist us in gaining more knowledge to whether or not giving androgen deprivation therapy with orteronel or bicalutamide is more effective in treating prostate cancer. With my continued support in these studies, I am able to become more involved in the process of integrating main campus department trials into the regional care centers. http://utm-ext01a.mdacc.tmc.edu/Dept/PROT/clinicaltrialswp.nsf/Index/SWOGS1216
Office Address
The University of Texas MD Anderson Cancer Center
1155 Pressler Street
Houston, Texas, TX 77030
Phone: 713-792-2830
Fax: 713-745-1625
MD Anderson Cancer Center Regional Care Sugar Land
1327 Lake Pointe Parkway
Suite 200
Sugar Land, TX 77478
Phone: 281-566-1900
Fax: 281-566-1901
MD Anderson Cancer Center Regional Care Katy
19770 Kingsland Blvd
Sugarland, TX 77094
Phone: 713-563-9600
Fax: 281-646-4320
Education & Training
Degree-Granting Education

2007
Baylor College of Medicine, Houston, TX, TX, MD, Medicine
2003
Duke University, Durham, NC, BS, Cum Laude, Anthropology and Anatomy

Postgraduate Training

7/2010-6/2013

Clinical Fellowship, Hematology/Medical Oncology, The University of Texas MD Anderson Cancer Center, Houston, TX

6/2007-7/2010

Clinical Residency, Internal Medicine, Baylor College of Medicine, Houston, TX
Board Certifications
| | |
| --- | --- |
| 11/2013 | American Board of Hematology |
| 11/2013 | American Board of Medical Oncology |
| 8/2010 | American Board of Internal Medicine |
Experience/Service
Administrative Appointments/Responsibilities
Departmental Regional Care Center Liaison, Department of Genitourinary Medical Oncology, Division of Cancer Medicine, The University of Texas MD Anderson Cancer Center, Houston, TX, 10/2013-present
Professional Memberships
American Society of Clinical Oncology
Member, 2010-present
MD Anderson Cancer Center GU Medical Oncology Departmental Regional Care Center, Houston, TX
Liaison, 2015-present
SWOG (Southwest Oncology Group), Portland, OR
Member, Principal Investigator, 5/2015-present
Selected Publications
Peer-Reviewed Original Research Articles

1.
Lim TY, Kudchadker RJ, Wang J, Stafford RJ, MacLellan C, Rao A, Ibbott GS, Frank SJ. Effect of pulse sequence parameter selection on signal strength in positive-contrast MRI markers for MRI-based prostate postimplant assessment. Med Phys 43(7):4312, 7/2016. PMID: 27370146.
2.
Zhang X, Tong P, Chen J, Pei Z, Zhang X, Chen W, Xu J,Wang J. Retracted: Identification of Novel Biomarkers for Pancreatic Cancer Using Integrated Transcriptomics With Functional Pathways Analysis. J Cell Physiol. e-Pub 2/2016. PMID: 26909671.
3.
Wang J, Pettaway CA, Pagliaro LC. Reply: To PMID 25819619. Urology 85(5):1110, 5/2015. e-Pub 3/2015. PMID: 25819623.
4.
Wang J, Pettaway CA, Pagliaro LC. Treatment for metastatic penile cancer after first-line chemotherapy failure: analysis of response and survival outcomes. Urology 85(5):1104-10, 5/2015. e-Pub 3/2015. PMID: 25819619.
5.
Motzer RJ, Jonasch E, Agarwal N, Beard C, Bhayani S, Bolger GB, Chang SS, Choueiri TK, Derweesh IH, Gupta S, Hancock SL, Kim JJ, Kuzel TM, Lam ET, Lau C, Levine EG, Lin DW, Margolin KA, Michaelson MD, Olencki T, Pili R, Plimack ER, Rampersaud EN, Redman BG, Ryan CJ, Sheinfeld J, Sircar K, Somer B, Wang J, Wilder RB, Dwyer MA, Kumar R, Natiomal compresensive cancer networks. Kidney cancer, version 2.2014. J Natl Compr Canc Netw 12(2):175-82, 2/2014. PMID: 24586079.
6.
Wang J, Wei C, Noor R, Burke A, McIntyre S, Bedikian AY. Surveillance for brain metastases in patients receiving systemic therapy for advanced melanoma. Melanoma Res 24(1):54-60, 2/2014. PMID: 24121189.
7.
Khalili JS, Yu X, Wang J, Hayes BC, Davies MA, Lizee G, Esmaeli B, Woodman SE. Combination small molecule MEK and PI3K inhibition enhances uveal melanoma cell death in a mutant GNAQ- and GNA11-dependent manner. Clin Cancer Res 18(16):4345-55, 8/2012. e-Pub 6/2012. PMCID: PMC3935730.
8.
Graham BH, Li Z, Alesii EP, Versteken P, Lee C, Wang J, Craigen WJ. Neurologic dysfunction and male infertility in Drosophila porin mutants: a new model for mitochondrial dysfunction and disease. J Biol Chem 285(15):11143-53, 4/2010. e-Pub 1/2010. PMCID: PMC2856991.
9.
Fisher D, Jeffreys A, Bosworth H, Wang J, Lipscomb J, Provenzale D. Quality of life in patients with Barrett's esophagus undergoing surveillance. Am J Gastroenterol 97(9):2193-200, 9/2002. PMID: 12358232.

Abstracts

1.
Wang J, Rodriguez J, Pao P, Pettaway CA, Pagliaro LC. Programmed death ligand-1 (PD-L1) expression in penile squamous cell carcinoma. 2015 Genitourinary Cancers Symposium (#393), 2/2015.
2.
Wang J, Tu SM, Pagliaro LC, Weiss M, Haidenberg J, Tseng J, Wade JL, Belt RJ, Cannon MW, Fisch M. A prospective randomized phase III trial comparing consolidation therapy with or without strontium-89 following induction chemotherapy in androgen-independent prostate cancer. J Clin Oncol 32(suppl 4) (#90), 2014.
3.
Wang J, Patel S, Huw WJ, Kim K, Papadopoulos N, Hwu P, Radvanyi L, Mahoney S, Debutt T, Basset R, Bedikian A. Development of brain metastases in patients with metastatic melanoma treated with ipilimumab plus temozolomide. J Clin Oncol (#e19014), 2012.
4.
Mougalian S, Wang J, Zarzour MA, Quinn D, Rieber A. Feasibility and savings of a suspicion of cancer clinic at a large county hospital. ASCO Quality Care Symposium (#104), 2012.
5.
Wang J, Pettaway CA, Pagliaro LC. Salvage treatment for metastatic penile cancer after the first line chemotherapy with paclitaxel, ifosfamide, and cisplatin: Analysis of response and survival outcomes. GU ASCO Symposium Proceedings (#340), 2012.
6.
Wang J. Mesenteric fibromatosis as a unusual cause of abdominal pain. J Gen Intern Medicine (#(S1): S331), 4/2009.
7.
Paul Gettys Corn, Wang J. A multi-institutional randomized phase II study (NCT01505868) of cabazitaxel (CAB) plus or minus carboplatin (CARB) in men with metastatic castration-resistant prostate cancer (mCRPC). 2015 ASCO Annual Meeting (#5010). Submitted.
8.
Brian Francis Chapin, Wang J. A prospective, multicenter, randomized phase II trial of best systemic therapy (BST) or BST plus definitive treatment (Surgery or Radiation) of the primary tumor in metastatic prostate cancer. 2015 ASCO Annual Meeting (#TPS5075). Submitted.

Book Chapters

1.
Wang J, Pagliaro L. Chemotherapy in the combined modality treatment of penile carcinoma. In: Neoadjuvant Chemotherapy. Ed(s) O. Bathe. Neoadjuvant Chemotherapy: Croatia, 2012.