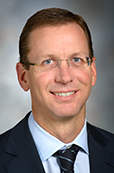 '
John F. DeGroot, M.D.
Present Title & Affiliation
Primary Appointment
Associate Professor, Department of Neuro-Oncology, Division of Cancer Medicine, The University of Texas MD Anderson Cancer Center, Houston, TX
Director, Neuro-Oncology Fellowship Program, Department of Neuro-Oncology, The University of Texas MD Anderson Cancer Center, Houston, TX
Director, Clinical Research, Department of Neuro-Oncology, Division of Cancer Medicine, The University of Texas MD Anderson Cancer Center, Houston, TX
Education & Training
Degree-Granting Education

1998
University of Texas Medical Branch at Galveston, Galveston, TX, MD, Honors, Medicine
1992
Stanford University, Stanford, CA, BA, Human Biology

Postgraduate Training

7/2002-6/2004

Clinical Fellowship, Neuro-Oncology, The University of Texas MD Anderson Cancer Center, Houston, TX

7/1999-6/2002

Clinical Residency, Neurology, Johns Hopkins University School of Medicine, Baltimore, MD

7/1998-6/1999

Clinical Internship, Internal Medicine, Johns Hopkins Bayview Medical Center, Baltimore, MD
Board Certifications
| | |
| --- | --- |
| 4/2002 | American Board of Psychiatry and Neurology |
Experience/Service
Academic Appointments
Assistant Professor, Department of Neuro-Oncology, Cancer Medicine, The University of Texas MD Anderson Cancer Center, Houston, TX, 7/2004-present
Selected Publications
Peer-Reviewed Original Research Articles

1.
Shonka N, Piao Y, Gilbert M, Yung WKA, Chang S, DeAngelis LM, Lassman AB, Liu J, Cloughesy T, Robins HI, Lloyd R, Chen A, Prados M, Wen PY, Heymach J, de Groot JF. Cytokines Predict On-Target Toxicity in Patients with Recurrent Glioblastoma Treated with Aflibercept. Springer, 1/2013. e-Pub 1/2013.
2.
de Groot JF, Reardon DA, Batchelor TT. Antiangiogenic Therapy for Glioblastoma. American Society of Clinical Oncolology Educ Book, 2013, 2013.
3.
Kamiya-Matsuoka C, Garciarena P, Hesham MA, Tremont I, de Groot JF. B Lymphoblastic Leukemia/Lymphoma Presenting As Seventh Cranial Nerve Palsy. Neurology, 2013.
4.
Theeler BJ, Yung WKA, Fuller GN, de Groot JF. Moving Toward Molecular Classification of Diffuse Gliomas in Adults. Neurology 79(18):1917-1926, 10/2012. PMID: 23109653.
5.
de Groot JF, Liang J, Kong LK, Wei J, Piao Y, Fuller G, Qiao W, Hemberger AB. Modulating Antiangiogenic Resistance by Inhibiting the Signal Transducer and Activator Transcription 3 Pathway in Glioblastoma. Oncotarget 9(3):1036-48, 9/2012. PMID: 23013619.
6.
Grossman KF, Colman H, Akerley WA, Glantz M, Matsuoko Y, Beelen AP, Yu M, de Groot JF, Aiken RD, Olsen JJ, Evans BA, Jensen RL. Phase I Trial of Verubulin (MPC-6827) plus carboplatin in Patients with Relapsed Glioblastoma Multiforme. Journal of Neuro Oncology. e-Pub 8/2012. PMID: 22932984.
7.
Walker GV, Li J, Mahajan A, McAleer MF, de Groot JF, Azeem SS, Brown PD. Decreasing radiation therapy utilization in adult patients with glioblastoma multiforme: A population-based analysis. Cancer 118(18):4538-44, 2/2012. PMID: 22359097.
8.
Piao Y, Liang J, Holmes L, Zurita AJ, Henry V, Heymach JV, de Groot JF. Glioblastoma Resistance to Anti-VEGF Therapy is Associated with Myeloid Cell Infiltration, Stem Cell Accumulation, and a Mesenchymal Phenotype. Neuro Oncol 14(11):1379-1392, 2012. e-Pub 9/2012. PMID: 22965162.
9.
Gilbert MR, Gonzalez J, Hunter K, Hess K, Giglio P, Chang E, Puduvalli V, Groves MD, Colman H, Conrad C, LEvin V, Woo S, Mahajan A, de Groot J, Yung WKA. A Phase I Factorial Design Study of Dose-Dense Temozolomide Alone and in Combination with Thalidomide, Isotretinoin, and/or Celecoib as Postchemoradiation Adjuvant Therapy for Newly Diagnosed Glioblastoma. Neuro-Oncology 12(11). e-Pub 8/2010.
10.
Wen PY, Macdonald DR, Reardon DA, Cloughesy TF, Sorensen AG, Galanis E, Degroot J, Wick W, Gilbert MR, Lassman AB, Tsien C, Mikkelsen T, Wong ET, Chamberlain MC, Stupp R, Lamborn KR, Vogelbaum MA, van den Bent MJ, Chang SM. Updated response assessment criteria for high-grade gliomas: Response Assessment in Neuro-Oncology (RANO) Working Group. J Clin Oncol 28(11):1963-72, 4/2010. e-Pub 3/2010. PMID: 20231676.
11.
Ahluwalia MS, de Groot J, Liu W, Gladson CL. Targeting SRC in glioblastoma tumors and brain metastases: Rationale and preclinical studies. Cancer Letters 298(2):139-49, 2010. PMID: 20947248.
12.
Lucio-Eterovic AK, Piao Y, de Groot JF. Mediators of Glioblastoma Resistance and Invasion during Antivascular Endothelial Growth Factor Therapy. Clin Cancer Res 15(14):4589-99, 7/2009. PMID: 19567589.
13.
de Groot, Piao Y, Lu L. AMPA receptors promote perivascular glioma invasion via (beta) 1 integrin-dependent adhesion to the extracellular matrix. Neuro-Oncology 11(3):260-73, 6/2009. PMID: 18957620.
14.
Milano V, Piao Y, Lafortune T, de Groot J. Desatinib-induced autophagy is enhaced in combination with temozolomide in glioma. Molecular Cancer Therapy 8(2):394-406, 2/2009. PMID: 19190119.
15.
Gonzales J, de Groot J. Combination therapy for malignant glioma based on PTEN status. Expert Rev Anticancer Therapy 8(11):1767-1779, 11/2008. PMID: 18983237.
16.
de Groot JF, Gilbert MR, Aldape K, Hess KR, Hanna TA, Ictech S, Groves MD, Conrad C, Colman H, Puduvalli VK, Levin V, Yung WK. Phase II study of carboplatin and erlotinib (Tarceva, OSI-774) in patients with recurrent glioblastoma. J Neuro-Oncology 90(1):89-97, 10/2008. PMID: 18581057.
17.
de Groot, WKA Yung. Bevacizumab and Irinotecan in the Treatment of Recurrent Malignant Gliomas. Cancer J 14(5):279-285, Sep-Oct, 2008. PMID: 18836331.
18.
Gomez-Manzano C, Holash J, Fueyo J, Xu Jing, Conrad, CA, Aldape KD, DeGroot JF, Bekele N, Yung WKA. VEGF Trap induces antiglioma effect at different stages of disease. Neuro-Oncology 10(6):940-945, 2008. PMID: 18708344.
19.
de Groot JF, Liu TJ, Fuller G, Yung WK. The excitatory amino acid transporter-2 induces apoptosis and decreases glioma growth in vitro and in vivo. Cancer Res 65(5):1934-40, 2005. PMID: 15753393.

Book Chapters

1.
deGroot JF, Yung, WK. Small Molecule Based Therapies. In Neuro-Oncology. In: The Essentials 2nd. Edition, 2nd. Ed(s) Bernstein & M. Berger. Thieme Publishers: New York, NY, 234-241, 2008.
Grant & Contract Support
Title:
Evaluation of Novartis oncology compounds to validate specific targeted therapies in glioblastoma with unique subtype and molecular profiles.
Funding Source:
Novartis
Role:
Principal Investigator
Duration:
6/1/2013 - 11/30/2014
Title:
Molecular Predictors of Response to Targeted Therapy in Glioblastoma: Preclinical Validation of Eli Lilly Compounds Targeting CDK4/6, SHH, FGFR, cMET, and p38-MAPK
Funding Source:
Eli Lilly
Role:
Principal Investigator
Duration:
10/1/2012 - 4/30/2014
Title:
Inhibition of STAT3 Signaling in Recurrent Glioblastoma
Funding Source:
NIH/NCI
Role:
Investigator
Duration:
9/1/2012 - 8/31/2014
Title:
Preclinical Validation of Targeting P70S6K/AKT with MSC3318
Funding Source:
EMD Serono
Role:
Principal Investigator
Duration:
7/1/2012 - 6/30/2014
Title:
Ivy CTC Virtual Tissue Bank for Malignant Glioma Patients
Funding Source:
Ivy Foundation Early Phase Clinical Trials Consortium
Role:
Principal Investigator-MDACC
Principal Investigator:
Prado
Duration:
7/1/2012 - 11/30/2013
Title:
Ph I, two-stage, multi-center, open-label dose escalation study of BKM120 w/ adjuvant temozolomide & with concomitant radiation therapy and temozolomide in patients with newly diagnosed GBM.
Funding Source:
Novartis
Role:
Principal Investigator
Duration:
1/15/2012 - 5/31/2014
Title:
Evaluation of XL765 for the Prevention of Glioblastoma Resistence to Bevacizumab Therapy
Funding Source:
Sanofi-Aventis
Role:
Principal Investigator
Duration:
9/1/2011 - 12/31/2013
Title:
SPORE DRP- Targeting the JAK2/STAT-3 Pathway in Glioma to Overcome Resistance to Antiangiogenic Therapy
Funding Source:
NIH/NCI
Role:
Investigator
Duration:
9/1/2011 - 8/31/2013
Title:
Preclinical Validation of Targeting the JAK/STAT Pathway in Glioma with AZD1480
Funding Source:
AstraZeneca
Role:
Investigator
Duration:
9/1/2011 - 7/1/2013
Title:
Modulation of Resistance to Antiangiogenic Therapy: A Clinical Trial with Correlative Studies
Funding Source:
NIH/NCI
Role:
Principal Investigator
Duration:
7/16/2010 - 12/30/2013
Title:
Preclinical Validation of Targeting Macrophage CSF-1R in Glioblastoma
Funding Source:
AstraZeneca Research Collaboration Alliance
Role:
Principal Investigator
Duration:
9/2009 - 10/31/2013
Title:
Predictors of Glioblastoma Response to VEGF Trap
Funding Source:
American Society of Clinical Oncology (ASCO)
Role:
Principal Investigator
Duration:
7/1/2008 - 6/30/2011
Title:
SPORE in Brain Cancer
Funding Source:
NIH/NCI
Role:
Co-Investigator
Duration:
7/1/2008 - 6/30/2010
Title:
The Role of AMPA Receptors in Glioma Proliferation and Invasion
Funding Source:
UTMDACC Institutional Research Grant-IRG
Role:
Principal Investigator
Duration:
2/1/2008 - 1/31/2010
Title:
The effect of CT-322 on glioma biology and growth in an in vivo glioma stem cell model
Funding Source:
Adnexus
Role:
Principal Investigator
Duration:
1/2008 - 1/31/2011
Title:
Correlative Markers of Glioblastoma Response to VEGF Trap
Funding Source:
NIH/NCI
Role:
Principal Investigator
Duration:
6/2007 - 5/31/2010
Title:
Seizures and glioblastoma response to treatment
Funding Source:
UCB Pharma
Role:
Principal Investigator
Duration:
10/2006 - 9/2007
Title:
Deciphering Synergistic Combinatorial Targets in Glioma
Funding Source:
NIH/NCI/NINDS
Role:
Co-Investigator
Principal Investigator:
W.K. Alfred Yung
Duration:
9/2006 - 6/30/2012
Title:
ImaRx Therapeutics Investigator Initiated Study "Enhancing drug delivery using ultrasound plus nanobubbles"
Funding Source:
ImaRX
Role:
Principal Investigator
Duration:
6/2005 - 7/2006
Title:
Glutamate excitotoxicity, cystine and glioma growth
Funding Source:
American Brain Tumor Association (ABTA) - Basic Research Fellowship
Role:
Investigator
Duration:
7/3/2003 - 6/5/2005
Title:
Adaptive selection design with molecular subset analysis: A Bayesian paradigm to optimize treatment success for patients with glioblastoma, Submitted
Funding Source:
The Ben and Catherine Ivy Foundation
Role:
Co-Investigator
© 2014 The University of Texas MD Anderson Cancer Center