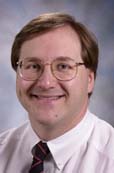 '
John C. Frenzel
Present Title & Affiliation
Primary Appointment
Chief Medical Information Officer, Office of the Chief Information Officer, The University of Texas MD Anderson Cancer Center, Houston, TX
Professor, Department of Anesthesiology and Perioperative Medicine, Division of Anesthesiology and Critical Care, The University of Texas MD Anderson Cancer Center, Houston, TX
Office Address
The University of Texas MD Anderson Cancer Center
7007 Bertner Avenue
Unit Number: 1744
Houston, TX 77030-3907
Room Number: 1MC14.2457
Education & Training
Degree-Granting Education

2002
University of Texas Health Science Center, Houston, TX, MS, Informatics
1989
Baylor College of Medicine, Houston, TX, MD, Medicine
1984
Emory University, Atlanta, GA, BA, Chemistry
1984
Emory University, Atlanta, GA, BS, Biology

Postgraduate Training

7/1993-6/1994

Fellowship, Cardiovascular and Thoracic Anesthesiology, The Mayo Clinic, Rochester, MN

7/1990-6/1993

Residency, Anesthesiology, University of Texas Health Science Center, San Antonio, TX

7/1989-6/1990

Internship, Transitional Anesthesia, Baylor College of Medicine Affiliated Hospitals, Houston, TX
Board Certifications
1/2014

American Board of Preventive Medicine

9/1994

American Board of Anesthesiology, Recertification Date:

2009
Experience/Service
Academic Appointments
Associate Professor, School of Health Information Sciences, The University of Texas Health Science Center, Houston, TX, 9/2004-8/2010
Assistant Professor, Division of Anesthesiology and Critical Care, The University of Texas M. D. Anderson Cancer Center, Houston, TX, 2/2004-8/2004
Professor, School of Biomedical Informatics, The University of Texas Health Science Center, Houston, TX, 2004-2010
Administrative Appointments/Responsibilities
Medical Director, Office of the CIO, Perioperative and Critical Care Informatics, The University of Texas MD Anderson Cancer Center, Houston, TX, 10/2006-7/2011
Medical Director, Preoperative Evaluation Clinic, Division of Anesthesiology and Critical Care, The University of Texas M. D. Anderson Cancer Center, Houston, TX, 3/2004-7/2005
Medical Director, Ambulatory Clinical Building Surgical Suites, Division of Anesthesiology and Critical Care, The University of Texas M. D. Anderson Cancer Center, Houston, TX, 12/2003-8/2007
Honors and Awards
2009

Mary Hanna Memorial Journalism Award,

American Society of PeriAnesthesia Nurses

2006

Patient Safety Initiative,

MD Anderson Cancer Center
Selected Publications
Peer-Reviewed Original Research Articles

1.
Frenzel, JC, Kee, SS, Ensor, JE, Riedel, BJ, Ruiz, JR. Ongoing Provision of Individual Clinician Performance Data Improves Practice Behavior. Anesthesia & Analgesia 111(2):515-519, 8/2010. e-Pub 7/2010.
2.
Ruiz, JR, Kee, SS, Frenzel, JC, Ensor, BJ, Selvan, M, Riedel, BJ, Apfel, C. The Effect of an Anatomically Classified Procedure on Antiemetic Administration in the Postanesthesia Care Unit. Anesthesia & Analgesia 110((2)):403-409, 2/2010. e-Pub 8/2009.
3.
RA Masake MS, JR Zhang PhD, CW Johnson PhD, JC Frenzel MD MS. Data Modeling Practices in Healthcare: A Review of Literature and Application of Ontological Concepts. The University of Texas, School of Health Information Sciences at Houston, 12/2007.
4.
Frenzel JC. Health data security issues arising from integration of wireless access into healthcare networks. J Med Syst 27(2):163-75, 4/2003. PMID: 12617358.
5.
Johnson CW, Katyal P, Frenzel JC, Ali A. Hypertutorial and Conventional Web-Based Lessons Evaluated Similarly by Dental Postgraduates in Health Informatics Statistics Course. Proceedings of the International Medical Informatics Association, Portland, Oregon, 2003.
6.
Brixey J, Frenzel JC, Chalambaga M, Johnson T. Redesign and Prototype for the Interface of a Volumetric Infusion Pump Following the Usability Engineering Lifecycle. Proceedings of the Annual Conference of the American Medical Informatics Association, San Antonio, Texas, 2002.
Grant & Contract Support
Title:
Phase 3: Multicenter, Double Blind, Randomized, Comparative Study Evaluating the Effect of Two Doses of Dexmedetomidine Versus Placebo in Adult Patients Undergoing Elective Coronary Bypass Graft(s) Surgery
Funding Source:
Abbott Laboratories
Role:
Principal Investigator
Duration:
11/1995 - 8/1996
Title:
Can Early Extubation Decrease ICU Stays Without Affecting Outcome?
Funding Source:
Division of Cardiovascular Anesthesia, The Mayo Clinic, Rochester, MN
Role:
Principal Investigator
Duration:
11/1993 - 6/1994