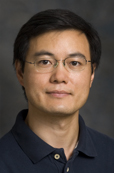 '
Jun Yao, Ph.D.
Present Title & Affiliation
Primary Appointment
Assistant Professor, Department of Neuro-Oncology - Research, Division of Cancer Medicine, The University of Texas MD Anderson Cancer Center, Houston, TX
Research Interests
Through integrated analysis on TCGA datasets to identify novel survival-related genes, tumor suppressors and master transcription factors in glioblastoma multiforme (GBM), as well as important microRNAs and their target genes.
Use of next-generation sequencing technology to study gene rearrangement in solid tumors, which is an under-investigated area in oncology research
The use of various genomics platforms (e.g., microarrays, MSDK) to profile cancer stem cells and find novel stem cell markers as well as therapeutic targets
Office Address
The University of Texas MD Anderson Cancer Center
1515 Holcombe Blvd
Unit Number: 1002
Houston, TX 77030
Room Number: S5.8136A
Phone: 713-834-6214
Fax: 713-834-6230
Email: jyao1@mdanderson.org
Education & Training
Degree-Granting Education

2000
The University of Texas MD Anderson Cancer Center, Houston, TX, PHD, Cancer Biology
1993
Shanghai Institute of Biochemistry, Shanghai, China, MS, Molecular Biology
1989
FuDan University, Shanghai, China, BS, Biochemistry
Experience/Service
Academic Appointments
Research Scientist, Dana Farber Cancer Institute, Harvard Medical School, Boston, MA, 2/2008-8/2008
Instructor, Department of Molecular and Cellular Oncology, The University of Texas M. D. Anderson Cancer Center, Houston, TX, 4/2002-11/2003
Instructor, Department of Translational Molecular Pathology, Baylor College of Medicine, Houston, TX, 1/2001-3/2002
Selected Publications
Peer-Reviewed Original Research Articles

1.
Bloushtain-Qimron N, Yao J, Shipitsin M, Maruyama R, Polyak K. Epigenetic patterns of embryonic and adult stem cells. Cell Cycle 8(6). e-Pub 3/2009. PMID: 19229128.
2.
McLendon R, Friedman A, Bigner D, Van Meir EG, Brat DJ, Mastrogianakis GM, Olson JJ, Mikkelsen T, Lehman N, Aldape K, Yung WK, Bogler O, Weinstein JN, VandenBerg S, Berger M, Prados M, Muzny D, Morgan M, Scherer S, Sabo A, Nazareth L, Lewis L, Hall O, Zhu Y, Ren Y, Alvi O, Yao J, Hawes A, Jhangiani S, Fowler G, San Lucas A, Kovar C, Cree A, Dinh H, Santibanez J, Joshi V, Gonzalez-Garay ML, Miller CA, Milosavljevic A, Donehower L, Wheeler DA, Gibbs RA, Cibulskis K, Sougnez C, Fennell T, Mahan S, Wilkinson J, Ziaugra L, Onofrio R, Bloom T, Nicol R, Ardlie K, Baldwin J, Gabriel S, Lander ES, Ding L, Fulton RS, McLellan MD, Wallis J, Larson DE, Shi X, Abbott R, Fulton L, Chen K, Koboldt DC, Wendl MC, Meyer R, Tang Y, Lin L, Osborne JR, Dunford-Shore BH, Miner TL, Delehaunty K, Markovic C, Swift G, Courtney W, Pohl C, Abbott S, Hawkins A, Leong S, Haipek C, Schmidt H, Wiechert M, Vickery T, Scott S, Dooling DJ, Chinwalla A, Weinstock GM, Mardis ER, Wilson RK, Getz G, Winckler W, Verhaak RG, Lawrence MS, O'Kelly M, Robinson J, Alexe G, Beroukhim R, Carter S, Chiang D, Gould J, Gupta S, Korn J, Mermel C, Mesirov J, Monti S, Nguyen H, Parkin M, Reich M, Stransky N, Weir BA, Garraway L, Golub T, Meyerson M, Chin L, Protopopov A, Zhang J, Perna I, Aronson S, Sathiamoorthy N, Ren G, Yao J, Wiedemeyer WR, Kim H, Kong SW, Xiao Y, Kohane IS, Seidman J, Park PJ, Kucherlapati R, Laird PW, Cope L, Herman JG, Weisenberger DJ, Pan F, Van den Berg D, Van Neste L, Yi JM, Schuebel KE, Baylin SB, Absher DM, Li JZ, Southwick A, Brady S, Aggarwal A, Chung T, Sherlock G, Brooks JD, Myers RM, Spellman PT, Purdom E, Jakkula LR, Lapuk AV, Marr H, Dorton S, Choi YG, Han J, Ray A, Wang V, Durinck S, Robinson M, Wang NJ, Vranizan K, Peng V, Van Name E, Fontenay GV, Ngai J, Conboy JG, Parvin B, Feiler HS, Speed TP, Gray JW, Brennan C, Socci ND, Olshen A, Taylor BS, Lash A, Schultz N, Reva B, Antipin Y, Stukalov A, Gross B, Cerami E, Wang WQ, Qin LX,. Comprehensive genomic characterization defines human glioblastoma genes and core pathways. Nature 455(7216):1061-8, 10/2008. e-Pub 9/2008. PMID: 18772890.
3.
Bloushtain-Qimron N, Yao J, Snyder EL, Shipitsin M, Campbell LL, Mani SA, Hu M, Chen H, Ustyansky V, Antosiewicz JE, Argani P, Halushka MK, Thomson JA, Pharoah P, Porgador A, Sukumar S, Parsons R, Richardson AL, Stampfer MR, Gelman RS, Nikolskaya T, Nikolsky Y, Polyak K. Cell type-specific DNA methylation patterns in the human breast. Proceedings of the National Academy of Sciences of the United States of America 105(37):14076-81, 9/2008. PMID: 18780791.
4.
Kleer CG, Bloushtain-Qimron N, Chen YH, Carrasco D, Hu M, Yao J, Kraeft SK, Collins LC, Sabel MS, Argani P, Gelman R, Schnitt SJ, Krop IE, Polyak K. Epithelial and stromal cathepsin K and CXCL14 expression in breast tumor progression. Clin Cancer Res 14(17):5357-67, 9/2008. PMID: 18765527.
5.
Hu M, Yao J, Carroll DK, Weremowicz S, Chen H, Carrasco D, Richardson A, Violette S, Nikolskaya T, Nikolsky Y, Bauerlein EL, Hahn WC, Gelman RS, Allred C, Bissell MJ, Schnitt S, Polyak K. Regulation of in situ to invasive breast carcinoma transition. Cancer Cell 13(5):394-406, 5/2008. PMID: 18455123.
6.
Zhao X, Goswami M, Pokhriyal N, Ma H, Du H, Yao J, Victor TA, Polyak K, Sturgis CD, Band H, Band V. Cox-2 expression is downregulated during immortalization and breast cancer progression. Cancer Res 68(2):467-75, 1/2008. PMID: 18199541.
7.
Nikolsky Y, Sviridov E, Yao J, Dosymbekov D, Ustyansky V, Kaznacheev V, Dezso Z, et al. Genome-wide functional synergy between amplified and mutated genes in human breast cancer. Cancer Research 68(22):9532-9540, 2008.
8.
Boehm JS, Zhao JJ, Yao J, Kim SY, Firestein R, Dunn IF, Sjostrom SK, Garraway LA, Weremowicz S, Richardson AL, Greulich H, Stewart CJ, Mulvey LA, Shen RR, Ambrogio L, Hirozane-Kishikawa T, Hill DE, Vidal M, Meyerson M, Grenier JK, Hinkle G, Root DE, Roberts TM, Lander ES, Polyak K, Hahn WC. Integrative genomic approaches identify IKBKE as a breast cancer oncogene. Cell 129(6):1065-79, 6/2007. PMID: 17574021.
9.
Shipitsin M, Campbell LL, Argani P, Weremowicz S, Bloushtain-Qimron N, Yao J, Nikolskaya T, Serebryiskaya T, Beroukhim R, Hu M, Halushka MK, Sukumar S, Parker LM, Anderson KS, Harris LN, Garber JE, Richardson AL, Schnitt SJ, Nikolsky Y, Gelman RS, Polyak K. Molecular definition of breast tumor heterogeneity. Cancer Cell 11(3):259-73, 3/2007. PMID: 17349583.
10.
Yao J, Weremowicz S, Feng B, Gentleman RC, Marks JR, Gelman R, Brennan C, Polyak K. Combined cDNA array comparative genomic hybridization and serial analysis of gene expression analysis of breast tumor progression. Cancer Res 66(8):4065-78, 4/2006. PMID: 16618726.
11.
Tan M, Lan KH, Yao J, Lu CH, Sun M, Neal CL, Lu J, Yu D. Selective inhibition of ErbB2-overexpressing breast cancer in vivo by a novel TAT-based ErbB2-targeting signal transducers and activators of transcription 3-blocking peptide. Cancer Research 66(7):3764-72, 4/2006. PMID: 16585203.
12.
Porter D, Yao J, Polyak K. SAGE and related approaches for cancer target identification. Drug Discovery Today 11(3-4):110-8, 2/2006. PMID: 16533708.
13.
Hu M, Yao J, Polyak K. Methylation-specific digital karyotyping. Nature Protocols 1(3):1621-36, 2006. PMID: 17406428.
14.
Hu M, Yao J, Cai L, Bachman KE, van den Brūle F, Velculescu V, Polyak K. Distinct epigenetic changes in the stromal cells of breast cancers. Nat Genet 37(8):899-905, 8/2005. PMID: 16007089.
15.
Yao J, Polyak K. EMSY links breast cancer gene 2 to the 'Royal Family'. Breast Cancer Res 6(5):201-3, 2004. PMID: 15318925.
16.
Yang W, Klos KS, Zhou X, Yao J, Yang Y, Smith TL, Shi D, Yu D. ErbB2 overexpression in human breast carcinoma is correlated with p21Cip1 up-regulation and tyrosine-15 hyperphosphorylation of p34Cdc2: poor responsiveness to chemotherapy with cyclophoshamide methotrexate, and 5-fluorouracil is associated with Erb2 overexpression and with p21Cip1 overexpression. Cancer 98(6):1123-30, 9/2003. PMID: 12973835.
17.
Berger DH, Feng XH, Yao J, Saha D, Beauchamp RD, Lin X. Resistance to transforming growth factor-beta occurs in the presence of normal Smad activation. Surgery 132(2):310-6, 8/2002. PMID: 12219028.
18.
Yao J, Xiong S, Klos K, Nguyen N, Grijalva R, Li P, Yu D. Multiple signaling pathways involved in activation of matrix metalloproteinase-9 (MMP-9) by heregulin-beta1 in human breast cancer cells. Oncogene 20(56):8066-74, 12/2001. PMID: 11781819.
19.
Yu D, Jing T, Liu B, Yao J, Tan M, McDonnell TJ, Hung MC. Overexpression of ErbB2 blocks Taxol-induced apoptosis by upregulation of p21Cip1, which inhibits p34Cdc2 kinase. Mol Cell 2(5):581-91, 11/1998. PMID: 9844631.
20.
Yao J, Pollock RE, Lang A, Tan M, Pisters PW, Goodrich D, El-Naggar A, Yu D. Infrequent mutation of the p16/MTS1 gene and overexpression of cyclin-dependent kinase 4 in human primary soft-tissue sarcoma. Clin Cancer Res 4(4):1065-70, 4/1998. PMID: 9563903.
21.
Chandler D, McGuffin ME, Piskur J, Yao J, Baker BS, Mattox W. Evolutionary conservation of regulatory strategies for the sex determination factor transformer-2. Mol Cell Biol 17(5):2908-19, 5/1997. PMID: 9111363.
22.
Tan M, Yao J, Yu D. Overexpression of the c-erbB-2 gene enhanced intrinsic metastasis potential in human breast cancer cells without increasing their transformation abilities. Cancer Res 57(6):1199-205, 3/1997. PMID: 9067293.
23.
Yao J, Gan RB, Zhang Q, Li ZP. Cloning of human granulocyte-macrophage colony stimulating factor (GM-CSF) cDNA and its expression in E. coli. Acta Biochim Biophys Sinica 28(3):265-271, 1996.
24.
Gan RB, Huang PY, Yuan Y, Yao J, Wen H, and Li ZP. Secretion of overexpressed human epidermal growth factor in Escherichia Coli. Chinese J of Biochem & Biophysics 26(2):153-155, 1994.