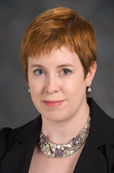 '
Karen C. Dwyer
Present Title & Affiliation
Primary Appointment
Assistant Professor, Department of Stem Cell Transplantation - Research, Division of Cancer Medicine, The University of Texas MD Anderson Cancer Center, Houston, TX
Office Address
The University of Texas MD Anderson Cancer Center
1515 Holcombe Blvd.
Unit Number: 900
Houston, TX 77030
Room Number: 2SCR4.2020
Phone: 713-563-3322
Fax: 713-563-3364
Email: kcdwyer@mdanderson.org
Education & Training
Degree-Granting Education

2002
University of Wisconsin-Madison, Madison, WI, PHD, Biochemistry
1995
University of Massachusetts at Lowell, Lowell, MA, BS, Biological Sciences

Postgraduate Training

2002-2006

Research Fellowship, Trudeau Institute, Inc., Saranac Lake, NY, Susan Swain
Experience/Service
Academic Appointments
Associate Professor, Department of Stem Cell Transplantation - Research, Division of Cancer Medicine, The University of Texas MD Anderson Cancer Center, Houston, TX, 9/2015-present
Administrative Appointments/Responsibilities
Director, South Campus Flow Cytometry and Cells Sorting Core Laboratory, Department of Stem Cell Transplantation - Research, Division of Cancer Medicine, The University of Texas MD Anderson Cancer Center, Houston, TX, 9/2008-present
Co-Director, CCSG-Flow Cytometry & Cellular Imaging Core Facility, Department of Stem Cell Transplantation - Research, Division of Cancer Medicine, The University of Texas MD Anderson Cancer Center, Houston, TX, 9/2008-present
Professional Memberships
American Association of Immunologists (AAI)
Member, 2002-present
Becton Dickinson (BD) Key Opinion Leader
Member, 2012-present
Flowjo External Advisory Board (EAB)
Member, 2012-present
FlowTex: Texas Flow Cytometry Community
President, 2011-present
Vice-President, 2010-2011
Scientific Director, 2009-present
Member & Organizer, 2006-present
International Society for the Advancement of Cytometry (ISAC)
Member, 2008-present
Selected Publications
Peer-Reviewed Original Research Articles

1.
McFarlin BK, Williams RR, Venable AS, Dwyer KC, Haviland DL. Image-Based Cytometry Reveals Three Distinct Subsets of Activated Granulocytes Based on Phagocytosis and Oxidative Burst. Cytometry A 83(8):745-51, 8/2013. PMCID: PMCJournal - in process.
2.
Foglietta M, Neelapu SS, Kwak LW, Jiang Y, Nattamai D, Lee ST, Fowler DH, Sportes C, Gress RE, Steinberg SM, Vence LM, Radvanyi L, Dwyer KC, Qazilbash MH, Bryant RN, Bishop MR. Neoantigen and Tumor Antigen-Specific Immunity Transferred From Immunized Donors is Detectable Early After Allogeneic Transplantation in Myeloma Patients. Bone Marrow Transplant 48(2):269-277, 2/2013. e-Pub 7/2012. PMCID: PMC3469751.
3.
Zhang M, Sukhumalchandra P, Enyenihi AA, St John LS, Hunsucker SA, Mittendorf EA, Sergeeva A, Ruisaard K, Al-Atrache Z, Ropp PA, Jakher H, Rodriguez-Cruz T, Lizee G, Clise-Dwyer K, Lu S, Molldrem JJ, Glish GL, Armistead PM, Alatrash G. A Novel HLA-A*0201 Restricted Peptide Derived From Cathepsin G is an Effective Immunotherapeutic Target in Acute Myeloid Leukemia. Clin Cancer Res 19(1):247-57, 1/2013. e-Pub 11/2012. PMCID: PMC3537920.
4.
Alatrash G, Mittendorf EA, Sergeeva A, Sukhumalchandra P, Qiao N, Zhang M, St John LS, Ruisaard K, Haugen CE, Al-Atrache Z, Jakher H, Philips AV, Ding X, Chen JQ, Wu Y, Patenia RS, Bernatchez C, Vence LM, Radvanyi LG, Hwu P, Clise-Dwyer K, Ma Q, Lu S, Molldrem JJ. Broad Cross-Presentation of the Hematopoietically Derived PR1 Antigen on Solid Tumors Leads to Susceptibility to PR1-Targeted Immunotherapy. J Immunol 189(11):5476-84, 12/2012. PMCID: PMC3504175.
5.
Mittendorf EA, Alatrash G, Qiao N, Wu Y, Sukhumalchandra P, St John LS, Philips AV, Xiao H, Zhang M, Ruisaard K, Clise-Dwyer K, Lu S, Molldrem JJ. Breast Cancer Cell Uptake of the Inflammatory Mediator Neutriphil Elastase Triggers an Anticancer Adaptive Immune Reponse. Cancer Research 72(13):3153-62, 7/2012. PMCID: PMC3397251.
6.
Alatrash G, Ono Y, Sergeeva A, Sukhumalchandra P, Zhang M, St John LS, Yang TH, Ruisaard K, Armistead PM, Mittendorf EA, He H, Qiao N, Rodriguez-Cruz T, Liang S, Clise-Dwyer K, Wieder ED, Lizee G, Lu S, Molldrem JJ. The Role of Antigen Cross-presentation From Leukemia Blasts on Immunity to the Leukemia-associated Antigen PR1. J Immunother 35(4):309-20, 5/2012. PMCID: PMC3326226.
7.
Sergeeva A, Alatrash G, He H, Ruisaard K, Lu S, Wygant J, McIntyre BW, Ma Q, Li D, St John L, Clise-Dwyer K, Molldrem JJ. An Anti-PR1/HLA-A2 T Cell Receptor-Like Antibody Mediates Complement Dependent Cytotoxicitiy Against Acute Myeloid Leukemia Progenitor Cells. Blood 117(16):4262-72, 4/2011. PMCID: PMC3087478.
8.
Ma Q, Wang C, Jones D, Quintanilla KE, Li D, Wang Y, Wieder ED, Clise-Dwyer K, Alatrash G, Mj Y, Munsell MF, Lu S, Qazilbash MH, Molldrem JJ. Adoptive Transfer of PR1 cytotoxic T Lymphocytes Associated With Reduced Leukemia Burden in Mouse Acute Myeloid Leukemia Xenograft Model. Cytotherapy 12(8):1056-62, 12/2010. PMCID: PMC3365857.
9.
Samudio IJ, Duvvuri S, Clise-Dwyer K, Watt JC, Mak D, Kantarjian H, Yang D, Ruvolo V, Borthakur G. Activation of p53 Signaling by MI-63 Induces Apoptosis in Acute Myeloid Leukemia Cells. Leuk Lymphoma 51(5):911-9, 5/2010. PMID: 20423286.
10.
Ling X, Marini F, Konopleva M, Schober W, Shi Y, Burks J, Clise-Dwyer K, Wang RY, Zhang W, Yuan X, Lu H, Caldwell L, Andreeff M. Mesenchymal Stem Cells Overexpressing IFN-ß Inhibit Breast Cancer Growth and Metastases through Stat3 Signaling in a Syngeneic Tumor Model. Cancer Microenviron 3(1):83-95, 2010. PMCID: PMC2990497.
11.
Kanodia S, Wieder E, Lu S, Talpaz M, Alatrash G, Clise-Dwyer K, Molldrem JJ. PR1-Specific T cells Are Associated With Unmaintained Cytogentic Remission of Chronic Myelogenous Leukemia After Interferon Withdrawal. PLoS One 5(7):e11770, 2010. PMCID: PMC2909896.
12.
Tsukamoto H, Clise-Dwyer K, Huston GE, Duso DK, Buck AL, Johnson LL, Haynes L, Swain SL. Age-Associated Increase in Lifespan of Naive CD4 T Cells Contributes to T-Cell Homeostasis but Facilitates Development of Functional Defects. Proc Natl Acad Sci USA 106(43):18333-8, 10/2009. PMCID: PMC2759371.
13.
Fiegl M, Samudio I, Clise-Dwyer K, Burks JK, Mnjoyan Z, Andreeff M. CXCR4 Expression and Biologic Activity in Acute Myeloid Leukemia Are Dependent on Oxygen Partial Pressure. Blood 113(7):1504-12, 2/2009. PMCID: PMC2644078.
14.
Samudio I, Fiegl M, McQueen T, Clise-Dwyer K, Andreeff M. The Warburg Effect in Leukemia-Stroma Cocultures is Mediated by Mitochondrial Uncoupling Associated With Uncoupling Protein 2 Activation. Cancer Research 68(13):5198-205, 7/2008. PMCID: PMC2562568.
15.
Jones SC, Clise-Dwyer K, Huston G, Dibble J, Eaton S, Haynes L, Swain SL. Impact of Post-Thymic Cellular Longevity on the Development of Age-Associated CD4+ T Cell Defects. J Immunol 180(7):4465-75, 4/2008. PMCID: PMC2366213.
16.
Clise-Dwyer K, Huston GE, Buck AL, Duso DK, Swain SL. Environmental and Intrinsic Factors Lead to Antigen Unresponsiveness in CD4+ Recent Thymic Emigrants From Aged Mice. J Immunol 178(3):1321-31, 2/2007. PMID: 17237378.
17.
Harless SM, Lentz VM, Sah AP, Hsu BL, Clise-Dwyer K, Hilbert DM, Hayes CE, Cancro MP. Competition for BLyS-Mediated Signaling Through Bcmd/BR3 Regulates Peripheral B Lymphocyte Numbers. Curr Biol 11(24):1986-9, 12/2001. PMID: 11747827.
18.
Amanna IJ, Clise-Dwyer K, Nashold FE, Hoag KA, Hayes CE. Cutting Edge: A/WySnJ Transitional B Cells Overexpress the Chromosome 15 Proapoptitic Blk Gene and Succomb to Premature Apoptosis. J Immunol 167(11):6069-72, 12/2001. PMID: 11714762.
19.
Clise-Dwyer K, Amanna IJ, Duzeski JL, Nashold FE, Hayes CE. Genetic Studies of B-Lymphocyte Deficiency and Mastocytosis in Strain A/WySnJ Mice. Immunogenetics 53(9):729-35, 12/2001. PMID: 11862404.
20.
Hoag KA, Clise-Dwyer, K, Lim YH, Nashold FE, Gestwicki J, Cancro MP, Hayes CE. A Quantitative-Trait Locus Controlling Peripheral B-Cell Deficiency Maps to Mouse Chromosome 15. Immunogenetics 51(11):924-9, 9/2000. PMID: 11003386.

Invited Articles

1.
Swain S, Clise-Dwyer K, Haynes L. Homeostasis and the Age-Associated Defect of CD4 T cells. Semin Immunol 17(5):370-7, 10/2005. PMID: 15964201.
Grant & Contract Support
Title:
Cancer Center Support Grant
Funding Source:
NIH/NCI
Role:
Co-Leader
Principal Investigator:
DePinho
Duration:
7/1/2013 - 6/30/2018
Title:
The Therapy of CML, Immune Assessment Core (PC-E)
Funding Source:
NIH/NCI
Role:
Co-Investigator
Principal Investigator:
Champlin
Duration:
7/1/2011 - 6/30/2015
Title:
Azacitidine Maintenance Therapy After Allogeneic SCT for CML
Funding Source:
Celgene
Role:
Core Director
Principal Investigator:
de Lima
Duration:
5/8/2009 - 5/31/2012
Title:
Translational Development of Novel Vaccine Therapies
Funding Source:
Leukemia and Lymphoma Society
Role:
Core Director
Principal Investigator:
Kwak
Duration:
10/1/2007 - 9/30/2013