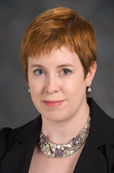 '
Karen C. Dwyer
Present Title & Affiliation
Primary Appointment
Assistant Professor, Department of Stem Cell Transplantation - Research, Division of Cancer Medicine, The University of Texas MD Anderson Cancer Center, Houston, TX
Office Address
The University of Texas MD Anderson Cancer Center
1515 Holcombe Blvd.
Unit Number: 900
Houston, TX 77030
Room Number: SCRB 1, 3.3015
Phone: 713-563-3322
Fax: 713-563-3364
Email: kcdwyer@mdanderson.org
Education & Training
Degree-Granting Education

2002
University of Wisconsin-Madison, Madison, WI, PHD, Biochemistry
1995
University of Massachusetts at Lowell, Lowell, MA, BS, Biological Sciences

Postgraduate Training

2002-2006

Research Fellowship, Trudeau Institute, Inc., Saranac Lake, NY, Susan Swain
Experience/Service
Administrative Appointments/Responsibilities
Director, SCRB Flow Cytometry and Cells Sorting Core Facility, Department of Stem Cell Transplantation - Research, Division of Cancer Medicine, The University of Texas MD Anderson Cancer Center, Houston, TX, 9/2008-present
Professional Memberships
American Association of Immunologists
Member, 2002-present
FlowTex: Texas Flow Cytometry Community
Educational Director, 2009-present
International Society for the Advancement of Cytometry
Member, 2008-present
Selected Publications
Peer-Reviewed Original Research Articles

1.
Sergeeva A, Alatrash G, He H, Ruisaard K, Lu S, Wygant J, McIntyre BW, Ma Q, Li D, St John L, Clise-Dwyer K, Molldrem JJ. An anti-PR1/HLA-A2 T cell receptor-like antibody mediates complement dependent cytotoxicity against acute myeloid leukemia progenitor cells. Blood 117(16):4262-72, 4/21/2011. e-Pub 2/4/2011. PMCID: PMC3087478.
2.
Ma Q, Wang C, Jones D, Quintanilla KE, Li D, Wang Y, Wieder ED, Clise-Dwyer K, Alatrash G, Mj Y, Munsell MF, Lu S, Qazilbash MH, Molldrem JJ. Adoptive transfer of PR1 cytotoxic T lymphocytes associated with reduced leukemia burden in a mouse acute myeloid leukemia xenograft model. Cytotherapy 12(8):1056-62, 12/2010. e-Pub 8/24/2010. PMCID: PMC3365857.
3.
Samudio IJ, Duvvuri S, Clise-Dwyer K, Watt JC, Mak D, Kantarjian H, Yang D, Ruvolo V, Borthakur G. Activation of p53 signaling by MI-63 induces apoptosis in acute myeloid leukemia cells. Leuk Lymphoma 51(5):911-9, 5/2010. PMID: 20423286.
4.
Ling X, Marini F, Konopleva M, Schober W, Shi Y, Burks J, Clise-Dwyer K, Wang RY, Zhang W, Yuan X, Lu H, Caldwell L, Andreeff M. Mesenchymal Stem Cells Overexpressing IFN-ß Inhibit Breast Cancer Growth and Metastases through Stat3 Signaling in a Syngeneic Tumor Model. Cancer Microenviron 3(1):83-95, 2010. e-Pub 3/19/2010. PMCID: PMC2990497.
5.
Kanodia S, Wieder E, Lu S, Talpaz M, Alatrash G, Clise-Dwyer K, Molldrem JJ. PR1-specific T cells are associated with unmaintained cytogenetic remission of chronic myelogenous leukemia after interferon withdrawal. PLoS One 5(7):e11770, 2010. e-Pub 7/26/2010. PMCID: PMC2909896.
6.
Tsukamoto H, Clise-Dwyer K, Huston GE, Duso DK, Buck AL, Johnson LL, Haynes L, Swain SL. Age-associated increase in lifespan of naive CD4 T cells contributes to T-cell homeostasis but facilitates development of functional defects. Proc Natl Acad Sci USA 106(43):18333-8, 10/2009. PMCID: PMCPMC2759371.
7.
Fiegl M, Samudio I, Clise-Dwyer K, Burks JK, Mnjoyan Z, Andreeff M. CXCR4 expression and biologic activity in acute myeloid leukemia are dependent on oxygen partial pressure. Blood 113(7):1504-12, 2/2009. PMCID: PMC2644078.
8.
Samudio I, Fiegl M, McQueen T, Clise-Dwyer K, Andreeff M. The warburg effect in leukemia-stroma cocultures is mediated by mitochondrial uncoupling associated with uncoupling protein 2 activation. Cancer Research 68(13):5198-205, 7/2008. PMCID: PMCPMC2562568.
9.
Jones SC, Clise-Dwyer K, Huston G, Dibble J, Eaton S, Haynes L, Swain SL. Impact of post-thymic cellular longevity on the development of age-associated CD4+ T cell defects. J Immunol 180(7):4465-75, 4/2008. PMCID: PMCPMC2366213.
10.
Clise-Dwyer K, Huston GE, Buck AL, Duso DK, Swain SL. Environmental and intrinsic factors lead to antigen unresponsiveness in CD4(+) recent thymic emigrants from aged mice. J Immunol 178(3):1321-31, 2/2007. PMID: 17237378.
11.
Harless SM, Lentz VM, Sah AP, Hsu BL, Clise-Dwyer K, Hilbert DM, Hayes CE, Cancro MP. Competition for BLyS-mediated signaling through Bcmd/BR3 regulates peripheral B lymphocyte numbers. Curr Biol 11(24):1986-9, 12/2001. PMID: 11747827.
12.
Amanna IJ, Clise-Dwyer K, Nashold FE, Hoag KA, Hayes CE. Cutting edge: A/WySnJ transitional B cells overexpress the chromosome 15 proapoptotic Blk gene and succumb to premature apoptosis. J Immunol 167(11):6069-72, 12/2001. PMID: 11714762.
13.
Clise-Dwyer K, Amanna IJ, Duzeski JL, Nashold FE, Hayes CE. Genetic studies of B-lymphocyte deficiency and mastocytosis in strain A/WySnJ mice. Immunogenetics 53(9):729-35, 12/2001. PMID: 11862404.
14.
Hoag KA, Clise-Dwyer K, Lim YH, Nashold FE, Gestwicki J, Cancro MP, Hayes CE. A quantitative-trait locus controlling peripheral B-cell deficiency maps to mouse Chromosome 15. Immunogenetics 51(11):924-9, 9/2000. PMID: 11003386.

Invited Articles

1.
Swain S, Clise-Dwyer K, Haynes L. Homeostasis and the age-associated defect of CD4 T cells. Semin Immunol 17(5):370-7, 10/2005. PMID: 15964201.
Grant & Contract Support
Title:
The Therapy of CML: Core E - GMP & Immune Assessment Core
Funding Source:
NIH/NCI
Role:
Co-Investigator
Principal Investigator:
Champlin
Duration:
8/1/2010 - 6/30/2015
Title:
Azacitidine Maintenance Therapy After Allogeneic SCT for CML
Funding Source:
Celgene
Role:
Core Co-Director
Principal Investigator:
de Lima
Duration:
5/8/2009 - 5/31/2012
Title:
Cancer Center Support Grant, Automated Flow Cytometry and Image Analysis Laboratory
Funding Source:
NIH/NCI
Role:
Core Co-Director
Principal Investigator:
DePinho
Duration:
7/1/2008 - 6/30/2012
Title:
Translational Development of Novel Vaccine Therapies
Funding Source:
Leukemia and Lymphoma Society
Role:
Core Director
Principal Investigator:
Kwak
Duration:
10/1/2007 - 9/30/2013
© 2010 The University of Texas M. D. Anderson Cancer Center