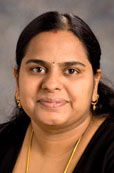 '
Khatri Latha, Ph.D
Present Title & Affiliation
Primary Appointment
Instructor, Department of Neurosurgery - Research, Division of Surgery, The University of Texas MD Anderson Cancer Center, Houston, TX
Education & Training
Degree-Granting Education

2001
University of Madras, Madras, Tamil Nadu, India, PHD, Biology (Microbiology)
1997
University of Madras, Madras, Tamil Nadu, India, Masters in Phiolosphy, Botany(Biology)
1995
University of Madras, Madras, Tamil Nadu, India, MS, Biology
1992
University of Madras, Madras, Tamil Nadu, India, BS, Biology

Postgraduate Training

7/2005-2007

Research Fellowship, Cancer Biology (Brain Tumor Centre), The University of Texas MD Anderson Cancer Center, Houston, TX, Dr. Oliver Bogler

11/2002-7/2005

Research Fellowship, Molecular and Cellular Biology, Baylor College of Medicine, Houston, TX, Dr.Ming Zhang

2/2001-11/2002

Research Fellowship, Biochemistry, University of Houston, Houston, TX, Dr. Michael Benedik
Honors and Awards
1998-2000

Senior Research Fellowship,

Council of Scientific and Industrial Research (CSIR) Government of India

1996-1998

Junior Research fellowship,

Department of Environment, Government of India
Selected Publications
Peer-Reviewed Original Research Articles

1.
Gururaj AE, Gibson L, Panchabhai S, Bai M, Manyam G, Lu Y, Latha K, Rojas ML, Hwang Y, Liang S, Bogler O. Access to the nucleus and functional association with c-Myc is required for the full oncogenic potential of ΔEGFR/EGFRvIII. J Biol Chem 288(5):3428-38, 2/1/2013. e-Pub 12/17/2012. PMCID: PMC3561561.
2.
Latha K, Li M, Chumbalkar V, Gururaj A, Hwang Y, Dakeng S, Sawaya R, Aldape K, Cavenee WK, Bogler O, Furnari FB. Nuclear EGFRvIII-STAT5b complex contributes to glioblastoma cell survival by direct activation of the Bcl-XL promoter. Int J Cancer 132(3):509-20, 2/1/2013. e-Pub 7/9/2012. PMCID: PMC3802533.
3.
Jeannine Garnett , Vaibhav Chumbalkar, Brian Vaillant , Anupama E. Gururaj , Kristen S. Hill , Khatri Latha, Jun Yao , Waldemar Priebe , Howard Colman , Lisa A. Elferink and Oliver Bogler. Regulation of HGF Expression by ΔEGFR-Mediated c-Met Activation in Glioblastoma Cells. Neoplasia 15(1):73-84, 1/2013. PMCID: PMC23359207.
4.
Hwang Y, Chumbalkar V, Latha K, Bogler O. Forced dimerization increases the activity of ?EGFR/EGFRvIII and enhances its oncogenicity. Mol Cancer Res 9(9):1199-208, 9/2011. e-Pub 7/20/2011. PMCID: PMC3175255.
5.
Chumbalkar V, Latha K, Hwang Y, Maywald R, Hawley L, Sawaya R, Diao L, Baggerly K, Cavenee WK, Furnari FB, Bogler O. Analysis of phosphotyrosine signaling in glioblastoma identifies STAT5 as a novel downstream target of ΔEGFR. J Proteome Res 10(3):1343-52, 3/4/2011. e-Pub 2/14/2011. PMCID: PMC3049961.
6.
Gwak HS, Shingu T, Chumbalkar V, Hwang YH, DeJournett R, Latha K, Koul D, Alfred Yung WK, Powis G, Farrell NP, Bögler O. Combined action of the dinuclear platinum compound BBR3610 with the PI3-K inhibitor PX-866 in glioblastoma. Int J Cancer 128(4):787-96, 2/15/2011. e-Pub 4/2010. PMCID: PMC2990813.
7.
Cella N, Contreras A, Latha K, Rosen JM, Zhang M. Maspin is physically associated with [beta]1 integrin regulating cell adhesion in mammary epithelial cells. FASEB J 20(9):1510-2, 7/2006. e-Pub 5/23/2006. PMID: 16720730.
8.
Latha K, Zhang W, Cella N, Shi HY, Zhang M. Maspin mediates increased tumor cell apoptosis upon induction of the mitochondrial permeability transition. Mol Cell Biol 25(5):1737-48, 3/2005. PMCID: PMC549349.
9.
Latha K, Lalithakumari D. Transfer and expression of a hydrocarbon degrading plasmid, pHCL from P. putida to marine bacteria. World Journal of Microbiology & Biotechnology 17(5):523-528, 2001.
10.
Hilda A, Manjula VK, Gopinath S, Latha K. Pathogenesis and protease activity in the mutants of Colletotrichum capsici. International Journal of Tropical Plant Diseases 14:73-83, 1996.
11.
Hilda A, Gopinath S, Latha K, Sivakumari J. Biodegradability of Oils and related substances. Biology Education 11(2):104-109, 1994.