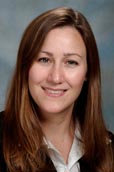 '
Kimberly Schluns, Ph.D.
Present Title & Affiliation
Primary Appointment
Associate Professor, Department of Immunology, The University of Texas MD Anderson Cancer Center, Houston, TX
Member, Graduate Faculty, The University of Texas Graduate School of Biomedical Sciences, Houston, TX
Office Address
The University of Texas MD Anderson Cancer Center
7455 Fannin Street
Unit Number: Unit 902
Houston, TX 77054
Room Number: SCR4.2021
Education & Training
Degree-Granting Education

1998
Loyola University, Maywood, IL, PHD, Cell Biology
1989
University of Illinois, Urbana-Champaign, IL, BS, Physiology

Postgraduate Training

12/1997-7/2004

Research Fellowship, University of Connecticut Health Center, Farmington, CT, Dr. Leo LeFrancois
Experience/Service
Academic Appointments
Member, Immunology Graduate Program, The University of Texas Graduate School of Biomedical Sciences, Houston, TX, 10/2004-present
Selected Publications
Peer-Reviewed Original Research Articles

1.
Anthony SM, Rivas SC, Colpitts SL, Howard ME, Stonier SW, Schluns KS. Inflammatory signals regulate IL-15 in response to lymphodepletion. 196(11):4544-52, 6/2016. e-Pub 4/2016. PMCID: PMC4875792.
2.
Singh S, Schluns KS, Yang G, Anthony SM, Barry MA, Sastry KJ. Intranasal Vaccination Affords Localization and Persistence of Antigen-Specific CD8 T Lymphocytes in the Female Reproductive Tract. Vaccines (Basel) 4(1), 2016. e-Pub 3/2016. PMID: 26999228.
3.
Huang X, Li J, Dorta-Estremera S, Di Domizio J, Anthony SM, Watowich SS, Popkin D, Liu Z, Brohawn P, Yao Y, Schluns KS, Lanier LL, Cao W. Neutrophils Regulate Humoral Autoimmunity by Restricting Interferon-γ Production via the Generation of Reactive Oxygen Species. Cell Rep 12(7):1120-32, 2015. PMCID: PMC4545388.
4.
Anthony SM, Howard ME, Hailemichael Y, Overwijk WW, Schluns KS. Soluble Interleukin-15 complexes are generated in vivo by type I Interferon dependent and independent pathways. PLoS One 10(3):e0120274, 2015. PMCID: PMC4354909.
5.
Puebla-Osorio N, Kim J, Ojeda S, Zhang H, Tavana O, Li S, Wang Y, Ma Q, Schluns KS, Zhu C. A novel Ku70 function in colorectal homeostasis separate from nonhomologous end joining. Oncogene 33(21):2748-57, 2014. PMID: 23752193.
6.
Singh S, Yang G, Schluns KS, Anthony SM, Sastry KJ. Sublingual vaccination induces mucosal and systemic adaptive immunity for protection against lung tumor challenge. PLoS One 9(3):e90001, 2014. PMCID: PMC3943861.
7.
Lee PH, Puppi M, Schluns KS, Yu-Lee LY, Dong C, Lacorazza HD. The Transcription Factor E74-Like Factor 4 Suppresses Differentiation of Proliferating CD4+ T Cells to the Th17 Lineage. J Immunol 192(1):178-88, 2014. PMCID: PMC3872250.
8.
Firth MA, Madera S, Beaulieu AM, Gasteiger G, Castillo EF, Schluns KS, Kubo M, Rothman PB, Vivier E, Sun JC. Nfil3-independent lineage maintenance and antiviral response of natural killer cells. J Exp Med 210(13):2981-90, 2013. PMCID: PMC3865482.
9.
Hailemichael Y, Dai Z, Jaffarzad N, Ye Y, Medina MA, Huang XF, Dorta-Estremera SM, Greeley NR, Nitti G, Peng W, Liu C, Lou Y, Wang Z, Ma W, Rabinovich B, Sowell RT, Schluns KS, Davis RE, Hwu P, Overwijk WW. Persistent antigen at vaccination sites induces tumor-specific CD8 T cell sequestration, dysfunction and deletion. Nat Med 19(4):465-72, 2013. PMCID: PMC3618499.
10.
Colpitts SL, Stonier SW, Stoklasek TA, Root SH, Aguila HL, Schluns KS, Lefrançois L. Transcriptional regulation of IL-15 expression during hematopoiesis. J Immunol 191(6):3017-24, 2013. PMCID: PMC3896262.
11.
Wang X, Zhang Y, Yang XO, Nurieva RI, Chang SH, Ojeda SS, Kang HS, Schluns KS, Gui J, Jetten AM, Dong C. Transcription of Il17 and Il17f is controlled by conserved noncoding sequence 2. Immunity 36(1):23-31, 2012. PMCID: PMC3270375.
12.
Ma W, Ortiz-Quintero B, Rangel R, McKeller MR, Herrera-Rodriguez S, Castillo EF, Schluns KS, Hall M, Zhang H, Suh WK, Okada H, Mak TW, Zhou Y, Blackburn MR, Martinez-Valdez H. Coordinate activation of inflammatory gene networks, alveolar destruction and neonatal death in AKNA deficient mice. Cell Res 21(11):1564-77, 2011. PMID: 21606955.
13.
Park HJ, Qin H, Cha SC, Sharma R, Chung Y, Schluns KS, Neelapu SS, Overwijk WW, Hwu P, Kwak LW. Induction of TLR4-dependent CD8+ T cell immunity by murine ß-defensin2 fusion protein vaccines. Vaccine 29(18):3476-82, 2011. PMID: 21382485.
14.
Roche CM, Smith A, Lindsey DR, Meher A, Schluns K, Arora A, Armitige LY, Jagannath C. The fbpA attenuated candidate vaccine from Mycobacterium tuberculosis, H37Rv primes for a stronger T-bet dependent Th1 immunity in mice. Tuberculosis (Edinb) 91 Suppl 1:S96-104, 2011. PMCID: PMC3248993.
15.
Frasca L, Stonier SW, Overwijk WW, Schluns KS. Differential mechanisms of memory CD8 T cell maintenance by individual myeloid cell types. J Leukoc Biol 88(1):69-78, 2010. PMCID: PMC2892527.
16.
Castillo EF, Acero LF, Stonier SW, Zhou D, Schluns KS. Thymic and peripheral microenvironments differentially mediate development and maturation of iNKT cells by IL-15 transpresentation. Blood 116(14):2494-503, 2010. PMCID: PMC2953886.
17.
Castillo EF, Stonier SW, Frasca L, Schluns KS. Dendritic cells support the in vivo development and maintenance of NK cells via IL-15 trans-presentation. J Immunol 183(8):4948-56, 2009. PMID: 19786554.
18.
Sikora AG, Jaffarzad N, Hailemichael Y, Gelbard A, Stonier SW, Schluns KS, Frasca L, Lou Y, Liu C, Andersson HA, Hwu P, Overwijk WW. IFN-alpha enhances peptide vaccine-induced CD8+ T cell numbers, effector function, and antitumor activity. J Immunol 182(12):7398-407, 2009. PMID: 19494262.
19.
Ma LJ, Acero LF, Zal T, Schluns KS. Trans-presentation of IL-15 by intestinal epithelial cells drives development of CD8alphaalpha IELs. J Immunol 183(2):1044-54, 2009. PMCID: PMC2706935.
20.
Stonier SW, Ma LJ, Castillo EF, Schluns KS. Dendritic cells drive memory CD8 T-cell homeostasis via IL-15 transpresentation. Blood 112(12):4546-54, 2008. PMCID: PMC2597127.
21.
Yang XO, Nurieva R, Martinez GJ, Kang HS, Chung Y, Pappu BP, Shah B, Chang SH, Schluns KS, Watowich SS, Feng XH, Jetten AM, Dong C. Molecular antagonism and plasticity of regulatory and inflammatory T cell programs. Immunity 29(1):44-56, 2008. PMCID: PMC2630532.
22.
Yang XO, Chang SH, Park H, Nurieva R, Shah B, Acero L, Wang YH, Schluns KS, Broaddus RR, Zhu Z, Dong C. Regulation of inflammatory responses by IL-17F. J Exp Med 205(5):1063-75, 2008. PMCID: PMC2373839.
23.
Yang XO, Pappu BP, Nurieva R, Akimzhanov A, Kang HS, Chung Y, Ma L, Shah B, Panopoulos AD, Schluns KS, Watowich SS, Tian Q, Jetten AM, Dong C. T helper 17 lineage differentiation is programmed by orphan nuclear receptors ROR alpha and ROR gamma. Immunity 28(1):29-39, 2008. PMCID: PMC2587175.
24.
Nurieva R, Yang XO, Martinez G, Zhang Y, Panopoulos AD, Ma L, Schluns KS, Tian Q, Watowich SS, Jetten AM, Dong C. Essential autocrine regulation by IL-21 in the generation of inflammatory T cells. Nature 448(7152):480-3, 2007. PMID: 17581589.
25.
Mercier GT, Nehete PN, Passeri MF, Nehete BN, Weaver EA, Templeton NS, Schluns KS, Buchl SS, Sastry KJ, Barry MA. Oral immunization of rhesus macaques with adenoviral HIV vaccines using enteric-coated capsules. Vaccine 25(52):8687-701, 2007. PMCID: PMC2225545.
26.
Stoklasek TA, Schluns KS, Lefrancois L. Combined IL-15/IL-15Ralpha immunotherapy maximizes IL-15 activity in vivo. J Immunol 177(9):6072-80, 2006. PMID: 17056533.
27.
Sandau MM, Schluns KS, Lefrancois L, Jameson SC. Cutting Edge:Transpresentation of IL-15 by bone marrow-derived cells necessitates expression of IL-15 and IL-15R alpha by the same cells. J Immunol 173(11):6537-41, 12/2004. PMID: 15557143.
28.
Schluns KS, Nowak EC, Cabrera-Hernandez A, Puddington L, Lefrancois L, Aguila HL. Distinct cell types control lymphoid subset development by means of IL-15 and IL-15 receptor alpha expression. Proc Natl Acad Sci U S A 101(15):5616-21, 2004. PMCID: PMC397446.
29.
Schluns KS, Klonowski KD, Lefrancois L. Trans-regulation of memory CD8 T-cell proliferation by IL-15Ralpha+ bone marrow-derived cells. Blood 103(3):988-94, 2004. PMID: 14512307.
30.
Schluns KS, Williams K, Ma A, Zheng X, Lefrancois L. Cutting Edge: Requirement for IL-15 in the generation of primary and memory antigen-specific CD8 T cells. J Immunol 168(10):4827-31, 2002. PMID: 11994430.
31.
D'Souza W, Schluns KS, Masopust D, Lefrancois L. Essential role of autocrine IL-2 in the regulation of antiviral extralymphoid CD8 T cell responses. J Immunol 168(11):5566-72, 2002. PMID: 12023352.
32.
Lefrancois L, Marzo AL, Masopust D, Schluns KS, Vezy V. Migration of primary and memory CD8 T cells. Adv Exp Med Biol 512:141-6, 2002. PMID: 12405198.
33.
Tsai SY, Schluns KS, Le PT, McNulty JA. TGF-beta1 and IL-6 expression in rat pineal gland is regulated by norepinephrine and interleukin-1beta. Histol Histopathol 16(4):1135-41, 2001. PMID: 11642733.
34.
Schluns KS, Kieper WC, Jameson SC, Lefrancois L. Interleukin-7 mediates the homeostasis of naive and memory CD8 T cells in vivo. Nat Immunol 1(5):426-32, 2000. PMID: 11062503.
35.
Kim SK, Schluns KS, Lefrancois L. Induction and visualization of mucosal memory CD8 T cells following systemic virus infection. J Immunol 163(8):4125-32, 10/1999. PMID: 10510347.
36.
Schober SL, Kuo CT, Schluns KS, Lefrancois L, Leiden JM, Jameson SC. Expression of the transcription factor lung Kruppel-like factor is regulated by cytokines and correlates with survival of memory T cells in vitro and in vivo. J Immunol 163(7):3662-7, 1999. PMID: 10490960.
37.
Schluns KS, Cook JE, Le PT. TGF-beta differentially modulates epidermal growth factor-mediated increases in leukemia-inhibitory factor, IL-6, IL-1 alpha, and IL-1 beta in human thymic epithelial cells. J Immunol 158(6):2704-12, 1997. PMID: 9058804.
38.
Schluns KS, Grutkoski PS, Cook JE, Engelmann GL, Le PT. Human thymic epithelial cells produce TGF-beta 3 and express TGF-beta receptors. Int Immunol 7(10):1681-90, 1995. PMID: 8562514.
39.
de Lanerolle P, Gorgas G, Li X, Schluns KS. Myosin light chain phosphorylation does not increase during yeast phagocytosis by macrophages. J Biol Chem 268(23):16883-6, 1993. PMID: 8349578.

Invited Articles

1.
Anthony SM, Schluns KS. Emerging roles for IL-15 in the activation and function of T cells during immune stimulation. Research and Reports in Biology. e-Pub 3/2015.
2.
Castillo EF, Schluns KS. Regulating the immune system via IL-15 transpresentation. Cytokine 59(3):479-90, 9/2012. PMCID: PMC3422378.
3.
Stonier SW, Schluns KS. Trans-presentation: A novel mechanism regulating IL-15 delivery and responses. Immunol Lett (*most cited article published since 2010) 127(2):85-92, 2010. PMCID: PMC2808451.
4.
Overwijk WW, Schluns KS. Functions of gammaC cytokines in immune homeostasis: current and potential clinical applications. Clin Immunol (*Cover Illustration) 132(2):153-65, 2009. PMID: 19428306.
5.
Schluns KS, Stoklasek T, Lefrancois L. The roles of interleukin-15 receptor alpha: trans-presentation, receptor component, or both? Int J Biochem Cell Biol 37(8):1567-71, 2005. PMID: 15896666.
6.
Schluns KS, Lefrancois L. Cytokine control of memory T-cell development and survival. Nat Rev Immunol 3(4):269-79, 4/2003. PMID: 12669018.

Editorials

1.
Schluns KS, Klonowski KD. Protecting the borders: tissue-resident memory T cells on the front line. Front Immunol 6:90, 2015. PMCID: PMC4347502.
2.
Schluns KS. Window of opportunity for daclizumab. Nat Med doi: 10.1038/nm0511-545(5):545-7, 5/2011. PMID: 21546970.

Book Chapters

1.
de Lanerolle P, Gorgas G, Dezso B, Schluns KS, Wilson AK. Role of myosin phosphorylation in smooth muscle and macrophage signaling. In: Signal Transduction in Lung Cells, Lung biology in health and disease series. 65. Ed(s) JS Brody, DM Center, VA Tkachuk. M Dekker: New York, 1993.
Grant & Contract Support
Title:
Regulation of infiltration and function of tumor-resident CD8 T cells by IL-15
Funding Source:
Cancer Prevention & Research Institute of Texas (CPRIT)
Role:
Principal Investigator
Duration:
3/1/2016 - 2/28/2019
Title:
Generating a model system to elucidate in vivo functions of soluble IL-15 complexes
Funding Source:
NIH/NIAID
Role:
Principal Investigator
Duration:
2/15/2016 - 2/14/2018
Title:
STING stimulation of IL-15: Bridging inflammatory signals to enhanced adaptive immunity
Funding Source:
UTMDACC-CIC Seed Funding
Role:
Principal Investigator
Duration:
5/15/2015 - 5/14/2016