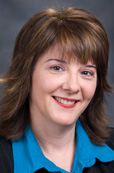 '
Kristen J. Price, M.D., FCCP
Present Title & Affiliation
Primary Appointment
Professor, Department of Critical Care, Division of Anesthesiology and Critical Care, The University of Texas MD Anderson Cancer Center, Houston, TX
Department Chair, Department of Critical Care, Division of Anesthesiology and Critical Care, The University of Texas MD Anderson Cancer Center, Houston, TX
Research Interests
Dr. Price's research is aimed at better predicting outcomes for cancer patients requiring admission to the critical care unit and to better allocate resources for each patient.
Education & Training
Degree-Granting Education

1985
Louisiana State University School of Medicine, New Orleans, LA, MD, Medicine
1981
University of Tampa, Tampa, FL, BS, Marine Science / Biology
Board Certifications
| | |
| --- | --- |
| 1997 | Critical Care Medicine |
| 1994 | Pulmonary Medicine |
| 1989 | American Board of Internal Medicine |
Experience/Service
Academic Appointments
Assistant Professor, Department of Critical Care, Division of Anesthesiology and Critical Care, The University of Texas Medical School at Houston, Houston, TX, 9/2011-present
Administrative Appointments/Responsibilities
Deputy Department Chair, Department of Critical Care, Division of Anesthesiology and Critical Care, The University of Texas M. D. Anderson Cancer Center, Houston, TX, 9/2003-10/2004
Medical Director, Respiratory Care, The University of Texas MD Anderson Cancer Center, Houston, TX, 2001-2014
Consultantships
Consultant, MD Anderson - Banner Health, Arizona, 11/2011-present
Institutional Committee Activities
Member, Making Cancer History Patient Care Award Committee, 3/2015-present
Member, Advanced Care Planning Committee, 9/2014-present
Member, Quality Improvement Assessment Board (QIAB) Committee, 1/2011-present
Member, Emergency Medicine Chair Search, 10/2010-10/2011
Member, 24-Hour Task Force/ Admissions Review Steering Committee, 8/2010-present
Member, 24-Hour Coverage Task Force, 2010
Member, EC Task Force, 5/2009-5/2010
Member, Patient Safety Committee, 1/2009-2015
Member, Research and Publications Committee, 2007-present
Member, ICU Operations Committee, 2005-present
Chair, ICU Best Practice Committee, 2005-present
Member, Acute & Critical Care Subcommittee, 1/2003-present
Member, Critical Care Research Group, 1/2000-present
Chair, ICU Operations Committee, 1/2000-2005
Honors and Awards
1986

Resident of the Year,

The University of Texas Health Science Center Faculty and House Staff

1981

Outstanding Female Graduate,

The University of Tampa Faculty

1981

Who's Who Among American College Students
Selected Publications
Peer-Reviewed Original Research Articles

1.
Rathi N, Tanner AR, Dong W, Feng L, Ensor J, Wallace SK, Haque S, Rondon G, Price K, Popat U, Nates JL. Low, Medium and High Dose Steroids with or without Aminocaproic Acid in Adult Hematopoietic Stem Cell Transplant Patients with Diffuse Alveolar Hemorrhage. Bone Marrow Transplantation. In Press.
2.
Wallace SK, Waller DK, Tilley BC, Piller LB, Price KJ, Rathi N, Haque S, Nates JL. Place of Death among Hospitalized Patients with Cancer at the End of Life. J Palliat Med. e-Pub 4/2015. PMID: 25927588.
3.
Rathi NK, Tanner AR, Dinh A, Dong W, Feng L, Ensor J, Wallace SK, Haque SA, Rondon G, Price KJ, Popat U, Nates JL. Low-, medium- and high-dose steroids with or without aminocaproic acid in adult hematopoietic SCT patients with diffuse alveolar hemorrhage. Bone Marrow Transplant 50(3):420-6, 3/2015. e-Pub 12/2014. PMID: 25531284.
4.
Bayraktar UD, Shpall EJ, Liu P, Ciurea SO, Rondon G, de Lima M, Cardenas-Turanzas M, Price KJ, Champlin RE, Nates JL. Hematopoietic Cell Transplantation-Specific Comorbidity Index Predicts Inpatient Mortality and Survival in Patients Who Received Allogeneic Transplantation Admitted to the Intensive Care Unit. J Clin Oncol. e-Pub 10/2013. PMID: 24127454.
5.
Price KJ, Cardenas-Turanzas M, Lin H, Roden L, Nigam R, Nates JL. Prognostic indicators of mortality of mechanically ventilated patients with acute leukemia in a comprehensive cancer center. Minerva Anestesiol 79(2):147-55, 2/2013. e-Pub 10/2012. PMID: 23032926.
6.
Lahoti A, Nates JL, Wakefield CD, Price KJ, Salahudeen AK. Costs and outcomes of acute kidney injury in critically ill patients with cancer. J Support Oncol 9(4):149-55, Jul-Aug, 7/2011. PMID: 21809520.
7.
Aravindan N, Cata JP, Hoffman L, Dougherty PM, Riedel BJ, Price KJ, Shaw AD. Effects of isoflurane, pentobarbital, and urethane on apoptosis and apoptotic signal transduction in rat kidney. Acta Anaesthesiol Scand 50:1229-37, 11/2006. PMID: 16978161.
8.
Nates JL, Aravindan N, Hirsh-Ginsberg C, Sizer KC, Kee S, Nguyen AT, Chen K, Shaw AD,Price KJ. Critically ill cancer patients are not consistently hypercoagulable after craniotomy. Critical Care Medicine 33(12):A104, 2005.
9.
Groeger JS, Glassman J, Nierman DM, Wallace SK, Price K, Horak D, Landsberg D. Probability of mortality of critically ill cancer patients at 72 h of intensive care unit (ICU) management. Support Care Cancer 11(11):686-95, 11/2003. e-Pub 8/2003. PMID: 12905057.
10.
Hanna HA, Raad II, Hackett B, Wallace SK, Price KJ, Coyle DE, Parmley CL, M.D. Anderson Catheter Study Group. Antibiotic-impregnated catheters associated with significant decrease in nosocomial and multidrug-resistant bacteremias in critically ill patients. Chest 124(3):1030-8, 9/2003. PMID: 12970034.
11.
Ewer MS, Kish SK, Martin CG, Price KJ, Feeley TW. Characteristics of cardiac arrest in cancer patients as a predictor of survival after cardiopulmonary resuscitation. Cancer 92:1905-12, 10/2001. PMID: 11745264.
12.
Price KJ, Kish SK. End-of-life decisions in cancer care. Crit Care Clin 17:805-11, 7/2001. PMID: 11525059.
13.
Escalante CP, Martin CG, Elting LS, Price KJ, Manzullo EF, Weiser MA, Harle TS, Cantor SB, Rubenstein EB. Identifying risk factors for imminent death in cancer patients with acute dyspnea. J Pain Symptom Manage 20(5):318-25, 11/2000. PMID: 11068153.
14.
Groeger JS, White P, Jr, Nierman DM, Glassman J, Shi W, Horak D, Price K. Outcome for cancer patients requiring mechanical ventilation. J Clin Oncol 17:991-7, 3/1999. PMID: 10071294.
15.
Price KJ, Thall PF, Kish SK, Shannon VR, Andersson BS. Prognostic indicators for blood and marrow transplant patients admitted to an intensive care unit. Am J Respir Crit Care Med 158:876-84, 9/1998. PMID: 9731020.
16.
Kilbourn R, Fonseca G, Griffith O, Ewer MS, Price K, Strieger A, Jones E, Logothetis C. NG-methl-l-arginine, an inhibitor of nitric oxide synthase that reverses interleukin-2 induced hypotension. Critical Care Medicine 23:1018-24, 1995.
17.
Gutierrez G, Clark C, Brown S, Price K, Ortiz L, Nelson C. The effects of dobutamine on arterial lactate and gastric mucosal ph in septic patients. Respiratory Critical Care Medicine 150:324-329, 1994.