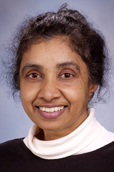 '
Lalitha Nagarajan, Ph.D.
Present Title & Affiliation
Primary Appointment
Associate Professor, Department of Genetics, The University of Texas MD Anderson Cancer Center, Houston, TX
Dual/Joint/Adjunct Appointment
Associate Professor, Department of Leukemia, Division of Cancer Medicine, The University of Texas MD Anderson Cancer Center, Houston, TX
Associate Professor, The University of Texas Graduate School of Biomedical Sciences, Houston, TX
Research Interests
Malignancies
Stem cell
Mouse models and targeted therapies
Molecular mechanisms underlying normal growth and differentiation are altered in cancer. Activation of growth-promoting genes and inactivation of differentiation and growth-arrest genes represent important steps in the evolution of a malignant clone. Normal blood cell formation and leukemia offer attractive systems for understanding malignant transformation because of the well-defined stages of blood cell maturation, the distinct subsets found in normal circulation and the recurrent chromosomal alterations in leukemia. The clinical outcome of leukemic patients is tightly correlated with chromosomal abnormalities. Our goal is to establish how the normal pathways of hematopoietic growth arrest and differentiation are perturbed during malignant transformation. The research in my laboratory focuses on two major areas: deletions and translocations of chromosome 5q and the SMAD5 pathway in hematopoiesis and leukemia. Anomalies of chromosome 5q are associated with poor prognosis in leukemia patients, suggesting that loss of regulatory genes from these loci facilitate malignant transformation. Recent work in our laboratory resulted in the isolation of a novel regulatory gene, SSDP2, that is disrupted in human leukemia. Current studies focus on understanding the functional consequence of this disruption. The SMAD5 gene, a transcriptional coactivator that transduces signals from the BMP family of peptides mediates commitment to hematopoietic differentiation in lower organisms. However, very little is known about this pathway in humans. We are interested in identifying target genes that are regulated by SMAD5 and determining how they in turn give rise to the multiple differentiated cell types found in human blood.
View a complete list of Dr. Nagarajan's publications.
Visit Dr. Nagarajan's Lab Website.
Office Address
The University of Texas MD Anderson Cancer Center
Department of Genetics Unit 1010
1515 Holcombe Blvd.
Houston, TX 77030
Room Number: S14.8316A
Phone: (713) 834-6367
Email: lnagaraj@mdanderson.org
Education & Training
Degree-Granting Education

1977
University of Madras, India, India, PHD, Biochemistry

Postgraduate Training

1983-1988

Associate Scientist, The Wistar Institute of Anatomy and Biology, Philadelphia, PA, Drs. Carlo Croce and Kay Huebner

1979-1983

Post Doctoral Fellow, Laboratory of Pathophysiology, NCI, NIH, Bethesda, MD, Dr. Wayne Anderson
Selected Publications
Peer-Reviewed Original Research Articles

1.
Zhong A, Ma H, Taniguchi-Ishigaki N, Nagarajan L, Becker CG, Bach I and Becker T. SSDP cofactors regulate neural patterning and differentiation of specific axonal projections. Dev Biology 349:213-224, 2011. PMCID: PMC3019294.
2.
Wang Y, Klumpp S, Amin HM, Liang H, Li J, Estrov Z, Zweidler-McKay P, Brandt SJ, Agulnick A and Nagarajan L. SSBP2 is an in vivo tumor suppressor and regulator of LDB1 stability. Oncogene 27(29(21)):3044-3053, 5/2010. PMCID: PMC2878399.
3.
Fleisig H, Liang H and Nagarajan L. Adenoviral oncoprotein E1B55K mediates colocalization of SSBP2 and PML in response to stress. J Mol Signaling 5:6, 2010. PMCID: PMC2896343.
4.
Liang H, Samanta S, Nagarajan L. SSBP2, a candidate tumor suppressor gene induces growth arrest and differentiation of myeloid leukemia cells. Oncogene 24(16):2625-2634, 4/2005. PMID: 15782145.
5.
Hejlik D, Nagarajan L. 5q deletion in myeloid leukemia cells HL60: An L1 element mediated instability. Cancer Genet Cytogenet 156:97-103, 2005. PMID: 15642388.
6.
Guo W, Chan AP, Liang H, Wieder ED, Molldrem JJ, Etkin LD, Nagarajan L. A human mix-like homeobox gene MIXL shows functional similarity to Xenopus Mix.1. Blood 100:89-95, 7/2002. PMID: 12070013.
7.
Castro P, Liang H, Liang JC, Nagarajan L. A novel, evolutionarily conserved gene family with putative sequence-specific single-stranded DNA-binding activity. Genomics 80(1):78-85, 7/2002. PMID: 12079286.
8.
Jiang YF, Liang H, Guo W, Kottickal LV, Nagarajan L. Differential expression of a novel C-terminally truncated splice form of SMAD5 in hematopoietic stem cells and leukemia. Blood 95:3945-50, 2000. PMID: 10845932.
© 2014 The University of Texas MD Anderson Cancer Center