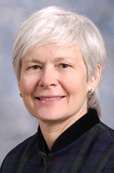 '
Lauren A. Langford, MD, PhD
Present Title & Affiliation
Primary Appointment
Professor, Department of Pathology/Laboratory Medicine, Division of Pathology/Lab Medicine, The University of Texas MD Anderson Cancer Center, Houston, TX
Dual/Joint/Adjunct Appointment
Clinical Assistant Professor, Neurology and Pathology, The University of Texas Health Science Center, Houston, TX
Education & Training
Degree-Granting Education

1986
Julius Maximilian Universität, Würzburg, Germany, PhD, Neuroanatomy
1978
University of Texas Medical Branch, Galveston, TX, MD, Medicine

Postgraduate Training

1986-1987

Research Fellowship, Anatomy and Neurobiology, Washington University School of Medicine, St. Louis, MO

1985-1986

Clinical Residency, Neuropathology, Washington University School of Medicine, St. Louis, MO

1983-1985

Clinical Residency, Anatomic, Surgical, and Neuropathology, University of Texas Medical Branch, Galveston, TX

1982-1983

Neuroanatomy/Neurophysiology, Physiologisches Institut zu Julius Maximilian Universität, Würzburg, Germany, Prof. Dr. Dr. Robert F. Schmidt

1981-1982

Research Fellowship, Wissentlischaftler Assistant in and recipient of Alexander von Humboldt Stiftung, Physiologisches Institut der Universität Kiel, Germany, Germany, Prof. Dr. Dr. Robert F. Schmidt

1979-1981

Clinical Residency, Liaison Psychiatry to Internal Medicine, University of Texas Medical Branch, Galveston, TX

1978-1979

Clinical Internship, Psychiatry, University of Texas Medical Branch, Galveston, TX
Board Certifications
2014

American Board of Pathology/Neuropathology (Recertification), Recertification Date:

2014

1997

America Board of Pathology/Neuropathology (Recertification), Recertification Date:

1997

1988

Diplomate American Board of Pathology, Anatomic Pathology
Selected Publications
Peer-Reviewed Original Research Articles

1.
George AA, Fuller GN, Langford LA, Simon CD, Zingalis AA, Mathis DA. Unusual presentation of a granular cell astrocytoma. Histopathology 63(6):883-5, 12/2013. e-Pub 9/2013. PMID: 24102930.
2.
Munoz J, Kumar VA, Hamilton J, Pasche LJ, Langford LA, Taggart MW, Kamiya-Matsuoka C, Tummala S, Moulder S, Kurzrock R. Posterior Reversible Encephalopathy Syndrome: More Than Meets the Eye. J Clin Oncol 31(20):e360-3, 7/2013. e-Pub 6/2013. PMID: 23733774.
3.
Joggerst KH, Langford LA, Williams MD. Aggressive Meningiomas Involving the Parotid Gland. Ann Diagn Pathol 16(2):85-90, 4/2012. e-Pub 11/4/2011. PMID: 22056040.
4.
Shonka NA, Armstrong TS, Prabhu SS, Childress A, Choi S, Langford LA, Gilbert MR. Atypical teratoid/rhabdoid tumors in adults: a case report and treatment-focused review. J Clin Med Res 3(2):85-92, 4/2011. PMID: 21811535.
5.
Wu J, Langford LA, Schellingerhout D, Guha-Thakurta N, Tummala S, Weinberg JS, Puduvalli VK. Progressive multifocal leukoencephalopathy in a patient with glioblastoma. J Neurooncol. e-Pub 12/2010. PMID: 21120583.
6.
Bashir Q, Langford LA, Parmar S, Champlin RE, Qazilbash MH. Primary Systemic Amyloid Light Chain Amyloidosis Decompensating After Filgrastim-Induced Mobilization and Stem-Cell Collection. J Clin Oncol. e-Pub 11/2010. PMID: 21060030.
7.
Takei H, Adesina AM, Mehta V, Powell SZ, Langford LA. Atypical teratoid/rhabdoid tumor of the pineal region in an adult. J Neurosurg 113(2):374-9, 8/2010. e-Pub 11/2009. PMID: 19911885.
8.
Subbiah V, Huff V, Wolff JE, Ketonen L, Lang FF, Stewart J, Langford L, Herzog CE. Bilateral gonadoblastoma with dysgerminoma and pilocytic astrocytoma with WT1 GT-IVS9 mutation: A 46 XY phenotypic female with Frasier syndrome. Pediatr Blood Cancer 53(7):1349-51, 12/2009. e-Pub 8/2009. PMID: 19653292.
9.
Subramony SH, Nguyen TV, Langford L, Lin X, Parent AD, Zhang J. Identification of a new form of autosomal dominant spastic paraplegia. Clin Genet 76(1):113-6, 7/2009. e-Pub 6/2009. PMID: 19519683.
10.
Dagnew E, Langford LA, Langford FF, DeMonte F. Papillary, keratin positive pineal region neoplasms. Report of 3 cases of a newly described clinicopathologic entity. Neurosurgery 60(5):E953-5, 5/2007.
11.
Colman H, Giannini C, Huang L, Gonzalez J, Hess K, Bruner J, Fuller G, Langford L, Pelloski C, Aaron J, Burger P, Aldape K. Assessment and prognostic significance of mitotic index using the mitosis marker phospho-histone H3 in low and intermediate-grade infiltrating astrocytomas. Am J Surg Pathol 30(5):657-64, 5/2006. PMID: 16699322.
12.
Steck PA, Pershouse MA, Jasser SA, Yung WK, Ligon AH, Langford LA, Baumgard ML, Hattier T, Davis T, Frye C, Hu R, Swedlund B, Teng DH, Tavtigian SV. Identification of a candidate tumour suppressor gene, MMAC1, at chromosome 10q23.3 that is mutated in multiple advanced cancers. Nat Genet 15(4):356-62, 4/1997. PMID: 9090379.
13.
Teng, Hu R, Lin H, Davis T, Iliev D, Frye C, Swedlund B, Hansen KL, Vinson VL, Gumpper KL, Ellis L, El-Naggar A, Frazier M, Jasser S, Langford LA, Lee J, Mills GB, Pershouse MA, Pollack RE, Tornos C, Troncoso P, Yung WKA, Fujii G, Berson A, Steck PA, et al. MMAC1/PTEN mutations in primary tumor specimens and tumor cell lines. Cancer Research 23:5221-5, 1997.
14.
Langford LA, Coggeshall RE. Unmyelinated axons in the posterior funiculi. Science 211(4478):176-7, 1/1981. PMID: 7444459.