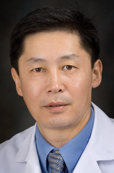 '
Lei Li, Ph.D.
Present Title & Affiliation
Primary Appointment
Hubert L and Oliver Stringer Professor of Cancer Research and Treatment, Department of Experimental Radiation Oncology, Division of Radiation Oncology, The University of Texas MD Anderson Cancer Center, Houston, TX
Dual/Joint/Adjunct Appointment
Professor, Department of Genetics, The University of Texas MD Anderson Cancer Center, Houston, TX
Research Interests
The core objective of my research has been to understand components and molecular mechanisms critical for the safe-guarding of genomic integrity. I am interested in repair of complex DNA lesions and related regulatory mechanisms and their translational implications in cancer therapy. Our efforts are focused in two areas. The first area of focus is genetic instability syndromes that exhibit high predisposition to cancer. Many of these syndromes are direct consequences from deficient DNA damage repair or signaling. Currently, we are investigating the Fanconi anemia pathway and repair of DNA interstrand crosslink and DNA-protein crosslinks. Efforts by my laboratory over the years have led to the discovery of a recombination-independent repair mechanism of DNA crosslinks and to the functional dissection of the Fanconi anemia pathway. Our main approach is creating human genetic models for the interrogation of gene functions and for the elucidation of molecular connections.
The second area of focus is translational implications of DNA damage response. We are constructing proteomic and protein modification profiles from cells exposed to therapeutic modalities including radiation, nucleoside analogous (such as 5-FU), and DNA crosslinkers (such as cisplatin). The objectives are to identify genetic determinants of cell survival against clinical-relevant DNA damaging agents and to reveal the synergistic mechanism between radiation and DNA alkylating drugs.
Education & Training
Degree-Granting Education

1989
Beijing University Medical School, Shanghai Institute of Biochemistry, Academia Sinica, Beijing, China, PHD, Molecular Biology
1984
Beijing University, Beijing, China, BS, Biochemistry
Experience/Service
Academic Appointments
Associate Professor (tenured), Department of Experimental Radiation Oncology, Division of Radiation Oncology, U T M. D. Anderson Cancer Center, Houston, TX, 2003-2009
Member, Graduate School of Biomedical Sciences, U T Health Science Center at Houston, Houston, 1998-present
Assistant Professor, Department of Genetics, U T M. D. Anderson Cancer Center, Houston, TX, 1997-2003
Assistant Professor (tenure track), Department of Experimental Radiation Oncology, Division of Radiation Oncology, U T M. D. Anderson Cancer Center, Houston, TX, 1997-2003
Selected Publications
Peer-Reviewed Original Research Articles

1.
Jin-Na Min, Yanyan Tian, Yang Xiao, Ling Wu, Lei Li, Sandy Chang. The mINO80 chromatin remodeling complex is required for efficient telomere replication and maintenance of genome stability. Cell Research 23(12):1396-1413, 12/2013. e-Pub 8/2013.
2.
Wang Y, Han X, Wu F, Leung JW, Lowery MG, Do H, Chen J, Shi C, Tian C, Li L, Gong W. Structure Analysis of FAAP24 Reveals Single Stranded DNA Binding Activity and Domain Functions in DNA Damage Response. Cell Res 23(10):1215-1228, http://dx.doi.org/10.1038/cr.2013.124, 10/2013. e-Pub 9/3/2013. PMCID: PMC3790240.
3.
Wang ML, Rule S, Martin P, Goy A, Auer R, Kahl BS, Jurczak W, Advani RH, Romaguera JE, Williams ME, Barrientos JC, Chmielowska E, Radford J, Stilgenbauer S, Dreyling M, Wieslaw WJ, Johnson P, Spurgeon SE, Lei L, Zhang L, Newberry K, Ou Z, Cheng N, Fang B, McGreivy J, Clow F, Buggy J, Chang B, Beaupre D, Kunkel L, Blum K. Targeting Bruton's Tyrosine Kinase with Ibrutinib in Relapsed/Refractory Mantle Cell Lymphoma. New England Journal of Medicine 369:507-516, 8/2013. e-Pub 6/2013.
4.
Wang Y, Leung JW, Jiang Y, Lowery MG, Do H, Vasquez KM, Chen J, Wang W, Li L. FANCM and FAAP24 maintain genome stability via cooperative as well as unique functions. Mol Cell 49(5):997-1009, 3/7/2013. e-Pub 1/17/2013. PMCID: PMC3595374.
5.
Zhijiang Y, Guo R, Paramasivam M, Shen W, Fox D, Ling C, Wang Y, Oostra A, Kuehl J, Duck-Yeon L, Takata M, Hoatlin M, Schindler D, Joenje H, de Winter J, Li L, Seidman M, Wang W. A novel ubiquitin-binding protein links RNF8-mediated ubiquitination to the Fanconi anemia DNA Repair network. Molecular Cell 47(1):61-75, 3/2012. PMCID: PMC3398238.
6.
Chen H, You MJ, Jiang Y, Wang W, Li L. RMI1 Attenuates tumor development and is essential for early embryonic survival. Mol Carcinog 99(6). e-Pub 11/23/2010. PMID: 21104988.
7.
Jiang Y, Wang X, Bao S, Guo R, Johnson DG, Shen X, Li L. INO80 chromatin remodeling complex promotes the removal of UV lesions by the nucleotide excision repair pathway. Proc Natl Acad Sci U S A 107(40):17274-9, 10/2010. e-Pub 9/2010. PMCID: PMC2951448.
8.
Xu D, Muniandy P, Leo E, Yin J, Thangavel S, Shen X, Ii M, Agama K, Guo R, Fox D, Meetei AR, Wilson L, Nguyen H, Weng NP, Brill SJ, Li L, Vindigni A, Pommier Y, Seidman M, Wang W. Rif1 provides a new DNA-binding interface for the Bloom syndrome complex to maintain normal replication. EMBO J 29(18):3140-55, 9/2010. e-Pub 8/2010. PMCID: PMC2944062.
9.
Shen X, Li L. Mutagenic Repair of DNA Interstrand Crosslinks. Environ Mol Mutagen 51(6):493-9, 7/2010. e-Pub 3/2010. PMCID: PMC2892553.
10.
Yan Z, Delannoy M, Ling C, Daee D, Osman F, Muniandy PA, Shen X, Oostra AB, Du H, Steltenpool J, Lin T, Schuster B, Décaillet C, Stasiak A, Stasiak AZ, Stone S, Hoatlin ME, Schindler D, Woodcock CL, Joenje H, Sen R, de Winter JP, Li L, Seidman MM, Whitby MC, Myung K, Constantinou A, Wang W. A histone-fold complex and FANCM form a conserved DNA-remodeling complex to maintain genome stability. Mol Cell 37(6):865-78, 3/2010. PMCID: PMC2847587.
11.
Bu W, Xin L, Toneff M, Li L, Li Y. Lentivirus vectors for stably introducing genes into mammary epithelial cells in vivo. J Mammary Gland Biol Neoplasia 14(4):401-4, 12/2009. e-Pub 11/2009. PMID: 19936990.
12.
Shen X, Do H, Li Y, Chung W-H, Tomasz M, deWinter JP, Xia B, Elledge SJ Wang W, Li L. Recruitment of Fanconi anemia and breast cancer proteins to DNA damage sites is differentially governed by replication. Mol Cell 35(5):716-23, 9/2009. PMCID: PMC2758766.
13.
Bae JB, Mukhopadhyay SS, Liu L, Zhang N, Tan J, Akhter S, Liu X, Shen X, Li L, Legerski RJ. Snm1B/Apollo mediates replication fork collapse and S Phase checkpoint activation in response to DNA interstrand cross-links. Oncogene 27(37):5045-5056, 8/2008. e-Pub 5/2008. PMCID: PMC2805112.
14.
Zhang N, Liu X, Li L, Legerski R. Double-strand breaks induce homologous recombinational repair of interstrand cross-links via cooperation of MSH2, ERCC1-XPF, REV3, and the Fanconi anemia pathway. DNA Repair (Amst) 6(11):1670-1678, 11/2007. e-Pub 7/2007. PMCID: PMC2586762.
15.
Wang X, Zou L, Lu T, Bao S, Hurov KE, Hittelman WN, Elledge SJ, Li L. Rad17 phosphorylation is required for claspin recruitment and Chk1 activation in response to replication stress. Mol Cell 23:331-41, 8/2006. PMID: 16885023.
16.
Wu, L, Ou, J, Xu, C, Yin, J, Chang, M, Wang, W, Li, L, Brown, GW, Hickson, I. BLAP75/RMI1 promotes the BLM-dependent dissolution of homologous recombination intermediates. Proc Natl Acad Sci U S A 103:4068-4073, 2006. PMCID: PMC1449647.
17.
Zhen, HY, Wang, X, Legerski, RJ, Glazer, PM, Li, L. Repair of DNA Interstrand cross-links: Interactions between homology-dependent and homology-independent pathways. DNA Repair 5:566-574, 2006.
18.
Shen, X, Jun, S, O'Neal, LE, Sonod, E, Bemark, M, Sale, E, Li, L. REV3 and REV1 play major roles in recombination-independent repair of DNA interstrand cross-links mediated by monoubiquitinated proliferating cell nuclear antigen (PCNA). J Biol Chem 281:13869-13872, 2006.
19.
Yin, J, Sobeck, A, Xu, C, Meetei, AR, Hoatlin, M, Li, L, Wang, W. BLAP75, an Essential Component of Bloom Syndrome Protein Complexes that Maintain Genome Integrity. EMBO Journal 24:1465-1476, 2005. PMCID: PMC1152546.
20.
Wang, X, Zou, Lee, Zheng, H, Wei, Q, Elledge, SJ, Li, L. Genomic Instability and Endoreduplication Triggered by RAD17 Deletion. Genes & Development 17:965-970, 2003.

Invited Articles

1.
Lei Li. BRCA1 forks over new roles in DNA-damage response- before and beyond the breaks. Molecular Cell 44(2):235-51, 10/2011. PMCID: PMC22017867.

Book Chapters

1.
Li L. Nucleotide excision repair. In: Encyclopedia of the Molecular Life Sciences. Ed(s) IR Lehman. Springer-ASMB. In Press.
2.
Wang Y and Li L. Detecting recruitment of DNA damage response factors to stalled DNA replication fork through the eChIP approach methods in molecular biology. In: Cell Cycle Checkpoints. Ed(s) L Willis. Humana Press, 2011.
3.
Li L. Nucleotide Excision Repair. In: DNA Repair, Genetic Instability, and Cancer. Ed(s) Q Wei, L Li, DJ Chen. World Scientific Publishing Co Pte. Ltd., 2007.
Grant & Contract Support
| | |
| --- | --- |
| Title: | Processing and Repair of DNA Crosslinks |
| Funding Source: | NIH/NCI |
| Role: | Core Leader |
| Principal Investigator: | Richard Wood, PhD |
| Duration: | 4/1/2015 - 3/31/2020 |
© 2014 The University of Texas MD Anderson Cancer Center