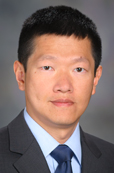 '
Liang Li, Ph.D.
Present Title & Affiliation
Primary Appointment
Associate Professor, Department of Biostatistics, The University of Texas MD Anderson Cancer Center, Houston, TX
Office Address
The University of Texas MD Anderson Cancer Center
1400 Pressler St.
Unit Number: 1411
Houston, TX 77030
Room Number: FCT4.6008
Phone: 713-745-1146
Email: LLi15@mdanderson.org
Education & Training
Degree-Granting Education

2003
University of Wisconsin, Madison, WI, PHD, Statistics
1998
Peking University, Beijing, P.R., China, BS, Cell Biology & Genetics
Selected Publications
Peer-Reviewed Original Research Articles

1.
Li L, Hu B, Greene T. A simple method to estimate the time-dependent ROC curve and the area under the curve (AUC) under right censoring. Statistical Methods in Medical Research, 2016+, (accompanying R package tdROC at https://cran.r-project.org/web/packages/tdROC/index.html). In Press.
2.
Pande A., Li L., Rajeswaran J., Ehrlinger J., Kogalur UB., Blackstone EH., Ishwaran H. Boosted multivariate trees for longitudinal data. Machine Learning, 2016+. In Press.
3.
Li L, Mao H, Ishwaran H, Rajeswaran J, Ehrlinger J, Blackstone EH. Estimating the prevalence of atrial fibrillation from a three-class mixture model for repeated diagnoses. Biometrical Journal, 2016+. In Press.
4.
Rajeswaran J, Li L, Ishwaran H, Ehrlinger J, Blackstone EH. Probability of Atrial Fibrillation after Ablation: Using a Parametric NonLinear Temporal Decomposition Mixed Effects Model. Statistical Methods in Medical Research, 2016, pii:0962280215623583. In Press. PMID: [Epub ahead of pring] 26740575.
5.
Hu B, Li L, Greene T. Joint multiple imputation for longitudinal outcomes and clinical events that truncate longitudinal follow-up. Stat Med 35(17):2991-3006, doi:10.1002/sim.6590, 07-30-16, 7/2016. PMCID: PMC4714958.
6.
Li L. A class of permutation tests for the equality of two marginal survival functions using paired censored data. Communications in Statistics, Simulation and Computation 43(10):2498-2507, 5/2014.
7.
Li L, Chang A, Rostand SG, Hebert L, Appel LJ, Astor BC, Lipkowitz MS, Wright JT, Kendrick C, Wang X, Greene TH. A Within-Patient Analysis for Time-varying Risk Factors of CKD Progression. J Am Soc Nephrol 25(3):606-13, 3/2014. e-Pub 11/2013. PMCID: PMC3935589.
8.
Greene T, Joffe M, Hu B, Li L, Boucher K. The Balanced Survivor Average Causal Effect. Int J Biostat. e-Pub 5/2013. PMID: 23658214.
9.
Li L, Greene T. A weighting analogue to pair matching in propensity score analysis. Int J Biostat 9(2):1-20, 2013. e-Pub 7/2013. PMID: 23902694.
10.
Hu B, Li L, Wang X, Greene T. Nonparametric multistate representations of survival and longitudinal data with measurement error. Stat Med 31(21):2303-2317, 9/2012. e-Pub 4/2012. PMCID: PMC3845220.
11.
Li L, Astor BC, Lewis J, Hu B, Appel LJ, Lipkowitz MS, Toto RD, Wang X, Wright JT, Greene TH. Longitudinal progression trajectory of GFR among patients with CKD. Am J Kidney Dis 59(4):504-12, 4/2012. e-Pub 1/2012. PMCID: PMC3312980.
12.
Li L. Comment: Analyzing propensity score matched count data. Int J Biostat 6(1):5, 2010. PMID: 21969989.
13.
Li L, Hu B, Greene T. A semiparametric joint model for longitudinal and survival data with application to hemodialysis study. Biometrics 65(3):737-745, 9/2009. e-Pub 1/2009. PMID: 19173700.
14.
Li L, Fu AZ. Some methodological issues with the analysis of EQ-5D index. Health Services and Outcomes Research Methodology 9(3):162-176, 2009.
15.
Li L, Greene T. Varying coefficients model with measurement error. Biometrics 64(2):519-526, 6/2008. e-Pub 10/2007. PMID: 17970822.
16.
Koch CG, Li L, Sessler DI, Figueroa P, Hoeltge GA, Mihaljevic T, Blackstone EH. Duration of red-cell storage and complications after cardiac surgery. (Reported by scientific and mainstream media worldwide.). N Engl J Med 358(12):1229-39, 3/2008. PMID: 18354101.

Invited Articles

1.
Li L., Luo S., Hu B., Greene T. Dynamic prediction of renal failure using longitudinal biomarkers in a cohort study of chronic renal disease. Statistics in Biosciences, 2016+. (invited paper). In Press.
2.
Li L. Hu B. Kattan MW. Modeling potential time to event data with competing risks. Lifetime Data Anal 20(2):316-34, doi: 10.1007/s10985-013-9279-z., 4/2014. PMCID: PMC4197853.
Grant & Contract Support
Title:
Comparitive Effectiveness Research on Cancer in Texas (CERCIT), Cancer Prevention & Research Institute of Texas (CPRIT)
Funding Source:
Cancer Prevention & Research Institute of Texas (CPRIT)
Role:
Co-Investigator
Duration:
10/1/2016 - 9/30/2021
Title:
Dynamic prediction of clinical outcomes using biomarkers and other prognostic information in longitudinal cohort studies of CKD.
Funding Source:
NIH/NIDDK
Role:
Principal Investigator
Duration:
1/1/2016 - 12/31/2016
Title:
Using game mechanics to improve among stem cell transplant
Funding Source:
Radiant Creative Group
Role:
Co-Investigator
Principal Investigator:
McLaughlin/Peterson
Duration:
12/1/2015 - 11/30/2018
Title:
Consortium for the Study of Chronic Pancreatitis, Diabetes and Pancreatic Cancer: Coordinating and Data Management Center (CSCPDPC-CDMC)
Funding Source:
NIH/NIDDK
Role:
Co-Investigator
Principal Investigator:
Ziding Feng
Duration:
9/28/2015 - 8/31/2020
Title:
Socioeconomic status, stress, and smoking cessation
Funding Source:
NIH subaward William Marsh Rice University
Role:
Co-Investigator
Principal Investigator:
David Wetter
Duration:
7/1/2015 - 6/30/2020
Title:
The Texas Hepatocellular Carcinoma Consortium (THCCC) Core 2: (SCC)
Funding Source:
Cancer Prevention & Research Institute of Texas (CPRIT)
Role:
Co-Investigator
Principal Investigator:
El-Serag/Feng
Duration:
6/1/2015 - 5/31/2020
Title:
Joint Analysis of Longitudinal Outcomes and Clinical Events in Kidney Disease
Funding Source:
Subaward University of Utah
Role:
Co-Principal Investigator
Principal Investigator:
Tom Greene, Marshal Joffe, Liang Li
Duration:
6/20/2011 - 5/31/2016