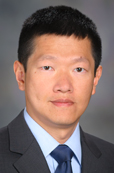 '
Liang Li, Ph.D.
Present Title & Affiliation
N/A
Office Address
The University of Texas MD Anderson Cancer Center
1400 Pressler St.
Unit Number: 1411
Houston, TX 77030
Room Number: FCT4.6008
Phone: 713-745-1146
Email: LLi15@mdanderson.org
Education & Training
Degree-Granting Education

2003
University of Wisconsin, Madison, WI, PHD, Statistics
1998
Peking University, Beijing, P.R., China, BS, Cell Biology & Genetics
Selected Publications
Peer-Reviewed Original Research Articles

1.
Hu B, Li L, Greene T. Joint multiple imputation for longitudinal outcomes and clinical events that truncate longitudinal follow-up. Stat Med. e-Pub 7/2015. PMID: 26179943.
2.
Vidrine DJ, Kypriotakis G, Li L, Arduino RC, Fletcher FE, Tamí-Maury I, Gritz ER. Mediators of a smoking cessation intervention for persons living with HIV/AIDS. Drug Alcohol Depend 147:76-80, 2/2015. e-Pub 12/2014. PMCID: PMC4461214.
3.
Li L, Hu B, Kattan MW. Modeling potential time to event data with competing risks. Lifetime Data Anal 20(2):316-34, 4/2014. e-Pub 9/2013. PMCID: PMC4197853.
4.
Li L, Chang A, Rostand SG, Hebert L, Appel LJ, Astor BC, Lipkowitz MS, Wright JT, Kendrick C, Wang X, Greene TH. A Within-Patient Analysis for Time-varying Risk Factors of CKD Progression. J Am Soc Nephrol 25(3):606-13, 3/2014. e-Pub 11/2013. PMCID: PMC3935589.
5.
Li L, Greene T. A weighting analogue to pair matching in propensity score analysis. Int J Biostat 9(2):1-20, 2013. e-Pub 7/2013. PMID: 23902694.
6.
Hu B, Li L, Wang X, Greene T. Nonparametric multistate representations of survival and longitudinal data with measurement error. Stat Med 31(21):2303-2317, 9/2012. e-Pub 4/2012. PMCID: PMC3845220.
7.
Li L, Astor BC, Lewis J, Hu B, Appel LJ, Lipkowitz MS, Toto RD, Wang X, Wright JT, Greene TH. Longitudinal progression trajectory of GFR among patients with CKD. Am J Kidney Dis 59(4):504-12, 4/2012. e-Pub 1/2012. PMCID: PMC3312980.
8.
Li L, Hu B, Greene T. A semiparametric joint model for longitudinal and survival data with application to hemodialysis study. Biometrics 65(3):737-745, 9/2009. e-Pub 1/23/2009. PMID: 19173700.
9.
Li L, Greene T. Varying coefficients model with measurement error. Biometrics 64(2):519-526, 6/2008. e-Pub 10/26/2007. PMID: 17970822.
10.
Li L, Shao J, Palta M. A longitudinal measurement error model with a semicontinuous covariate. Biometrics 61(3):824-30, 9/2005. PMID: 16135034.
Grant & Contract Support
| | |
| --- | --- |
| Title: | Using game mechanics to improve among stem cell transplant |
| Funding Source: | Radiant Creative Group |
| Role: | Co-Investigator |
| Duration: | 12/1/2015 - 11/30/2018 |