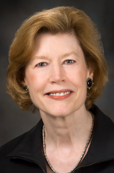 '
Louise C. Strong, M.D.
Present Title & Affiliation
Primary Appointment
Professor, Department of Genetics, UTMDACC, Houston, TX
Professor, The University of Texas Graduate School of Biomedical Sciences, Houston, TX
Dual/Joint/Adjunct Appointment
Professor of Cancer Genetics, Department of Breast Medical Oncology, Division of Cancer Medicine, UTMDACC, Houston, TX
Research Interests
Human cancer genetics
Genetic epidemiology
The program involves the study of genetic etiology of human cancer using genetic epidemiologic approach to identify the most likely etiologic model(s) to account for the distribution of tumors in kindreds, and to test for genetic/etiologic heterogeneity. We then identify families in which a genetic etiology seems likely for collaborative study using cytogenetic, biochemical and molecular markers to localize the gene. We are further investigating the role of radiation, chemotherapy and host predisposing factors in the risk of subsequent tumors in childhood cancer survivors and in the reproductive outcomes in childhood cancer survivors.
A tutorial in this laboratory would include introduction to field work of data collection by interview, analytic techniques of genetic epidemiology and interpretation of laboratory findings from the collaborative laboratory studies.
View a complete list of Dr. Strong's publications.
Visit Dr. Strong's Li Fraumeni Syndrome Study Group website.
Office Address
The University of Texas MD Anderson Cancer Center
Department of Genetics Unit 209
1515 Holcombe Blvd.
Houston, TX 77030
Room Number: B6.4806
Phone: (713) 792-2589
Education & Training
Degree-Granting Education

1970
University of Texas Medical Branch, Galveston, TX, MD, Medicine
1966
University of Texas, Austin, TX, BA, Mathematics

Postgraduate Training

9/1970-8/1972

Postdoctoral Fellowship, Texas Research Institute of Mental Sciences and The University of Texas Graduate School of Biomedical Sciences, Houston, TX, Alfred G. Knudson Jr., M.D., Ph.D.
Selected Publications
Peer-Reviewed Original Research Articles

1.
Hill DA, Horick NK, Isaacs C, Domchek SM, Tomlinson GE, Lowery JT, Kinney AY, Berg JS, Edwards KL, Moorman PG, Plon SE, Strong LC, Ziogas A, Griffin CA, Kasten CH, Finkelstein DM. Long Term Risk of Medical Conditions Associated with Breast Cancer Treatment. Breast Cancer Res Treat 145(1):233-43, 5/2014. e-Pub 4/2014. PMCID: PMCPMC4096572.
2.
Gramatges MM, Liu Q, Yasui Y, Okcu MF, Neglia JP, Strong LC, Armstrong GT, Robison LL, Bhatia S. Telomere Content and Risk of Second Malignant Neoplasm in Survivors of Childhood Cancer: A Report from the Childhood Cancer Survivor Study. Clin Cancer Res 20(4):904-11, 2/2014. e-Pub 11/2013. PMCID: PMCPMC3944671.
3.
Pilarski R, Cebulla CM, Massengill JB, Rai K, Rich T, Strong LC, McGillivray B, Asrat M-J, Davidorf FH, Abdel-Rahman MH. Expanding the Clinical Phenotype of Hereditary BAP1 Cancer Predisposition Syndrome. Genes Chromosomes Cancer 53(2):177–182, 1/2014. PMCID: PMC4041196.
4.
Fang S, Krahe R, Bachinski LL, Zhang B, Amos CI, Strong LC.. Sex-specific effect of TP53 PIN3 polymorphism on cancer risk in a cohort study of TP53 germline mutation carriers. Hum Genet 130(6):789-94, 12/2011. PMID: 21688173.
5.
Wu, CC, Krahe R, Lozano G, Zhang B, Wilson CD, Jo EJ, Shete S, Amos CI, Strong LC. Joint effects of germ-line TP53 mutation, MDM2 SNP309, and gender on cancer risk in family studies of Li-Fraumeni syndrome. Hum Genet 129(6):663-73, 6/2011. PMID: 21305319.
6.
Fang, S, Krahe R, Lozano G, Han Y, Chen W, Post SM, Zhang B, Wilson C, Bachinski LL, Strong LC, Amos CI. Effects of MDM2, MDM4 and TP53 codon 72 polymorphisms on cancer risk in carriers of TP53 germline mutations. PLoS ONE 5(5):e10813, 5/2010. PMCID: PMCPMC2877078.
7.
Wu CC, Strong LC, Shete S.. Effects of measured susceptibility genes on cancer risk in family studies. Hum Genet 127(3):349-357, 3/2010. PMCID: PMCPMC2918266.
8.
Peterson SK, Pentz RD, Blanco AM, Ward PA, Marani SK, LaRue D, Vogel K, Solomon T, Strong LC. Psychological functioning in persons considering genetic counseling and testing for Li-Fraumeni syndrome. Psycho-Oncology 17(8):783-789, 8/2008. PMID: 18688785.
9.
Peterson SK, Pentz RD, Blanco AM, Ward PA, Watts BG, Marani SK, James LC, Strong LC. Evaluation of a decision aid for families considering p53 genetic counseling and testing. Genet Med 8(4):226-33, 4/2006. PMID: 16617243.
10.
Li FP, Garber JE, Friend SH, Strong LC, Patenaude AF, Juengst ET, Reilly PR, Correa P, Fraumeni JF, Jr. Recommendations on predictive testing for germ line p53 mutations among cancer-prone individuals. J Natl Cancer Inst 84(15):1156-60, 8/1992. PMID: 1635084.
© 2014 The University of Texas MD Anderson Cancer Center