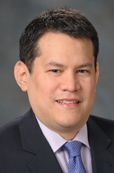 '
Luis M Vence, B.S., M.S., Ph.D.
Present Title & Affiliation
Dual/Joint/Adjunct Appointment
Assistant Professor, Department of Melanoma Medical Oncology, Division of Cancer Medicine, The University of Texas MD Anderson Cancer Center, Houston, TX
Office Address
The University of Texas MD Anderson Cancer Center
7455 Fannin
Unit Number: 901
Houston, TX 77054
Room Number: 1SCR1.2011, South Campus Research Building 1
Phone: 713-745-7055
Fax: 713-563-3424
Education & Training
Degree-Granting Education

2003
Université Louis Pasteur, Strasbourg, France, PHD, Immunology
1997
Université Louis Pasteur, Strasbourg, France, MS, Cell Biology
1996
Université Louis Pasteur, Strasbourg, France, BS, Biotechnology Engineering

Postgraduate Training

2004-2006

Research Fellowship, Cancer Immunology, Baylor Institute for Immunology Research, Houston, TX
Experience/Service
Other Appointments/Responsibilities
Co-Director of the Immune Monitoring Core Laboratory, The University of Texas M. D. Anderson Cancer Center, Houston, TX, 2006-present
Senior Research Scientist, The University of Texas M. D. Anderson Cancer Center, Houston, TX, 2006-2010
Research Scientist, New England Biolabs, Ipswich,, MA, 1996-1997
Honors and Awards
2004-2007

Postdoctoral Fellowship,

Baylor Health Care Systems Foundation

1998-2003

Graduate Research Fellowship,

Juvenile Diabetes Research Foundation (JDRF)

1997-2000

Graduate Research Fellowship,

Centre National pour la Recherche Scientifique (CNRS)

1990-1996

Undergraduate Scholarship,

Fundacion Gran Mariscal de Ayacucho (Fundayacucho)
Professional Memberships
American Association of Immunologists
Member, 2006-present
Selected Publications
Peer-Reviewed Original Research Articles

1.
Kuerer HM, Buzdar AU, Mittendorf EA, Esteva FJ, Lucci A, Vence LM, Radvanyi L, Meric-Bernstam F, Hunt KK, Symmans WF. Biologic and immunologic effects of preoperative trastuzumab for ductal carcinoma in situ of the breast. CANCER-AM CANCER SOC 117(1):39-47, 1/2011. e-Pub 8/2010. PMCID: PMC2997136.
2.
Cohen L, Parker PA, Vence L, Savary C, Kentor D, Pettaway C, Babaian R, Pisters L, Miles B, Wei Q, Wiltz L, Patel T, Radvanyi L. Presurgical Stress Management Improves Postoperative Immune Function in Men With Prostate Cancer Undergoing Radical Prostatectomy. Psychosom Med 73(3). e-Pub 1/2011. PMID: 21257977.
3.
Wu S, Jin L, Vence L, Radvanyi LG. Development and application of 'phosphoflow' as a tool for immunomonitoring. Expert Rev Vaccines 9(6):631-43, 6/2010. PMCID: PMC2933839.
4.
Frenkel M, Mishra BM, Sen S, Yang P, Pawlus A, Vence L, Leblanc A, Cohen L, Banerji P, Banerji P. Cytotoxic effects of ultra-diluted remedies on breast cancer cells. Int J Oncol 36(2):395-403, 2/2010. PMID: 20043074.
5.
Li Y, Liu S, Hernandez J, Vence L, Hwu P, Radvanyi L. MART-1-specific melanoma tumor-infiltrating lymphocytes maintaining CD28 expression have improved survival and expansion capability following antigenic restimulation in vitro. J Immunol 184(1):452-65, 1/2010. e-Pub 11/2009. PMID: 19949105.
6.
Campbell-Anson RE, Kentor D, Wang YJ, Bushnell KM, Li Y, Vence LM, Radvanyi LG. A new approach for the large-scale generation of mature dendritic cells from adherent PBMC using roller bottle technology. J Immune Based Ther Vaccines 6:1, 2008. e-Pub 3/2008. PMCID: PMC2292722.
7.
Vence L, Palucka AK, Fay JW, Ito T, Liu YJ, Banchereau J, Ueno H. Circulating tumor antigen-specific regulatory T cells in patients with metastatic melanoma. Proc Natl Acad Sci U S A 104(52):20884-9, 12/2007. e-Pub 12/2007. PMCID: PMC2409236.
8.
Vence L, Benoist C, Mathis D. Fas deficiency prevents type 1 diabetes by inducing hyporesponsiveness in islet beta-cell-reactive T-cells. Diabetes 53(11):2797-803, 11/2004. PMID: 15504959.
9.
Mathis D, Vence L, Benoist C. beta-Cell death during progression to diabetes. Nature 414(6865):792-8, 12/2001. PMID: 11742411.
10.
Chong S, Mersha FB, Comb DG, Scott ME, Landry D, Vence LM, Perler FB, Benner J, Kucera RB, Hirvonen CA, Pelletier JJ, Paulus H, Xu MQ. Single-column purification of free recombinant proteins using a self-cleavable affinity tag derived from a protein splicing element. Gene 192(2):271-81, 6/1997. PMID: 9224900.
© 2014 The University of Texas MD Anderson Cancer Center