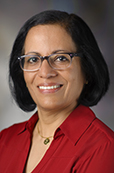 '
Mala Pande, PhD, MPH, MBBS
Present Title & Affiliation
Primary Appointment
Assistant Professor, Department of Gastroenterology - Research, Division of Internal Medicine, The University of Texas MD Anderson Cancer Center, Houston, TX
Dual/Joint/Adjunct Appointment
Assistant Professor, The University of Texas School of Public Health, Houston, TX
Office Address
The University of Texas MD Anderson Cancer Center
1515 Holcombe Blvd.
Unit Number: 1466
Houston, TX 77030
Phone: 713-794-5073
Education & Training
Degree-Granting Education

2007
The University of Texas School of Public Health, Houston, TX, PHD, Epidemiology
2003
The University of Texas School of Public Health, Houston, TX, MPH, Disease Control
1979
Armed Forces Medical College, Pune, Maharashtra, India, MBBS, Medicine

Postgraduate Training

1/2008-12/2009

Research Fellowship, Epidemiology, The University of Texas MD Anderson Cancer Center, Houston, TX, Christopher I. Amos
Experience/Service
Academic Appointments
Instructor, Department of Epidemiology, Division of OVP, Cancer Prevention and Population Sciences, The University of Texas MD Anderson Cancer Center, Houston, TX, 1/2010-10/2013
Institutional Committee Activities
Senator, Faculty Senate, 9/2011-8/2014
Member, Psychosocial, Behavioral, and Health Services Research Committee (PBHSRC), 8/2010-8/2013
Honors and Awards
2013

Selected for first AACR Integrative Molecular Epidemiology Workshop,

AACR

2011

Cancer Post-GWAS U19 exchange program travel award,

NCI

2009

Bayer HealthCare Pharmaceuticals Poster finalist award for Population/Patient-Oriented Research,

Bayer HealthCare Pharmaceuticals

2009

Postdoctoral Outstanding Trainee in Cancer Prevention: Honorable mention,

Cancer Prevention Research training Program, MD Anderson Cancer Center

2009

Trainee Excellence Award,

MD Anderson Trainee and Alumni Association

2008-2009

Postdoctoral Fellowship in Cancer Prevention Research,

NIH / MD Ansderson Cancer Center

2008

Fred Annegers Scholarship in Epidemiology,

The University of Texas School of Public Health at Houston

2005-2007

Predoctoral Fellowship in Cancer Prevention Research,

NIH / MD Anderson Cancer Center
Selected Publications
Peer-Reviewed Original Research Articles

1.
Karami S, Han Y, Pande M, Cheng I, Rudd J, Pierce BL, Nutter EL, Schumacher FR, Kote-Jarai Z, Lindstrom S, Witte JS, Fang S, Han J, Kraft P, Hunter D, Song F, Hung RJ, McKay J, Gruber SB, Chanock SJ, Risch A, Shen H, Haiman CA, Boardman L, Ulrich CM, Casey G, Peters U, Amin Al Olama A, Berchuck A, Berndt SI, Bezieau S, Brennan P, Brenner H, Brinton L, Caporaso N, Chan AT, Chang-Claude J, Christiani DC, Cunningham JM, Easton D, Eeles RA, Eisen T, Gala M, Gallinger SJ, Gayther SA, Goode EL, Grönberg H, Henderson BE, Houlston R, Joshi AD, Küry S, Landi MT, Le Marchand L, Muir K, Newcomb PA, Permuth-Wey J, Pharoah P, Phelan C, Potter JD, Ramus SJ, Risch H, Schildkraut J, Slattery ML, Song H, Wentzensen N, White E, Wiklund F, Zanke BW, Sellers TA, Zheng W, Chatterjee N, Amos CI, Doherty JA, GECCO and the GAME-ON Network: CORECT, DRIVE, ELLIPSE, FOCI, and TRICL. Telomere structure and maintenance gene variants and risk of five cancer types. Int J Cancer. e-Pub 7/2016. PMID: 27459707.
2.
Raju G, Lum P, Ross W, Thirumurthi S, Miller E, Lynch PM, Lee J, Bhutani M, Shafi M, Weston B, Pande M, Bresalier R, Rashid A, Mishra L, Davila M, Stroehlein J. Outcome of Endoscopic Mucosal Resection As an Alternative to Surgery in Patients with Complex Colon Polyps. Gastrointestinal Endoscopy. e-Pub 2/2016.
3.
Raju GS, Lum PJ, Slack RS, Thirumurthi S, Lynch PM, Miller E, Weston BR, Davila ML, Bhutani MS, Shafi MA, Bresalier RS, Dekovich AA, Lee JH, Guha S, Pande M, Blechacz B, Rashid A, Routbort M, Shuttlesworth G, Mishra L, Stroehlein JR, Ross WA. Natural Language Processing As an Alternative to Manual Reporting of Colonoscopy Quality Metrics. Gastrointest Endosc 82(3):512-9, 9/2015. e-Pub 4/2015. PMCID: PMC4540652.
4.
Chen LS, Hung RJ, Baker T, Horton A, Culverhouse R, Saccone N, Cheng I, Deng B, Han Y, Hansen HM, Horsman J, Kim C, Lutz S, Rosenberger A, Aben KK, Andrew AS, Breslau N, Chang SC, Dieffenbach AK, Dienemann H, Frederiksen B, Han J, Hatsukami DK, Johnson EO, Pande M, Wrensch MR, McLaughlin J, Skaug V, van der Heijden HF, Wampfler J, Wenzlaff A, Woll P, Zienolddiny S, Bickeböller H, Brenner H, Duell EJ, Haugen A, Heinrich J, Hokanson JE, Hunter DJ, Kiemeney LA, Lazarus P, Le Marchand L, Liu G, Mayordomo J, Risch A, Schwartz AG, Teare D, Wu X, Wiencke JK, Yang P, Zhang ZF, Spitz MR, Kraft P, Amos CI, Bierut LJ. CHRNA5 risk variant predicts delayed smoking cessation and earlier lung cancer diagnosis--a meta-analysis. J Natl Cancer Inst 107(5), 5/2015. e-Pub 4/2015. PMID: 25873736.
5.
Ross WA, Thirumurthi S, Lynch PM, Rashid A, Pande M, Shafi MA, Lee JH, Raju GS. Detection rates of premalignant polyps during screening colonoscopy: Time to revise quality standards? Gastrointest Endosc 81(3):567-74, 3/2015. e-Pub 1/2015. PMCID: PMC4340745.
6.
Pande M, Bondy ML, Do KA, Sahin AA, Ying J, Mills GB, Thompson PA, Brewster AM. Association between germline single nucleotide polymorphisms in the PI3K-AKT-mTOR pathway, obesity, and breast cancer disease-free survival. Breast Cancer Res Treat 147(2):381-7, 9/2014. e-Pub 8/2014. PMCID: PMC4174407.
7.
Park SL, Fesinmeyer MD, Timofeeva M, Caberto CP, Kocarnik JM, Han Y, Love SA, Young A, Dumitrescu L, Lin Y, Goodloe R, Wilkens LR, Hindorff L, Fowke JH, Carty C, Buyske S, Schumacher FR, Butler A, Dilks H, Deelman E, Cote ML, Chen W, Pande M, Christiani DC, Field JK, Bickebller H, Risch A, Heinrich J, Brennan P, Wang Y, Eisen T, Houlston RS, Thun M, Albanes D, Caporaso N, Peters U, North KE, Heiss G, Crawford DC, Bush WS, Haiman CA, Landi MT, Hung RJ, Kooperberg C, Amos CI, Le Marchand L, Cheng I. Pleiotropic associations of risk variants identified for other cancers with lung cancer risk: The PAGE and TRICL consortia. J Natl Cancer Inst 106(4):dju061, 4/2014. e-Pub 3/2014. PMCID: PMC3982896.
8.
Wang H, Burnett T, Kono S, Haiman CA, Iwasaki M, Wilkens LR, Loo LW, Van Den Berg D, Kolonel LN, Henderson BE, Keku TO, Sandler RS, Signorello LB, Blot WJ, Newcomb PA, Pande M, Amos CI, West DW, Bézieau S, Berndt SI, Zanke BW, Hsu L, Genetics and Epidemiology of Colorectal Cancer Consortium (GECCO), Lindor NM, Haile RW, Hopper JL, Jenkins MA, Gallinger S, Casey G, Colon Cancer Family Registry (CCFR), Stenzel SL, Schumacher FR, Peters U, Gruber SB, Colorectal Transdisciplinary Study (CORECT), Tsugane S, Stram DO, Le Marchand L. Trans-ethnic genome-wide association study of colorectal cancer identifies a new susceptibility locus in VTI1A. Nat Commun 5:4613, 2014. e-Pub 8/2014. PMCID: PMC4180879.
9.
Wei C*, Chen J*, Pande M, Lynch PM, Frazier ML. A pilot study comparing protein expression in different segments of the normal colon and rectum and in normal colon versus adenoma in patients with Lynch syndrome. J Cancer Res Clin Oncol 139(7):1241-50, 7/2013. e-Pub 4/2013. PMCID: PMC3708474.
10.
Wang H, Haiman CA, Burnett T, Fortini BK, Kolonel LN, Henderson BE, Signorello LB, Blot WJ, Keku TO, Berndt SI, Newcomb PA, Pande M, Amos CI, West DW, Casey G, Sandler RS, Haile R, Stram DO, Le Marchand L. Fine-mapping of Genome-wide Association Study-identified Risk Loci for Colorectal Cancer in African Americans. Hum Mol Genet. e-Pub 7/2013. PMCID: PMC3836473.
11.
Murray JL, Thompson P, Yoo SY, Do KA, Pande M, Zhou R, Liu Y, Sahin AA, Bondy ML, Brewster AM. Prognostic Value of Single Nucleotide Polymorphisms of Candidate Genes Associated with Inflammation in Early Stage Breast Cancer. Breast Cancer Res Treat 138(3):917-24, 4/2013. e-Pub 3/2013. PMCID: PMC3746974.
12.
Pande M, Thompson PA, Do KA, Sahin AA, Amos CI, Frazier ML, Bondy ML, Brewster AM. Genetic Variants in the Vitamin D Pathway and Breast Cancer Disease Free Survival. Carcinogenesis 34(3):587-94, 3/2013. e-Pub 11/2012. PMCID: PMC3581599.
13.
Chen J* and Pande M*, Huang YJ, Wei C, Amos CI, Talseth-Palmer BA, Meldrum CJ, Chen WV, Gorlov IP, Lynch PM, Scott RJ, Frazier ML. Cell cycle-related genes as modifiers of age of onset of colorectal cancer in Lynch syndrome: a large-scale study in non-Hispanic white patients. Carcinogenesis 34(2):299-306, 2/2013. e-Pub 11/2012. PMCID: PMC3564440.
14.
Timofeeva MN, Hung RJ, Rafnar T, Christiani DC, Field JK, Bickeböller H, Risch A, McKay JD, Wang Y, Dai J, Gaborieau V, McLaughlin J, Brenner D, Narod SA, Caporaso NE, Albanes D, Thun M, Eisen T, Wichmann HE, Rosenberger A, Han Y, Chen W, Zhu D, Spitz M, Wu X, Pande M, Zhao Y, Zaridze D, Szeszenia-Dabrowska N, Lissowska J, Rudnai P, Fabianova E, Mates D, Bencko V, Foretova L, Janout V, Krokan HE, Gabrielsen ME, Skorpen F, Vatten L, Njølstad I, Chen C, Goodman G, Lathrop M, Benhamou S, Vooder T, Välk K, Nelis M, Metspalu A, Raji O, Chen Y, Gosney J, Liloglou T, Muley T, Dienemann H, Thorleifsson G, Shen H, Stefansson K, Brennan P, Amos CI, Houlston R, Landi MT, Transdisciplinary Research in Cancer of the Lung (TRICL) Research Team. Influence of Common Genetic Variation on Lung Cancer Risk: Meta-Analysis of 14,900 Cases and 29,485 Controls. Hum Mol Genet 21(22):4980-95, 11/2012. e-Pub 8/2012. PMCID: PMC3607485.
15.
Pande M, Wei C, Chen J, Amos CI, Lynch PM, Lu KH, Lucio LA, Boyd-Rogers SG, Bannon SA, Mork ME, Frazier ML. Cancer spectrum in DNA mismatch repair gene mutation carriers: results from a hospital based Lynch syndrome registry. Fam Cancer 11(3):441-7, 9/2012. e-Pub 6/2012. PMCID: PMC3475767.
16.
Pande M, Spitz MR, Wu X, Gorlov IP, Chen WV, Amos CI. Novel genetic variants in the chromosome 5p15.33 region associate with lung cancer risk. Carcinogenesis 32(10):1493-9, 10/2011. e-Pub 7/2011. PMCID: PMC3179422.
17.
Chen J, Wu X, Pande M, Amos CI, Killary AM, Sen S, Frazier ML. Susceptibility locus for lung cancer at 15q25.1 is not associated with risk of pancreatic cancer. Pancreas 40(6):872-5, 8/2011. e-Pub 6/2011. PMCID: PMC3138891.
18.
Pande M, Amos CI, Eng C, Frazier ML. Interactions between cigarette smoking and selected polymorphisms in xenobiotic metabolizing enzymes in risk for colorectal cancer: A case-only analysis. Mol Carcinog 49(11):974-80, 11/2010. PMCID: PMC3034292.
19.
Pande M, Lynch PM, Hopper JL, Jenkins MA, Gallinger S, Haile RW, LeMarchand L, Lindor NM, Campbell PT, Newcomb PA, Potter JD, Baron JA, Frazier ML, Amos CI. Smoking and colorectal cancer in Lynch syndrome: results from the Colon Cancer Family Registry and the University of Texas M.D. Anderson Cancer Center. Clin Cancer Res 16(4):1331-9, 2/2010. e-Pub 2/2010. PMCID: PMC2822883.

Invited Articles

1.
Chen J, Zhu J, Pande M, Amos J, Frazier ML, Wei C.. Modifiers of Expression in Mutations of Mismatch Repair Gene Carriers in Hereditary Nonpolyposis Colorectal Cancer. Current Colorectal Cancer Reports 2:179-184, 2006.

Book Chapters

1.
Pande M, and Frazier ML. Epidemiology. In: Colorectal Cancer: Diagnosis and Clinical Management. Ed(s) Schloefield J, and Eng C. Wiley-Blackwell: Oxford, UK, 2014. ISBN: 978-0-470-67480-2.
2.
Pande M, Chen J, Wei C, Huang Y, Frazier ML. Mutations in non-MMR genes modifying or mimicking Lynch syndrome phenotype. In: DNA alterations in Lynch syndrome: advances in molecular diagnosis and genetic counselling. Ed(s) Matjaz Vogelsang. Springer: Cape Town, South Africa, 135-170, 2013. ISBN: 978-94-007-6596-2.
Grant & Contract Support
| | |
| --- | --- |
| Title: | Susceptibility markers for a breast-colon cancer phenotype |
| Funding Source: | NIH/NCI |
| Role: | Principal Investigator |
| Duration: | 9/5/2012 - 9/5/2017 |