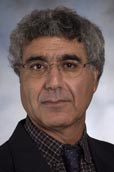 '
Menashe Bar-Eli, Ph.D.
Present Title & Affiliation
Primary Appointment
Professor, Department of Cancer Biology, The University of Texas MD Anderson Cancer Center, Houston, TX
Research Interests
The focus of my laboratory is to study the molecular biology of melanoma metastasis. The molecular changes associated with the transition of melanoma cells from radial growth phase (RGP) to vertical growth phase (VGP, metastatic phenotype) are not very well defined.
We found that the highly metastatic cells do not express the transcriptional factor AP-2. Since AP-2 regulates the expression of MCAM/MUC18, c-KIT and MMP-2, and since other important genes involved in the progression of human melanoma such as E-cadherin, HER-2, VEGF, FAS/APO-1, bcl-2 and Kai-1, are also regulated by AP-2, we hypothesized that loss of AP-2 could be a "major switch" in the development of malignant melanoma. We were able to demonstrate that loss of AP-2 expression resulted in loss of c-KIT and upregulation of MUC18. Furthermore, re-introduction of AP-2 into the highly metastatic cells caused inhibition of tumor growth and significant reduction in their metastatic potential in nude mice. Using cDNA microchip, we recently identified the thrombin receptor PAR-1 to be a target for regulation by AP-2. We found that loss of AP-2 resulted in overexpression of PAR-1 in metastatic melanoma cells, which in turn contributes, to invasion and metastasis. Based on our data, we propose the notion that AP-2 serves a key regulator of melanoma metastasis. Overexpression of PAR-1 contributes to the metastatic phenotype by regulating connexin-43, Maspin, and MCAM/MUC18.
In other studies we have recently demonstrated that dominant-negative CREB can inhibit growth and metastasis of melanoma via regulation of MMP-2 and MUC18 gene expression. In addition, we also demonstrated that CREB and its associated proteins act as survival factors for human melanoma cells, thus, providing a mechanism, for the first time, on how overexpression of CREB in melanoma cells may contribute to the acquisition of the metastatic phenotype. CREB also regulates the expression of the tumor suppressor gene CYR61.
In recent studies, we found that PAF, which is secreted by cells in the tumor microenvironment, stimulates the phosphorylation and activation of CREB in metastatic melanoma cells. Based on our data on the involvement of MUC18 and IL-8 in the progression of human melanoma, we recently developed two fully humanized antibodies to target these molecules. Treatment of melanoma bearing nude mice with fully human IL-8 (ABX-IL-8) or fully human anti-MUC18 (ABX-MA1) reduced melanoma growth and inhibited their metastatic potential.
Education & Training
Degree-Granting Education

1978
Hebrew University-Hadassah Medical School, Jerusalem, Israel, PHD, Immunology
1974
Hebrew University-Hadassah Medical School, Jerusalem, Israel, MS, Microbiology/Immunology
1972
Hebrew University, Jerusalem, Israel, BS, Microbiology/Physiology

Postgraduate Training

1/1979-5/1981

Postdoctoral Fellow, UCLA Department of Medicine, Division of Hematology/Oncology, UCLA, Los Angeles
Selected Publications
Peer-Reviewed Original Research Articles

1.
Villares GJ, Zigler M, Dobroff AS, Wang H, Song R, Melnikova VO, Huang L, Braeuer RR, Bar-Eli M. Protease activated receptor-1 inhibits the Maspin tumor suppressor gene to determine the melanoma metastatic phenotype. Proc Natl Acad Sci U S A 108(2):626-31, 1/2011. PMCID: PMC3021062.
2.
Melnikova OM, Dobroff AS, Zigler M, Villares GJ, Braeuer RR, Wang H, Huang L, Bar-Eli M. CREB inhibits AP-2 alpha expression to regulate the malignant phenotype of melanoma. PLoS ONE 27:5(8):12452, 2010. PMID: 20805990.
3.
Dobroff AS, Wang H, Melnikova VO, Villares GJ, Zigler M, Huang L, Bar-Eli M. Silencing cAMP-response element-binding protein (CREB) identifies CYR61 as a tumor suppressor gene in melanoma. J Biol Chem 284(38):26194-206, 9/2009. PMCID: PMC2758018.
4.
Villares GJ, Dobroff AS, Wang H, Zigler M, Melnikova VO, Huang L, Bar-Eli M. Overexpression of protease-activated receptor-1 contributes to melanoma metastasis via regulation of connexin 43. Cancer Res 69(16):6730-7, 8/15/2009. PMCID: PMC2727665.
5.
Melnikova VO, Bar-Eli M. Inflammation and melanoma metastasis. Pigment Cell Melanoma Res 3(3):257-267, 6/2009. PMID: 19368690.
6.
Villares GJ, Zigler M, Wang H, Wu H, Melnikova VO, Friedman R, Leslie MC, Vivas-Mejias P, Lopez-Berestein G, Sood AK, Bar-Eli M. Targeting melanoma growth and metastasis with systemic delivery of liposomal incorporated PAR-1 SiRNA. Cancer Research 68:9078-9086, 2008. PMID: 18974154.
7.
Berger AJ, Davis DW, Tellez C, Prieto VG, Gershenwald JE, Johnson MM, Rimm DL, Bar-Eli M. Automated quantitative analysis of activator protein-2alpha subcellular expression in melanoma tissue microarrays correlates with survival prediction. Cancer Res 65(23):11185-92, 12/2005. PMID: 16322269.
8.
Tellez C, Bar-Eli M. Role and regulation of the thrombin receptor (PAR-1) in human melanoma. Oncogene 22(20):3130-7, 5/19/2003. PMID: 12789289.
9.
Nyormoi O, Wang Z, Doan D, Ruiz M, McConkey D, Bar-Eli M. Transcription factor AP-2alpha is preferentially cleaved by caspase 6 and degraded by proteasome during tumor necrosis factor alpha-induced apoptosis in breast cancer cells. Mol Cell Biol 21(15):4856-67, 8/2001. PMCID: PMC87191.
10.
Jean D, Tellez C, Huang S, Davis DW, Bruns CJ, McConkey DJ, Hinrichs SH, Bar-Eli M. Inhibition of tumor growth and metastasis of human melanoma by intracellular anti-ATF-1 single chain Fv fragment. Oncogene 19(22):2721-30, 5/18/2000. PMID: 10851072.
11.
Jean D, Harbison M, McConkey DJ, Ronai Z, Bar-Eli M. CREB and its associated proteins act as survival factors for human melanoma cells. J Biol Chem 273(38):24884-90, 9/1998. PMID: 9733794.
12.
Huang S, Jean D, Luca M, Tainsky MA, Bar-Eli M. Loss of AP-2 results in downregulation of c-KIT and enhancement of melanoma tumorigenicity and metastasis. Embo J 17(15):4358-69, 8/1998. PMID: 9687504.

Invited Articles

1.
Melnikova V, Bar-Eli M. Inflammation and melanoma growth and metastasis: the role of platelet-activating factor (PAF) and its receptor. Cancer Metastasis Rev 26(3-4):359-71, 12/2007. PMID: 17721743.
© 2014 The University of Texas MD Anderson Cancer Center