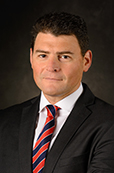 '
Michael E. Kupferman, M.D., FACS
Present Title & Affiliation
Primary Appointment
Associate Professor, Department of Head and Neck Surgery, Division of Surgery, The University of Texas MD Anderson Cancer Center, Houston, TX
Clinical Site Liaison, Banner-MD Anderson Cancer Center, The University of Texas MD Anderson Global Network, Gilbert, AZ
Clinical Consultant, The University of Texas MD Anderson Cancer Center Global Network, MD Anderson Physicians Network, Houston, TX
Research Interests
Transoral robotic surgery for oropharynx cancer
Targeting the tumor microenvironment in squamous cell carcinoma
Molecular mechanisms of metastasis in head and neck cancer
Clinical Interests
Minimally invasive skull base surgery
Transoral robotic surgery for oropharynx cancer
Malignant melanoma of the head and neck
Benign and malignant salivary gland tumors
Recurrent and metastatic thyroid cancer
Office Address
The University of Texas MD Anderson Cancer Center
1400 Pressler St.
Unit Number: 1445
Houston, TX 77030
Room Number: FCT10.6008
Phone: 713/794-1910
Fax: 713/794-4662
Education & Training
Degree-Granting Education

1999
University of Pennsylvania School of Medicine, Philadelphia, PA, MD, Medicine
1995
Yeshiva University, New York, NY, BA, Political Science, Biology

Postgraduate Training

7/2004-6/2006

Clinical Fellowship, Head & Neck Oncologic Surgery, The University of Texas MD Anderson Cancer Center, Houston, TX

7/2004-6/2005

Research Fellowship, Head & Neck Surgery, The University of Texas MD Anderson Cancer Center, Houston, TX

7/2000-6/2004

Clinical Residency, Otolaryngology-Head & Neck Surgery, University of Pennsylvania, Philadelphia, PA

7/1999-6/2000

Clinical Internship, Surgery, University of Pennsylvania, Philadelphia, PA
Board Certifications
| | |
| --- | --- |
| 4/2005 | American Board of Otolaryngology |
Honors and Awards
2014

Chris O'Brien Traveling Fellowship Award,

American Head and Neck Society-Australia-New Zealand Head and Neck Society

2011-present

Fellow of American College of Surgeons,

American College of Surgeons

2011-2012

Faculty Teaching Award,

Head and Neck Surgery Program, The University of Texas MD Anderson Cancer Center

2011

U. S. News Best Doctor Directory,

U. S. News and World Report

2008-2012

Physician-Scientist Program,

UT MD Anderson Cancer Center

2006

AACR-AstraZeneca Scholar-in-Training Award,

AACR

2004-2006

National Institutes of Health Loan Repayment Program,

NIH

1996

NIH Cancer Research Training Grant,

NIH
Professional Memberships
American Academy of Otolaryngology-Head & Neck Surgery
Member, 1999-present
American College of Surgeons
Member, 2006-present
American Head and Neck Society, Los Angeles, CA
Research Committee Member, 2006-2009
American Society for Radiation Oncology, Fairfax, VA
Program Committee Planning Member, 1/2009-present
American Society of Clinical Oncology
Member, 2005-present
North American Skull Base Society
Director at Large, 2013-2016
Member, 2007-present
Selected Publications
Peer-Reviewed Original Research Articles

1.
Tao R, Ma D, Takiar V, Frank SJ, Fuller CD, Gunn GB, Beadle BM, Morrison WH, Rosenthal DI, Edson MA, Esmaeli B, Kupferman ME, Hanna EY, Garden AS, Phan J. Orbital carcinomas treated with adjuvant intensity-modulated radiation therapy. Head Neck. e-Pub 3/2015. PMID: 25782700.
2.
Su YX, Roberts DB, Hanna EY, El-Naggar A, Saylam G, Frank SJ, Weber RS, Kupferman ME. Risk factors and prognosis for myoepithelial carcinoma of the major salivary glands. Ann Surg Oncol. e-Pub 1/2015. PMID: 25636455.
3.
Alves MV, Roberts D, Levine NB, DeMonte F, Hanna EY, Kupferman ME. Impact of chemoradiotherapy on CSF leak repair after skull base surgery. J Neurol Surg B Skull Base 75(5):354-7, 10/2014. e-Pub 6/2014. PMCID: PMC4176540.
4.
Bhayani MK, Yilmaz T, Sweeney A, Calzada G, Roberts DB, Levine NB, DeMonte F, Hanna EY, Kupferman ME. Sinonasal adenocarcinoma: A 16 year experience at a single institution. Head Neck 36(10):1490-6, 10/2014. e-Pub 1/2014. PMID: 23996784.
5.
Bell D, Saade R, Roberts D, Ow TJ, Kupferman M, Demonte F, Hanna EY. Prognostic utility of Hyams histological grading and Kadish-Morita staging systems for esthesioneuroblastoma outcomes. Head Neck Pathol. e-Pub 5/2014. PMID: 24806334.
6.
Davis-Malesevich MV, Goepfert R, Kubik M, Roberts DB, Myers JN, Kupferman ME. Recurrence of cutaneous melanoma of the head and neck after negative sentinel lymph node biopsy. Head Neck. e-Pub 4/2014. PMID: 24764188.
7.
Jakob JA, Kies MS, Glisson BS, Kupferman ME, Liu DD, Lee JJ, El-Naggar AK, Gonzalez-Angulo AM, Blumenschein GR. A phase II study of gefitinib in patients with advanced salivary gland cancers. Head Neck. e-Pub 3/2014. PMID: 24585506.
8.
Hutcheson KA, Holsinger FC, Kupferman ME, Lewin JS. Functional outcomes after TORS for oropharyngeal cancer: a systematic review. Eur Arch Otorhinolaryngol 272(2). e-Pub 3/2014. PMID: 24643851.
9.
Gelbard A, Hale KS, Takahashi Y, Davies M, Kupferman ME, El-Naggar AK, Myers JN, Hanna EY. Molecular profiling of sinonasal undifferentiated carcinoma. Head Neck 36(1):15-21, 1/2014. e-Pub 4/2013. PMCID: PMC3874284.
10.
Monroe MM, Myers JN, Kupferman ME. Undertreatment of thick head and neck melanomas: An age-based analysis. Ann Surg Oncol 20(13):4362-9, 12/2013. e-Pub 8/2013. PMID: 23975303.
11.
Cockerill CC, Daram S, El-Naggar AK, Hanna EY, Weber RS, Kupferman ME. Primary sarcomas of the salivary glands: Case series and literature review. Head Neck 35(11):1551-7, 11/2013. e-Pub 6/2013. PMID: 23728801.
12.
Neskey DM, Klein JD, Hicks S, Garden AS, Bell DM, El-Naggar AK, Kies MS, Weber RS, Kupferman ME. Prognostic factors associated with decreased survival in patients with acinic cell carcinoma. JAMA Otolaryngol Head Neck Surg 139(11):1195-202, 11/2013. PMID: 24076756.
13.
Wu X, Bhayani MK, Dodge CT, Nicoloso MS, Chen Y, Yan X, Adachi M, Thomas L, Galer CE, Jiffar T, Pickering CR, Kupferman ME, Myers JN, Calin GA, Lai SY. Coordinated targeting of the EGFR signaling axis by microRNA-27a*. Oncotarget 4(9):1388-98, 9/2013. PMCID: PMC3824521.
14.
Sridhara SK, Yener M, Hanna EY, Rich T, Jimenez C, Kupferman ME. Genetic testing in head and neck paraganglioma: Who, what and why. J Neurol Surg B Skull Base 74(4):236-40, 8/2013. e-Pub 4/2013. PMCID: PMC3715610.
15.
Raol N, Hutcheson KA, Lewin JS, Kupferman ME. Surgical management of the non-functional larynx after organ preservation therapy. J Otol Rhin 2:1-6, 2013.
Grant & Contract Support
Title:
Stromal Determinants of Lymphatic Metastasis in Head and Neck Cancer
Funding Source:
Institutional Review Grant, The University of Texas MD Anderson Cancer Center
Role:
Principal Investigator-MDACC
Duration:
9/1/2012 - 8/31/2015
Title:
Critical Role of TrkB for Invasion and Metastasis in HNSCC
Funding Source:
Physician-Scientist Program, MD Anderson Cancer Center
Role:
Principal Investigator
Duration:
9/1/2011 - 8/31/2013
Title:
Critical Role of TrkB for Invasion and Metastasis in Oral Cancer
Funding Source:
NIH/NIDCR
Role:
Principal Investigator
Duration:
7/1/2009 - 6/30/2014
Title:
MD Anderson Cancer Center Support Grant Head and Neck Oncology Program - Project 9
Funding Source:
NIH/NCI
Role:
Program Member
Principal Investigator:
DePinho, Ronald MD
Duration:
7/1/2008 - 6/30/2018