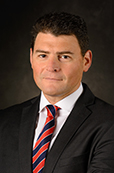 '
Michael E. Kupferman, M.D., FACS
Present Title & Affiliation
Primary Appointment
Associate Professor, Department of Head and Neck Surgery, Division of Surgery, The University of Texas MD Anderson Cancer Center, Houston, TX
Research Interests
Targeting the tumor microenvironment in squamous cell carcinoma
Molecular mechanisms of metastasis in head and neck cancer
Overcoming chemotherapy resistance in head and neck cancer
Clinical Interests
Head and neck cancer
Recurrent and metastatic thyroid cancer
Aggressive skin cancers
Benign and malignant salivary gland tumors
Minimally invasive skull base surgery
Transoral robotic surgery
Voice disorders in patients with cancer
Office Address
The University of Texas MD Anderson Cancer Center
1400 Pressler St.
Unit Number: 1445
Houston, TX 77030
Room Number: FCT10.6040
Phone: 713/794-1910
Fax: 713/794-4662
Education & Training
Degree-Granting Education

1999
University of Pennsylvania School of Medicine, Philadelphia, PA, MD, Medicine
1995
Yeshiva University, New York, NY, BA, Political Science, Biology

Postgraduate Training

7/2004-6/2006

Clinical Fellowship, Head & Neck Oncologic Surgery, The University of Texas MD Anderson Cancer Center, Houston, TX

7/2004-6/2005

Research Fellowship, Head & Neck Surgery, The University of Texas MD Anderson Cancer Center, Houston, TX

7/2000-6/2004

Clinical Residency, Otolaryngology-Head & Neck Surgery, University of Pennsylvania, Philadelphia, PA

7/1999-6/2000

Clinical Internship, Surgery, University of Pennsylvania, Philadelphia, PA
Board Certifications
| | |
| --- | --- |
| 2/2015 | American Board of Otolaryngology |
Experience/Service
Academic Appointments
Assistant Professor, Division of Surgery, The University of Texas MD Anderson Cancer Center, Houston, TX, 7/2006-8/2012
Honors and Awards
2011-present

Fellow of American College of Surgeons,

American College of Surgeons

2011-2012

Faculty Teaching Award,

Head and Neck Surgery Program, The University of Texas MD Anderson Cancer Center

2008-2012

Physician-Scientist Program,

MD Anderson Cancer Center

2006

AACR-AstraZeneca Scholar-in-Training Award,

AACR

2004-2006

National Institutes of Health Loan Repayment Program,

NIH

1996

NIH Cancer Research Training Grant,

NIH
Professional Memberships
American Academy of Otolaryngology-Head & Neck Surgery
Member, 1999-present
American College of Surgeons
Member, 2006-present
American Head and Neck Society, Los Angeles, CA
Research Committee member, 2006-2009
American Society for Radiation Oncology, Fairfax, VA
Program Committee Planning Member, 1/2009-present
American Society of Clinical Oncology
Member, 2005-present
North American Skull Base Society
Director at Large, 2013-2014
Member, 2007-present
Selected Publications
Peer-Reviewed Original Research Articles

1.
Takahashi Y, Kupferman ME (corresponding author), Bell D, Jiffar T, Lee JG, Xie TX, Li NW, Zhao M, Frederick MJ, Gelbard A, Myers JN, Hanna EY. Establishment and characterization of novel cell lines from sinonasal undifferentiated carcinoma. Clin Cancer Res 18(22):6178-6187, 11/2012. e-Pub 10/2012. PMCID: PMC3513379.
2.
McHugh CH, Roberts DB, El-Naggar AK, Hanna EY, Garden AS, Kies MS, Weber RS, Kupferman ME. Prognostic factors in mucoepidermoid carcinoma of the salivary glands. Cancer 118(16):3928-36, 8/2012. e-Pub 12/2011. PMID: 22180391.
3.
Bhayani MK, Yener M, El-Naggar A, Garden A, Hanna EY, Weber RS, Kupferman ME. Prognosis and risk factors for early-stage adenoid cystic carcinoma of the major salivary glands. Cancer 118(11):2872-8, 6/2012. e-Pub 10/2011. PMID: 22020577.
4.
Zevallos JP, Jain KS, Roberts D, El-Naggar A, Hanna EY, Kupferman ME. Sinonasal malignancies in children: A 10-year, single-institutional review. Laryngoscope 121(9):2001-3, 9/2011. e-Pub 7/2011. PMID: 21739433.
5.
Jiffar T, Yilmaz T, Lee J, Hanna E, El-Naggar A, Yu D, Myers JN, Kupferman ME. KISS1 mediates platinum sensitivity and metastasis suppression in head and neck squamous cell carcinoma. Oncogene 30(28):3163-3173, 7/2011. e-Pub 3/2011. PMCID: PMC3136629.
6.
Kupferman ME, de la Garza GO, Santillan AA, Williams MD, Varghese BT, Huh W, Roberts D, Weber RS. Outcomes of pediatric patients with malignancies of the major salivary glands. Ann Surg Oncol 17(12):3301-3307, 12/2010. e-Pub 6/2010. PMID: 20585877.
7.
Yilmaz T, Jiffar T, de la Garza G, Lin H, Milas Z, Takahashi Y, Hanna E, MacIntyre T, Brown JL, Myers JN, Kupferman ME. Therapeutic targeting of Trk suppresses tumor proliferation and enhances cisplantin activity in HNSCC. Cancer Biol Ther 10(6):644-653, 9/2010. e-Pub 9/2010. PMCID: PMC3230305.
8.
Kupferman ME, Jiffar T, El-Naggar A, Yilmaz T, Zhou G, Xie T, Feng L, Wang J, Holsinger FC, Yu D, Myers JN. TrkB induces EMT and has a key role in invasion of head and neck squamous cell carcinoma. Oncogene 29(14):2047-2059, 4/2010. e-Pub 1/2010. PMCID: PMC3138334.
9.
Hanna E, DeMonte F, Ibrahim S, Roberts D, Levine N, Kupferman M. Endoscopic resection of sinonasal cancers with and without craniotomy: Oncologic results. Arch Otolaryngol Head Neck Surg 135(12):1219-1224, 12/2009. PMID: 20026819.
10.
Kupferman M, Demonte F, Holsinger FC, Hanna E. Trans-antral robotic access to the pituitary gland. Otolaryngol Head Neck Surg 141(3):413-5, 9/2009. PMID: 19716023.
11.
Kupferman ME, Morrison WH, Santillan AA, Roberts D, Diaz EM, Garden AS, Weber R. The role of interstitial brachytherapy with salvage surgery for the management of recurrent head and neck cancers. Cancer 109(10):2052-2057, 5/2007. PMID: 17407106.
12.
O'Donnell RK (Co-First Author), Kupferman M (co-First Author), Wei SJ, Singhal S, Weber R, O'Malley B, Cheng Y, Putt M, Feldman M, Ziober B, Muschel RJ. Gene expression signature predicts lymphatic metastasis in squamous cell carcinoma of the oral cavity. Oncogene 24(7):1244-1251, 2/2005. PMID: 15558013.
Grant & Contract Support
Title:
Stromal Determinants of Lymphatic Metastasis in Head and Neck Cancer
Funding Source:
Institutional Review Grant, The University of Texas MD Anderson Cancer Center
Role:
Principal Investigator-MDACC
Duration:
9/1/2012 - 8/31/2014
Title:
"Critical Role of TrkB for Invasion and Metastasis in HNSCC"
Funding Source:
Physician-Scientist Program, MD Anderson Cancer Center
Role:
Principal Investigator
Duration:
9/1/2011 - 8/31/2013
Title:
Overcoming Chemotherapy Resistance via KISS1-Mediated Cisplatin Sensitization in HNSCC
Funding Source:
Head and Neck SPORE DRP
Role:
Principal Investigator
Duration:
8/1/2011 - 11/30/2012
Title:
"Critical Role of TrkB for Invasion and Metastasis in Oral Cancer"
Funding Source:
NIH/NIDCR
Role:
Principal Investigator
Duration:
7/1/2009 - 6/30/2014
Title:
"Short Term Scientist Exchange Program"
Funding Source:
NIH/NCI
Role:
Project Leader
Duration:
1/1/2008 - 1/2/2009
© 2014 The University of Texas MD Anderson Cancer Center