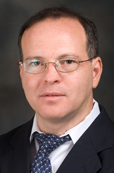 '
Mitchell J. Frederick, PhD, BS
Present Title & Affiliation
N/A
Bio Statement
FIVE MOST IMPORTANT CONTRIBUTIONS
1. Cloned and co-discovered BRAK (CXCl14 gene), a chemokine downregulated in head and neck cancer, and published the first paper describing its functions as an angiogenesis inhibitor and chemotactic factor for immature dendritic cells.
2. Cloned and co-discovered Headpin (SerpinB13), a serine proteinase inhibitor downregulated in head and neck cancer, and published first paper describing its function as a Cathepsin L and K inhibitor.
3. First to profile the phosphoproteome of primary head and neck cancers.
4. Published the first comprehensive and integrative analyses of genomic alterations in head and neck cancers (Science 2011 and Cancer Discovery 2013).
5. Published the first comprehensive characterization of somatic mutations in aggressive cutaneous squamous cell carcinomas (Clinical Cancer Research 2014).
RESEARCH SYNOPSIS
Head and neck squamous cell carcinoma (HNSCC) causes roughly 300,000 deaths worldwide each year, and remains a challenge to treat despite advances in surgery, chemotherapy, and radiation. A better understanding of the signaling abnormalities and genomic alterations driving this disease has been the major goal and focus of my research, with the hope of exploiting this knowledge to develop novel therapies. We have been utilizing discovery-based research strategies to identify important molecular changes in primary HNSCC derived from patients and working towards understanding the function of these molecules as they are discovered. This endeavor has gone through many evolutions and has included analysis of differential gene expression, phosphoproteins, mRNA, miRNA, somatic mutations, genome-wide copy number changes, and DNA methylation. These platforms have led to the discovery and functional characterization of novel genes important in HNSCC biology, identification of important proteomic signaling pathways, and more recently the first large scale comprehensive and integrative analyses of genomic alterations in head and neck cancer. Our group was among the first to publish the finding that inactivating mutations of NOTCH1 frequently occur in HNSCC, and to demonstrate that the gene behaves as a tumor suppressor in this cancer type, both in vitro and in vivo. We also published the first comprehensive study describing the landscape of somatic mutations in aggressive cutaneous squamous cell carcinomas, in which we were able to identify genes significantly mutated in this cancer despite the extraordinarily high background mutation rate due to U.V. exposure. The ultimate goal of my research is to understand how to exploit alterations present in squamous cell carcinomas of the head and neck in order to improve treatment and survival for patients. Towards this end, we have examined ways to target the cell cycle checkpoints in order to sensitize tumors deficient in functional TP53 to genotoxic therapies, in a synthetic lethal manner. These strategies arose from our earlier observations that checkpoint kinase 1 was among one the most significantly elevated phosphoproteins in untreated primary HNSCC tumors. We have also been functionally characterizing the consequences of NOTCH1 loss in HNSCC and so far have determined that NOTCH signaling positively regulates proliferation and differentiation and negatively regulates many pro-oncogenic pathways, thus accounting for its tumor suppressive role. We are currently expanding our research into understanding and targeting NOTCH mutations. In addition, we are now employing loss of function shRNA screens to identify co-dependent pathways and additional synthetic lethal strategies. This technique is being applied to find better ways to treat HPV+ oropharyngeal cancers as part of our Moonshot discovery program.
Selected publications
1. Spring P, Nakashima T, Frederick MJ, Henderson Y, Clayman G. Identification and cDNA cloning of headpin, a novel differentially expressed serpin that maps to chromosome 18q. Biochem Biophys Res Commun 264(1):299-304, 10/1999.
2. Frederick MJ, Henderson Y, Xu X, Deavers MT, Sahin AA, Wu H, Lewis DE, El-Naggar AK, Clayman GL. In vivo expression of the novel CXC chemokine BRAK in normal and cancerous human tissue. Am J Pathol 156(6):1937-50, 6/2000. PMCID: PMC1850081
3. Shellenberger TD, Wang M, Gujrati M, Jayakumar A, Strieter RM, Burdick MD, Ioannides CG, Efferson CL, El-Naggar AK, Roberts D, Clayman GL, Frederick MJ. BRAK/CXCL14 is a potent inhibitor of angiogenesis and a chemotactic factor for immature dendritic cells. Cancer Res 64(22):8262-70, 11/2004
4. Frederick MJ, VanMeter AJ, Gadhikar MA, Henderson YC, Yao H, Pickering CC, Williams MD, El-Naggar AK, Sandulache V, Tarco E, Myers JN, Clayman GL, Liotta LA, Petricoin EF, Calvert VS, Fodale V, Wang J, Weber RS. Phosphoproteomic Analysis of Signaling Pathways in Head and Neck Squamous Cell Carcinoma Patient Samples. Am J Pathol 178(2):548-71, 2/2011. PMCID: PMC3070553
5. Agrawal N*,Frederick MJ* , Pickering CR*, Bettegowda* C, Chang K, Li RJ, Fakhry C, Xie TX, Zhang J, Wang J, Zhang N, El-Naggar AK, Jasser SA, Weinstein JN, Treviño L, Drummond JA, Muzny DM, Wu Y, Wood LD, Hruban RH, Westra WH, Koch WM, Califano JA, Gibbs RA, Sidransky D, Vogelstein B, Velculescu VE, Papadopoulos N, Wheeler DA, Kinzler KW, Myers JN. Exome Sequencing of Head and Neck Squamous Cell Carcinoma Reveals Inactivating Mutations in NOTCH1. Science 333(6046):1154-7, 8/2011. e-Pub 7/2011. PMCID: PMC3162986. *Authors contributed equally
6. Pickering CR, Zhang J, Yoo SY, Bengtsson L, Moorthy S, Neskey DM, Zhao M, Ortega Alves MV, Chang K, Drummond J, Cortez E, Xie TX, Zhang D, Chung W, Issa JP, Zweidler-McKay PA, Wu X, El-Naggar AK, Weinstein JN, Wang J, Muzny DM, Gibbs RA, Wheeler DA, Myers JN, Frederick MJ. Integrative genomic characterization of oral squamous cell carcinoma identifies frequent somatic drivers. Cancer Discov 3(7):770-81, 7/2013. e-Pub 4/2013.
7. Pickering CR, Zhou JH, Lee JJ, Drummond JA, Peng SA, Saade RE, Tsai KY, Curry JL, Tetzlaff MT, Lai SY, Yu J, Muzny DM, Doddapaneni H, Shinbrot E, Covington KR, Zhang J, Seth S, Caulin C, Clayman GL, El-Naggar AK, Gibbs RA, Weber RS, Myers JN, Wheeler DA, Frederick MJ. Mutational Landscape of Aggressive Cutaneous Squamous Cell Carcinoma. Clin Cancer Res. e-Pub 10/2014.
Invited Articles
1. Frederick MJ, Clayman GL. Chemokines in cancer. Expert Rev Mol Med 2001(19):1-18, 7/2001. e-Pub 7/2001.
2. Sereni MI, Pierobon M, Angioli R, Petricoin EF, Frederick MJ. Reverse-Phase Protein Microarrays and Their Utility in Drug Development. Methods Mol Biol 986:187-214, 1/2013.
Research Interests
1. Understanding genomic and signal pathway abnormalities in head and neck cancer
1. Testing of anti-cancer pharmaceuticals
2. Mechanisms of drug resistance
3. Pharmaceutical pathways specific for head and neck cancer
Office Address
The University of Texas MD Anderson Cancer Center
1515 Holcombe Blvd. - Unit 123
Unit Number: Unit 123
Houston, TX 77030
Room Number: T5.3908
Phone: 713-792-4708
Fax: 713-745-2234
Education & Training
Degree-Granting Education

1995
The University of Texas Health Science Center, Graduate School of Biomedical Science, Houston, TX, Ph.D., Cancer Biology
1985
University of Michigan, Ann Arbor, MI, BS, Cellular and Molecular Biology

Postgraduate Training

2/1996-5/1996

Project Investigator Elizabeth A. Grimm, Ph.D., The University of Texas MD Anderson Cancer Center Department of Tumor Biology, Houston, TX
Selected Publications
Peer-Reviewed Original Research Articles

1.
Henderson YC, Frederick MJ, Wang MT, Hollier LM, Clayman GL. LBP-1b, LBP-9, and LBP-32/MGR detected in syncytiotrophoblasts from first-trimester human placental tissue and their transcriptional regulation. DNA Cell Biol 27(2):71-9, 2/2008. PMID: 18004979.
2.
Jayakumar A, Kang Y, Henderson Y, Mitsudo K, Liu X, Briggs K, Wang M, Frederick MJ, El-Naggar AK, Bebök Z, Clayman GL. Consequences of C-terminal domains and N-terminal signal peptide deletions on LEKTI secretion, stability, and subcellular distribution. Arch Biochem Biophys 435(1):89-102, 3/2005. PMID: 15680911.
3.
Tyler DS, Francis GM, Frederick MJ, Tran AH, Ordonez NG, Smith JL, Eton O, Ross M, Grimm EA. Interleukin-1 production in tumor cells of human melanoma surgical specimens. J Interferon Cytokine Res 15(4):331-40, 4/1995. PMID: 7627808.

Abstracts

1.
Frederick MJ, Grimm EA. Tumor target contact induces lymphokine activated killer protein phosphorylation. Proceedings of the American Association for Cancer Research 34:444, 1993.
Grant & Contract Support
Title:
NOTCH Pathway Dysfunction in Head and Neck Cancer; Mechanisms and Consequences
Funding Source:
MDACC IRG
Role:
Principal Investigator
Duration:
1/1/2012 - 8/31/2013
Title:
Comprehensive Analysis of Genetic and Epigenetic Changes in Oral Cancer
Funding Source:
Cancer Prevention & Research Institute of Texas (CPRIT)
Role:
Co-Investigator
Principal Investigator:
Frederick
Duration:
8/1/2010 - 11/30/2014
Title:
Comprehensive Analysis of Genetic Alterations in Squamous Cell Carcinoma of the Oral Tongue
Funding Source:
NIH/NIDCR
Role:
Co-Investigator
Principal Investigator:
Jeffrey N. Myers
Duration:
9/25/2009 - 8/31/2012
Title:
Effect of AstraZeneca Experimental Drugs on the Growth and Signaling Pathways of Colon Cancer Stem Cells
Funding Source:
AstraZeneca
Role:
Principal Investigator
Duration:
6/15/2009 - 6/14/2010
Title:
Profiling Pathways that Regulate Tumor Survival in Patients with Head and Neck Cancer
Funding Source:
THANC
Role:
Principal Investigator
Duration:
1/1/2008 - 12/31/2008
Title:
Preclinical Studies with the Novel Angiogenesis Inhibitor BRAK
Funding Source:
NIH/NCI
Role:
Principal Investigator
Duration:
1/1/2004
Title:
Function of BRAK, a Novel Chemokine Lost in Head and Neck Cancer
Funding Source:
NIH/NCI
Role:
Principal Investigator
Duration:
1/1/2003
© 2014 The University of Texas MD Anderson Cancer Center