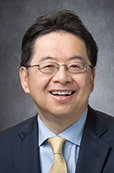 '
Naoto Tada Ueno, M.D., Ph.D., F.A.C.P.
Present Title & Affiliation
Primary Appointment
Section Chief, Section of Translational Breast Cancer Research, Department of Breast Medical Oncology, Division of Cancer Medicine, The University of Texas MD Anderson Cancer Center, Houston, TX
Executive Director, The University of Texas MD Anderson Cancer Center Morgan Welch Inflammatory Breast Cancer Program, Houston, TX
Bio Statement
I have a strong background in translational breast cancer research in the areas of cancer biology and molecular therapeutics, with specific training and expertise in key research areas of EGFR/ERK signaling and in vivo modeling, key research areas of for this application. As a Ph.D. student at The UT Graduate School of Biomedical Sciences, I carried out preclinical research to study on the role of the HER2 pathway in chemosensitization of paclitaxel in breast cancer. In addition to my basic research background, I have trained as a medical oncologist at MDA and simultaneously I have learned how to conduct clinical research and perform data analysis on related to breast cancer. I am also now a practicing physician who has experience in conducting both targeted and gene therapy clinical trials in inflammatory breast cancer patients. Since becoming a faculty member at MDA, I have expanded my research to include the EGFR/ ERK pathway in both breast and ovarian cancer. In addition over the past 10 years, I have successfully managed projects (e.g. overseeing personnel, ensuring research quality, keeping high ethics, managing budgets) and, collaborated with other researchers, and I have produced several peer-reviewed publications from each project. As a result of these previous experiences, I am aware of the importance of frequent communication among project investigators and of creating a reasonable research plan, a plausible timeline, and a feasible budget. In summary, I have a demonstrated record of successful and productive research projects in an area of high relevance for to breast cancer biology related to triple negative breast cancer, inflammatory breast cancer, metastasis, cancer-stem cells, and drug resistance of cancer cells. My expertise and experience have well prepared me to mentor the proposed project.
Education & Training
Degree-Granting Education

1999
The University of Texas Graduate School of Biomedical Sciences, Houston, TX, PHD, Cancer Biology
1989
Wakayama Medical College, Wakayama,, Japan, MD, Doctor of Medicine

Postgraduate Training

7/1993-6/1996

Clinical Fellowship, Medical Oncology and Blood and Marrow Transplantation, The University of Texas MD Anderson Cancer Center, Houston, TX

7/1991-6/1993

Clinical Residency, Internal Medicine, University of Pittsburgh Medical Center, Pittsburgh, PA

7/1990-4/1991

Clinical Internship, Internal Medicine, Montefiore University Hospital - University of Pittsburgh, Pittsburgh, PA

4/1989-3/1990

Clinical Internship, Rotating Internship, United States Naval Hospital, Yokosuka, Kanagawa, Japan
Board Certifications
| | |
| --- | --- |
| 2005 | American Board of Internal Medicine - Medical Oncology |
| 2003 | American Board of Internal Medicine - Internal Medicine |
Experience/Service
Institutional Committee Activities
Vice Chair, M. D. Anderson Associates, 2000-2001
Honors and Awards
2013-2014

Regents Outstanding Teaching Award,

The University of Texas System

2012-present

Waun Ki Hong Award for Excellence in Team Science,

Division of Cancer Medicine Faculty Recognition and Awards Program
© 2014 The University of Texas MD Anderson Cancer Center